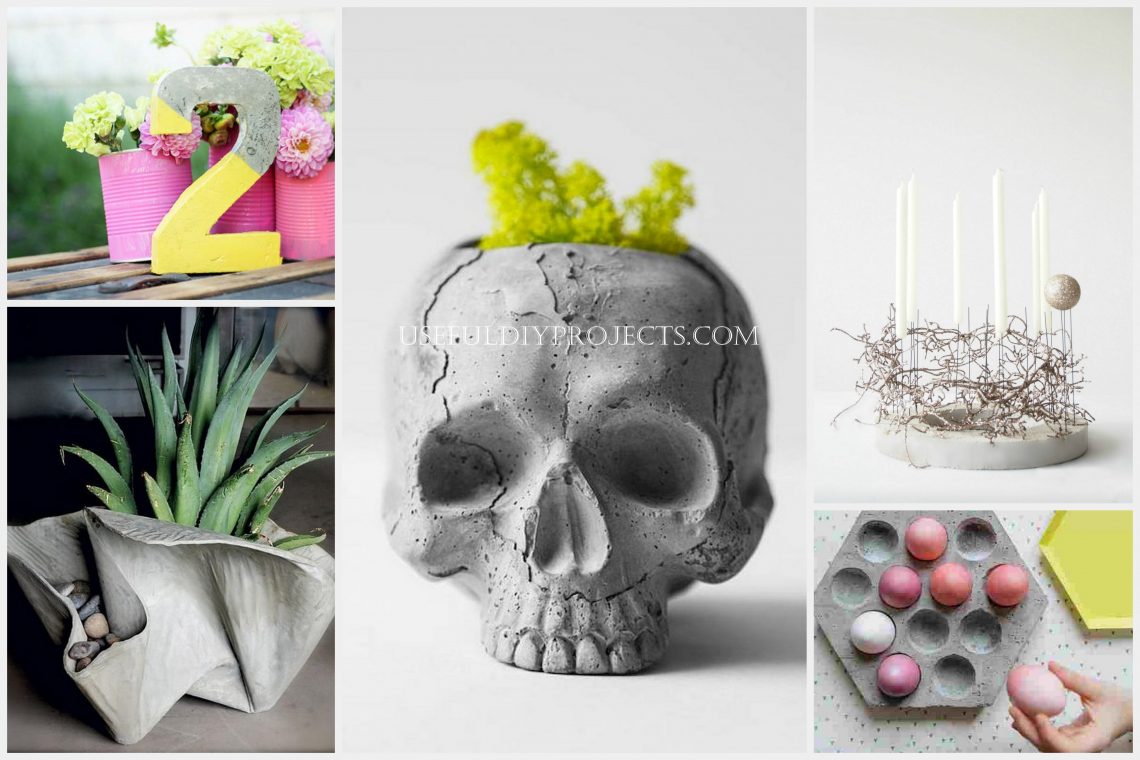 Top 100 Best Concrete Crafts To Pursue
Concrete crafts might not come to everyone's mind when you think about a DIY project, yet the versatility of this underrated material cannot be contested. It can take a variety of shapes and can depict the most creative ideas, whilst preserving its own unique texture that entraps water.
But what is "concrete"? The term represents a mixture of aggregates with a cement activated with the addition of water, producing heat during its chemical reaction before hardening. Lime-based Portland cement is the most commonly used and mixed with gravel, pebbles to make the typical mix used for your sidewalks. For delicate crafts we tend to use a finer mix.
From the fluidity you can opt to offer to the composite material organic forms are born, molding your imagination. From the classical flower pots suitable to Scandinavian interior designs to decorative projects like the Easter concrete crafts presented below, concrete really does come in a multitude of options.
We have curated what we believe to be a beautiful concrete crafts collection, the best selection we have chosen for your creative minds.
1. Easter concrete crafts egg magnets
If you are one that constantly looses his stationary organizers, cement egg magnets can prove to be your saving grace. With the overall appeal of a bird's nest, this particular cement craft is quite easy to assemble, liquid cement, bits of magnets and empty egg shells being required.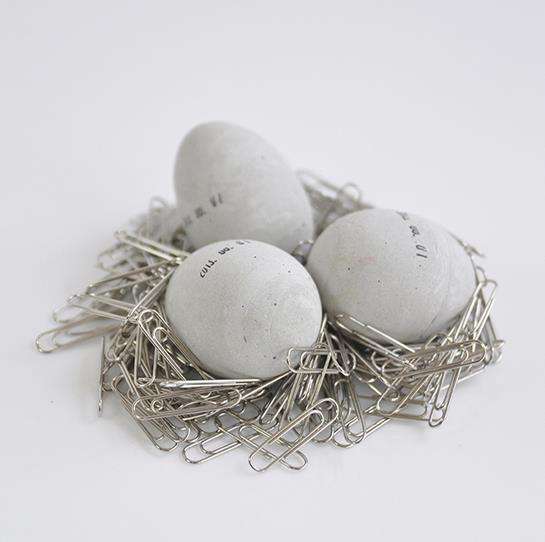 2. Concrete eggs for your Easter décor
A similar idea, minus the magnets and with a touch of bronze or gold glamour transforms empty egg shells into lovely Easter decorations for your dinner table.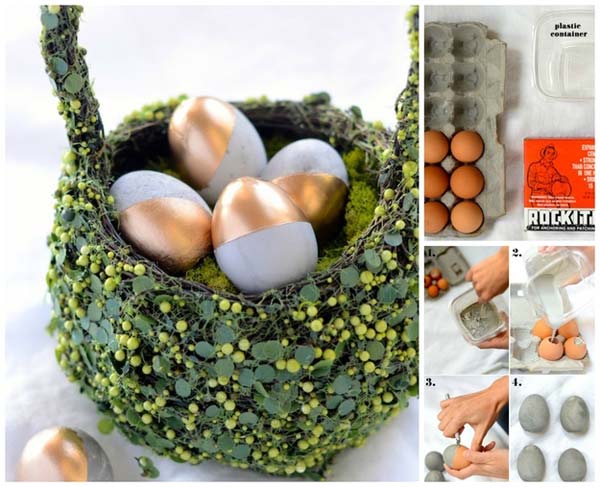 3. Hexagonal concrete Easter egg holder
Where cement egg décor resides an hexagonal egg holder for Easter is a must. Create your own and display an array of hues on your Easter eggs.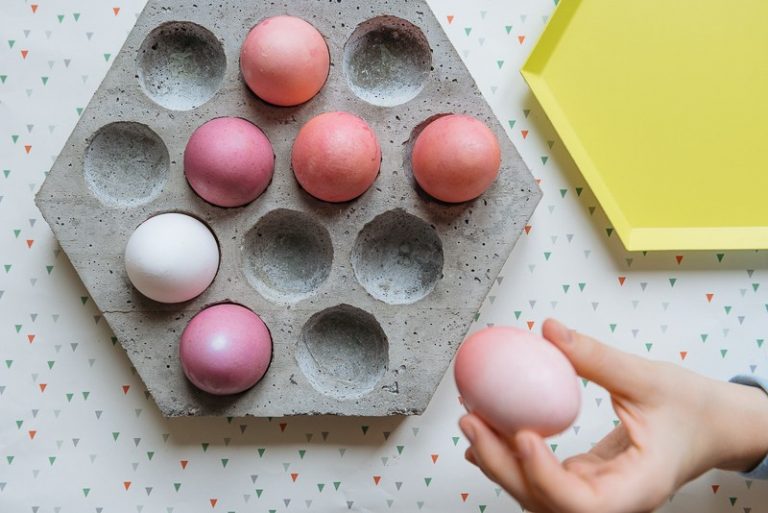 4. Sweet concrete heart magnets
Valentine's day gifts can be handmade too and a cement heart magnet pair will hold your perfect photo on the fridge with love. Create your own pair now and receive gratitude later.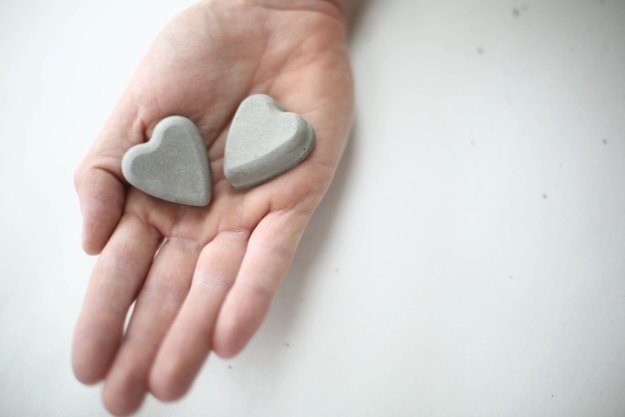 5. Textured globe cement flower pots
Spring is slowly coming and the right flower pots will make your porch stand out. Cement can be used as the right material to nestle your greenery.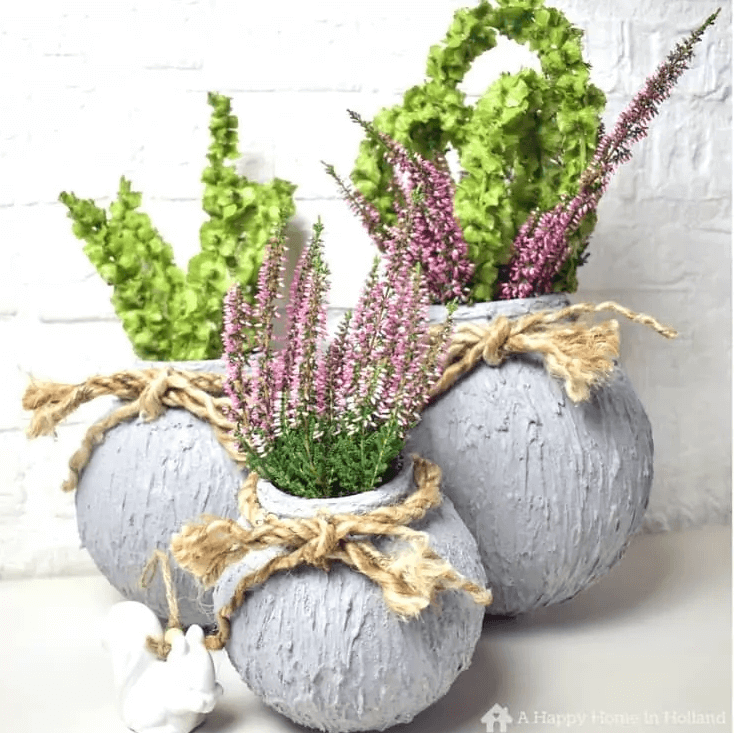 6. Pineapple shaped concrete crafts
You can become a bit of an eccentric and choose a pineapple for your cement crafts. Who said flower pots have to be boring?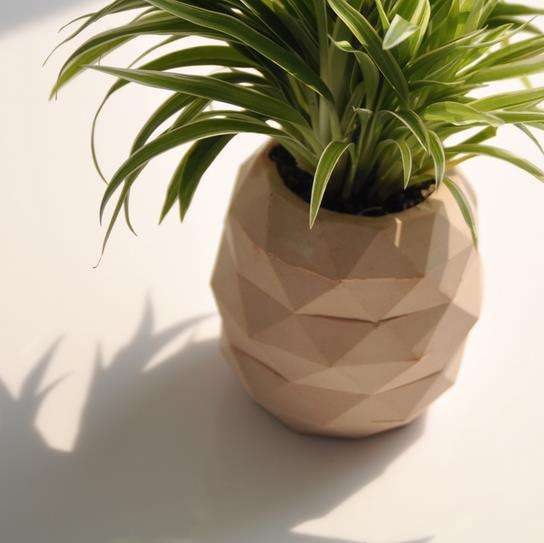 7. Delicate concrete medallions
It is quite difficult to go wrong with jewelry on Valentine's Day but with your own concrete crafts you are surely to succeed and impress your loved one. Add a touch of gold and a silver or gold necklace to the mixture.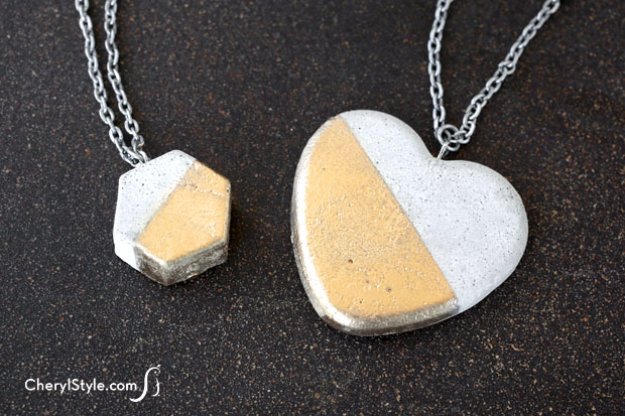 8. Contemporary concrete telephone holder
Let's face it, we are addicted to technology and your cellphone comes first. We have selected the below cement craft as a creative and practical addition to your desk meant to hold your charging phone.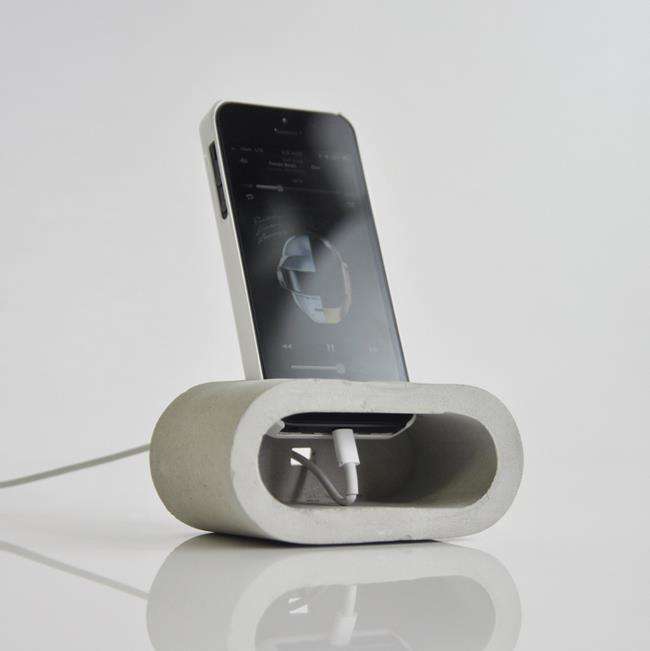 9. Geometrical concrete door knobs
Do your 2021 plans involve a home renovation? If so, we have found a cute and quite easy diy project involving cement for perfectly delicate door knobs for your kitchen cabinets.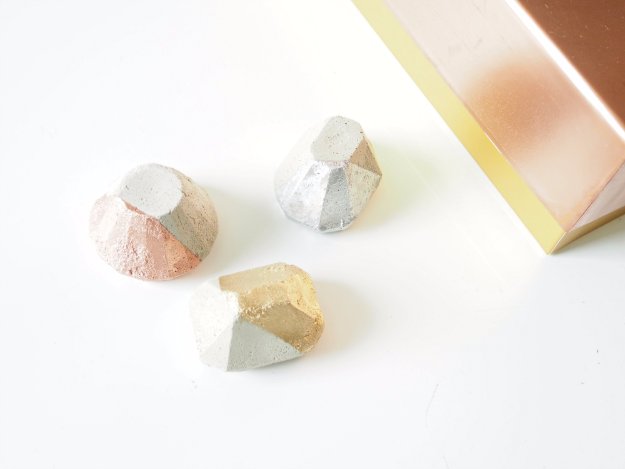 10. Modern concrete side table lamp
We have found the below modern concrete side table lamp as the perfect easy weekend diy project. It comes quite cheap as well material-wise.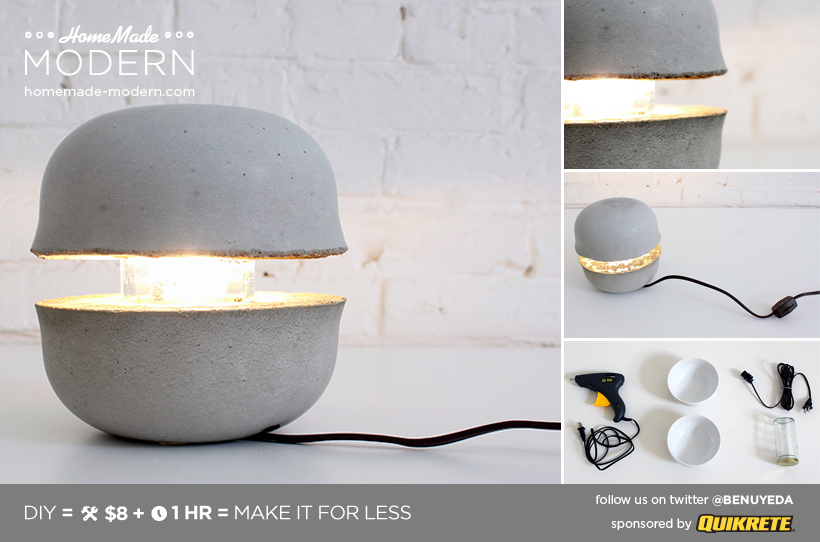 11. Cylindrical concrete pencil holder
Another great addition to your office desk, in the form of a concrete pencil holder which will make office supply organization much easier.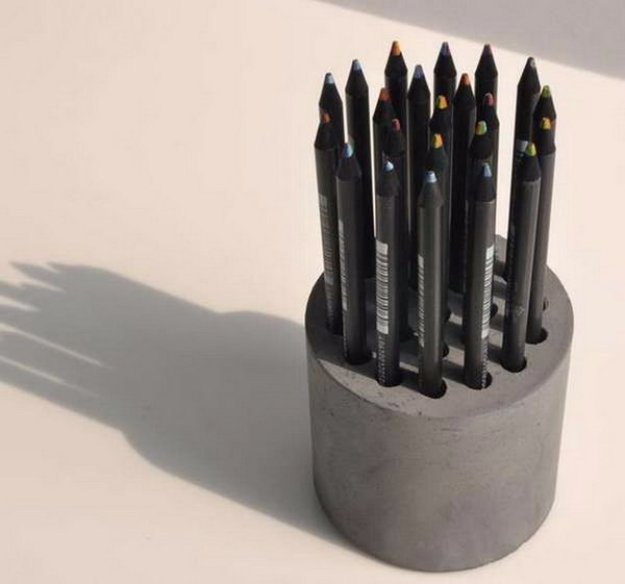 12. Contemporary concrete desk clock
Continuing on the same note, the below cement clock is a design statement, suitable to a long sleek white desk.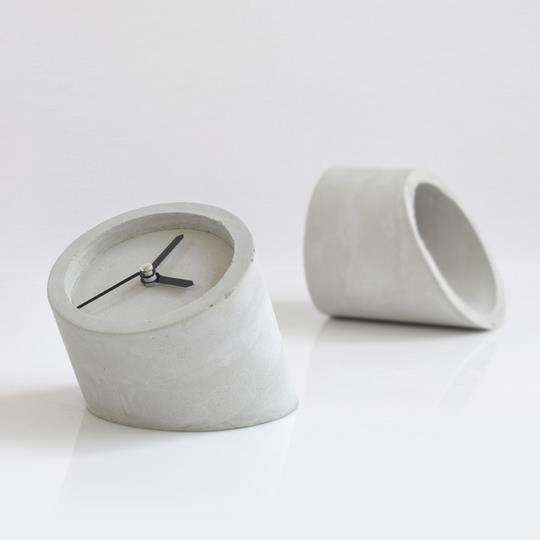 13. DIY concrete picture frame
A DIY concrete picture frame can seem fragile but truth be told, when completely dried it becomes quite sturdy, ready to display your loving memorabilia.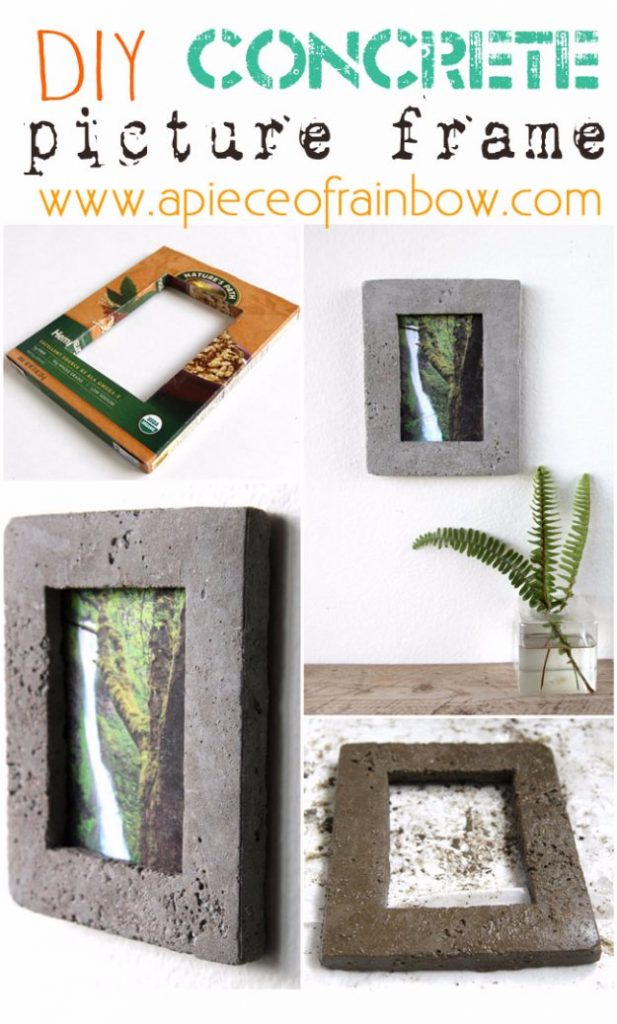 14. Cute star flower pot tag
Tag your plants and herbs to remember what they are, especially if you own a lush, diverse garden. Use skewers and cement to create cute plant tags.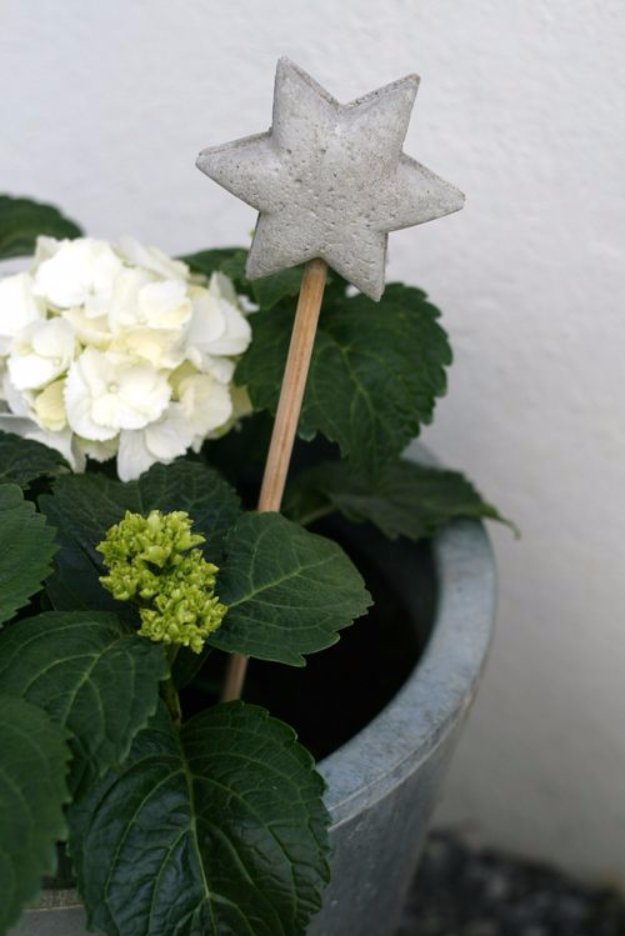 15. Geometrical jewelry container
Women tend to loose their jewelry quite often, especially if a container to hold them in place is missing. A gold interior will add glamour to the perfect geometrically shaped jewelry holder.

16. Tone layered tea candle holders
We love the diffuse light offered by tea candles and using cement candle holders is different gray tones is a wonderful idea. You can stack them all together when not used.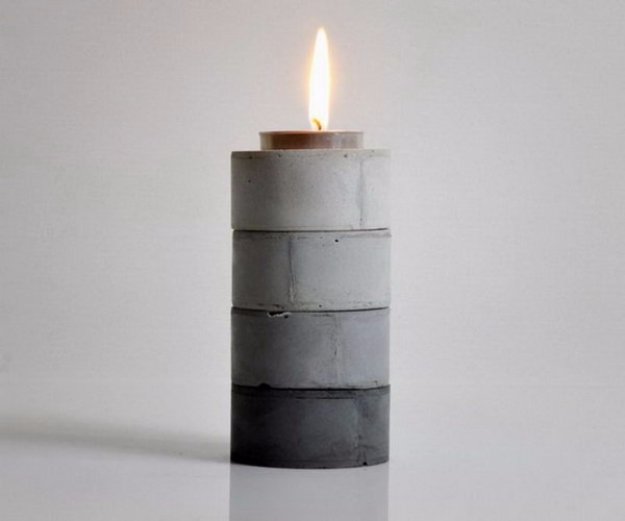 17. DIY lace concrete votives
Use lace or an old doily to imprint a delicate pattern on your cement votive candle holder.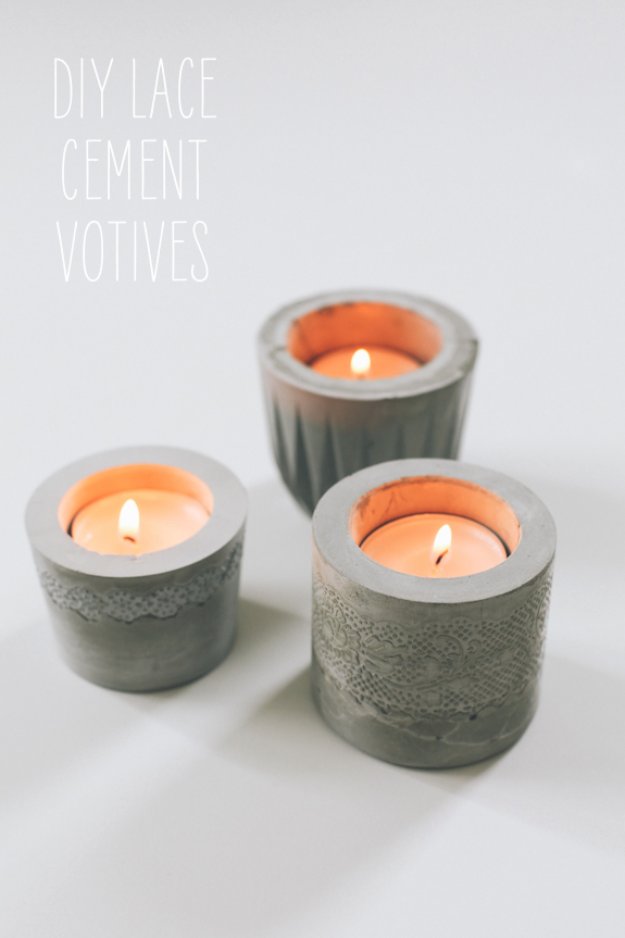 18. Home sweet home concrete crafts
Invest time and love, not money into creating your lovely home. Make your own decorations on a budget and create great moments with your loved ones.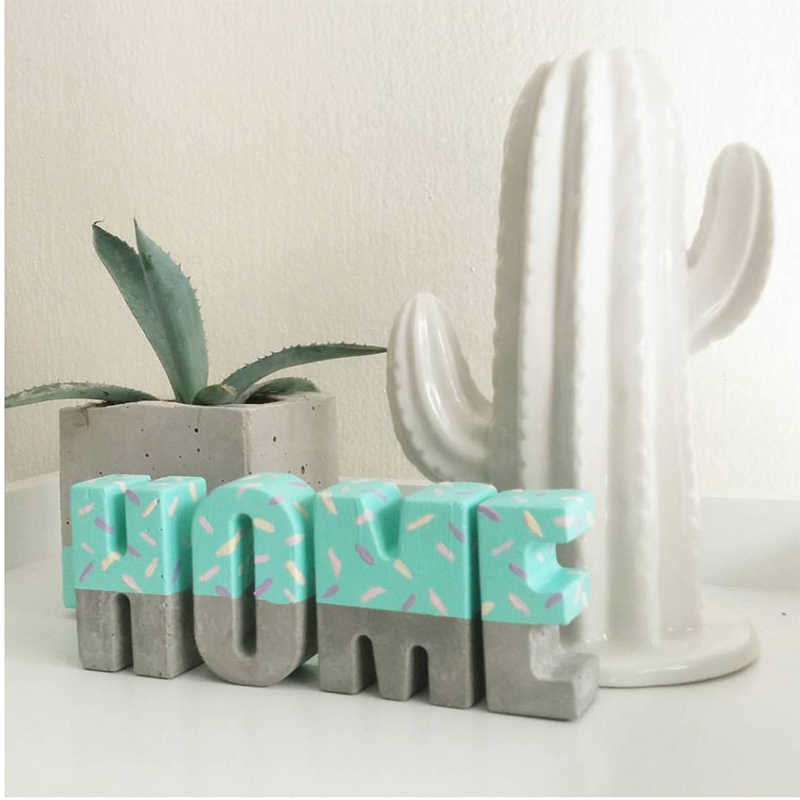 19. Concrete crafts planters with your own touch
Nestling your plants has never been more literal, don't you agree? Handle greenery with love and care for a lush backyard.

20. Round concrete hanging shelf
Cement can be used to create floating shelves for your plants, a very Scandinavian touch to your abode.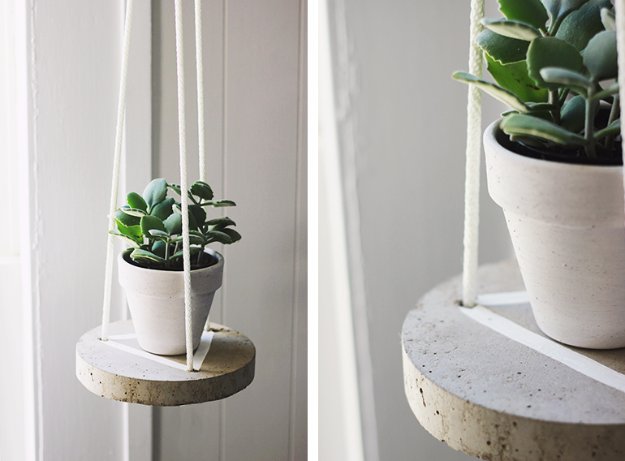 21. Concrete bookends for an industrial accent
Keep books and magazines organized with geometrical cement bookends with an industrial twist.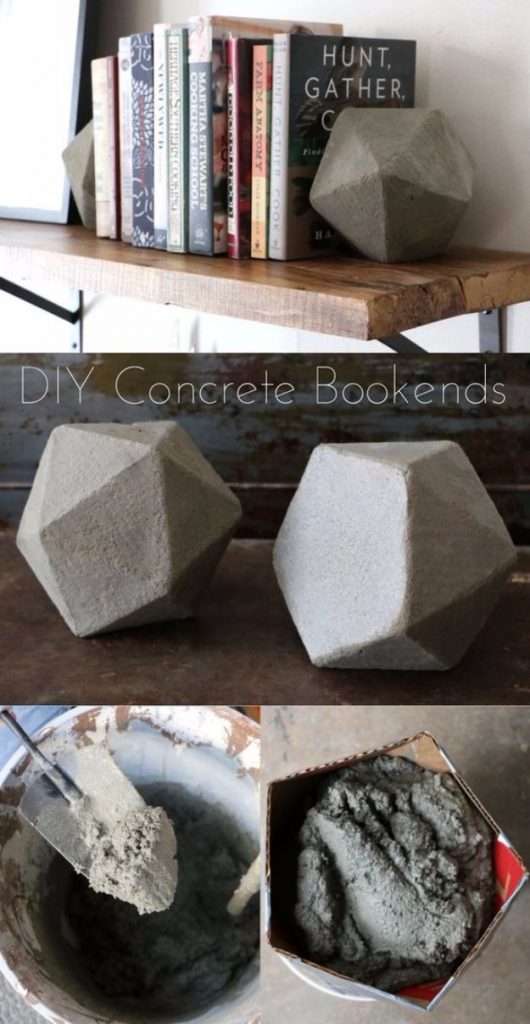 22. Gold cream DIY concrete ring bowl
Choose concrete to morph an imperfect ring bowl, touched by gold hues. The texture will contrast beautifully with the elegance of your jewelry.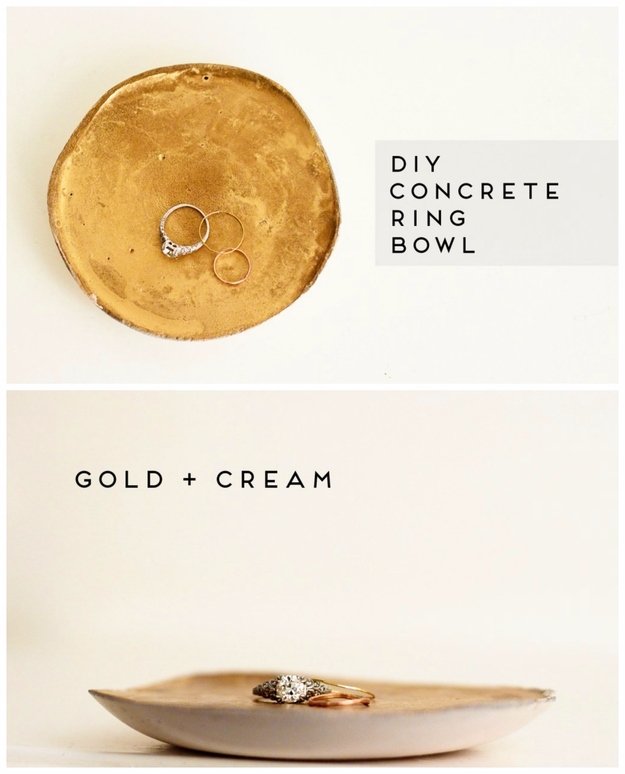 23. Gold dipped concrete earrings
Go beyond creating jewelry holders and actually form your own designer pieces using concrete as your primary material.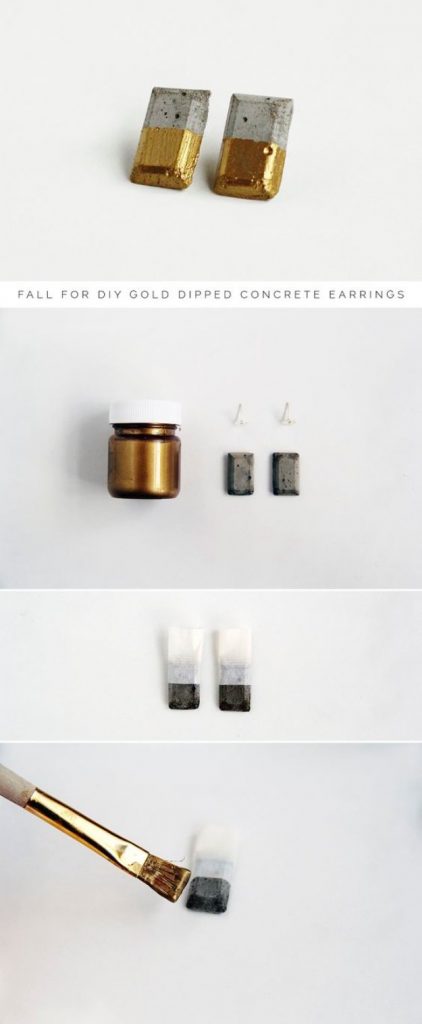 24. Concrete and gold flower pots
Create a family of flower pots using the same basic materials and individualize them with gold geometrical shapes.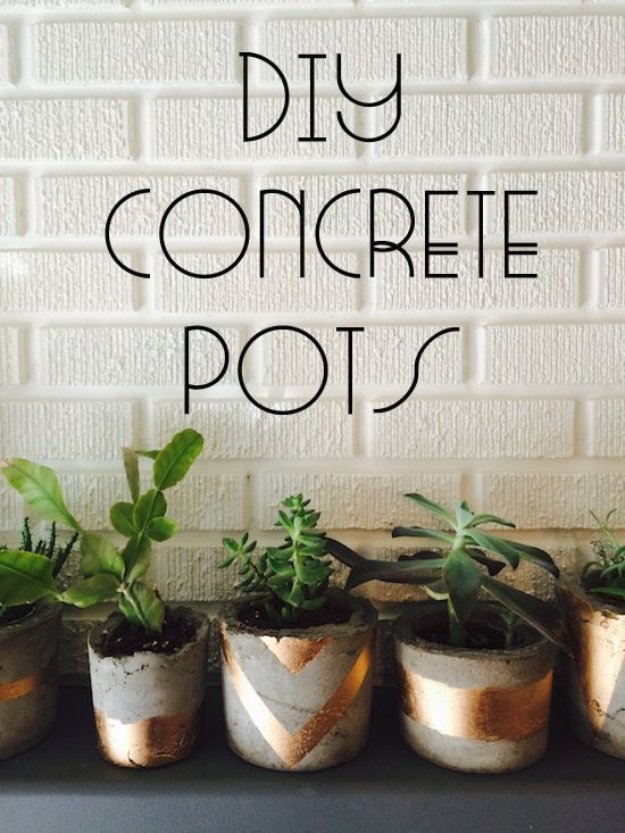 25. Succulent holders from concrete
Succulents capture and need moisture in order to remain perky and plump. Concrete used as a material for succulent flower pots seems like the proper idea.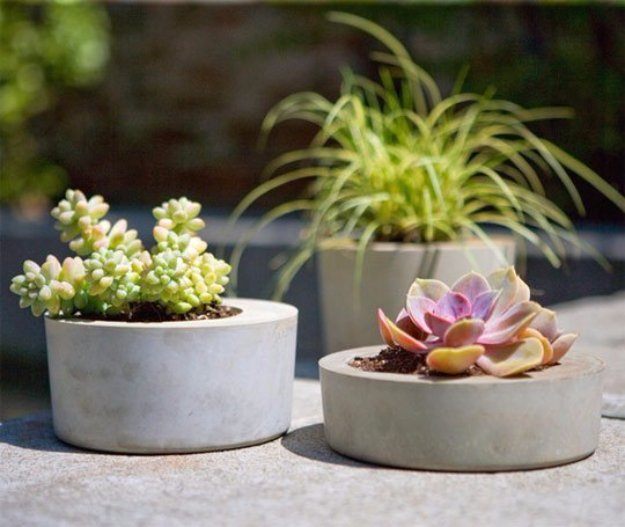 26. Impressive globe candle holders
The below project exudes elegance and contemporary design, suitable for an open space or a cozy bedroom.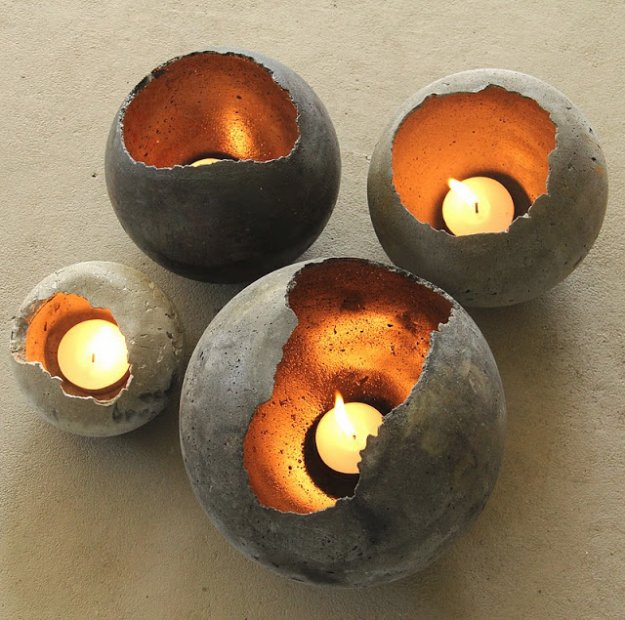 27. Heart shaped concrete door knobs
For a French style kitchen design choose to create heart shaped concrete door knobs, cute and easily replaceable if one breaks.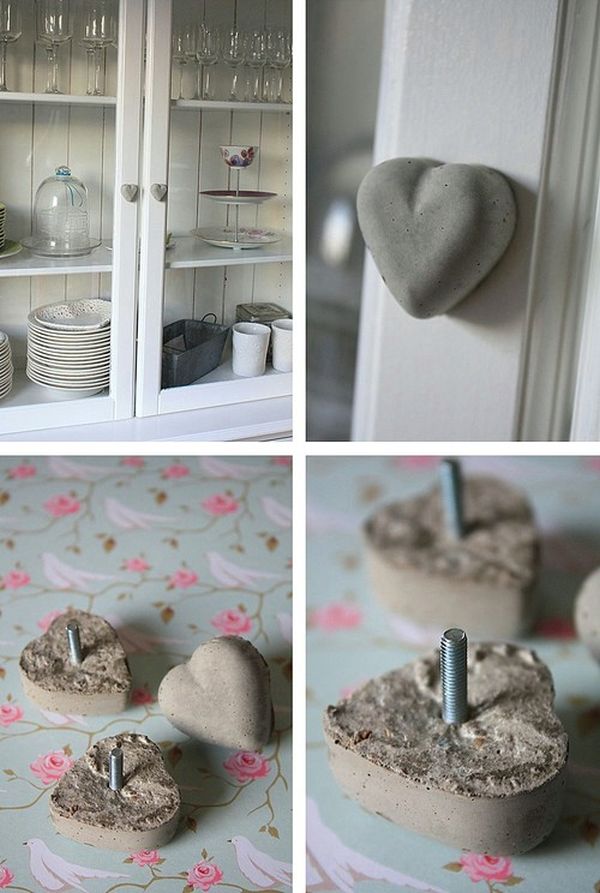 28. Sea inspired concrete décor
If a summer sea-side escape is not in the horizon, sea inspired concrete décor placed alongside a box of sand might do the trick and save you from the holiday blues.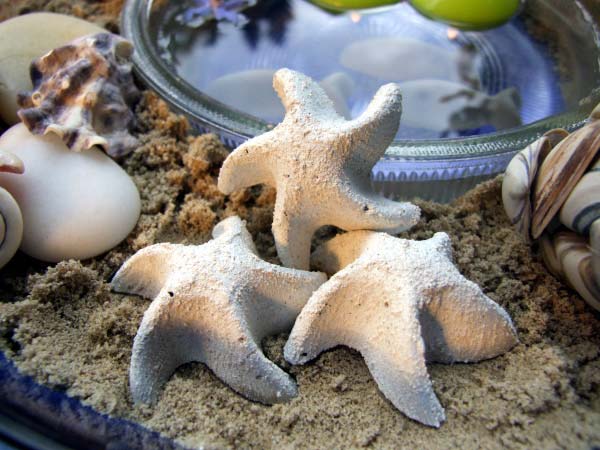 29. Garden candle holder base from concrete
Use concrete to form bases for glass candle holders suitable for outdoor entertainment. Light your pathways for a fairytale like atmosphere and create incredible soirees all year long.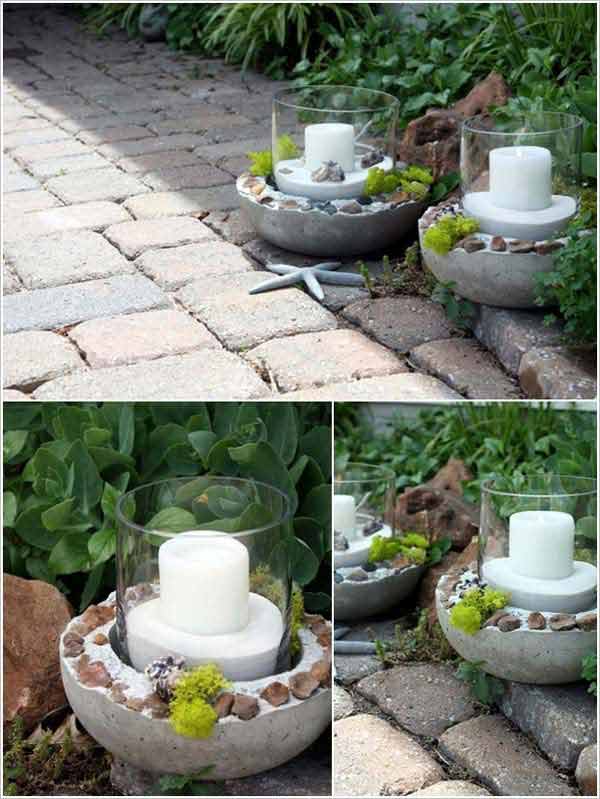 30. Star shaped magnets for your refrigerator
Display your travel memories using cement fridge magnets in funny forms. You can even add paint for a touch of color.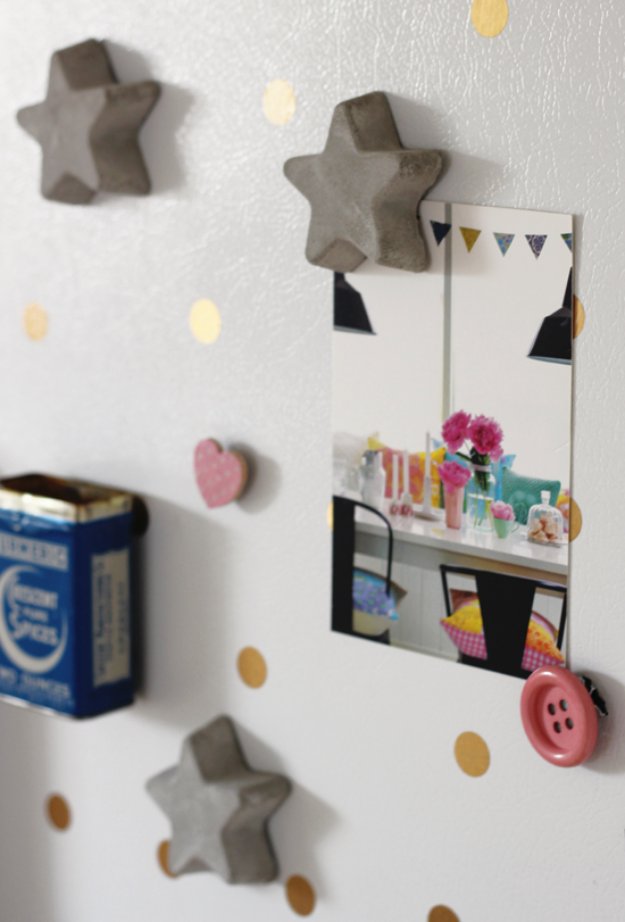 31. Leaf textured garden fountain
Finding the right garden fountain can be challenging, we should know. You can go organic and use actual leaves and concrete to form an eccentric water feature.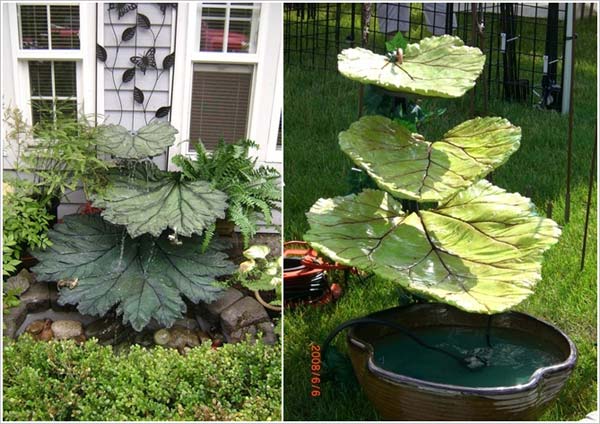 32. Concrete pavement with a memory
We love concrete pavement, especially the one with character and personality. Add letters or numbers to create your home address and place this custom created pavement at your entry.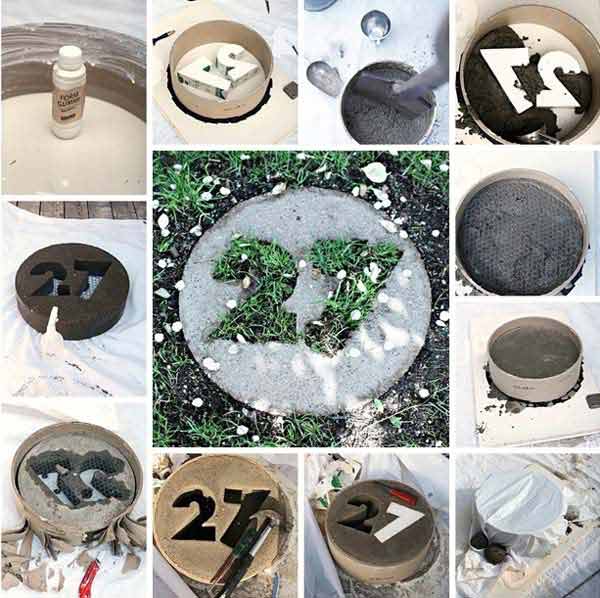 33. Simple concrete crafts-water basins
Cement can be used to create water basins in different shapes and sizes for the perfect garden fountain or water feature. Use a sealant to prevent the concrete from getting wet and dripping.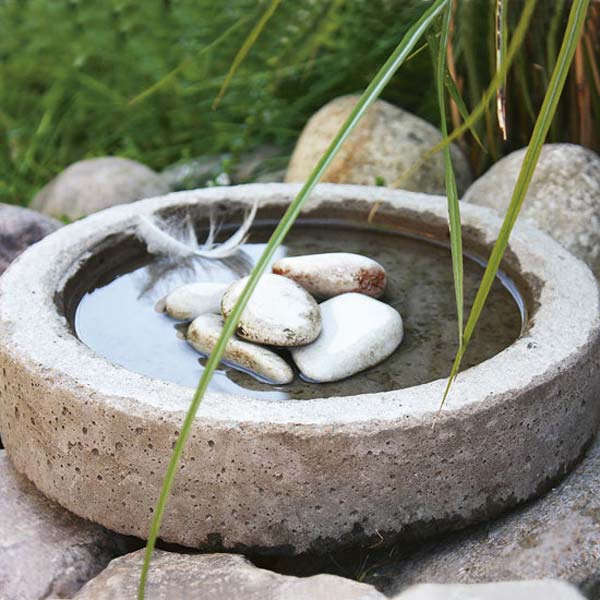 34. Small concrete fire pits
Where cement can nestle water, so can it empower fire through simple circular fire pits suitable to your interior or exterior design.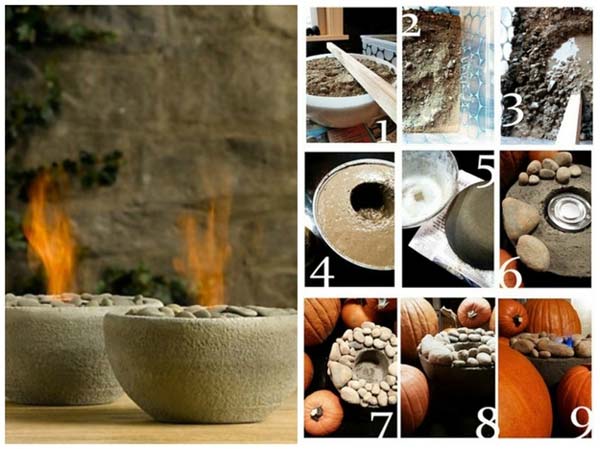 35. Concrete flower pots from old boots
We are all about recycling and DIY projects and the chosen project below thinks outside the box. Or boots in this case.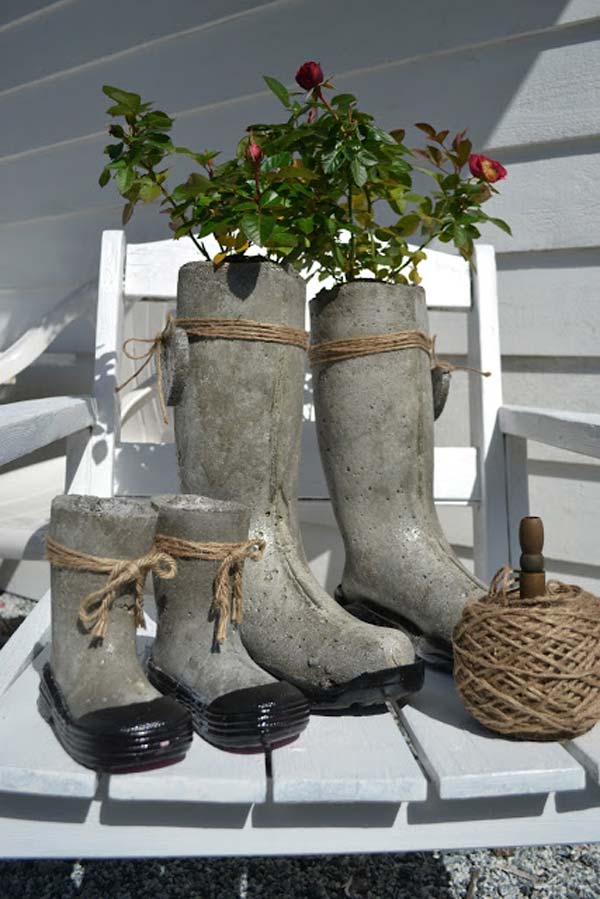 36. Birthday concrete decorations
Creating your own cement oversized letters come in handy, especially on birthdays, don't you agree?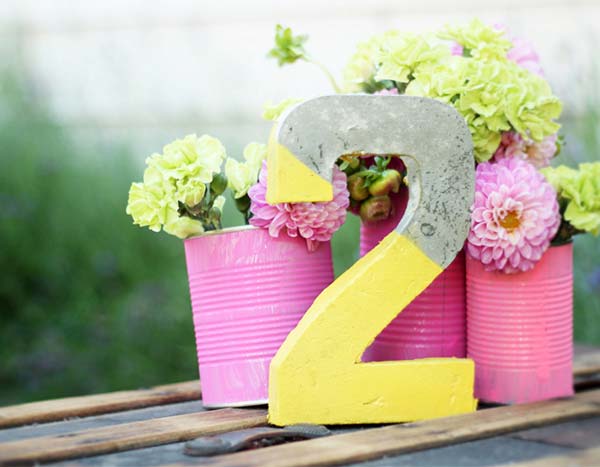 37. Tall garden candle holders
Elevate your candle light outdoors on tall cement cylinders used as candle holders.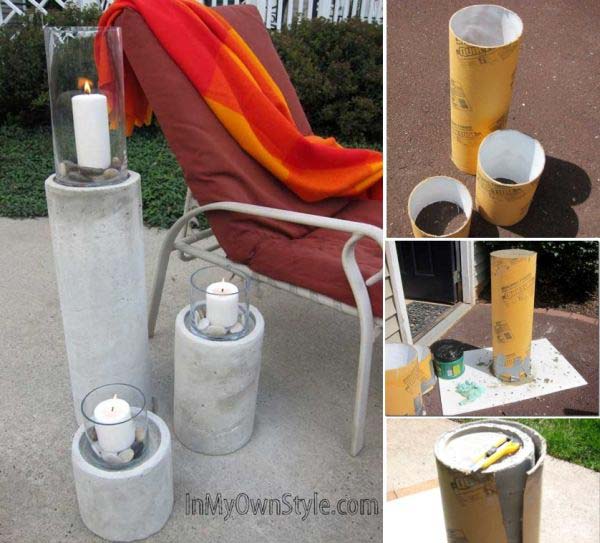 38. Candlestick holder using cement and a cardboard box
We absolutely love this elegant and simple project, the perfect symbiosis between rough and sleek materials. Choose a sturdy box and a thicker composition to avoid cement leaking.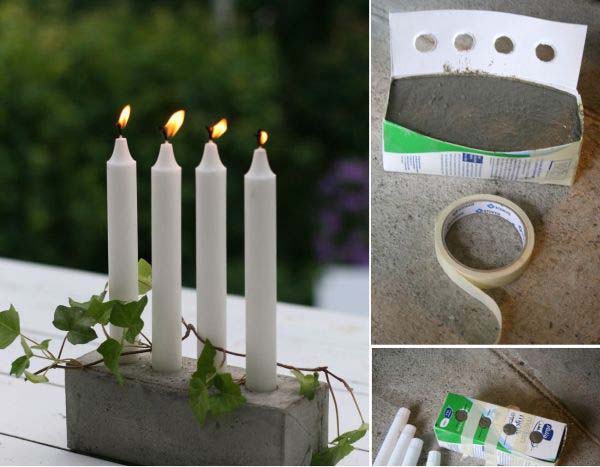 39. Christmas concrete décor
Go straight for the DIY projects this year and prepare for the winter holidays with proper décor. Recycle old globes and fill them with cement for unusual decorations.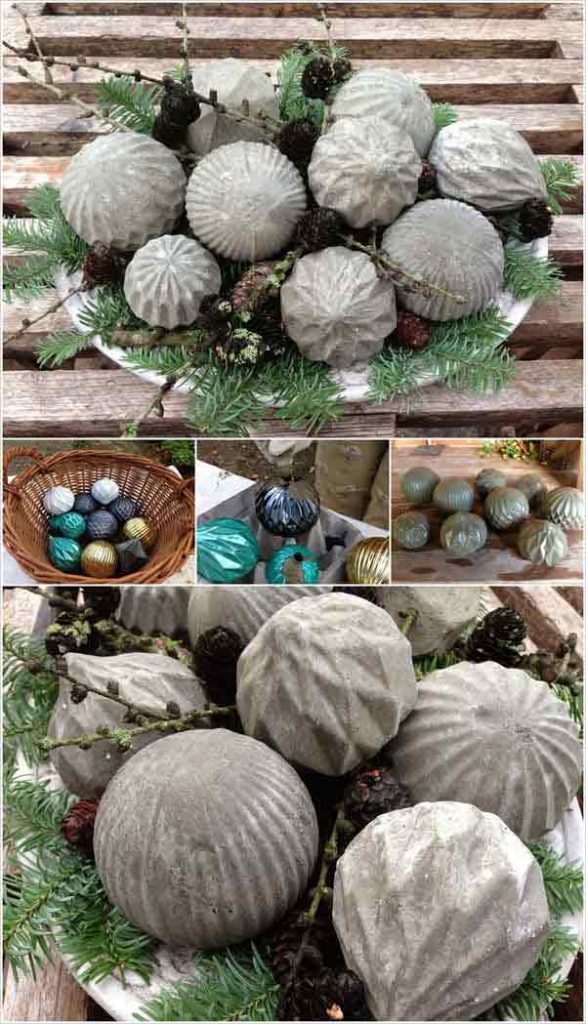 40. Leaves adding texture to pavement
Go with the organic natural flow of a garden with leaves imprinted cement pavement. This technique will lead to unique pieces, beautiful in their imperfection.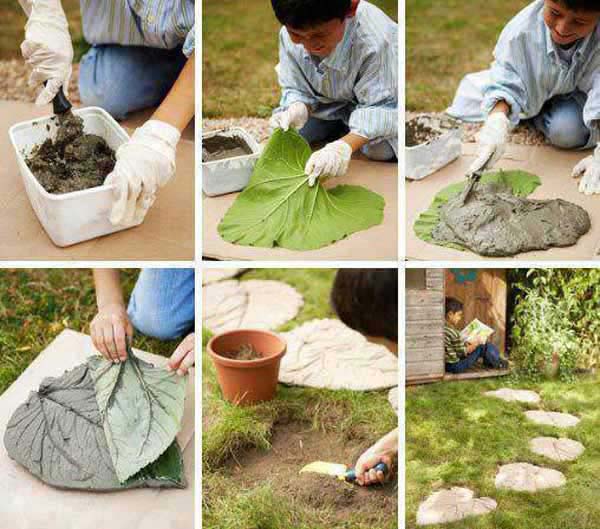 41. Using hands to mold planters
Wouldn't you love to put your own touch to your garden? Use plastic gloves, fill them with runny concrete composition and place them in a holding position to dry. Fill them with soil and succulent plants for miniature gardens.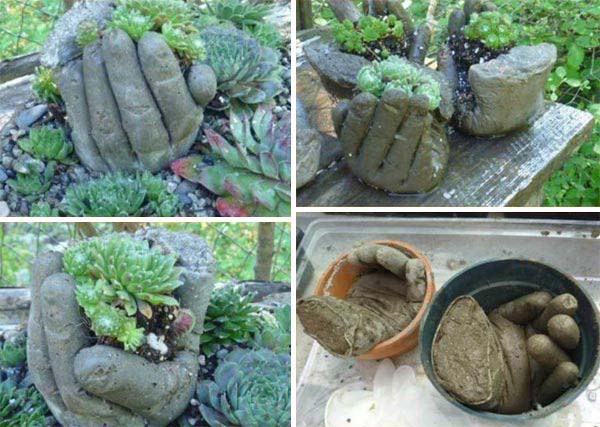 42. Nature touched concrete
Use the natural to imprint on your cement designs for unique patterns and compositions. The organic will blend yet contrast powerfully with the artificial.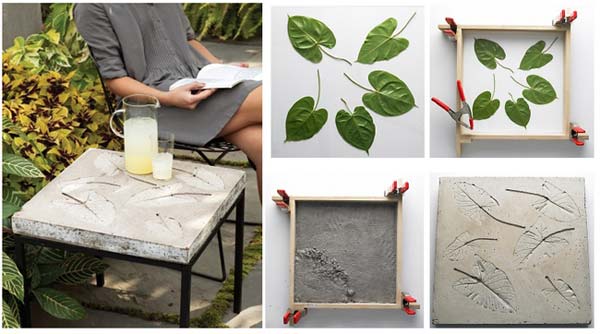 43. A home with a light
A different approach to a candle holder made from concrete seems like a sturdy DIY project. Hold your candle sticks in house inspired holders.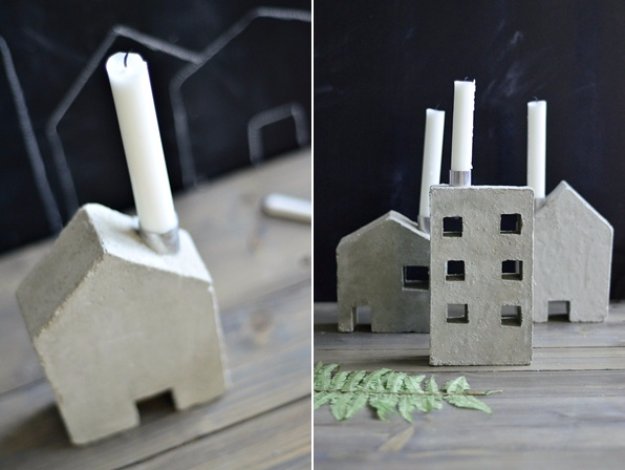 44. Letter concrete magnets
You might be one from the many that has the habit of collecting magnets as souvenirs when traveling, yet creating your own letter magnets sends a particular message.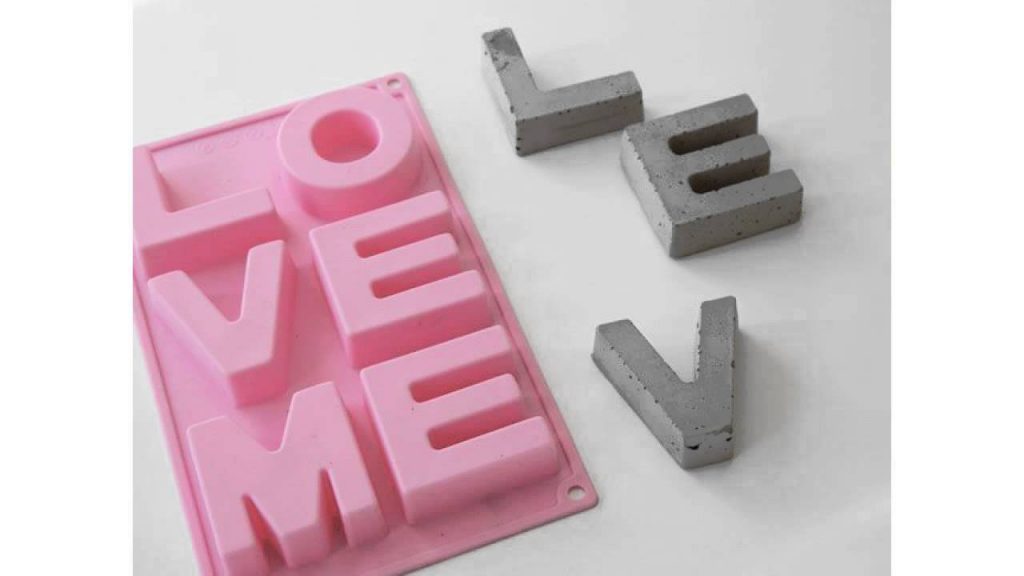 45. Gold silver and bronze touched concrete bowls
Organization and storage are vital in one's home, especially if you live in a small space. Create sturdy lasting cement bowls for all your trinkets and splash them with a touch of gold, silver or bronze to stand out.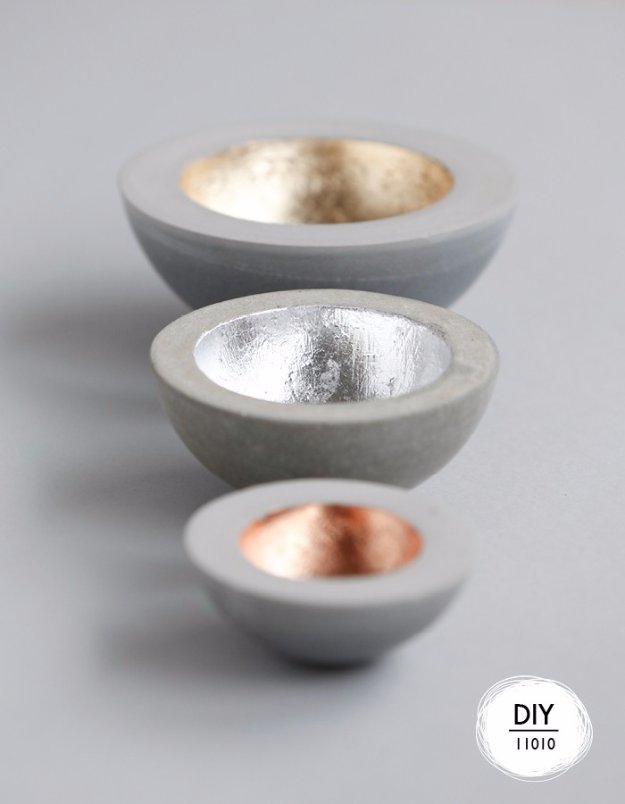 46. Concrete star holding the light
Earth and fire have danced together from the beginning of time, thus a merge of the two in unique creations is a must. Light your soul with cement star candle holders.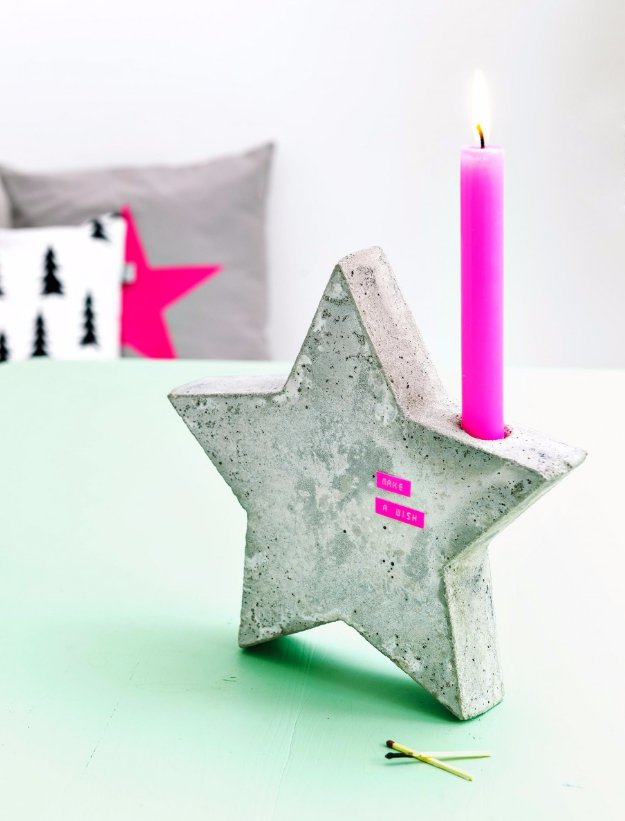 47. A concrete heart holding on to nature
Nature conquers every time, as much as we try each day to tame it. Instead of fighting the obvious, encourage the union and invite the natural into the artificially created.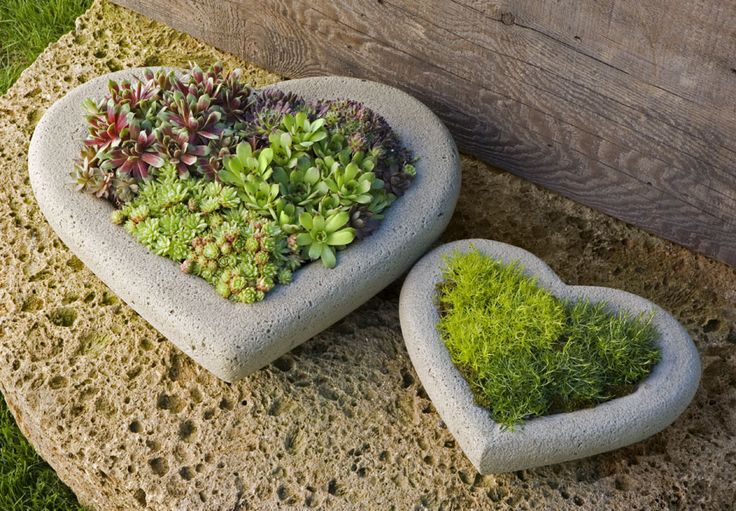 48. Wood and concrete merging
Another contrasting merge lies in wood and concrete mixes, here in the form of an eccentric stool for your porch. Notice how the concrete has inserted and flowed into the natural gaps left in the dried wood.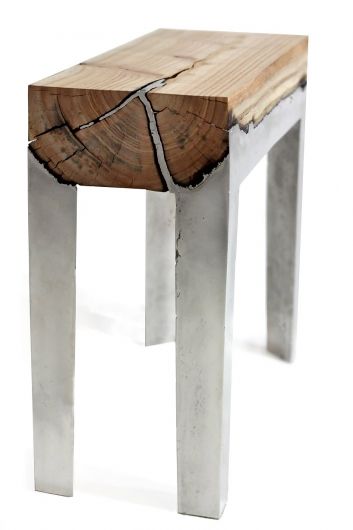 49. Concrete project for your backyard
A project on a larger scale, the dinning table presented below has been created from concrete with a central gap left for the purpose of planting succulents. The concrete absorbs the moisture in the air, working in harmony with the greenery. Such a design is a sturdy one and, if the composition of the concrete is correct, will last for a long time in your patio or backyard.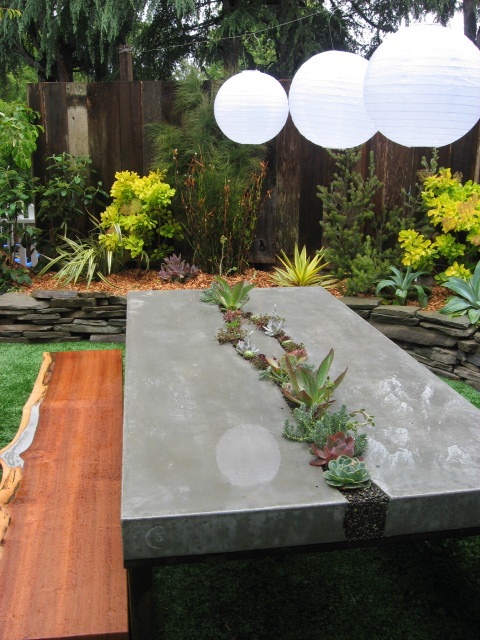 50. Coffee table from lace imprinted concrete
We love adding texture to materials, especially insert ones like concrete. Here a lace material has been utilized to imprint the fresh concrete and create a doily resembling coffee table.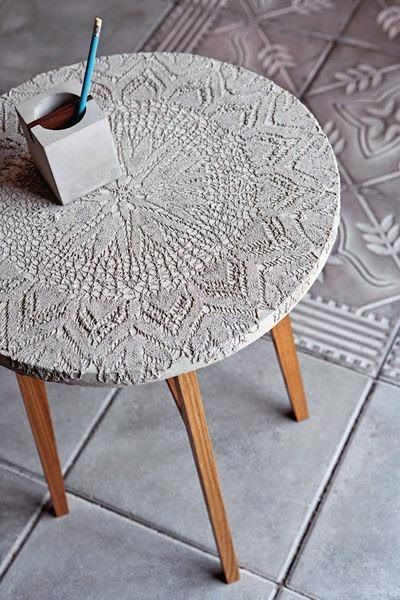 51. Mix of textures and hues in concrete crafts
The green smooth texture of wax, the defined shape of the cement votive candle, the fragility of the candle wick, all come together to form a delicate yet sturdy candle to lit your evenings and exude fresh scents into your abode.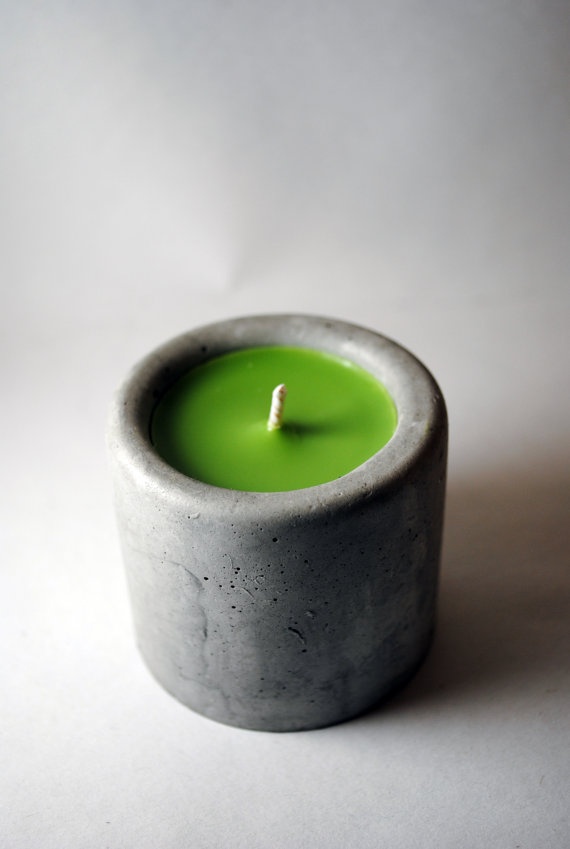 52. Wood and concrete combined into furniture design
A block of reinforced cement shapes the top of a coffee table realized with a wooden base. The mixture of the two generates a furniture piece meant to last for decades if properly maintained.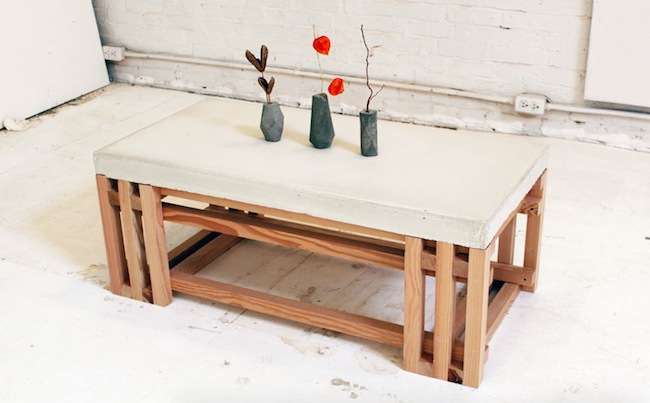 53. Lace imprinted concrete pavement
With the same idea in mind as in the project presented above with the lace coffee table, you can use doilies to imprint cement pavement, adding thus delicate feminine touches to your garden design.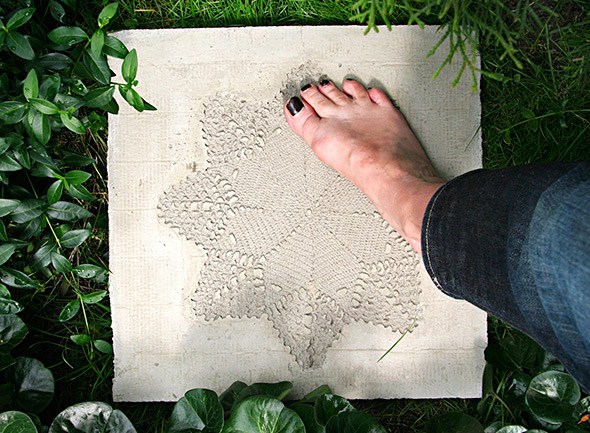 54. Star shaped tea candle holder
Use a glass star shaped holder and parchment paper as a base for your concrete purring, Insert a tea candle in the middle to create the proper space. You can use the resulted candle holder outdoors as well, just use a sealant to prevent moisture and water absorption.

55. A touch to hold knowledge
Bookends come in a variety of shapes, sizes, textures and materials but how about using your own form to hold all that essential knowledge tucked in your bookcase?! Exuding elegance from your fingertips.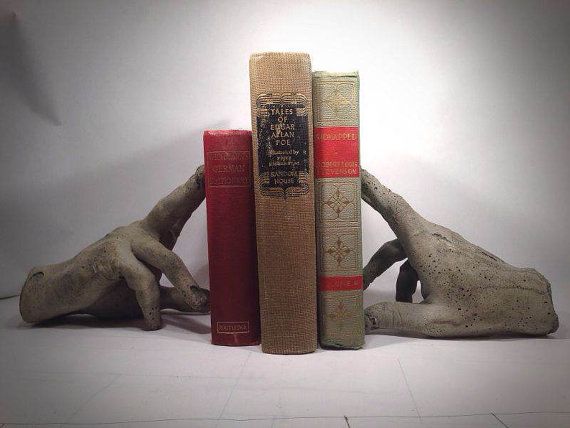 56. Concrete and glass nestling new life
One of the most elegant and vibrant combinations, the glass dome nestling on a concrete base holds and entraps life in the form of greenery, creating a micro universe to admire.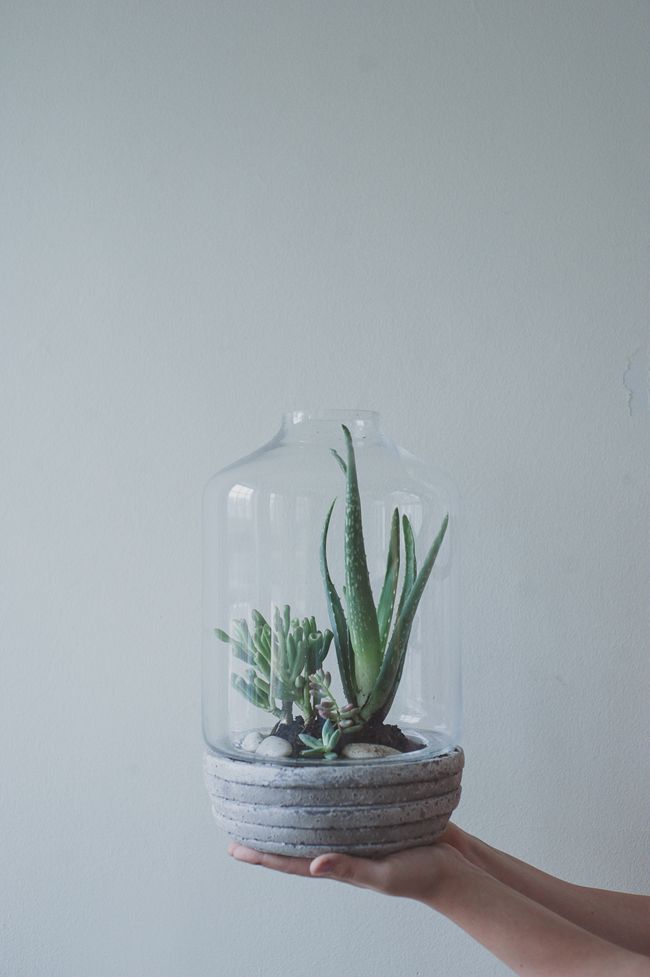 57. Concrete phone case
Talking about sturdy concrete projects, a phone case in this industrial material is suitable for the minimalist in you. It might crack tough due to its thinness, so be aware, it might but just a fashion statement.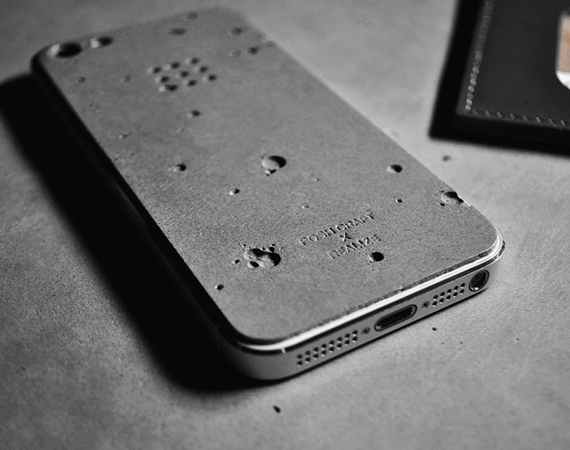 58. Light peeking through concrete crafts
We love industrial design and concrete objects especially. Here light is born in the central of a monolete breaking trough its roughness and escaping through the cracks.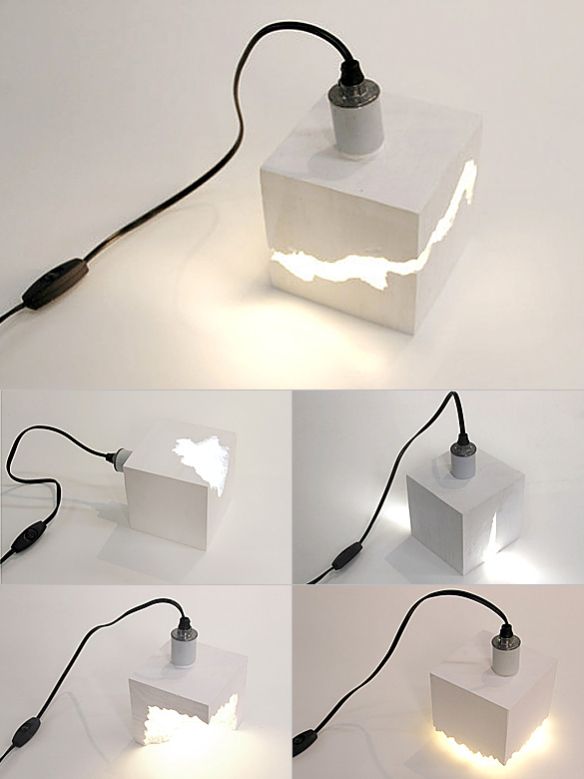 59. Gemstone concrete heart necklace
We find it inspiring to merge different materials such as gold and concrete in order to create unusual objects. Concrete can thus be used to mold pendants which will definitely endure a lifetime of love.

60. Candlestick holders using cement and plastic containers
We at usefuldiyprojects are all about recycling and using old yogurt plastic containers as molds for your concrete projects seems like a right step. The project chosen below proposes candle sticks holders from concrete.

61. Stacking black cement succulent holders
You can even add hues to your concrete mixture for a bold movement, especially when combined with greenery. We have come to the conclusion that succulent plants merge perfectly with concrete recipients, absorbing moisture vital to the little ones.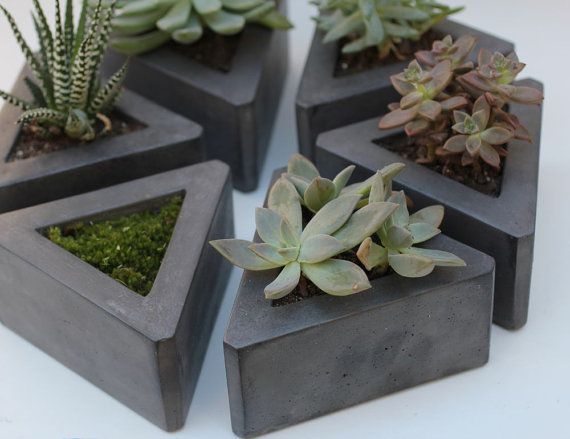 62. DIY beverage cooler
Old plastic bucket has been used as a mold for creating a concrete beverage cooler suitable for outdoor summer entertainment. A metallic tap added at the base of the container will help you eliminate the water resulted from the melting ice.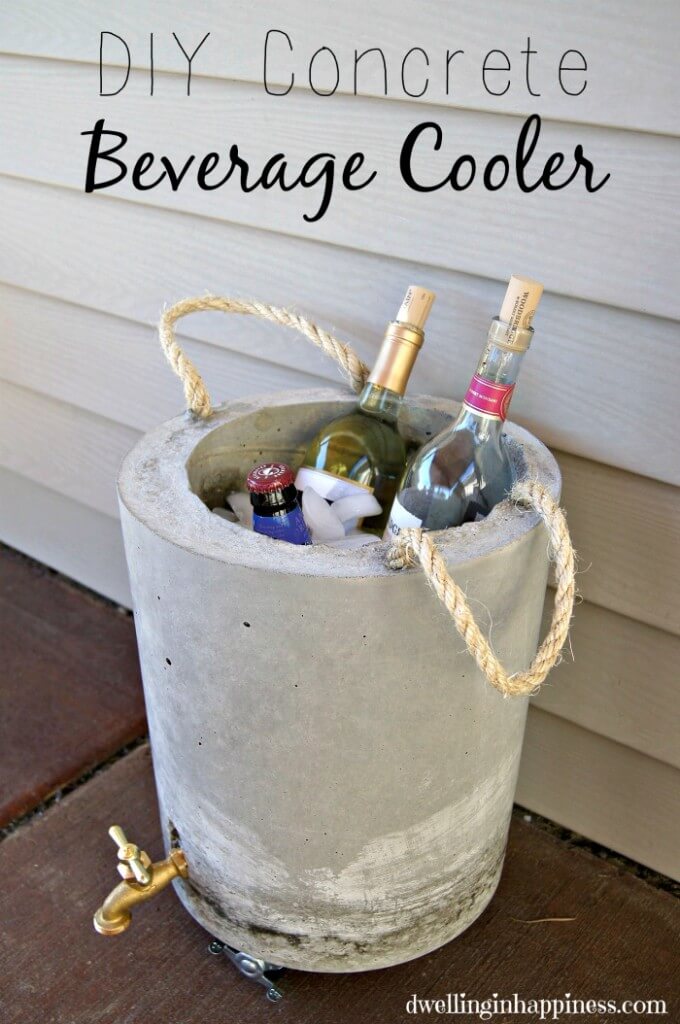 63. Holding a garden in your concrete hands
Nestling greenery has never been more literal, we love getting our hands dirty and getting in contact with nature herself. Create a small succulent garden in the palm of your hands.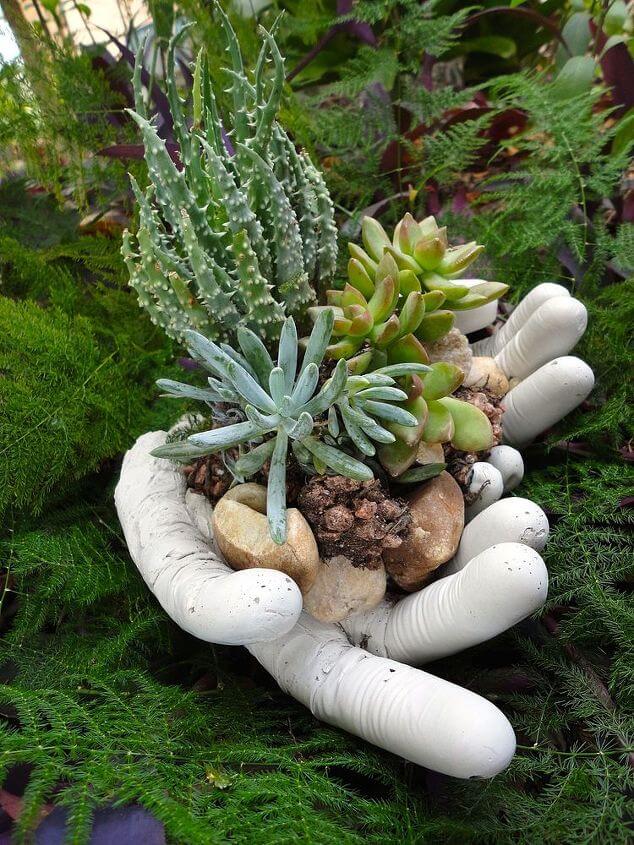 64. The simple concrete stool
For us this concrete base wooden legged design has become a classical one. Make sure to position the legs at the proper angle in order to prevent the stool from tilting afterwards.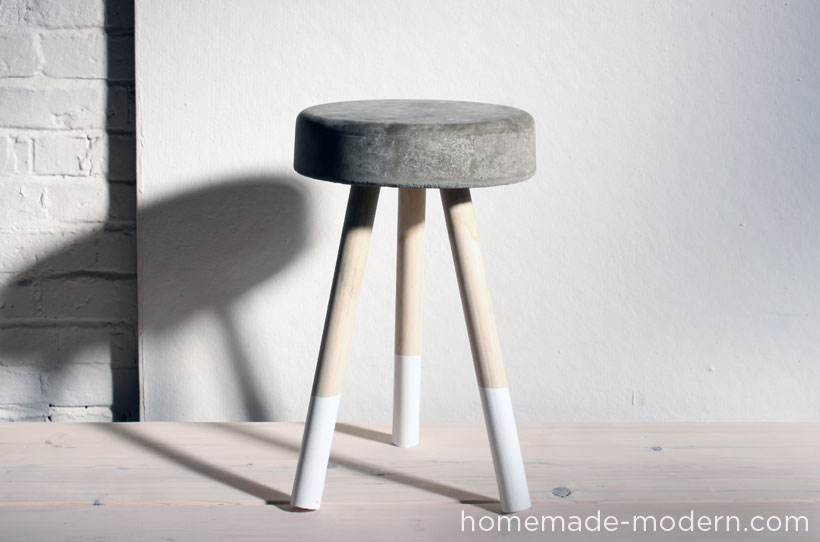 65. Bar on wheels from concrete
Suitable for both interior and exterior entertaining, the below concrete bar on wheels takes a little more work to create than the bucket concrete beverage cooler presented above.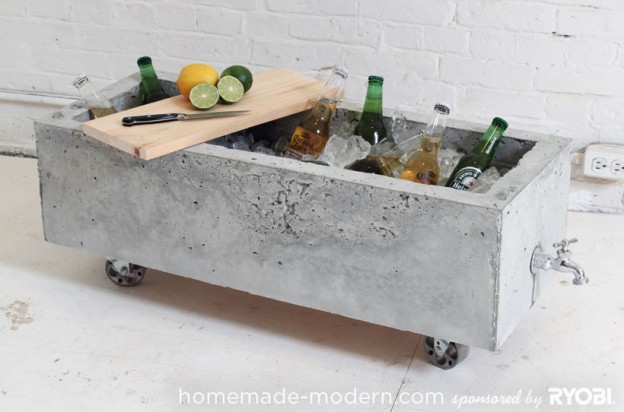 66. Letter shaped candle holders for the dinner table
Candle light has the ability of setting the proper meal atmosphere on a tiring day, especially at dinner time. Fun letter candle stick holders can be create from concrete, everlasting, heavy enough to hold your table cloth outdoors on a windy evening.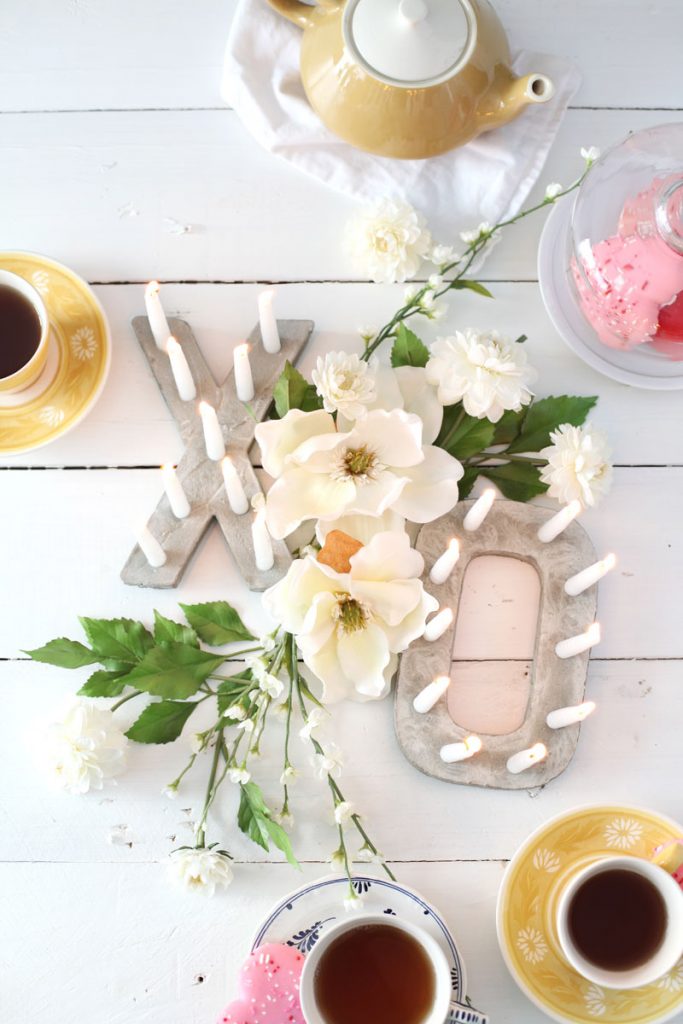 67. DIY Christmas cement decorations
We love Christmas decorations and creating your own little tradition of molding your own piece of décor each year seems like a positive attitude suitable to this time of the year.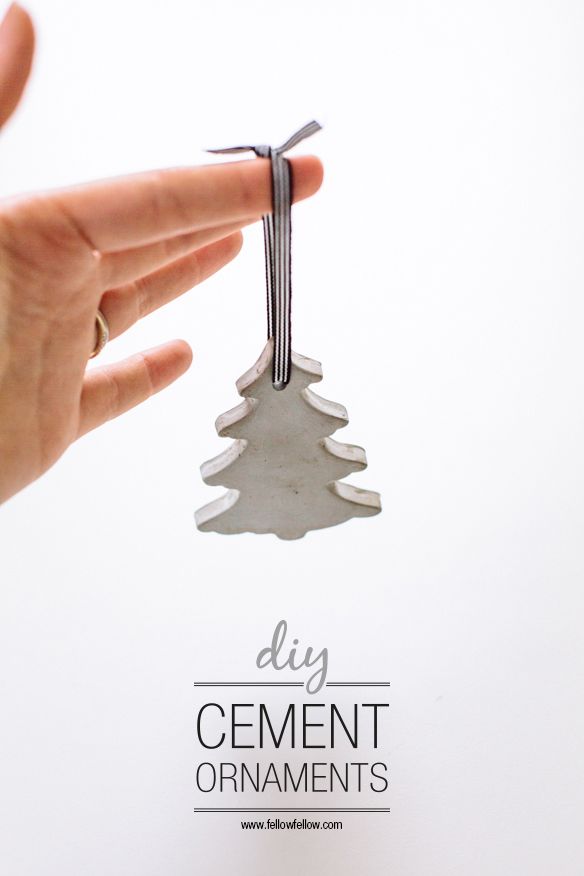 68. Concrete round candle holders
If we are at the subject of candle holders, choose to form a rather large one for your coffee table. It serves as the right piece of interior design that can stand out or blend in depending on your décor.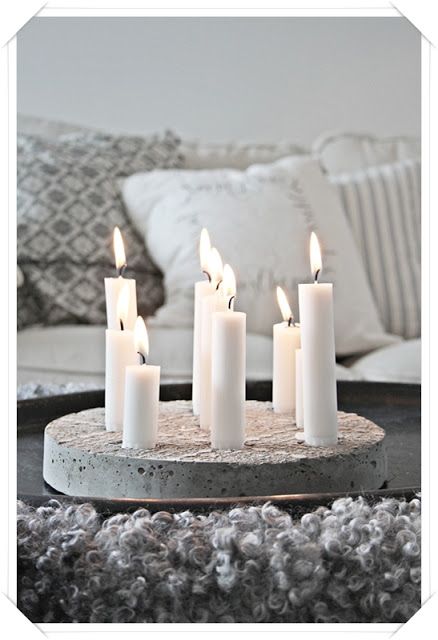 69. Elegant candlestick holders
A more complex piece has been curated below, one with a concrete base, wire spikes and candle sticks placed above in a quite peculiar design. The extra height will allow you to add extra decorations to your piece, depending on the occasion or event.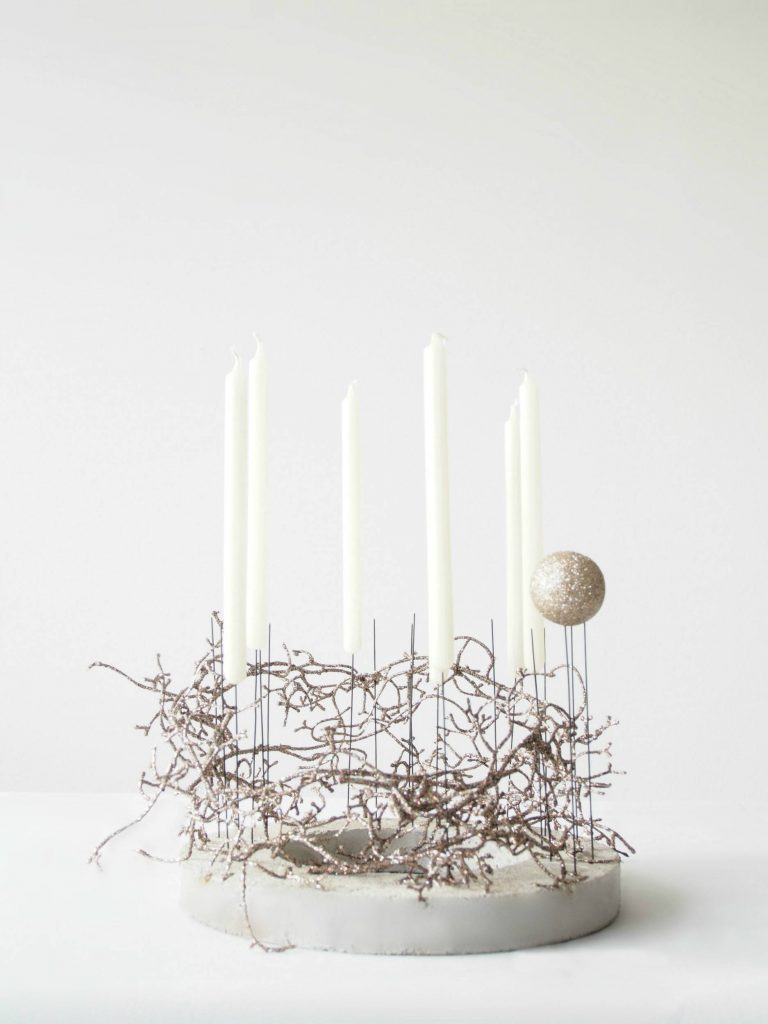 70. Concrete planter on wheels perfect for patios
Leave it to you to transform the beverage bar on wheels presented below into a modern concrete planter for your balcony or patio. This is quite a versatile project, don't you agree?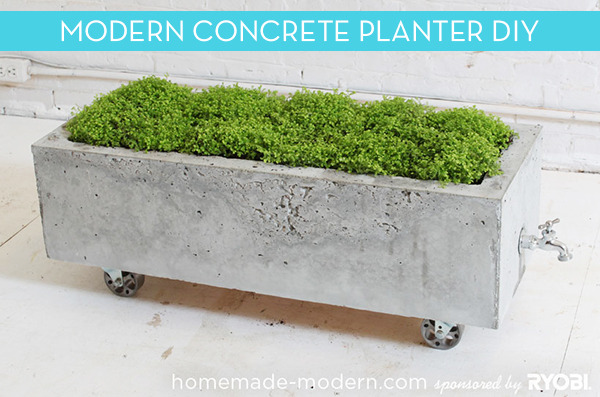 71. Cone planters adding an edge to wood
Geometry serves us well here in the form of cone planters nestling once again succulent plants. Here the concrete texture has been toned down with a wooden base structure which is quite easy to reproduce with the right tools.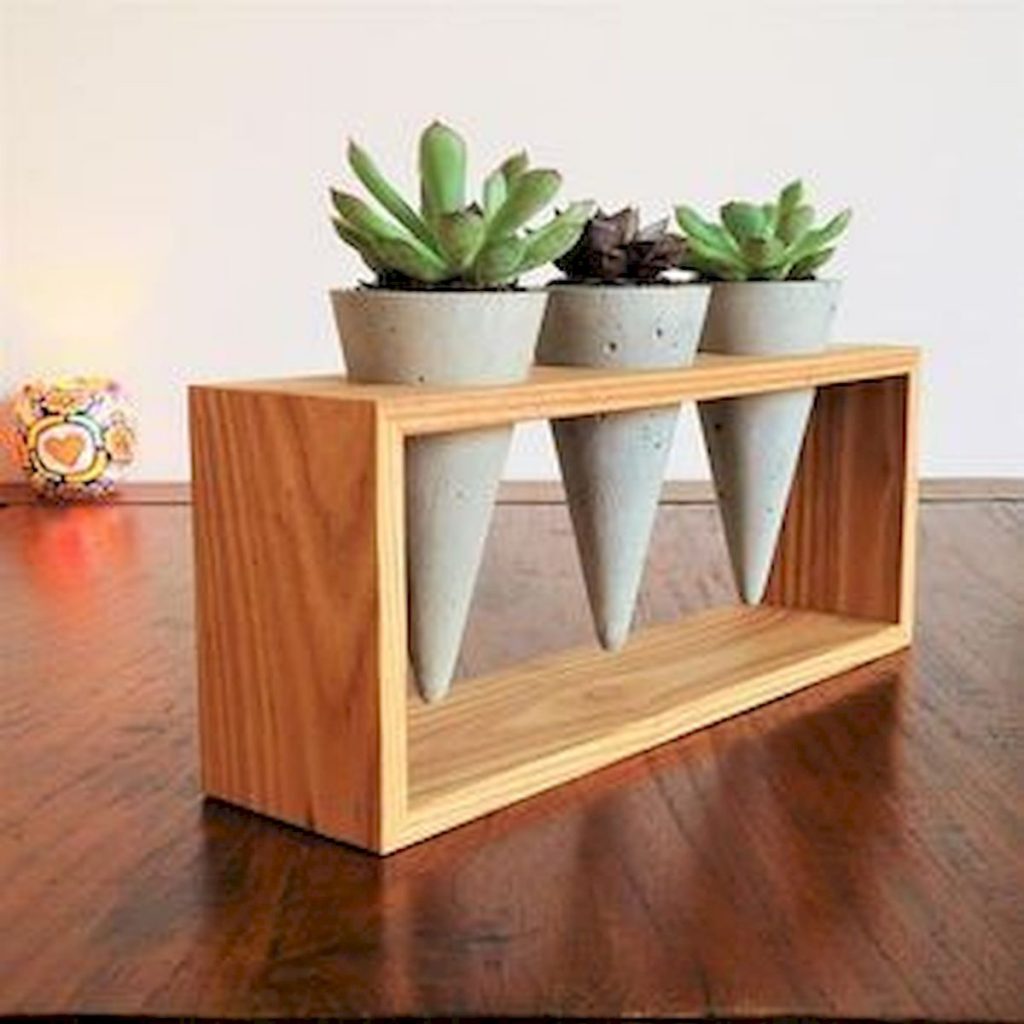 72. Concrete and shells mix
Add texture to texture by inserting sea shells in the concrete mixture to form the base of your planter.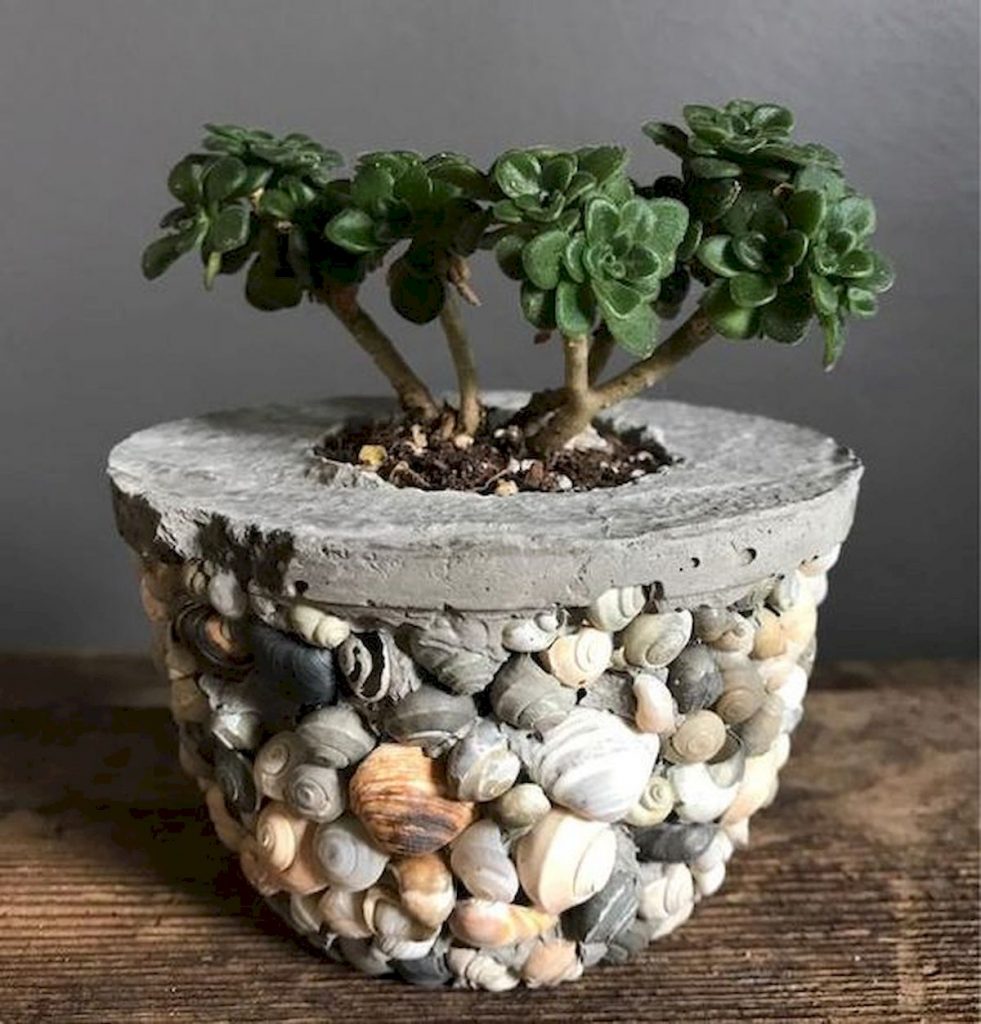 73. A miniature garden from concrete
A simple concrete bowl can become a miniature garden placed on your dinning room table as a centerpiece.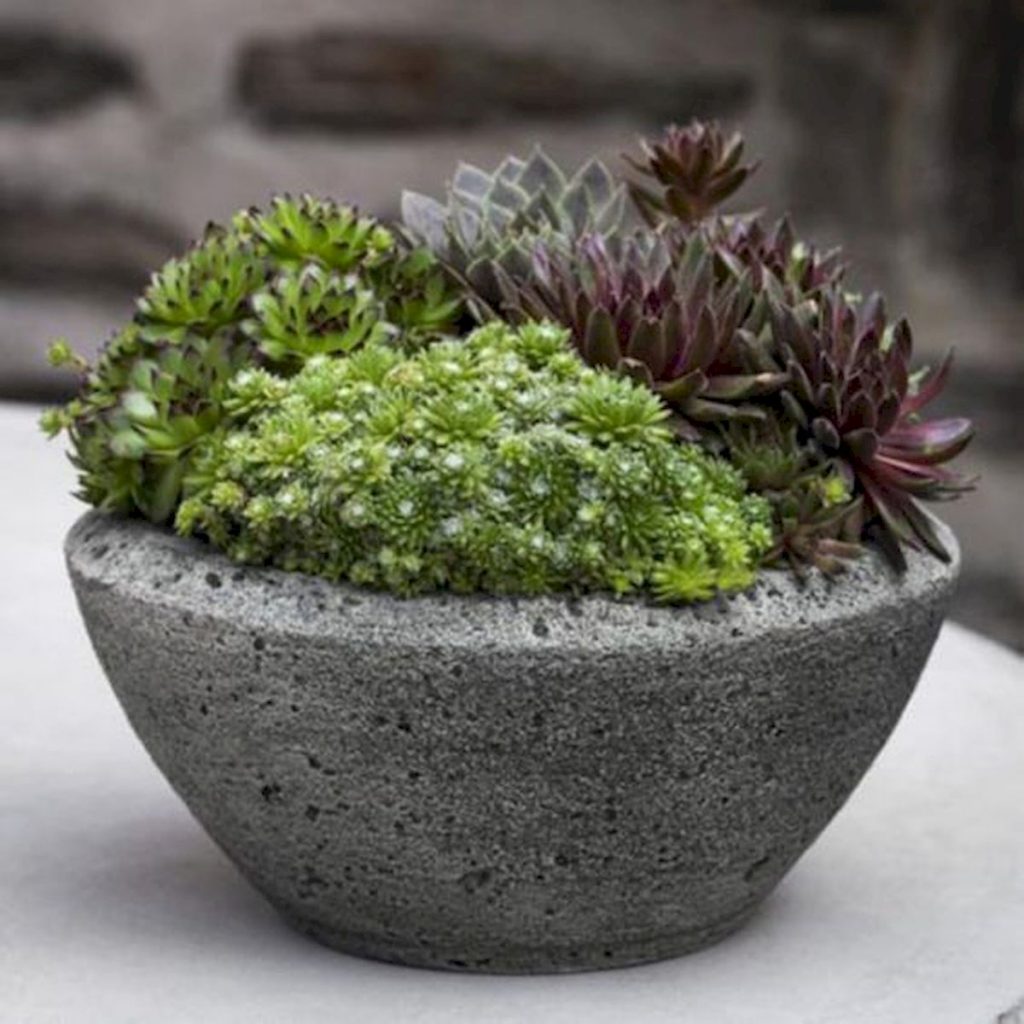 74. Cement cutlery holders for the kitchen
Why not use concrete to form cutlery holders for the kitchen countertop?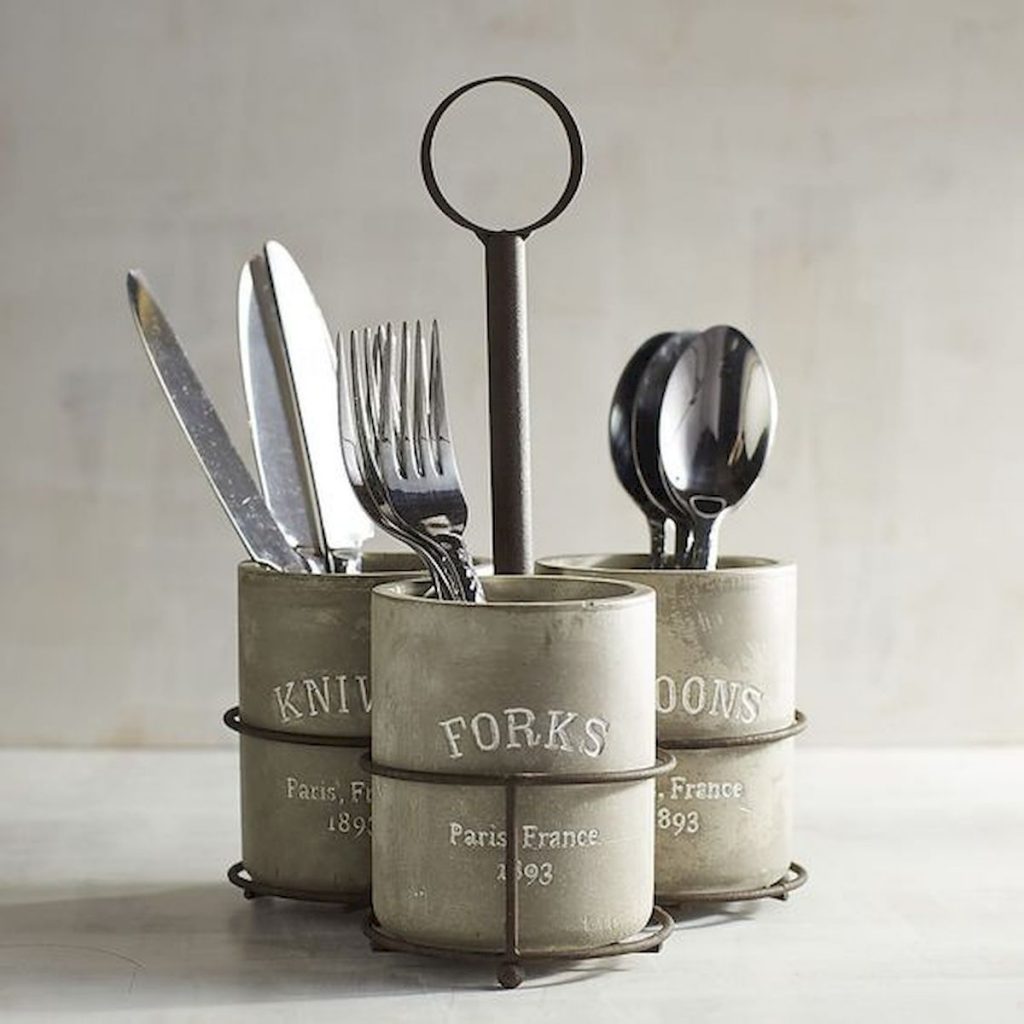 75. Cone shaped cement hanging pots
Another concrete cone planter has been curated, here hung using rope and metallic hooks attached in the concrete before drying out. Again succulents have been planted inside. You can even place air plants inside, without any soil.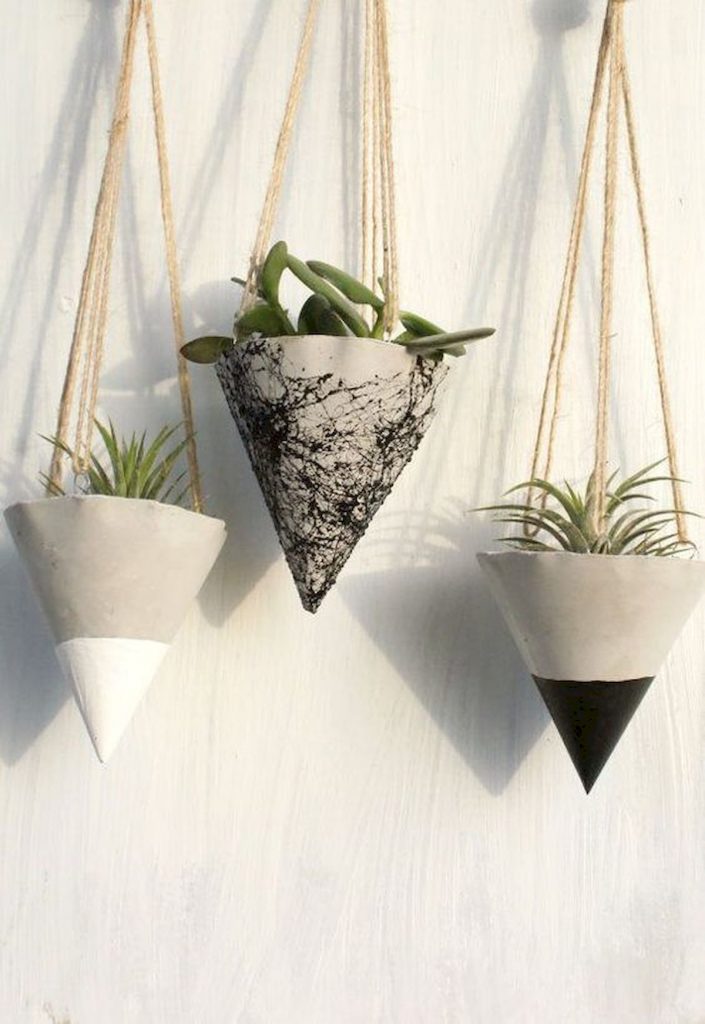 76. Perfectly shaped geometrical holders
If law and order is your thing, geometrical design is the solution for your creative projects, reflecting your personality. You a variety of geometrical options to choose from.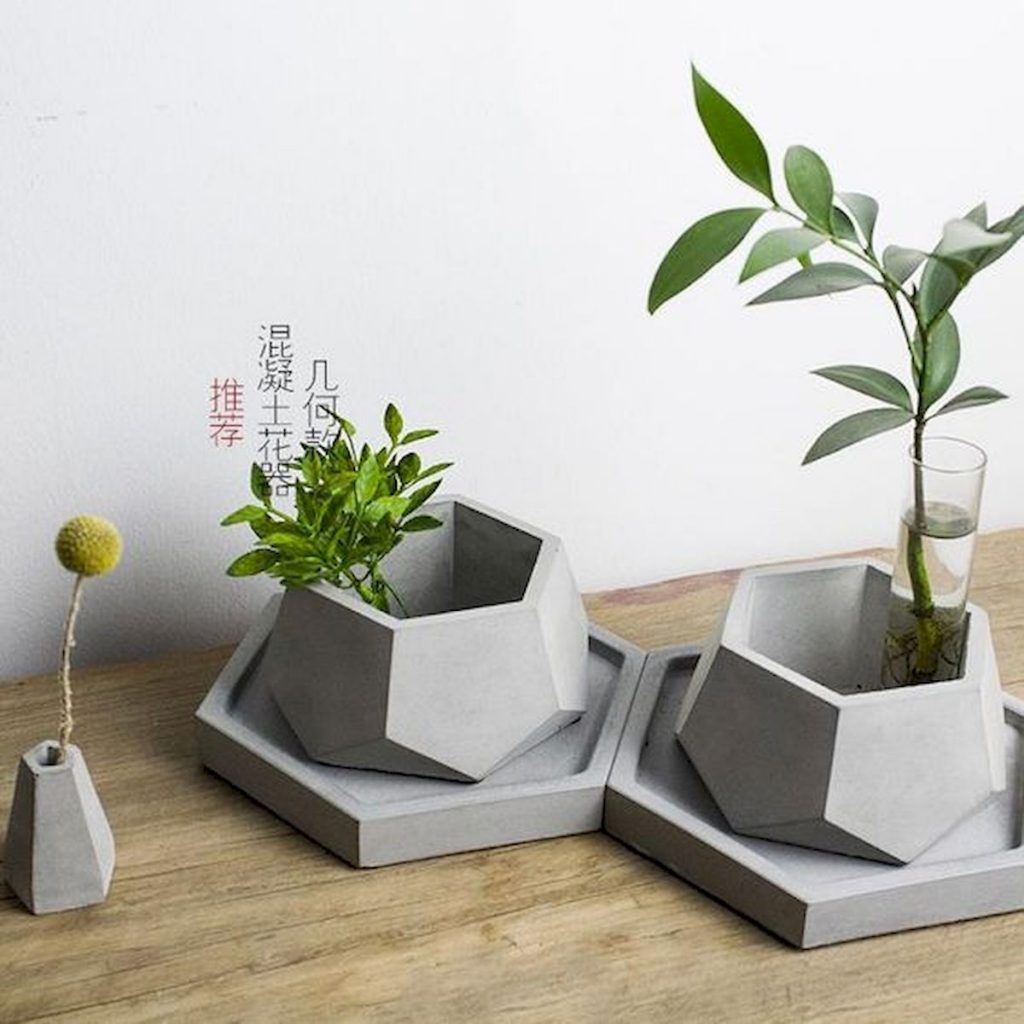 77. Architectural inspired flower container
If you have become a concrete DIY projects lover, go a bit further, move on from the easy ideas and opt for an architectural inspired design.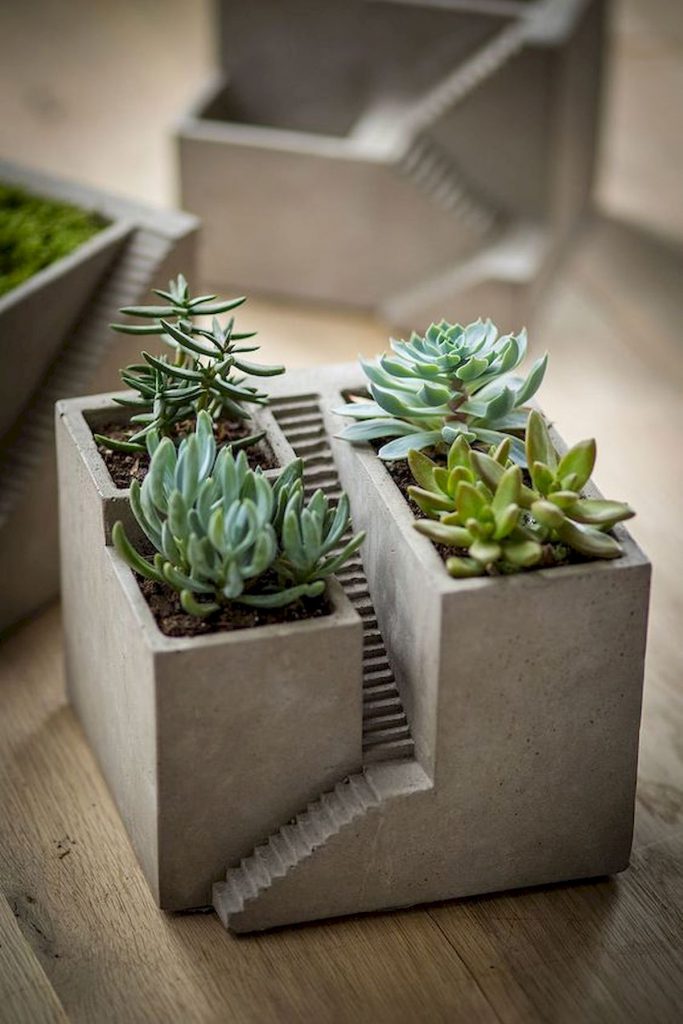 78. A different approach for concrete planters
Dare to be bold, dare to be different and express yourself creatively. For some the below design might seem a bit eccentric but creating the right atmosphere in your home for your style is essential for your inner well- being.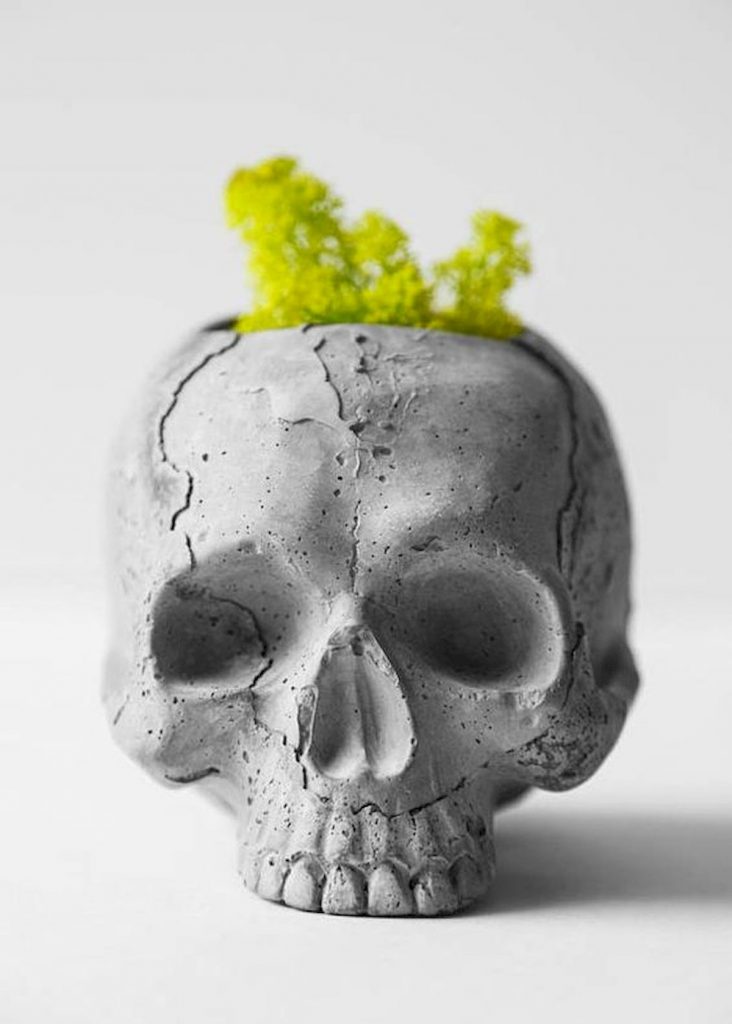 79. Rose shapes paper weights
Having lunch outdoors in a windy day can become a challenge. Cement rose shaped paper weights will hold your table cloth in place and allow you to really enjoy the moment.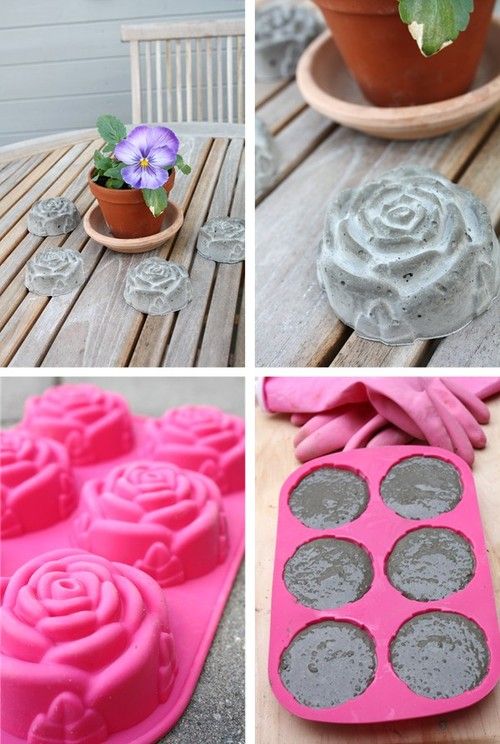 80. Resilient cement flower pots
Flower pots tend to brake and deform in time is placed under direct sunlight and using cement as a prime material for your diy planters is a great option, letting water go through and the roots of the plants breath, absorbing moisture from the atmosphere.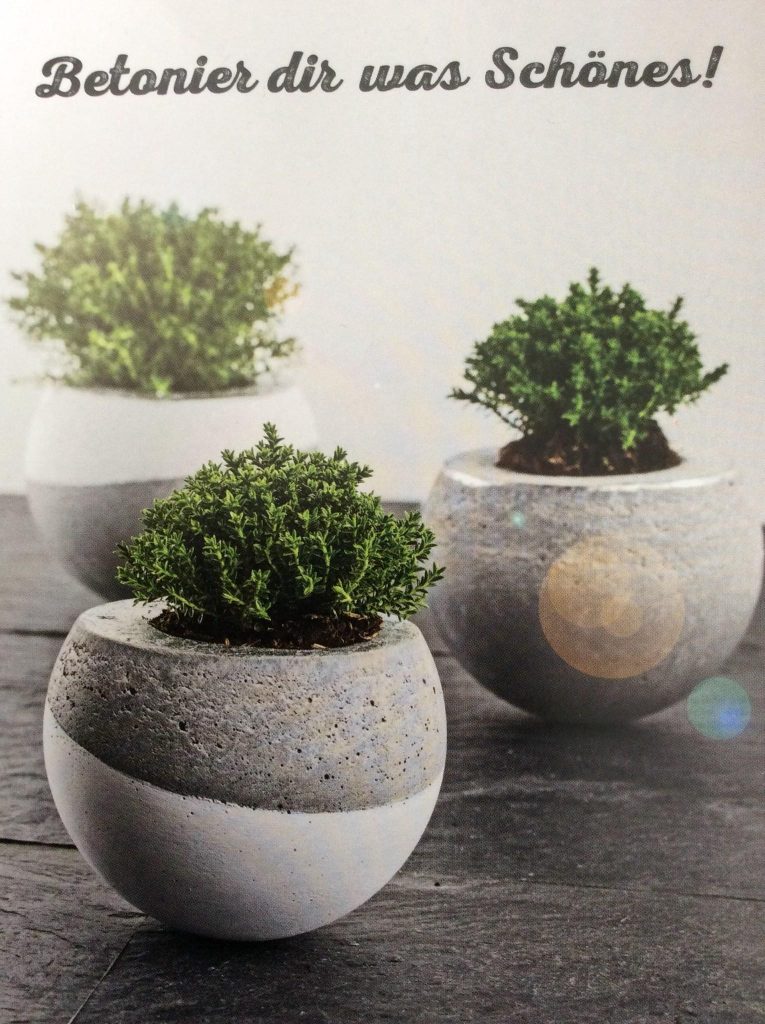 81. Glass tube and cement base
Think outside the box and and merge unusual materials to create unique pieces. A glass tube and a cement base become a perfect vase for a perfect flower.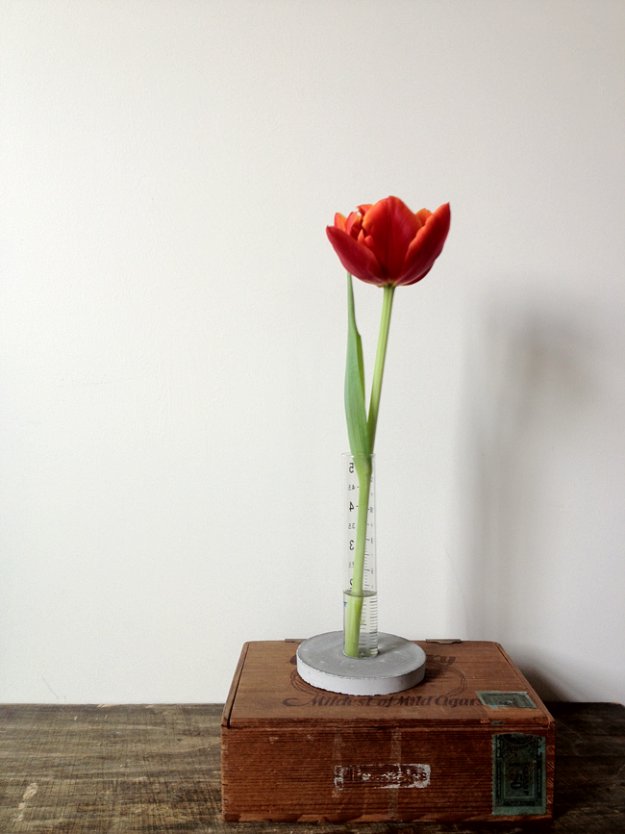 82. Clean concrete bowl
We tend to clutter our homes daily with small items that do not have a designated space in our homes. Concrete bowls come to your aid as perfect organizers for your everyday trinkets.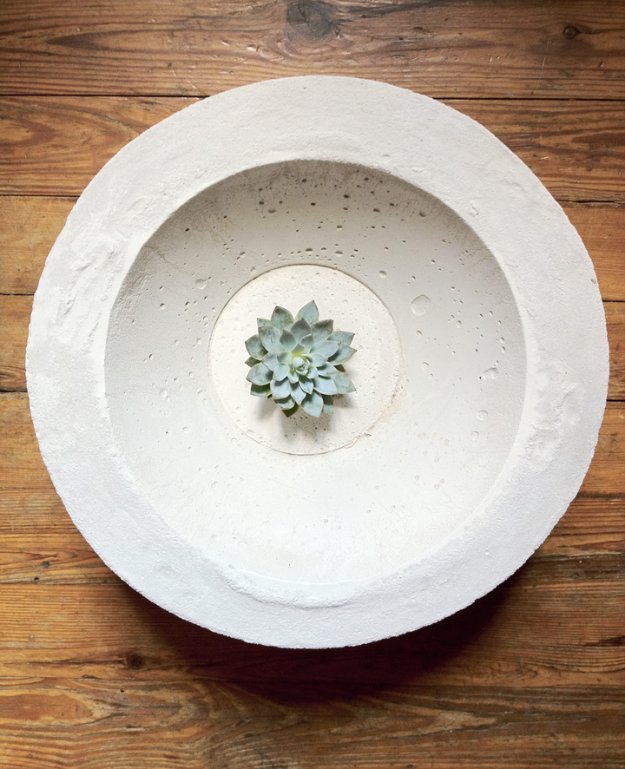 83. Making a cake stander from concrete
You might have never thought of using concrete to hold a cake but why not get creative. Make sure to use a sealer that is food friendly.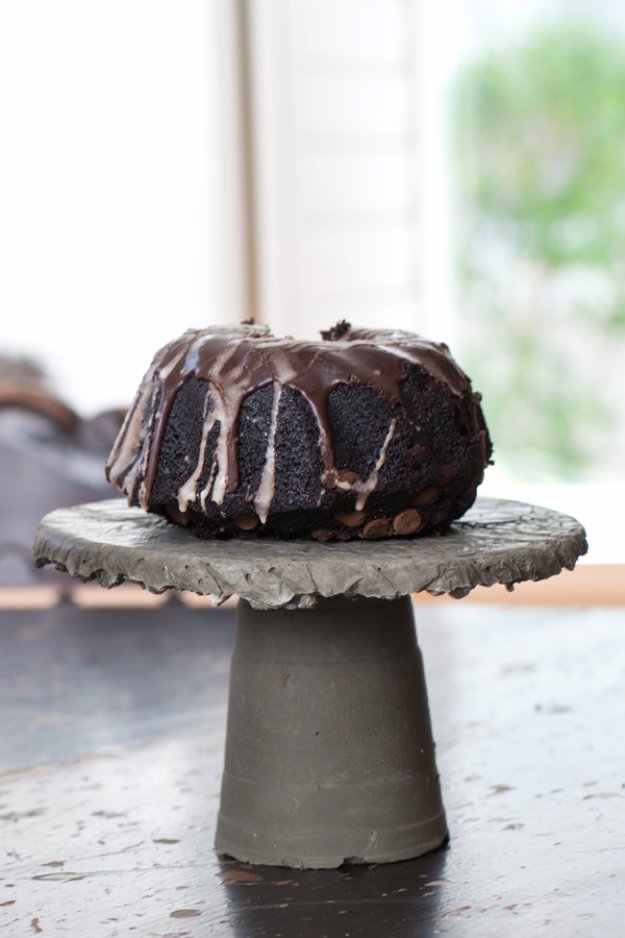 84. Hexagonal concrete coasters
Coasters, yet again, here morphed into geometrical shapes. Add pieces of felt on the bottoms to avoid unwanted scratches of the furniture.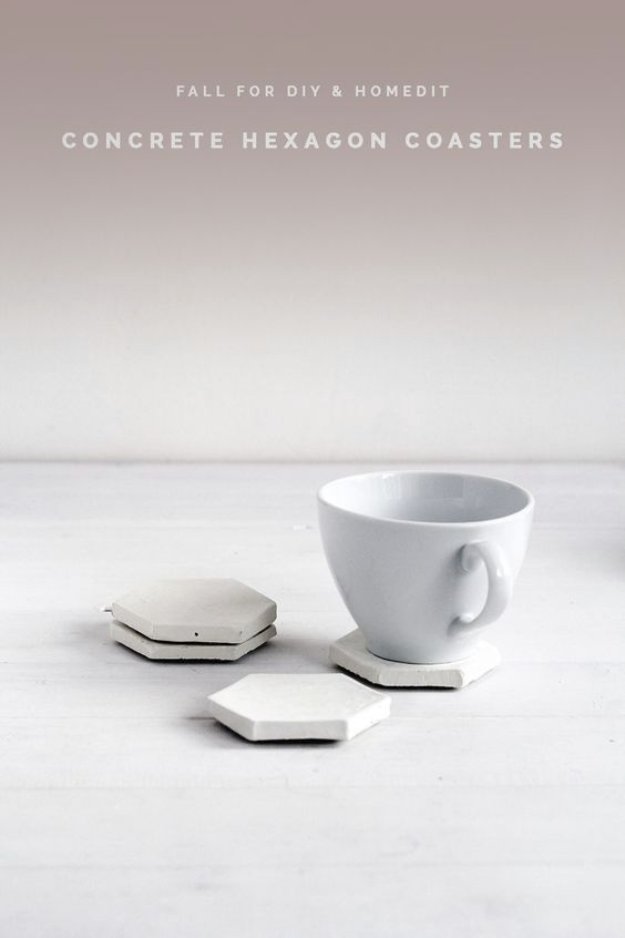 85. The simplest concrete lamp
Simple design will always have a role to play and the most basic ideas that come to mind are sometimes the best ones. A cement block holding a simple Edison bulb is all that you need to create a statement piece for your nightstand.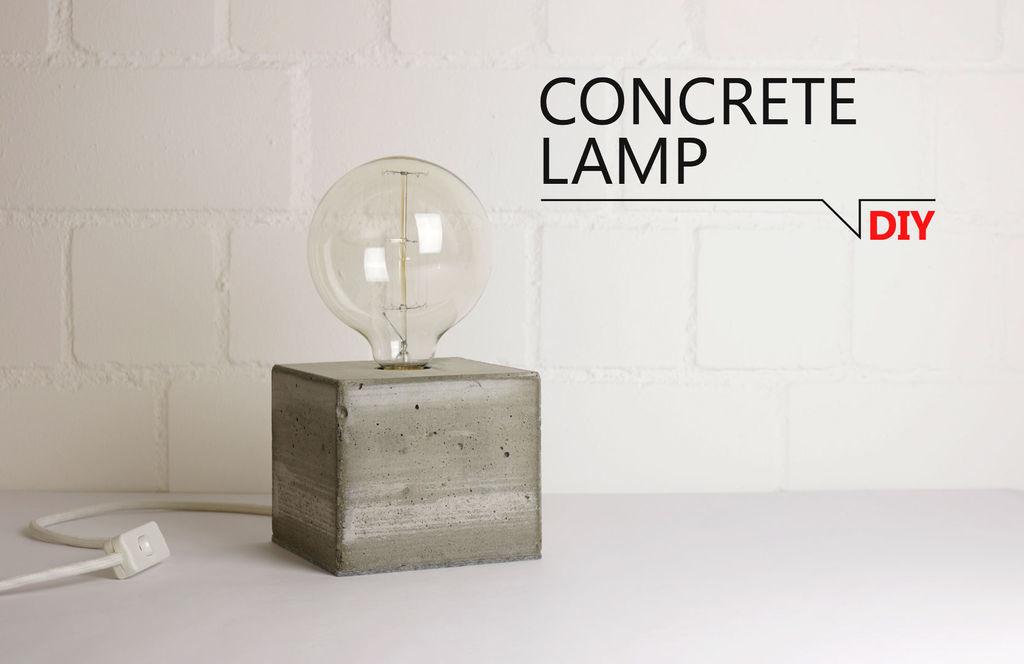 86. Modular wall planters in geometric shapes
We are fond of green walls and modular planters are a great option for creating endless geometric forms that nestle greenery . We suggest succulents as they are not pretentious, can go on with little water and light.

87. Bookends from concrete
We consider bookcases essential parts of a home, concentrating knowledge and history in its contained pages. Holding the books in place is essential for an elegant, clean, organized looking bookcase and bookends made from concrete, rough, heavy yet simple and suitable come to mind.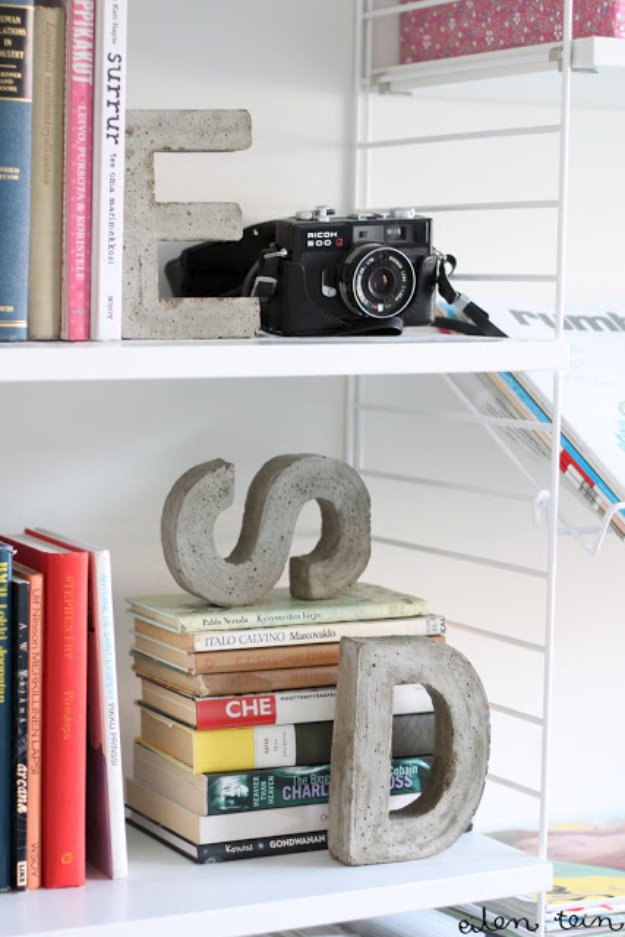 88. Picture letter cement holders
We all love to have a picture of our dear ones on our desks and if an actual picture frame might seem too much sometimes, create tiny picture letter cement holders.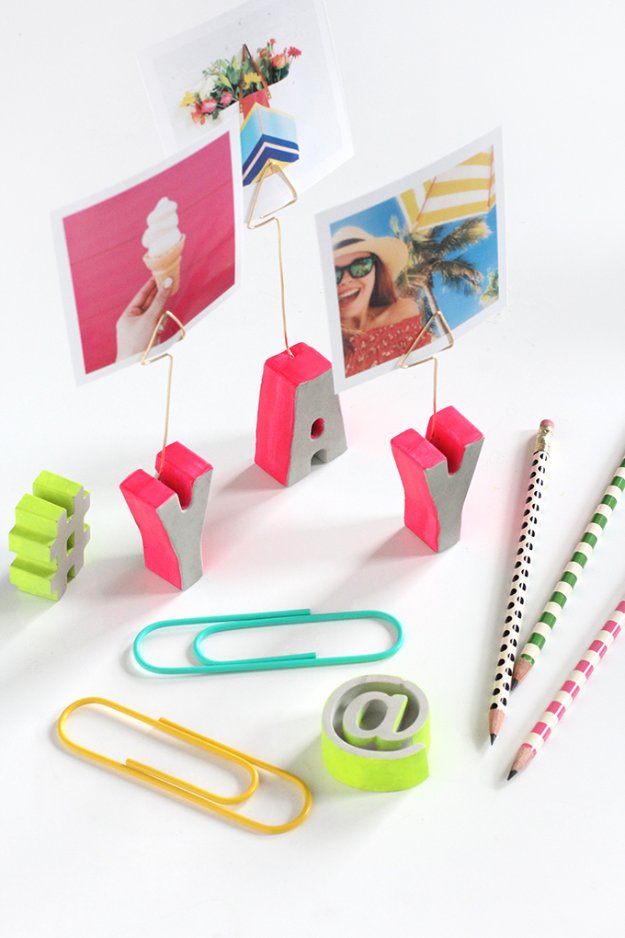 90. Simple cement clock for your desk
Another simple geometric design that uses cement as a primal material for creating a clock for your desk.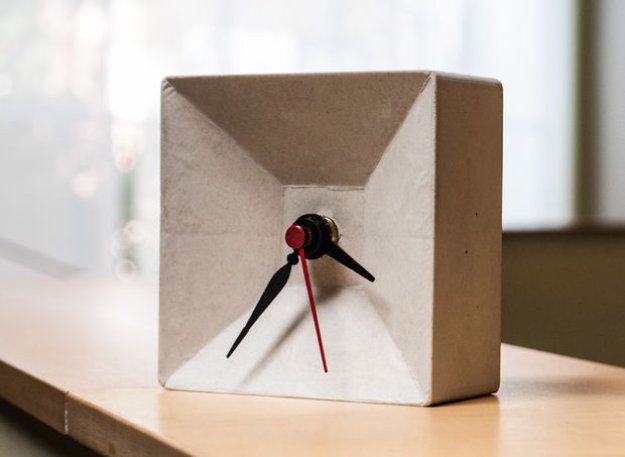 91. DIY concrete coasters with gold touches
We have fallen in love with cement coasters, what can we say! You can even use them as a support for your flower pots.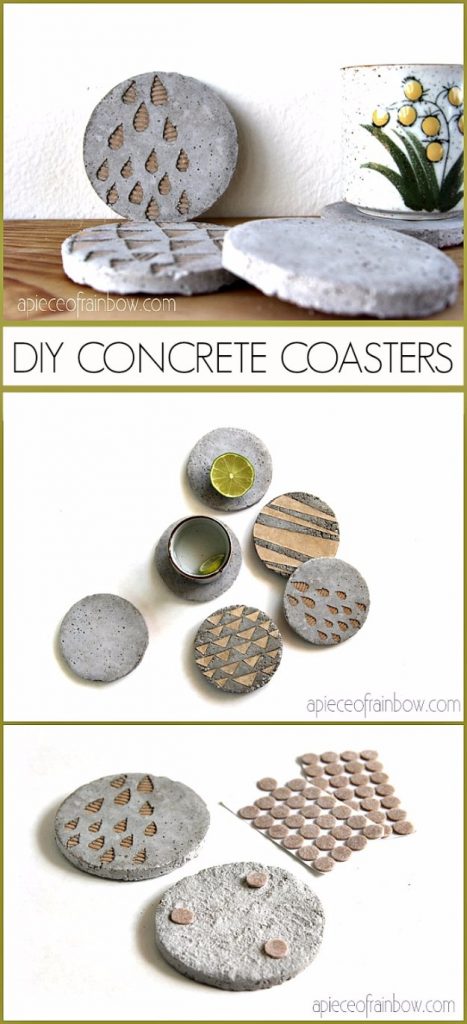 92. Scandinavian inspired cement concrete crafts
We have all come to love Scandinavian design due to its simplicity and elegance. Reproduce the now classical deer head using cement and tree branches as antlers.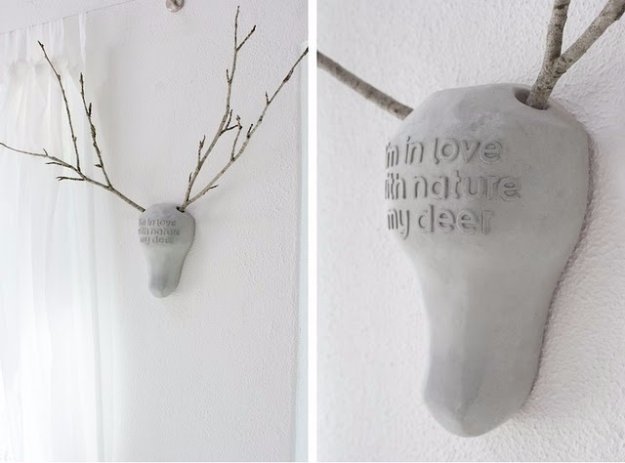 93. Cement tea pot holder concrete crafts
Who said coasters are meant for cups and glasses only? Create your unique twist on a coaster for your tea pot, Asian inspired style. Make individual cement elements and bind them together using thick rope.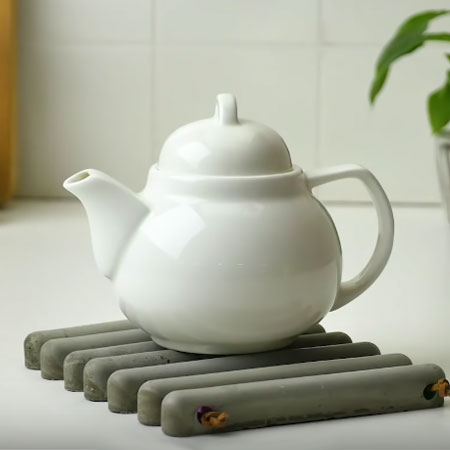 94. Geode inspired concrete globe planter
The most beautiful cement creation in our project selection, the geode inspired planter can become a guest star in your interior garden.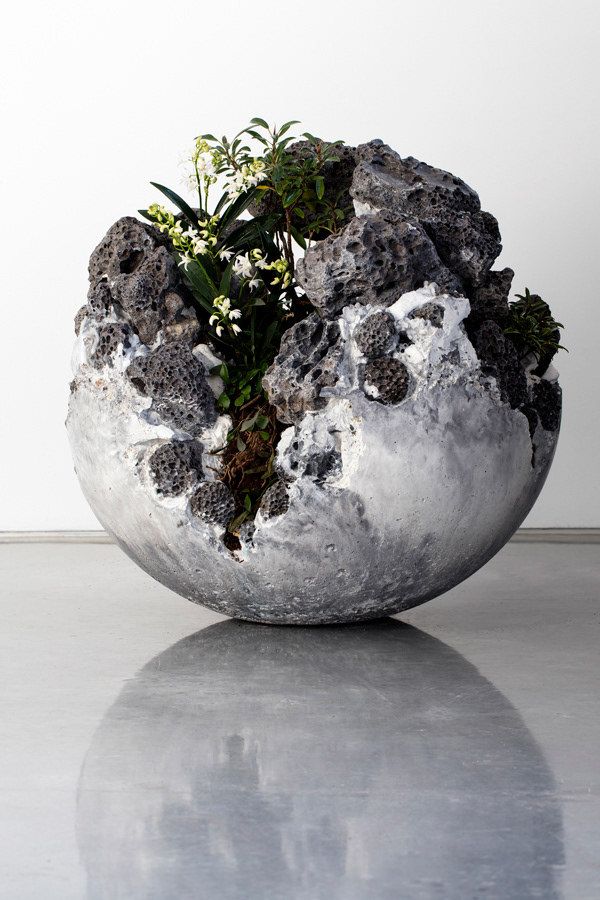 95. Coasters with a touch
Keep your surfaces clean and scratch free by using coasters when serving drinks. Be bold and use smooth cement with a twist.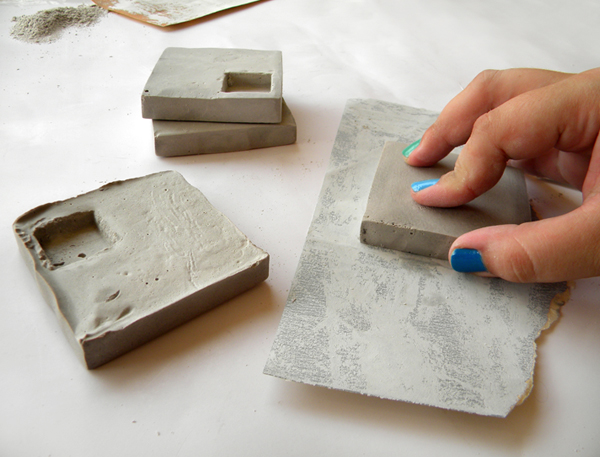 96. Organic folded cement flower pot
You could leave geometry behind in high-school and opt for organic patterns and forms to nestle your organic greenery. Aloe Vera plants need support in order to grow strong and tall.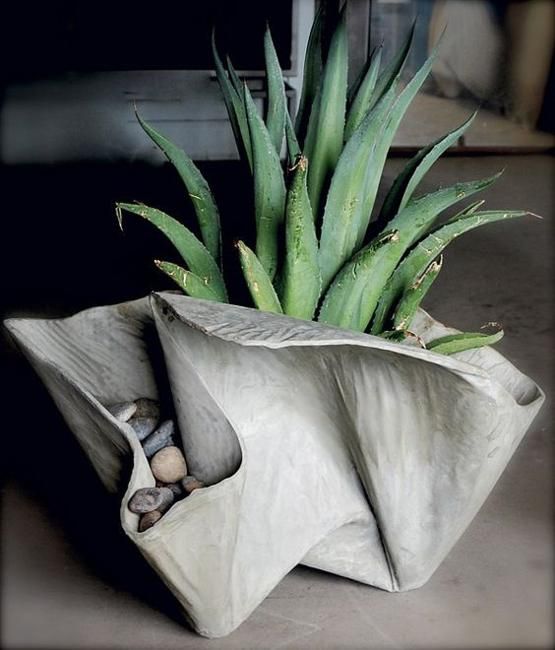 97. Curved cement fruit platter
An elegant fruit platter must rest on every table in every household and a fluid take on it is a must in contemporary design.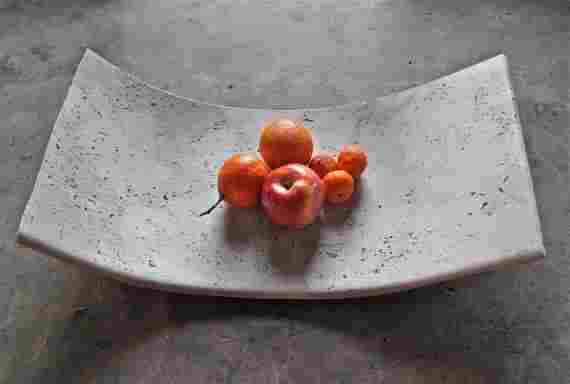 98. Tiny star shaped cement décor
We tend to spend tons of dollars on little useless things like Christmas decorations. They might seem cheap at a first glance, individually but as a hole we exceed our budgets yearly. Trey and create your own decorations, adding thus special meaning to home décor.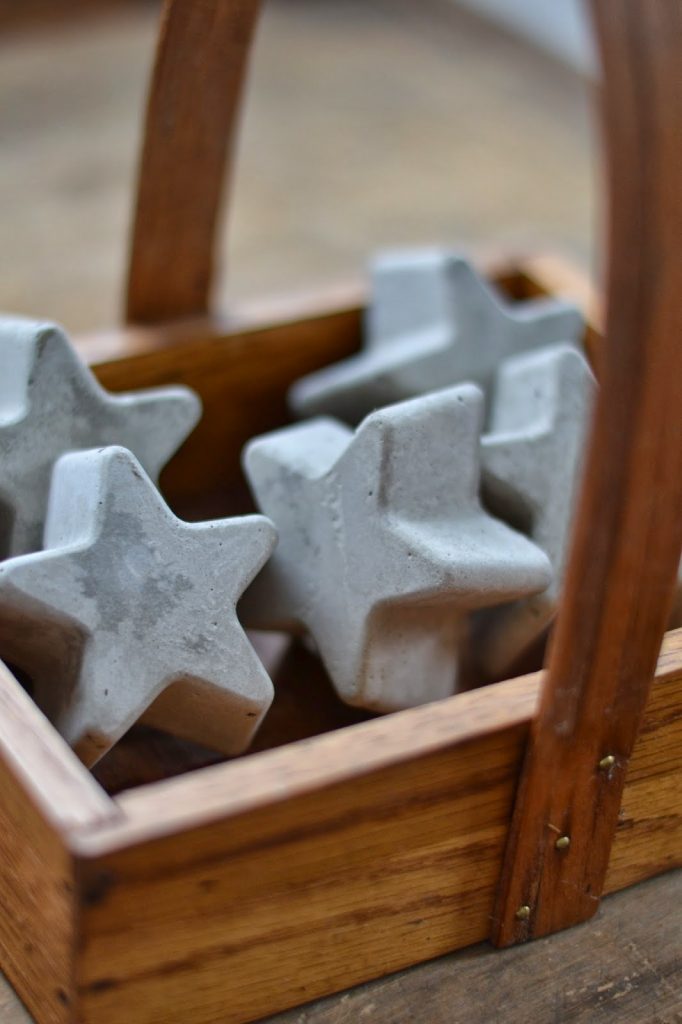 99. Gold heart imprinted coasters concrete crafts
Serve drinks with your loved one on specially created cement coasters, with a touch of gold going straight to your heart.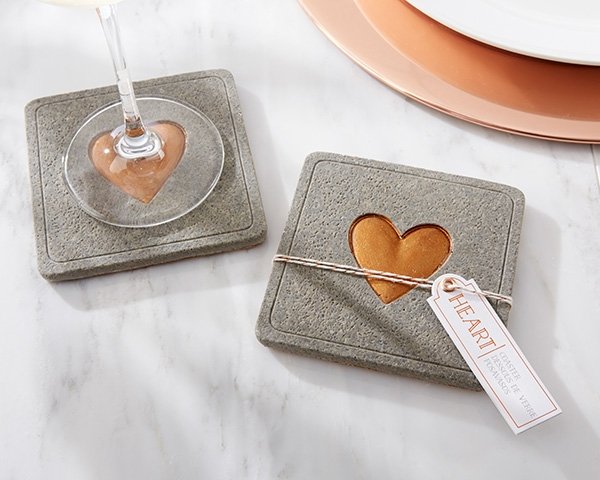 100. Pumpkin shaped succulent holder
For an autumn theme, you can opt for concrete pumpkin shaped succulent holders meant for your front porch.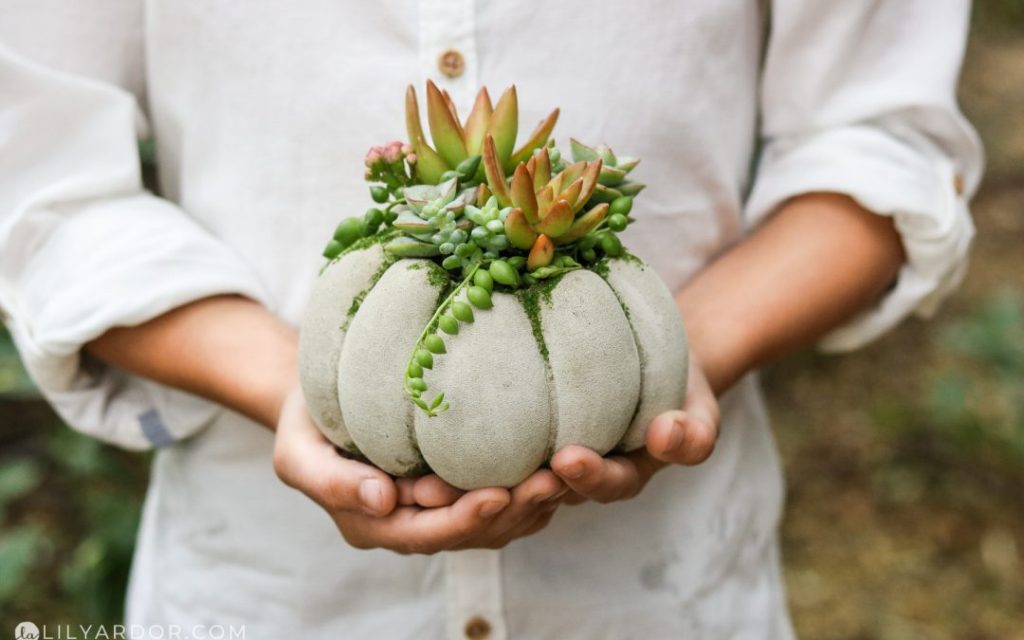 Here they are, our Top 100 Best Concrete Crafts To Pursue, special, one of a kind, practical yet elegant and aesthetically pleasing at the same time. We invite you to choose your favorite one, reproduce it and share your lovely personal creation with us in the comment section below. Craft away!