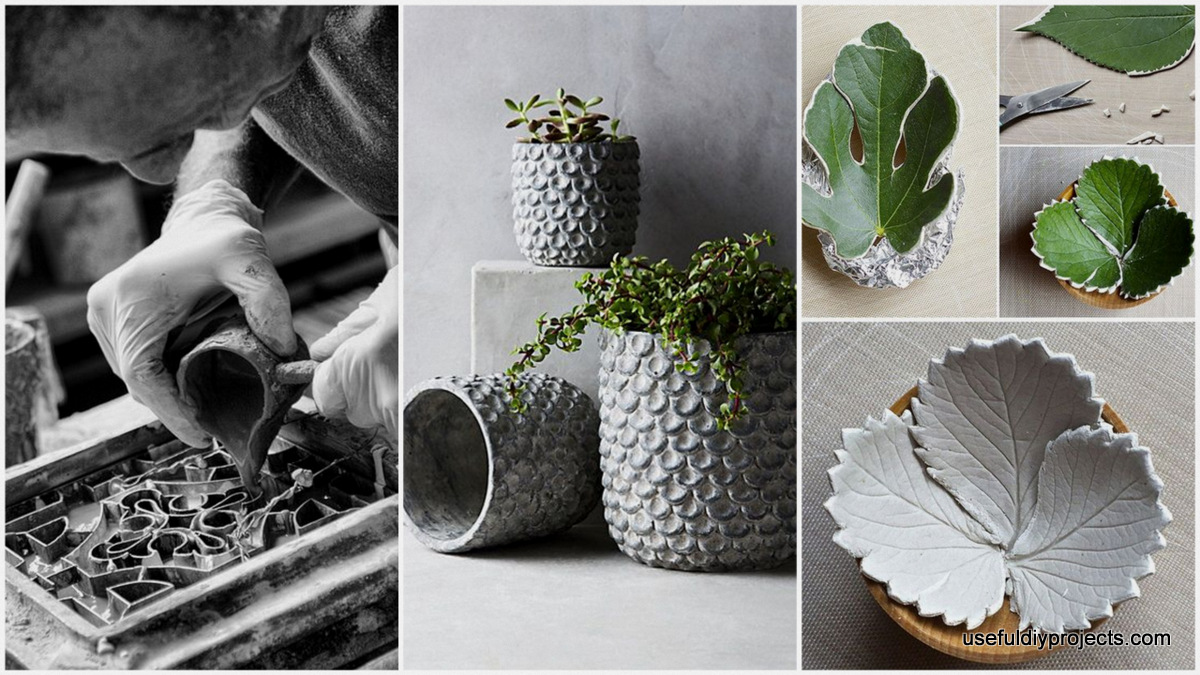 19 Beautiful DIY Cement Crafts To Add Diversity To Your Interior Decor
DIY Cement crafts? Cement and concrete might not be considered a very common material to be used in interior decorating yet its texture and raw material makes it a most wanted for most designers and decorators. But the DIY niche trend has opened this wonderful material to every craft enthusiast out there seeking to get creative and to impress everyone with their skill in creating beautiful simple crafts with an impeccable geometry.
Are you thinking about moving to a new house or apartment? Just picking up the décor for a new interior. Moving with professional movers will certainly be successful because movers will help you to deliver all your things accurately and relieve you of stress. Read this information to learn more
Simple candle holders dipped in gold or with lace prints, useful planters for both indoors and outdoors use, cement tiles suitable for a sophisticated interior design or a more pragmatic rustic backyard, there are tons and tons of creative ideas that can be envisioned with the use of this resourceful material.
We have prepared a list of 19 such projects, beautiful DIY cement crafts that will add diversity and simple beauty to your interior decor. Enjoy!
1. Cement globes used as planters for the backyard
Cement can be used as the perfect material to form flower pots for your greenery. If you are planning to nestle indoor plants in the globes make sure to add a layer of waterproof lacquer to their exterior to avoid water damage.
2. DIY cement crafts as simple cylindrical candle holders
Who does not love a romantic elegant dinner party filled with the warmth of candle light. Instead of investing quite a bit of money in purchasing candle holders, rather learn how you can make your own using quick drying cement, thus adding sentimental value to your creation.
3. A very solid yet beautiful door stopper
We must admit, the perfect home does not exist in terms of execution and having perfectly leveled floors and, implicitly, doors that stay open when you desire such rarely happens. Thus come into the picture door holders, which frankly are quite expensive to purchase. Cement offers the alternative in any shape you desire.
4. The casting of cement tiles
Cement tiles have a inner beauty we can all appreciate, but have you ever wondered how the process of casting them works? You will come to love cement tiles even more, maybe even try to create some designs yourself.
5. Mixing a cement base with a light-bulb
We at usefuldiyprojects are in love with industrial design, and, of course, with anything manufactured. Merging the two seems like a normal obvious choice and cement lamps are a wonderful addition to any interior design.
6. Cement leaf bowls
You can invite the natural into your DIY cement crafts process by using large leaves to add texture or mimic their own form . Create unique decorative objects for your home with a touch of the natural.
7. A cement lighting fixture made using a water bottle
We are all about recycling and water bottles can be used as cement molds for various DIY projects, including the above presented pendant light. A simple form with a bit of texture amplified by the yellow light of the bulb.
8. Air plants cement geometric holders
Air plants are so beautiful in their simplicity they deserve a proper holder and using cement can be the answer, holding the most necessary moisture for the plants.
9. Gorgeous candle holders with lace prints
Adding details to your DIY cement crafts can completely transform your end product, using old doilies or lace bits to imprint your cement. Here delicacy has been added to a series of cement candle holders suitable for interior and exterior design as well.
10. A creative elegant way of storing jewelry
You can opt to go with the conventional jewelry box or to step outside of your comfort zone with cone cement ring holders. Simple yet elegant and customizable with paint.
11. DIY cement/concrete bookends
Decide to add a touch of the industrial to your book collection with letter cement bookends. Sturdy and simple at the same time, in complete contrast with a classical library.
Don't forget that you can take your concrete/cement bookends to the next level by finishing them with different sealers that will work for different needs.
12. The perfect succulent planter, resilient as the plants themselves
Succulent plants are quite resilient, surviving in harsh conditions with little water, making concrete the perfect material for creating plant holders, encapsulating moisture for the roots.
13. Mixture of cement tiles and old wooden floors
Need of a floor remodel but on a tight budget? You can choose to replace just the damaged portion of your wooden floor with handmade cement tiles. The end result will be one quite dramatic and unique, reflecting your remarkable attention to details.
14. A fun creative key holder
Stop being so over the place and organize your daily used objects instead of tossing them around everywhere. Use your hand as a mold and use cement to replicate it as a key holder placed strategically next to your entryway.
15. Make your own concrete steps for your backyard
This is quite a DIY cement project, not so much of an easy craft, but the complexity of it resides in the calculation of the steps and creation of the wooden mold that will hold the poured cement. Nonetheless, a cheap option for garden steps, easy to maintain and rather resilient in time.
16. Cement boxes used as spice storage
If you are a peculiar one, give up classic altogether and opt for cement to mold your spice containers. Remember to seal the boxes to avoid moisture peaking in and damage your spices.
17. Cement globes used as backyard decorations
Have you always appreciated those simple minimal backyard landscaping designs with white rocks, impeccable lawns and artistic insertions properly lit for dramatic effect? Step into this world by adding your own cement globes to a clean garden.
18. Intricate cement candle holders
We do love the detailing on the above cement planters, highly contrasting with the lush greenery of the plants. Such a DIY cement projects will stand out in a room.
19. Gold dipped cement candle holders
Gold and grey tones are a perfect match in small quantities, ideal for tea candle holders.
In the end we would love to hear your take on this topic in the comment section below so feel free to share your creative ideas and DIY cement crafts!