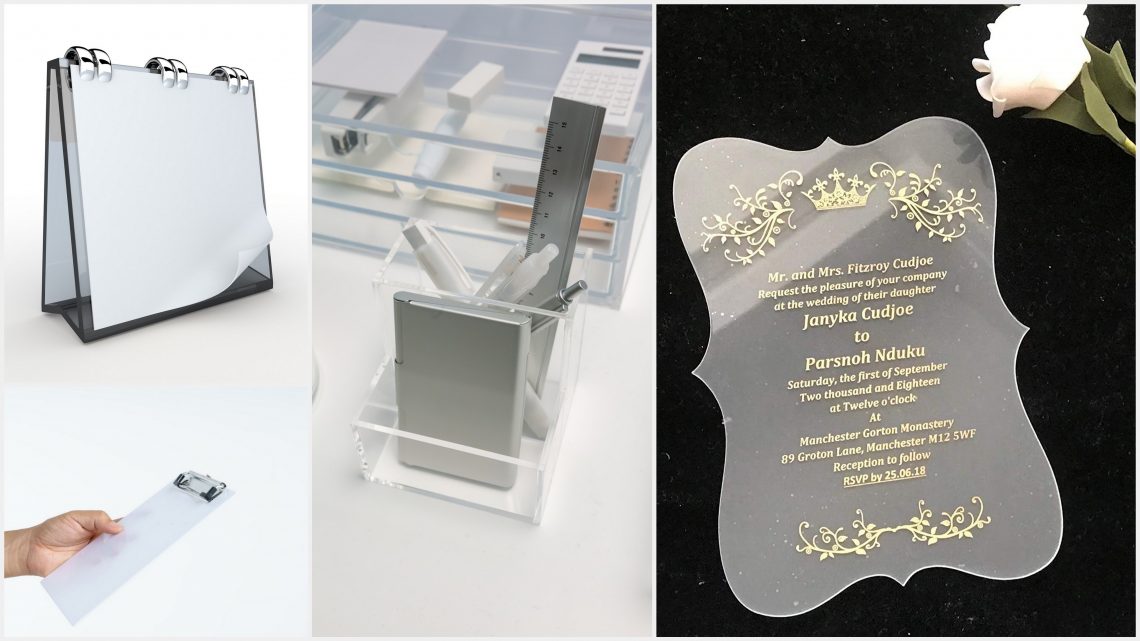 5 Super-Exciting Craft Ideas with Acrylic Glass
Here is a common phenomenon, a new item is launched in the market, and people like it and it becomes super mainstream in no time. So much so that it loses its charm and novelty. How to maintain your uniqueness in these times? The absolute perfect answer to this is; by Doing-it-yourself! DIYing allows you to channel your creativity and bring forth a masterpiece. There is a whole world of material and design options when it comes to doing it yourself. However, we will explore some super-exciting acrylic DIY projects today. Acrylic is a versatile material. It's easy-to-cut and easy-to-handle properties make it perfect for DIY projects. It can be conveniently bent or molded into any shape through heating. It's super economical and above all, it comes in a variety of cool colors. So let's dive right into the acrylic glass DIY projects. 
Table Organization Crafts
Order and organization are significant to staying focused. The usual mess and clutter on your workspace can slow down your progress. You can effectively clear up the work table with a pen holder and a clipboard. Here is how you can make them on your own.
Acrylic Pen Holder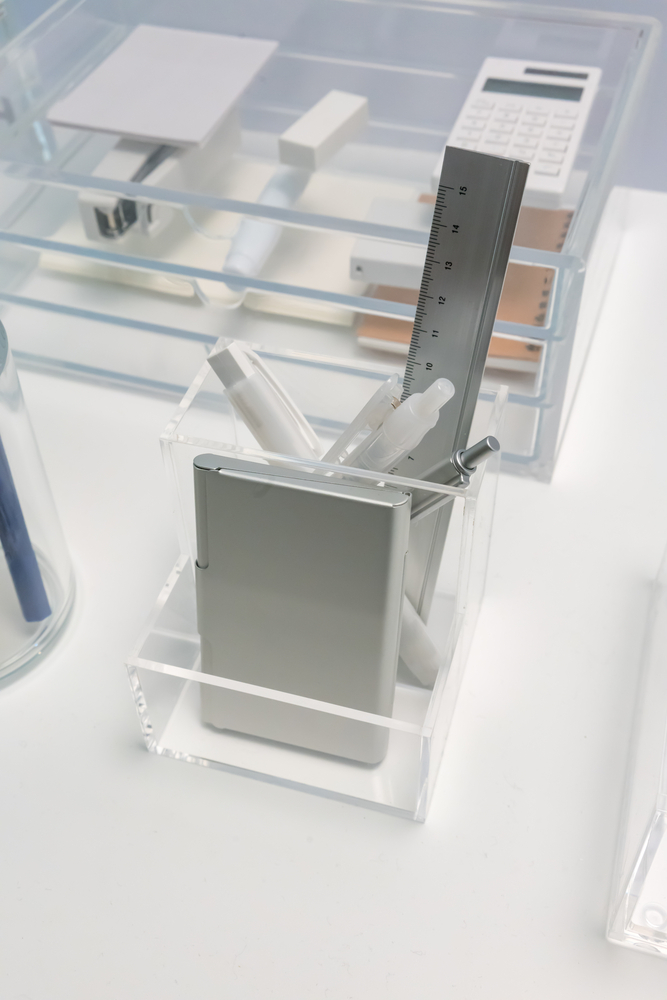 To create a pen holder you'll need,
Plexiglass sheets
Jigsaw
Clear glue
How to Create?
Now that you have the supplies, let's start creating!
Take the Plexiglass sheet and mark your desired dimensions on them. For an even penholder, cut four pieces of acrylic to 4" wide and 9" length. You can choose any dimensions according to your requirements.
Cut the sheet with a jigsaw. Cut up the sheet for making the pen holder base as well.
Now that you have the sides and the base, carefully peel the protective film off the acrylic sheets.
Arrange and attach each piece of acrylic sheet with clear glue to achieve the final product.
Acrylic Clipboard
Acrylic clipboard is a multi-functional project. You can use it to bind your important files together or hang them on the wall as a decor element. How so? Read more to know!
All you need is,
Acrylic glass
Extra-large binder clips
Jigsaw
How to Create?
Mark the standard clipboard size on the acrylic sheet. 9″ x 12″ clipboard works great for common use.
Cut the sheet and take the protective film off.
Place the binder clip on top of the sheet and the clipboard is all readied to rock.
Pro tip: To use the clipboard as a decor element, all you have to do is install screw hooks on your wall. Take a printout of your favorite quote and slide it under the binder clip. Hang the clipboard to the wall and inspire others with your aesthetic sense.
Wall Mounted Calendar
How about having a calendar on which you can write and rewrite your daily tasks? Sounds great, right? If you search online for such a calendar, you will get an over the odds deal. But you can easily DIY such a calendar in just an hour or two. Here's how!
You will need,
Acrylic sheet
Brass-plated connecting bolt
Vinyl calendar
How to Create?
Cut the acrylic sheet.
Drill four holes in the acrylic sheet about 1″ in from each edge. These holes will be used for mounting the calendar to the wall.
Apply the vinyl calendar onto the Plexiglass sheet.
Feed the bolts through the drilled holes. Now thread the coupling and washer on the bolt. Screw the bolts into the wall.
It's time to show it off now! Hang the calendar and write your everyday tasks on it with a marker. Erase and change, it's all yours!
Floating Photo Frame
Acrylic photo frames are a simple and contemporary way of displaying your favorite pictures. Grace your walls with the floating Plexiglass photo frames and make your home picture perfect. And it's super-easy to create an acrylic frame. Let's do it, then.
All you need is,
Acrylic sheets
Screws to mount the frame
Drill
Screwdriver
How to Create?
Cut the Plexiglass sheet a few inches bigger than the picture you want to hang. Or you can cut the standard photo frame size and display a collage of pictures.
Now drill holes on the edges of the frame to mount it on the wall.
Attach the picture to the frame with glue dots.
Feed the bolts through the drilled holes and screw the bolts into the wall.
The frame is all ready to adorn your walls.
You can make multiple frames and create a gallery wall with acrylic glass floating photo frames.
Wedding Invitations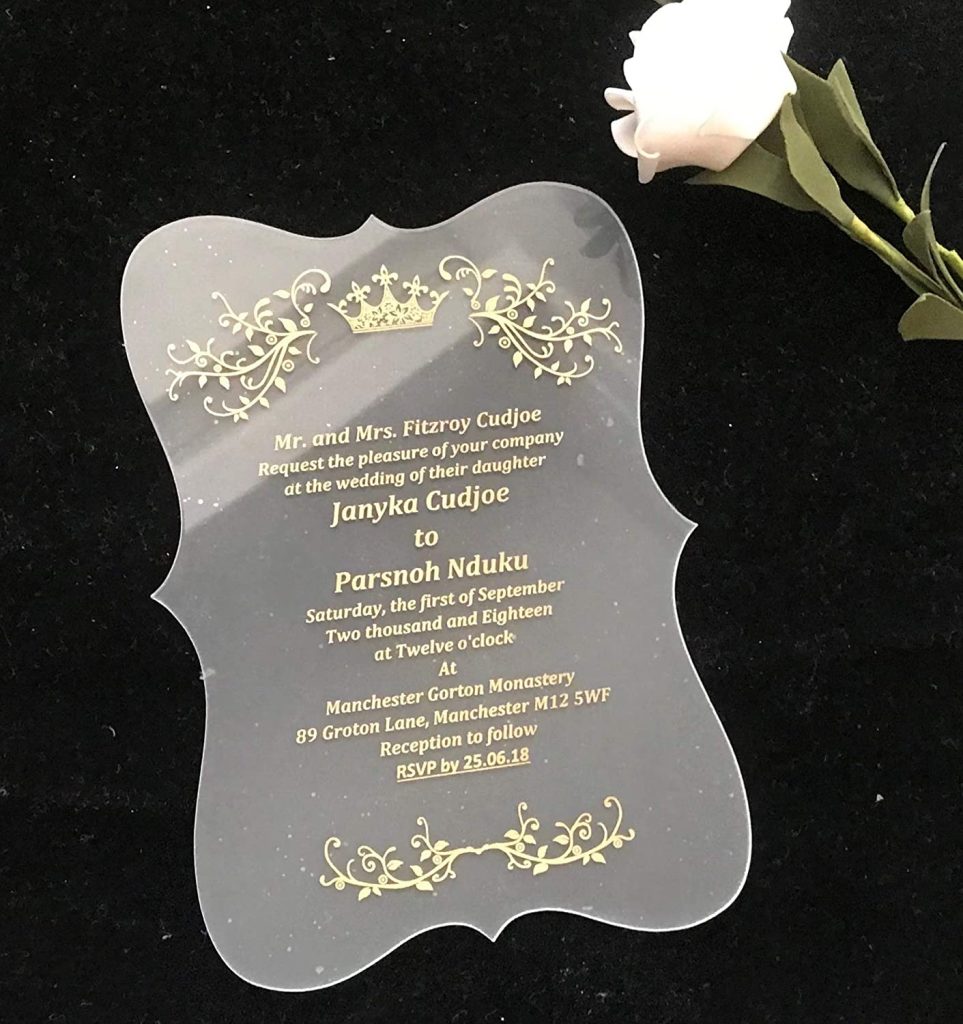 An aesthetic invite adds to the charm of a thoughtfully planned event. Therefore, putting effort into the invites creates positive energy and entices the guests to remember the event.
Acrylic glass wedding invites are a novel idea. It is highly celebrated for its subtle yet trendy look. The transparent acrylic sheets adorned with elegant calligraphy and sublime execution wows the guests and makes an everlasting impression on their minds. You can play with different designs, graphics, and embellishments. The wedding stationery includes invites, menus, table plans, signage, and everything the guests could talk about. You can get in contact with creators to get your invites carved according to your design sample. So go for it and leave a mark on your guest!
Let's Create, Then!
Acrylic glass is the perfect material for DIY enthusiasts. As it allows a great deal of flexibility and the glass-like appearance makes it a perfect material to create contemporary décor items. Take design inspirations and create your own unique masterpieces!