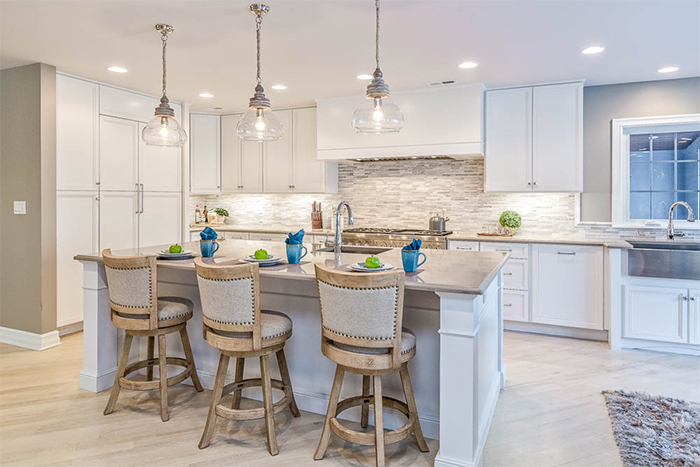 No More Outdated Kitchen: 6 Minimal Cost Ways To Remodel It
Planning for remodeling your kitchen!! Great!! A kitchen is a place where you spend most of the time while cooking. Therefore, it is essential that your kitchen must be well organized and brings positive energies. A beautiful and stylish kitchen also motivates you to cook more and delicious dishes for your family. Therefore, it makes sense that your kitchen must look equally important as another part of your house. So don't waste any time and say no more to your outdated kitchen!
6 Low-cost Kitchen Remodeling Techniques for Your Outdated Kitchen.
1. Update Your Lighting
Lightning is important and helps to improve functioning in the kitchen. Therefore update your old fitted lights and give a fresh look to your kitchen. Good lighting not only makes cooking interesting but also helps to enhance cabinets and other accessories' appearance. Keep in mind, while choosing kitchen lights always go with a universal shade (white) while choosing to light. As it enhances visibility in the kitchen compared to other shades.
2. Replace Window Coverings
While decorating a kitchen, you should not ignore the window's importance. Windows helps you to allow natural lighting and plays a huge role in saving utility bills. Therefore, Chicago kitchen remodeling always recommends their customers to install good quality blinds, curtains, louvers, or shutters. These help in maintaining the home security and privacy, whenever you need natural lighting, roll them.
3. Replace Cabinetry
Rather than going for a complete refitting or replacing kitchen cabinets, you can consider online affordable kitchen renovation ideas. Taking expert advice can also prove a wealthy decision. As they can consider your kitchen cabinet condition and give you the best and affordable advice. Sometimes a mix and match can create a designer kitchen. So, be brave and choose the best bold shades for the kitchen.
4. Add New Stools
For an affordable kitchen makeover, choose the least expensive thing to makeover your kitchen. Due to high traffic, kitchen stools are more prone to damage. Therefore, while going shopping or conducting an online stool search, never leave the opportunity to buy stylish and good quality stools. Remember, while choosing stool, always go with a versatile design that can set well with every modern kitchen design.
5. Paint Everything
When you are looking for affordable kitchen remodeling techniques, paint is a perfect choice. Well-painted walls can improve the appearance of your cabinets, ceilings, and even floor. Everything in the kitchen looks like the new one. If you choose light shades, you can observe more space in the kitchen, whereas brighter colors of walls give an eye-catching appearance.
6. Add Some Wallpaper
If you are interested to do more experiments to make the kitchen more trending, you can go with attractive wallpapers. These are the least expensive and more powerful ways of modifying the kitchen according to trends. If you are worried about kitchen  wallpaper designs and patterns, remember, there is no dearth of attractive designs and shades with professionals. Even when you like some special design on the internet, you can customize it according to choice.
Bottom Line for No More Outdated Kitchen
Little improvements can do wonders in your existing kitchen, especially without breaking your budget. If you are confused about conducting any experiments, you can take assistance from professionals who offer every budget kitchen remodeling service.