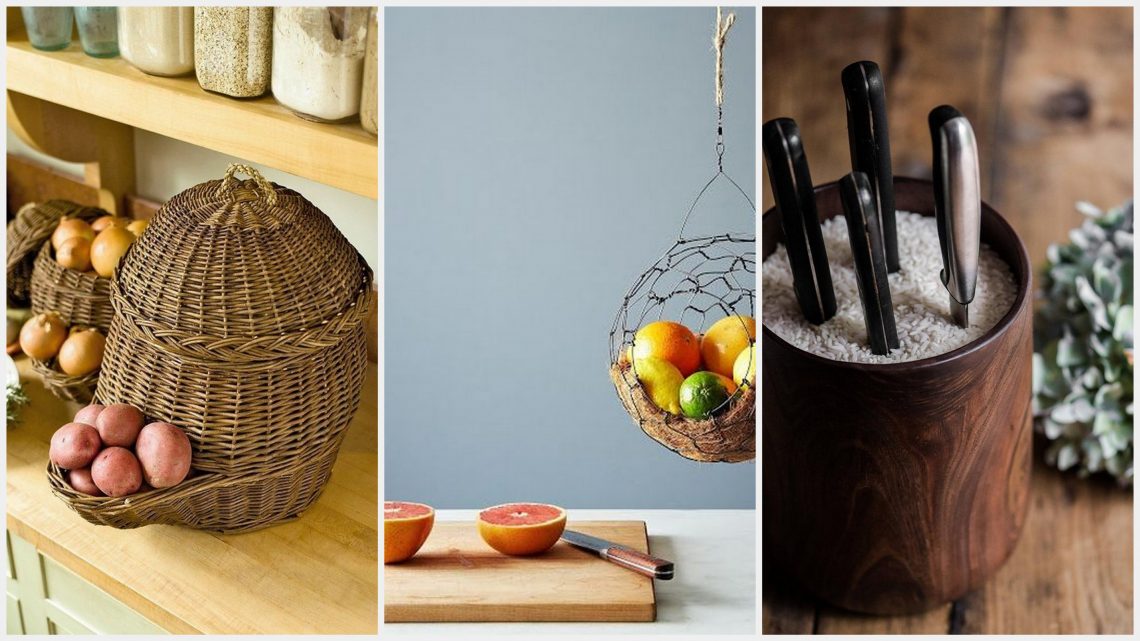 17 Storage Solutions For Small Kitchens
Storage solutions for small kitchens can be found on a daily bases in your own home. Recycling is a crucial part of smart home organizing, where mundane items left without a specific purpose are transformed into useful objects for your home.
We all know the kitchen is the one space in everyone's house that can never have enough storage room, especially if we are talking about a passionate cook. We surround ourselves with necessary and most likely unnecessary items we usually use once and forget all about afterwards, thus increasing the need for smart storage solutions that will avoid cluttering.
1. Hanging herb planter for an airy kitchen
Preserving an airy feel in the kitchen is essential for our mental health and well being. Use a wooden plank and metal wire to create a hanging planter for the herbs you usually use in the kitchen. Place it near a widow above the counter top for easy access.
2. Using natural materials to store wooden utensils
Wooden utensils are eternal and lovely to look at as well. Use an old wooden crate and ceramic containers to display them proudly, maybe we are talking about family legacy here.
3. Storage solutions – creating a tea/coffee corner
The ritual of serving coffee in the morning or tea in the afternoon can be improved by creating your very own coffee.tea corner on your kitchen counter top. Choosing a rotating tray to store containers and cups.
4. Wooden block serving as utensils storage
You can even display your wooden utensils proudly on a wall in order to clear up more counter top space. Use a wooden plank and metal hinges to create the desired storage solution.
5. Kitchen solution for storing everyday utensils draped in rope
Take an old vessel, drape it in thick rope and you've got yourself a rustic yet elegant utensils holder for your kitchen. Simple and practical at the same time.
6. Cutting boards and rustic textiles used as silverware pockets
The project above represents a clever idea of storing your cutlery for an open bar, buffet dinner party. Easy and chic at the same time. You can also exploit the idea further on and use the textile pockets to store spices.
7. Kitchen storage in the form of jars
Mason jars are an organizer's best friend, especially in the kitchen. Store your everyday basic necessities on marker labeled glass containers.
8. Using a Peggy board to store pans and pots
Ikea's Peggy board does come in handy when you've got a bunch of lids and pans on your hands and no more space for storage, don't you think?
9. Wicker baskets as a kitchen solution for keeping vegetables
We are in love with natural made materials and the above wicker baskets become the perfect vessels for storing your vegetables fresh for a long time.
10. Old shelf transformed into smart kitchen solution
Recycle parts from old furniture pieces to stack up kitchen utensils whilst displaying them in a rustic beautiful manner.
11. Hanging flower pot displaying fruit
We invite you to get creative and transform a hanging flower pot destined for succulents into a fruit basket that will beautify your kitchen and clear out your countertop space.
12. A corner shelf as space optimizer
We tend to forget about corners and thus loose quite a bit of space. Create a corner shelf for all those display worthy items you have been hiding away in a forgotten drawer.
13. Wooden chopping boards on display
A wooden chopping board needs attention, oil treatment and care. Store them properly and you will enjoy them for many years to come.
14. Glass tubes used as spice containers
Glass tubes are fun and elegant to look at the same time. Transform old ones into spice storage containers and label the cork stoppers with the correct ingredient.
15. Wood and rice used as knife support
Storing knives can be quite a hassle. The simplest storage solution involves a wooden recipient and rice.
16. Old wire basket recycled as cookbook storage
Having a cookbook at hand in the kitchen might push your imagination beyond the classical dishes and inspire you to dream more and get creative.
17. Cutlery and mason jars mixed in smart kitchen solution
Another wonderful option for storing cutlery at an informal event is represented by the classical mason jars. Simple and minimal, yet useful.
What do you think about our small collection of storage solutions for your kitchen ? We have found them extraordinary creative and they all have the ability to enhance a interior design line beautifully and provide the much needed extra space we all dream of. Please share your valuable opinion in the comment section below.