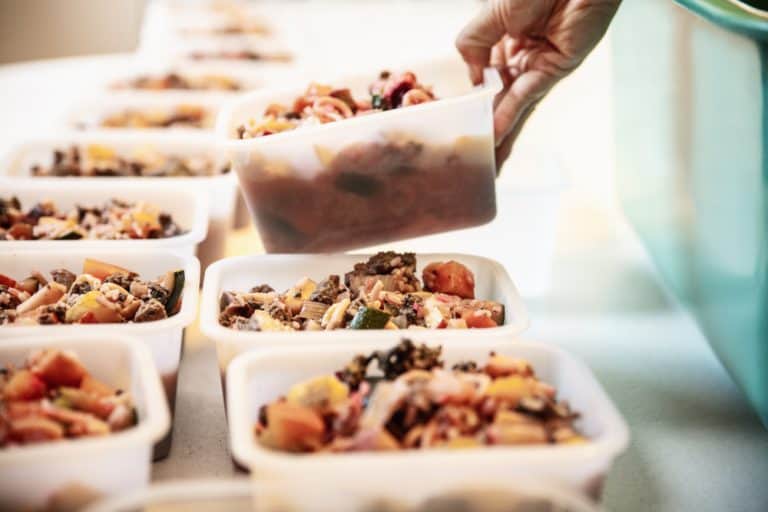 Homemade Dog Food Recipes How to
If you care about your dog, you worry about what they eat and if it's healthy for them. Too many dog foods have foreign and unnecessary ingredients that can upset your dog's stomach, or worse. Take the guesswork out of feeding your pup by creating your own homemade dog food.
When making your own dog food, it is important to include ingredients that provide your dog with the necessary nutrients they need. There are different types of nuts, fruits and veggies that dogs can eat or should avoid. In addition to needing protein, fat, and carbohydrates, your faithful friend also needs calcium and essential fatty acids. Also, if your dog has allergies or health issues, other vitamins and nutrients may be necessary.  It is important to consult with your veterinarian or an animal nutritionist before switching completely to homemade dog food that you are making on your own.
Below is a list of 5 homemade dog recipes that are great stepping stones to switching completely to natural, homemade dog food all together.
DIY Homemade Dog Food
There is a wide range of vegetables that are safe, and extremely healthy, for dogs. This recipe is chock full of vegetables that give your dog energy and keep him lean. In addition to peas, carrots, spinach, and zucchini, there is also ground turkey and rice to give your dog the fats, proteins and grains that he needs to stay strong. Simply follow the recipe to make large batches and portion into smaller bags for your pup. You can freeze the food and thaw the night before, just make sure to warm the food up slightly in the microwave before serving.
# Fresh Breath Doggie Treats
The same long list of unhealthy ingredients that can be found in many dog foods can be found in many dog treats as well. Making your own dog treats is easy and cost effective. One batch can make treats that will last longer than an expensive bag of store-bought treats would! This recipe is for fresh breath doggie treats that are chock-full of mint and parsley to freshen stinky breath while treating your pup.
# Satin Balls
This satin balls recipe uses real meat and Gorilla Max canine supplement to deliver the needed proteins and nutrients to your dog. Other ingredients include oatmeal, eggs, gelatin, flax oil, and more. Satin balls are fed to your dog completely raw, which sounds unappealing, but is very delicious to them! Because raw meat is involved, make sure to use proper cleaning techniques so bacteria doesn't spread. As with many other homemade dog food recipes, these satin balls can be frozen and thawed one at a time before serving.
# Crockpot Dog Food
This homemade dog food recipe allows you to cook all the ingredients together in a crockpot. This allows you to make one large batch with little to no effort. Simply prep the ingredients and dump them all into the crockpot together. Set on low and let cook for eight hours with no maintenance. Portion out the finished product into containers for your pet so you don't have to measure at each meal time.
# Customized Recipe
Use a website like BalanceIT.com to help create your own dog food recipe for the first time. This site allows you to pick and choose healthy ingredients to add to your recipe. Nutritional information is included in detail, so you know exactly what you're giving your trusted friend. This site will tell you if you create a well-rounded and highly nutritious recipe for your dog, so you can put your mind at ease.
As previously mentioned it is necessary to consult your dog's veterinarian before making your own food for your dog. They can tell you how many calories your dog needs a day, what types of ingredients to use specifically for your dog's needs, and can approve any recipes you have to share.