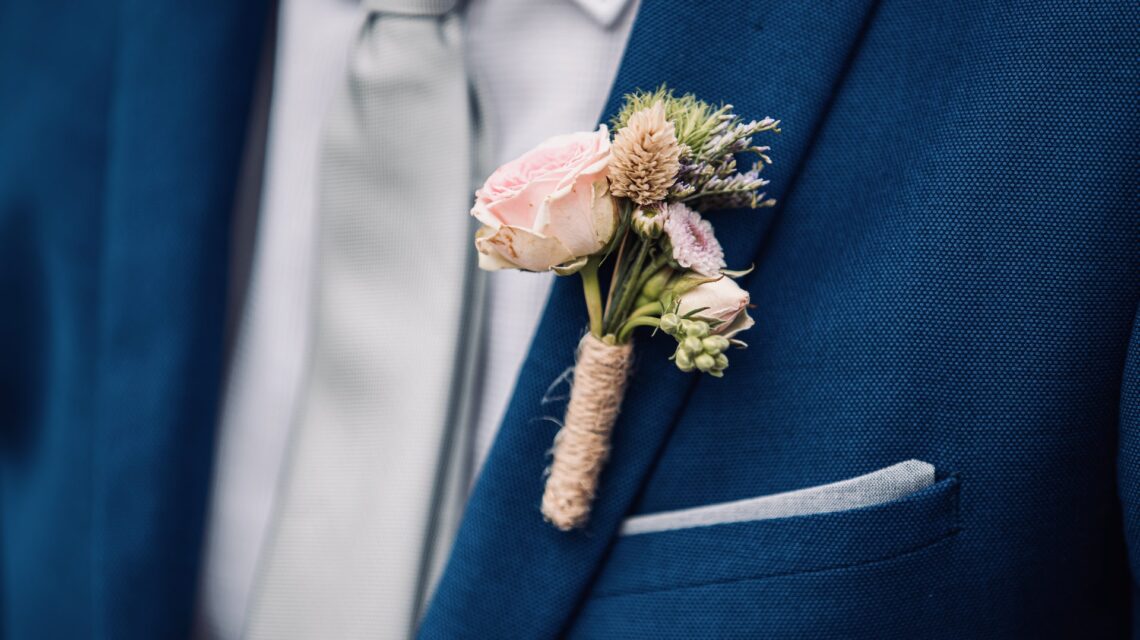 How To Make A Boutonniere And Corsage DIY
Flowers are a timeless and elegant accessory. It can add sophistication to even an outfit. Boutonnieres and corsages are popular floral accessories. People often wear them on special occasions. And more often than not, these can be events like weddings or graduation. Of course, you can always buy them from a florist. But why don't you make them with your own hands? Here is how to make a corsage DIY.
What Is a Boutonniere?
A boutonniere is a small floral decoration. Men traditionally wear it on the lapel of their jacket or tuxedo. Boutonnieres usually consist of a single flower or a small group of flowers. But the peculiarity of the boutonniere is that you can add a sprig of greenery to it. They are a classic accessory for men's formal attire. Men usually wear them to weddings and other special events.
Women can also wear boutonnieres on the lapel of a jacket or dress. Showing a little creativity and owning the basic skills of composing floral arrangements, everyone can create a beautiful boutonniere, giving elegance to his outfit.
Materials
Do you want to make corsage and boutonniere with your own hands? Let's start with the materials you need for the boutonniere.
Flowers. You will need one or two small flowers to create a classic boutonniere. You can choose several popular options. For example, you can take – roses, carnations, and lilies.
Greens. Adding greenery will help add texture and contrast. Popular options are fern or eucalyptus.
Floral wire. Using floral wire to create a strong base for the boutonniere. You can use thin wire to wrap around flower stems and greenery.
Floral ribbon. To make boutonnieres and corsages, you should get a floral ribbon. It will help you make the finished look of your boutonnieres.
Scissors. You need sharp scissors to cut flower stems and greenery to the right length.
A pin or a magnet. You can attach the boutonniere to the lapel with a pin or a magnet.
With these materials, you can create a beautiful and individual boutonniere. It will add elegance to any formal attire.
How to Make a Boutonniere
Do you already have the right materials? Then it's time to understand how to make a boutonniere. Let's follow it step by step:
The first step is to choose the right flowers and greenery. You can use one or two small flowers. And remember about the greenery! Adding it will help to make the boutonniere more interesting.
The second step is to cut the stems of the flowers and greens to the desired length. The stems should be about 3-4 inches long. You need sharp scissors for this.
The third step is to make a small hole in the center of the floral wire. It will help you insert the flower stem into it.
The fourth step is to insert the flower stem into the hole in the wire. Then add some greenery around it. Wrap everything tightly with wire.
The fifth step is to make a bow with the ribbon. Then attach it to the wire of the boutonniere.
The sixth step is to attach the boutonniere to your lapel with a pin or a magnet.
And that's it! You have made a beautiful boutonniere for yourself or someone special. Wearing it, you will make a statement and show your personality.
What Is a Corsage?
Boutonnieres and corsages are somewhat similar things. A corsage is also a small bouquet. Corsages are often given to women as a sign of respect or admiration. Most often, girls wear corsages to weddings and other special occasions. But it is usually worn on the wrist during formal events.
Make the corsage and boutonniere can be almost identical. Corsages can be made from a variety of flowers. Roses and orchids are also among the popular choices. Corsages can also include greenery.
Showing a little creativity, you can make it on your own. So don't spend money to buy a ready-made version! Better make your unique corsage.
Materials
Have you decided to make a DIY flower corsage? Then it is easy because the technique is the same as in boutonnieres. You will need the following materials:
Flowers.
Greens.
Floral wire.
Ribbon.
A pin or magnet.
Now that you have all the materials, it's time to make a DIY flower corsage! Follow the instructions below to make a simple and beautiful corsage.
DIY Flower Corsage
Let's get started:
Step 1. Trim the stems of the flowers and greenery to the desired length (usually 3-4 inches). Use sharp scissors for this step.
Step 2. Pinch a few flowers together and add the greens. Try to press them tightly together. But make sure that the stems are flat against each other.
Step 3. Wrap the composition around the wire in several layers. Press the wire firmly against the stems.
Step 4. Wrap the wire on top with ribbon. This way it will have a much neater look. You can use the same ribbon to wrap the boutonnieres and corsages to make them look nice.
Step 5. Take a bigger ribbon and attach the corsage to it. It is ideal if you attach it with a pin. It will be easiest for you.
Step 6. Tie the ribbon around your wrist, and voila!
That's it! With just a few simple steps, you have made a DIY flower corsage.
Conclusion
So, making a boutonniere or corsage with your own hands is not so difficult – with a little time and imagination and you will succeed. Do not forget that the key to success for your DIY products is a high-quality material, namely fresh flowers.
Photo by Miguel Teirlinck on Unsplash