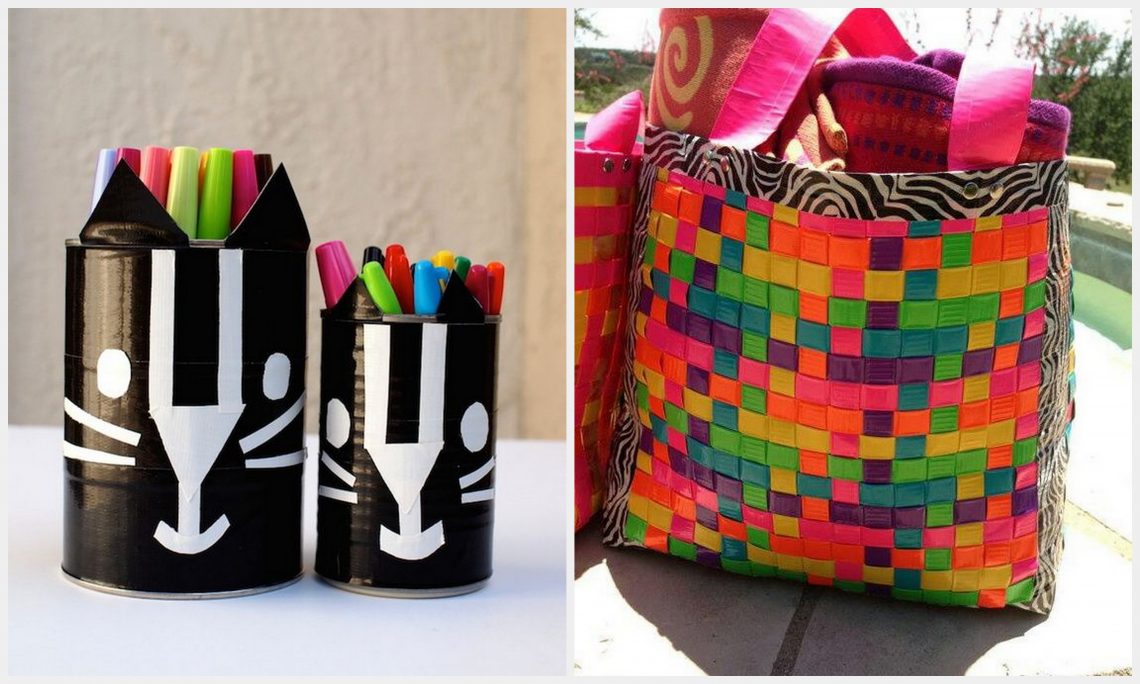 6 Easy DIY Duct Tape Craft Ideas with Instructions
Do-it-yourself projects have become increasingly popular over the last few years. More and more people pursue them for home décor, fashion, makeup, and other purposes. Duct tape crafts are an interesting variety of DIY, as they involve creating everyday objects and accessories from this material, with little additional paraphernalia.
6 DIY Duct Tape Projects
At this point, you might be wondering: how can I produce an useful item out of simple duct tape? There are many duct tape craft ideas that you can apply to create something unique that you and your family can enjoy. From belts, to bow ties, to pens and even hammocks, this sturdy and cheap material proves that with a little imagination, the sky is the limit. Or your stash of duct tape.
In this article, we will discuss six of our favorites, with varying degrees of difficulty.
1.  Key Wristlet
Misplacing your keys is easy, which is why a handy wristlet can make all the difference in the world. Fortunately, you don't have to go out and spend your money on one. You can make your own at home with just two basic materials, and one of them is duct tape, of course.
Materials
12 inches of duct tape;
and a key ring.
Directions
After measuring the 12 inches of duct tape and cutting them accordingly, fold one side towards the middle.
Then, fold the other one so that it overlaps a little with the other side.
Make a loop with the resulting strip and put it through the key ring, then secure everything into place with another piece of duct tape.
Slip your keys in, and you're done.
2.  Trendy Belt
Everyone needs a classic belt in their wardrobe, but what about trendy and colorful pieces? To avoid having to buy a new one each season, try this quick and easy DIY project that is bound to liven up any outfit you pair it with.
Materials
patterned duct tape;
and 2 D-rings.
Directions
Take your waist measurements and cut the duct tape to size.
Then, fold one side towards the middle, then the other one so that it overlaps a little. This will prevent any stickiness from showing.
Grab the D-rings and place them on one end of the strip, making sure that the flat sides are on the underside of the belt.
Fold the ends to cover the D-rings and secure everything into place with an additional piece of tape. Your belt is now ready to wear for any occasion you find fit.
3.  Cute Bow
Aren't bows the cutest accessory ever? If you want to wear a unique one in your hair, try making it with duct tape. You have a wide color and pattern selection to choose from, which means that you can style it any way you want.
Materials
8 inches patterned duct tape;
2 inches solid color duct tape;
1 bobby pin;
and a pair of scissors.
Directions
For the patterned side of the bow, you can choose any model you like, be it leaves, flowers, or animal print.
Cut an 8-inch piece, then fold the right and left sides toward the middle.
Then, take the 2-inch strip of solid color duct tape and fold it almost in half, leaving a small sticky portion exposed.
Fold the bow in the middle so that it assumes the correct shape, then wrap the smaller strip around this area.
Finally, incorporate the bobby pin through the back of the solid color piece so that you can wear the accessory.
4. Card Holder
Organizing your credit cards and other similar items is important when you want to have everything neatly stacked and readily accessible. With the help of this simple duct tape card holder DIY project, you will be able to do that in no time at all.
Materials
duct tape;
double-sided tape;
envelopes;
a Velcro dot;
and a scrap cardstock
Directions
Cut the envelope ends to 1.8 x 3.6 inches and make as many pockets as you need.
Apply double sided tape along the edges of one pocket, then line it up with the next to adhere together and so on. Continue this step until every single compartment is glued together.
Take the scrap cardstock and cut it to dimensions of roughly 8 x 3.8 inches, and place one edge on the sticky side of the duct tape.
Cover the entire piece in duct tape, then fold it around the envelope compartments and leave enough overlap room in the front for it to open.
Finish the project by adding a Velcro dot to secure everything and make the item accessible.
5. Fun Mask
A mask is always a fun project to pursue, and not just around Halloween. Turn yourself or your loved ones into dedicated superheroes or mysterious villains with this simple, three-step process that is bound to deliver an entertaining finished result.
Materials
patterned duct tape;
solid color duct tape;
elastic band;
and pen and paper for a template.
Directions
Cut a rectangle from the patterned duct tape and back it up with the solid color one. Make sure that the piece is large enough to fit your face.
Draw a template of the rough shape you want the mask to be, then fold the piece in half and cut it accordingly.
To make the entire DIY project a no-sew one, secure the elastic band into place using additional strips of solid color duct tape.
6. Feather Earrings
If there's anything fashion trends have taught us over the years, it's that boho will never go out of style. To stand out and break the norm, try making your own colorful feather earrings from neon, tie-dye, or patterned duct tape.
Materials
duct tape in colors of your choice;
2 pairs of needle nose pliers;
earring hooks;
wire;
scissors;
and a pencil.
Directions
Cut 6 inches of tape and fold it onto itself so that no more stickiness is showing. Depending on the number of feathers you want to create, you will need to repeat the process accordingly.
Sketch the feather shape directly onto the tape using the pencil, then cut it out. If you are not artistic by nature, print out a stencil.
Cut slits in the duct tape at an angle on both sides to enhance the feathery look and create some texture. Ruffle it by twisting to each side to augment the realistic appearance.
Wrap 3 inches of wire around the stem, then secure into place with the pliers. Add the hooks, and you're done. Your new earrings are ready to wear and make a statement.
The Bottom Line
Duct tape is a versatile material, as it is durable and comes in many patterns and color palettes. Due to this, you can make anything from it, from a simple key wristlet, to an intricate card holder or earrings. Try any of the six projects mentioned above to improve your living space and your wardrobe with one of a kind items.