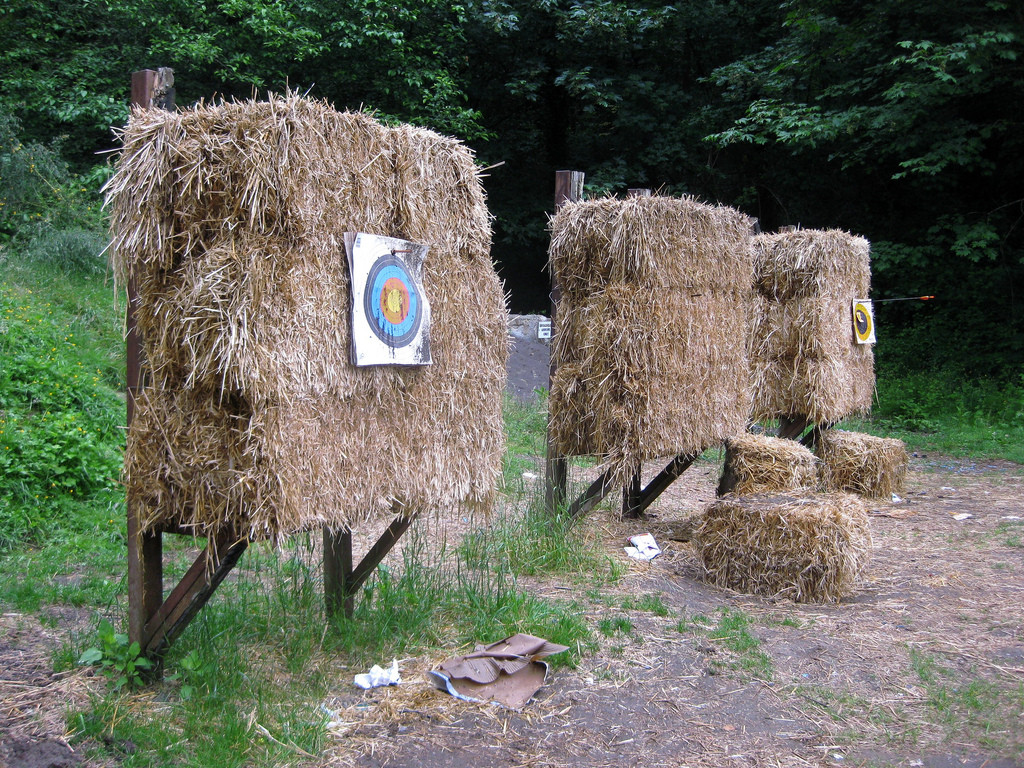 12 Easy DIY Archery Target Projects for Bowhunters
If you are into archery as a sport or for hunting, enough and regular practice is the only way to sharpen your aim, targeting and also your overall skills. And since you already have your bow and arrows the only other thing that you will need is an archery target. While you can always get one at your local archery store, a DIY archery target is a much better option.
Homemade archery targets are quick and easy to make, and in most cases, you will spend little to no cash at all. However, to make one you need a good plan to follow. A thick layer of Styrofoam, a hillside or stray bales can a make simple homemade archery target. But, if you want something more efficient, useful and long-lasting, here are 8 easy-to-implement DIY Archery Target Projects.
#1. DIY Discarded Clothing Archery Target
With a little creativity and some free time over the weekend, you can make an archery target from almost anything. This particular plan entails using some old or discarded clothing.
It is a very comprehensive DIY archery target tutorial that includes the full materials list and also an outline of the design to make the project easy to understand.
Besides the discarded clothing, the other things that you will need are 2×12 kiln dried boards, chicken wire, tarp/burlap and 1×4 framing.
The projects will cost under $40 to implement and take around three hours, and there are some detailed directions and a few pictures to help you understand all you need to do.
#2. Durable and Easy-to-Build Field Point Archery Target
If you are hoping to build a functional and highly durable archery target that you will use for many years to come, this DIY tutorial is for you.
The archery practice target takes about 3.5 hours to build from cutting the materials and assembling everything, and so it is a relatively quick project.
And to implement the project you will need both carpet and cardboard or just one of them depending on the availability, decking screws, 2x4s and a few other items listed on the materials list.
The tutorial also lists all the tools that you will need for the project and provides some pictures and detailed text instructions for the construction.
#3. Under $20 3D Life-Size Animal Archery Target
For those that are planning an elk or deer hunting trip and want something to help them practice and improve their overall hunting capabilities, this plan will be very useful. —**The Best Resource for Hunters**, as it can offer tips, tricks, techniques, and more.
It is a YouTube video that will take you through the process of making full-size 3D animal targets.
With this life size animal target you can practice on judging yardage and focusing on a particular area on the animal when hunting.
There is a lot of tracing and drawing involved in this project but you should be able to figure things out with the video to guide you.
It takes under $20 to implement the plan and besides the basic stationery for drawing and tracing out the animal, you will also need some plywood and paint.
#4. Homemade Sandbox Archery Target
You do not have to be a highly skilled or experienced DIYer to build an archery target because a sandbox one like this does not require any special skills.
Although the YouTube video does not provide detailed directions on how to build the target, the description and just seeing it should give you enough inspiration.
The sandbox archery target is inexpensive to build as you only need some pressure treated lumber and a few wheelbarrows of sand. And if you already have them, then this archery target will cost nothing to make.
#5. DIY Homemade Scrap Material Archery Target
This homemade archery target has an impressive overall look and is very functional but what makes it a great plan is that it uses scrap or leftover wood which makes it quite inexpensive.
Most of the work goes into measuring and cutting the wood and assembling the pieces with some wood glue and using pocket holes. The YouTube video explains in detail the different kinds of pieces that you will need.
And apart from the scrap wood, you will also need some old sack or tarp to make the face of the target and plastic wraps to stuff the target to stop the arrows.
#6. Free DIY Archery Target
An archery target could not be easier, cheaper and faster to make than this one. Most people will not even need to spend any cash to build this target.
The main materials that you need to make it are shrink wrap, a box, and some butcher paper. And there is nothing much you need to do besides from packing the box with shrink wrap tightly
This YouTube video proves that you do not need to complicate things to make a functional archery target. If this particular one looks too simple, it will still be a great source of inspiration and ideas for making your DIY archery target.
#7. Simple Wood Archery Target
Wood archery targets are solid and will last for many years but what may archery love most about them is that they can take both broad head and field point arrows.
This plan from Dead Bulls Eye will take anywhere between $40 and $50 to build which is still way more affordable than buying a similar quality archery target.
The shopping list includes 2×12 dry kiln boards, 1x4s, chicken wire and various sizes of wood screws.
This tutorial provides some detailed 7-step instructions that are easy to understand which makes the archery target plan straightforward to implement even for the inexperienced DIYers.
#8. Quick and Easy DIY Carpet Archery Target
One 8-foot long 2×10 board, 100 square feet of carpet, a couple of 1-inch ratchet straps and an optional handle are all you need to make this quick and easy archery target.
It should only take a few hours to make this archery target as there is not a lot to do besides from cutting the wood and carpets and assembling the frame before laying the carpet.
But, despite this being a straightforward project, the Mama's Geeky tutorial still provides some comprehensive 3-step text instructions and a few pictures to make it easy to implement.
Conclusion
An archery target is an essential practice tool for archers that want to improve their shooting. But, shooting at a target can also be a fun backyard sport if you have enough space.
Archery targets might not be very pricey to buy but the store bought ones almost never last at all, and it is hard to get one that suits your needs perfectly. Hence, the best idea is always to make a DIY archery target.
With the eight archery target ideas and plans above to guide you and for inspiration, making one should be a quick, easy and simple project.