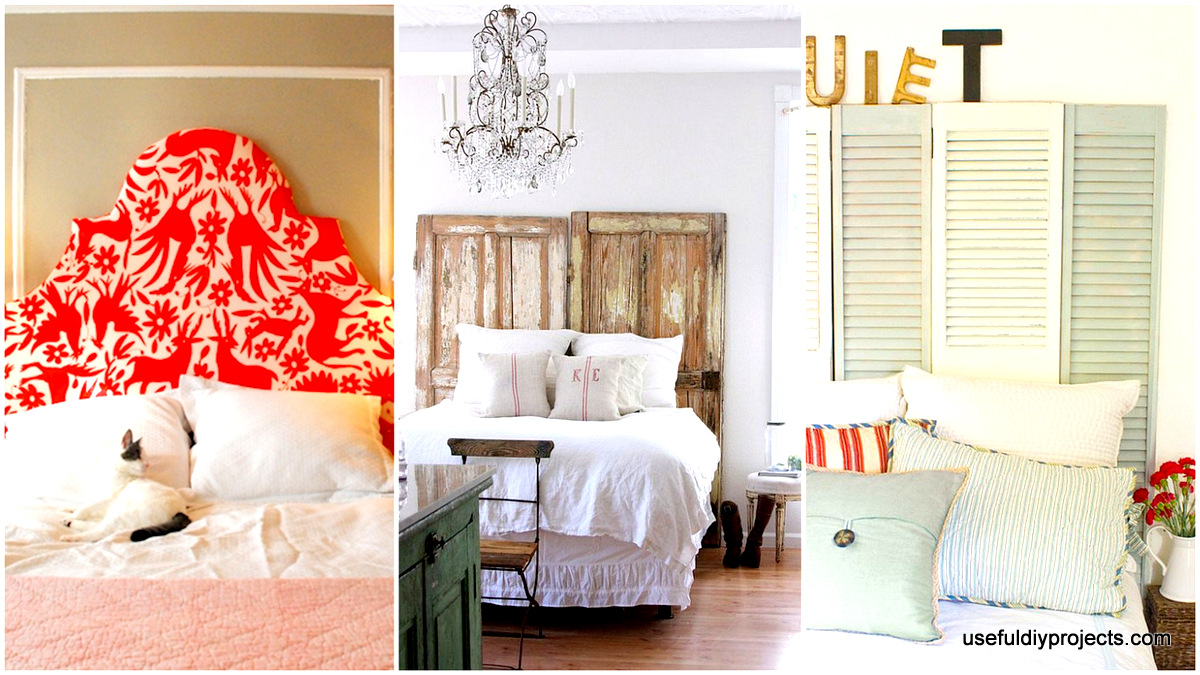 34 Brilliant DIY Headboard Ideas For Your Bedroom Décor
DIY headboard ideas are interesting for multiple reasons but the thing that makes them stand out the most is the fact that they actually go beyond the basics while remaining an exceptional décor piece, tailored to fit the design perfectly. Their practical purpose remains, they isolate sleepers from drafts and colds, few headboard ideas neglecting this aspect to remain temporary solutions that are aesthetically pleasing and safe for individuals renting.
Headboard Ideas today serve the decorative role very well, the practical attributes are sometimes enhanced with hidden storage space or open shelves that can keep books or various other items at grasp. A selection if insanely cool DIY headboard ideas for your bedroom décor has been constructed, they all have a certain level of authenticity, they`re not competing with each other. Look through the gallery and pick your favorite.
1. Headboards Realized From Salvaged Materials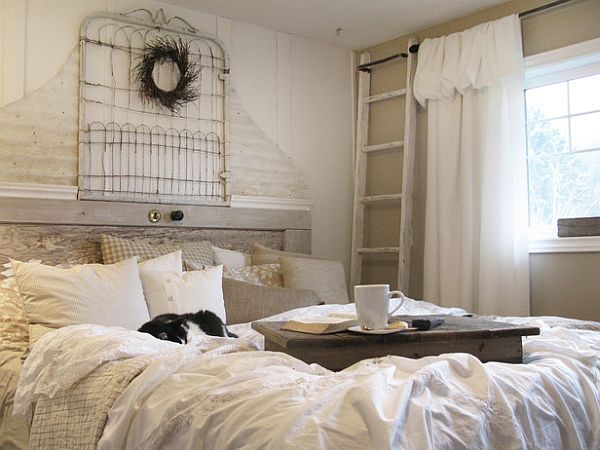 Realized from scrap materials salvaged from a burn pile, the headboard surely amazes through its presence. Here it is paired beautifully with a vintage gate, rescued from the waste dump. Notice the old ladder in the corner and the airy ambiance in this shabby chic design. The king size bed surely helps with its fluffiness in the bedroom, simple elements shaping a great interior design.
2. Emphasize Your Bedroom With A Metallic Headboard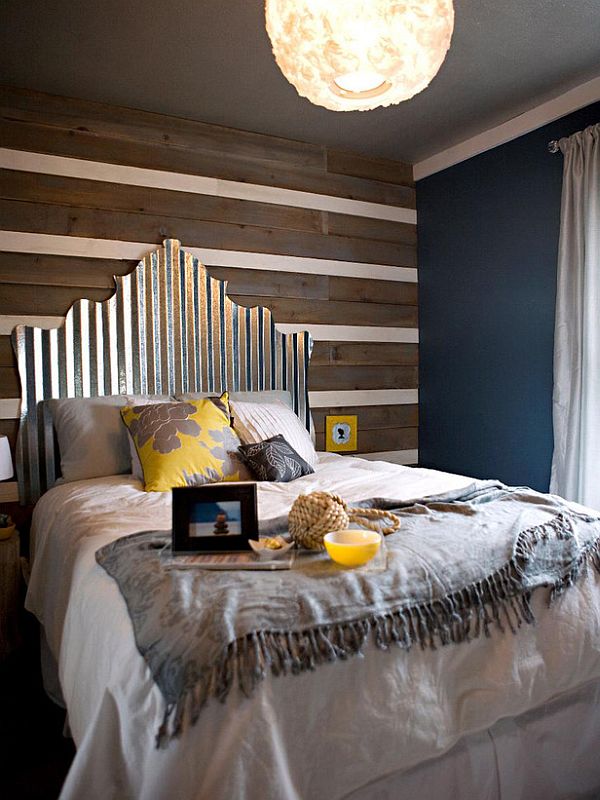 Roofing metal can be more than one would thing. Simple and ingenious way to bring the metallic vibe into he bedroom, here cut out in an elegant shape. The contrast between wood and metal is powerfully subtle and the simple composition sustains the mixture. A headboard that costed under 30 dollars yet is anything but ordinary.
3. Old Doors Transformed Into Headboards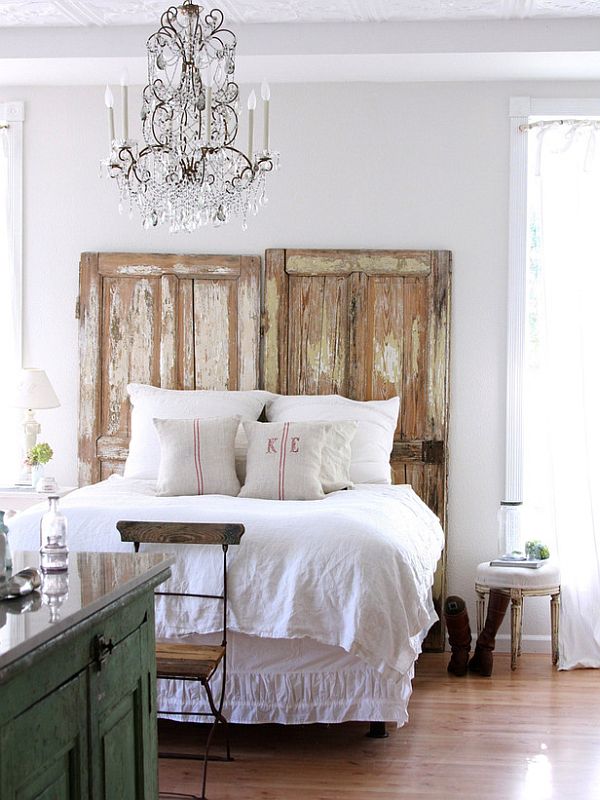 Reclaimed wood doors can add a tremendous value to the interior for multiple reasons, one being the visual weight. An extraordinary memory has been brought in the interior too, the age of the wood, the layers of paint narrating a story. The sparkling chandeliers contrasts the composition elegantly.
4. Use Original Headboards With Store Signs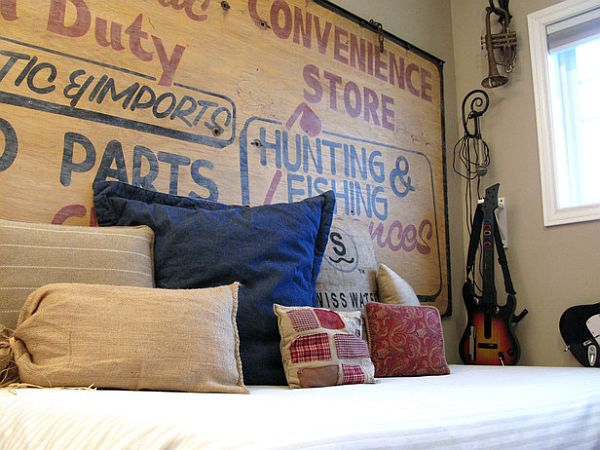 An original headboard can be shaped through multiple means, here a reclaimed convenience store helped, a eye-catching backdrop for the daybed doing an exemplary job.
5. Intricate Details Can Shape A Room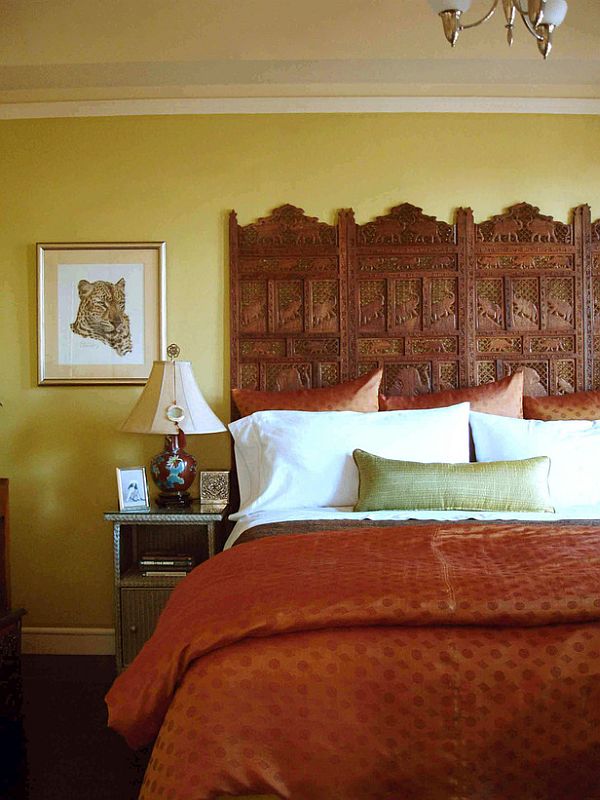 In the picture above a hand-carved Indian Rosewood screen discovered at a flea market changes everything, the oriental touch reshapes the bedroom. The visual value is subdued to the extraordinary connection between the carver and the piece of wood, all immortalized in the end item.
6. A Natural Wood Slice Can Become The Ultimate Headboard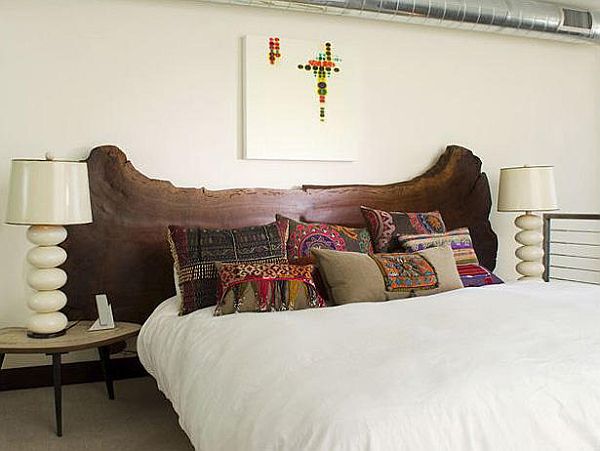 Any bedroom can be enhanced with a wooden texture, here a modern bedroom design flooded by white earns contrast with an organic element. The old hardwood board now sculpts the space with coziness and warmth becoming a visually pleasing focal point .
7. Build A Simple Eye Catching Headboard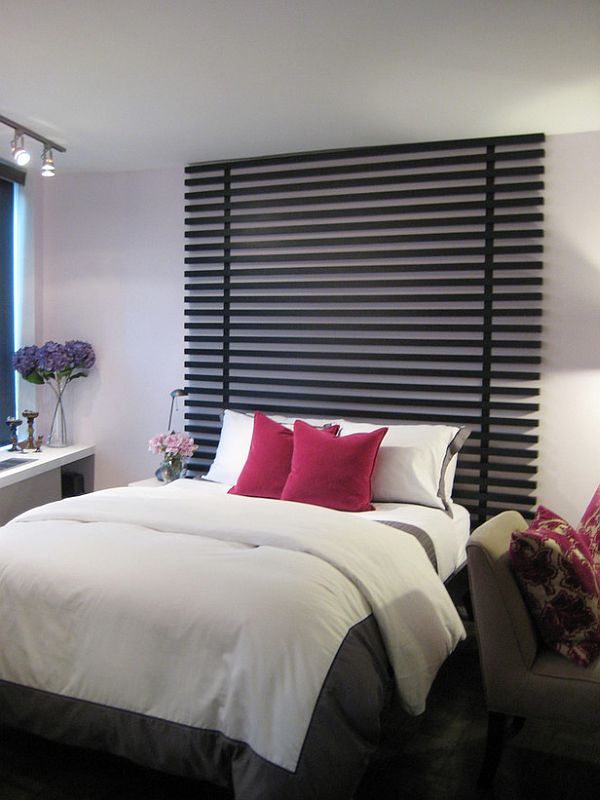 Small apartments can be challenged by the headboard design. Here 1-1/2 inch MDF pieces have been used to shape a headboard that contrasts greatly, becoming a focal point. The space now has a vertical dimension thanks to the connection with the ceiling. The headboard can also be used to suspend frames or various other decorative items when needed.
8. Build A Beautiful Shutter Headboard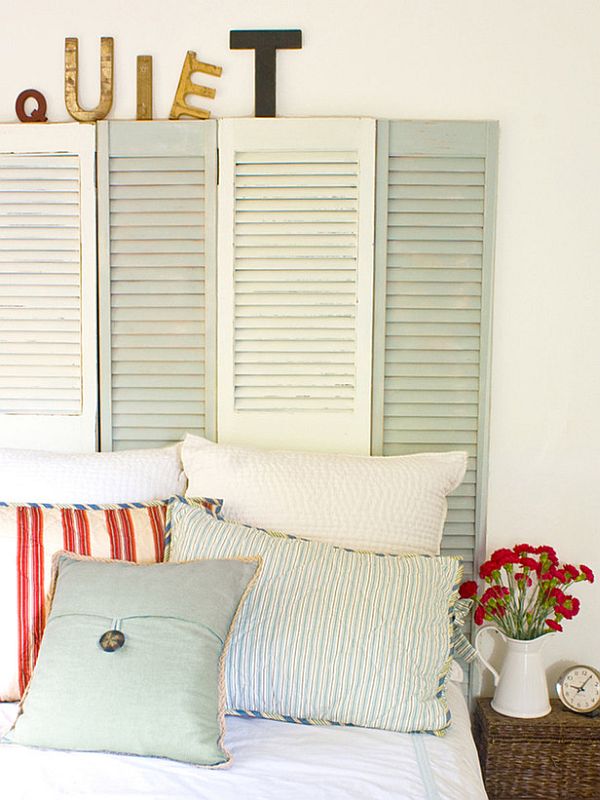 Shutters are great elements to forge headboards with. Use pastel colors and connect them visually with other decorative elements in the room, pillows, blankets and flowers. This bond with somehow temporary elements will be very rewarding design.
9. Headboards Realized From Pallets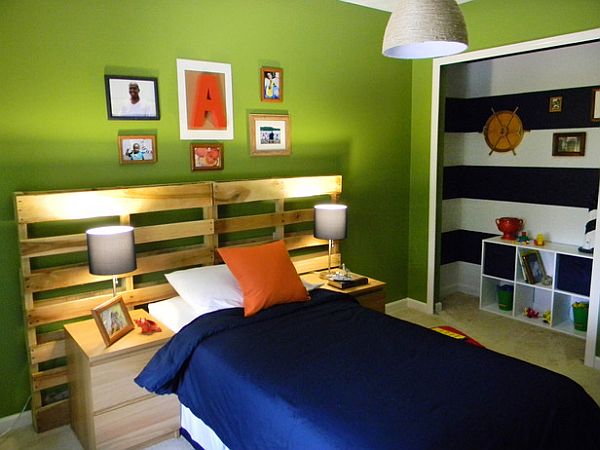 Super simple to realize headboard : pallet headboards. The craft can be paired with color beautifully, the wooden materiality brings coziness and warmth into the picture and everything is set. The inexpensive nature of the headboard makes it a great thing to follow.
10. Old Barn Window Headboard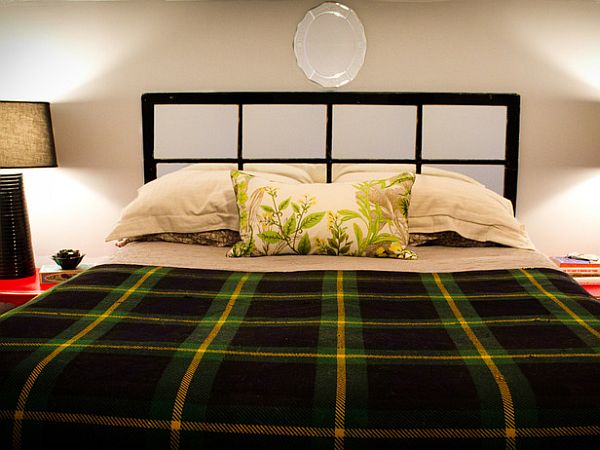 Simple old barn window transformed into a headboard, interesting to say the least. The item was adapted to its new use and the glass now became a mirror that emphasizes the feeling of space while it contrasts with the black frame.
11. White Fence Headboard Design
A beautiful cozy garden inspired headboard. Its surroundings here are dominating with a vibrant color scheme ready to charge your battery.
12. Old Door Transformed Into Headboard With Shelves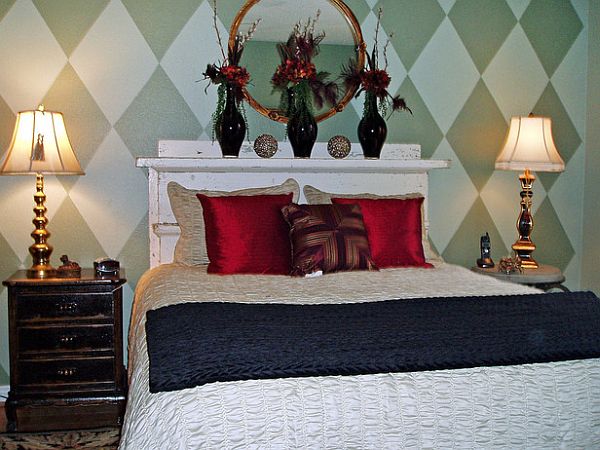 An old furniture piece can be re-purposed beautifully and so can be a door. The new function as a headboard has been further enhanced by the small shelve above that now holds decorative items.
13. Simple Rustic Turquoise Headboard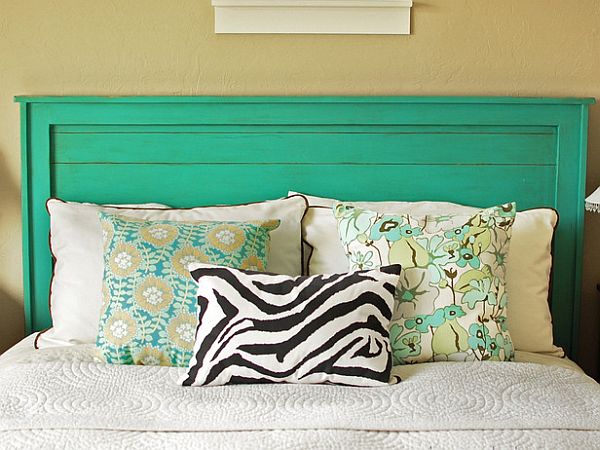 A wooden headboard comes with its own advantages, there is no doubt, coziness and warmth are key. Here the turquoise adds a lot more, the beautiful color adding a playful note that changes the specific of the bedroom. Inexpensive and insanely beautiful craft worth realizing.
14. Elegant Upholstered Headboard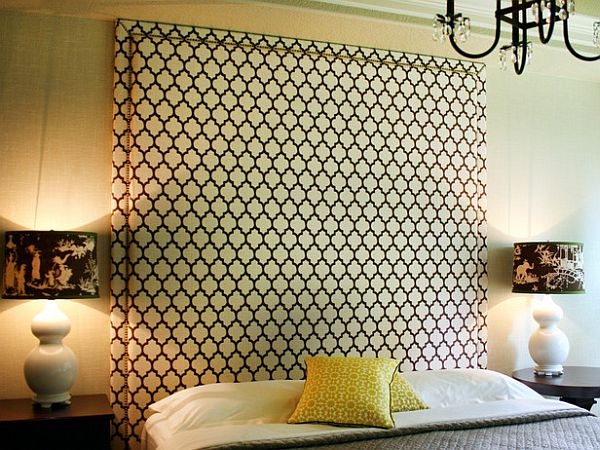 Good design making a statement . The over the top upholstered headboard here has been constructed with nothing but simple materials like glue, staple and basic sewing skills yet the result is phenomenal as you can surely see. This headboard also highlights the vertical plane beautifully, making the room appear taller, roomier.
15. Headboard Beautifully Covered With Fabric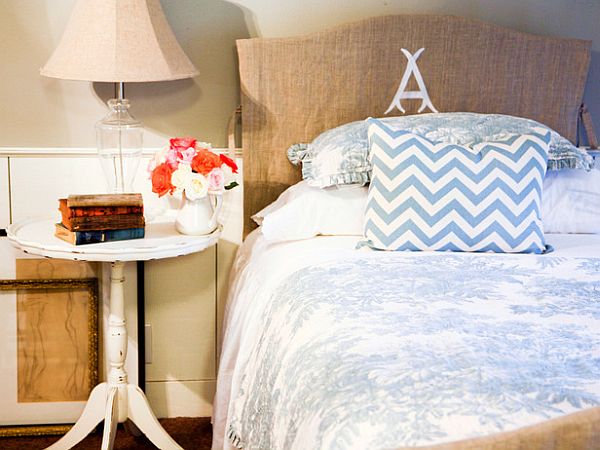 Covering headboards with fabric is also an extraordinary design possibility worth considering, here burlap being emphasized by simple white paint. The shabby chic allure of the room is clearly sustained by the headboard.
16. Simple Upholstered Headboard Design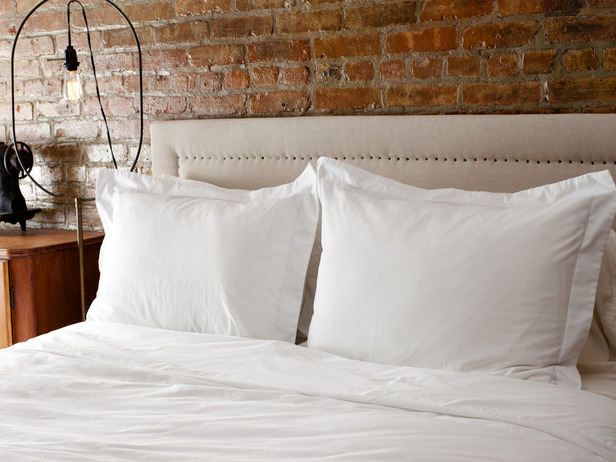 Simple and clear, the bedroom setting above can be only described as perfect. The brick wall adds depth and brings forward the white sheets and the matching headboard realized from a canvas board. This was basically a no sew project that comes very close to various upholstered designer headboards.
17. Wall Decal Headboard Changing The Bedroom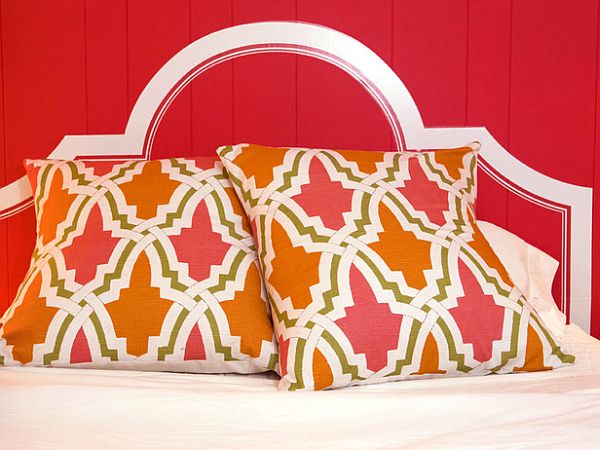 Simple, inexpensive and temporary, this is the kind of project that a would be adopted with ease by renters. Get creative with shapes and colors and experiment in your decor, the most inexpensive way to change your headboard as often as possible.
18. Black Upholstered Headboard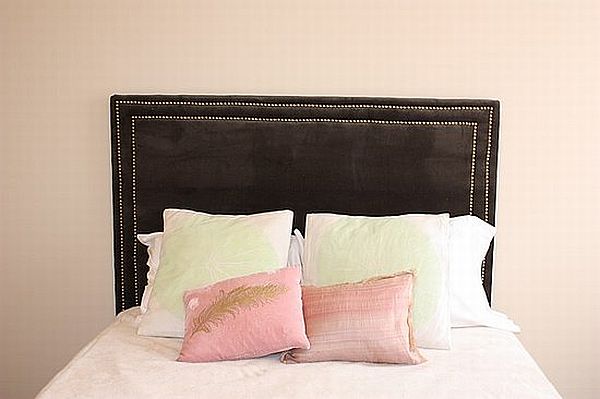 Contrast through color obtained in a simple headboard design that would not take much out of your free time. The nail heads do stand out on the black background here but evidently, you can use any kind of texture of fabric from your local textile sure. Mix and match, engage in the search of incredible.
19. Closet Door Transformed Into A Shabby Chic Headboard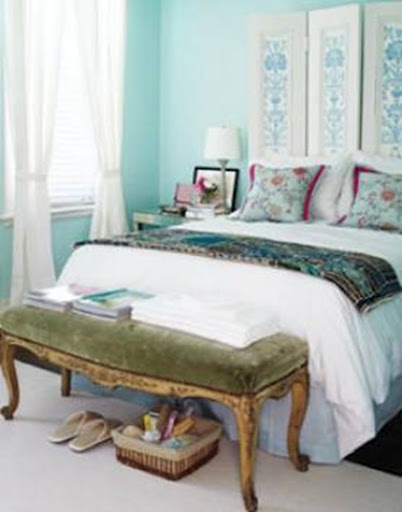 Closet doors can make beautiful headboards as well, beautifully covered with decorative paper or painted the pieces can add a very strong value. Simple to construct and rewarding, definitely something worth trying.
20. Big Pictures Can Create Splendid Headboards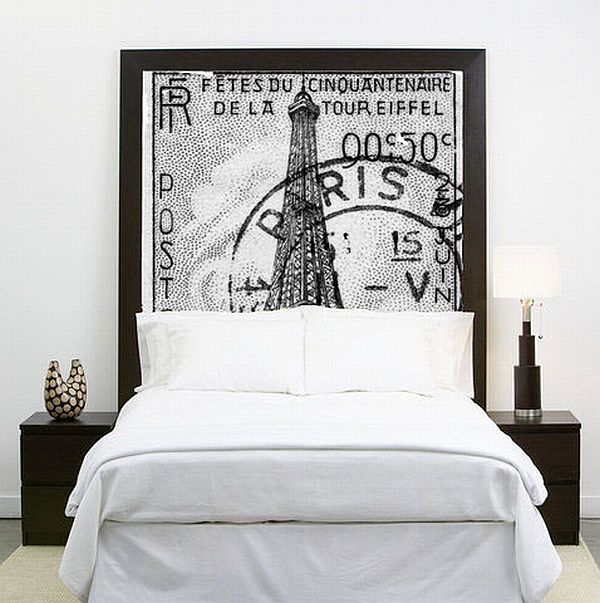 The modern headboard above simply brings a high level of authenticity into the picture, through a picture. You can showcase your own art pieces or something that you truly love. Simple and effective.
21. Use Bold Colors To Shape Your Headboard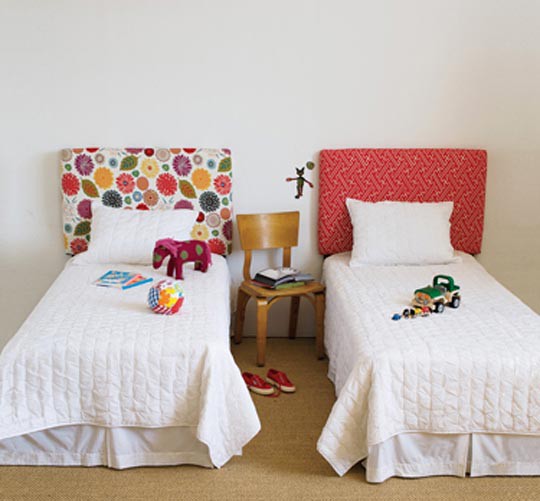 Color, textures and patterns are great instruments. Here a double bedroom for little ones has two different headboards, one for each bed, highlighting through beautiful means our uniqueness. Playful, colorful.
22. Plates Used As A Headboard Decoration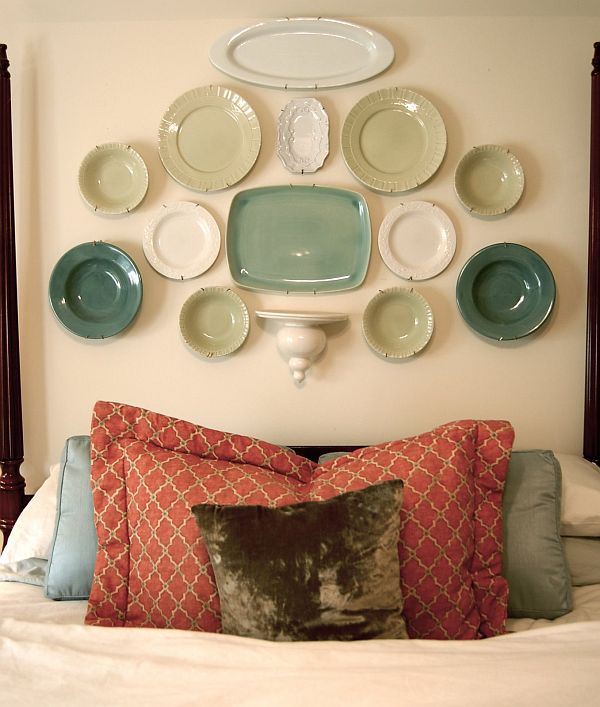 Each and everyone should be focused on the design that suits him and walk the extra mile every-time to obtain it. A collection of plates can describe a certain part of you or a journey of yours that means something to you. Design interior with memory and experience to give roots to the feeling of appurtenance.
23. Splendid Wooden Headboards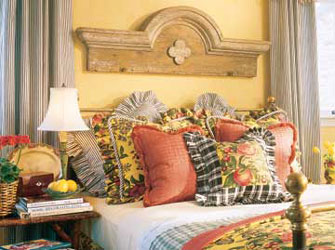 Here the headboard has been sliced into two pieces, one that serves the functional role, covered here by colorful pillows and one that sustains its presence visually, beautifully.
24. Use Chalkboard Paint On Your Headboard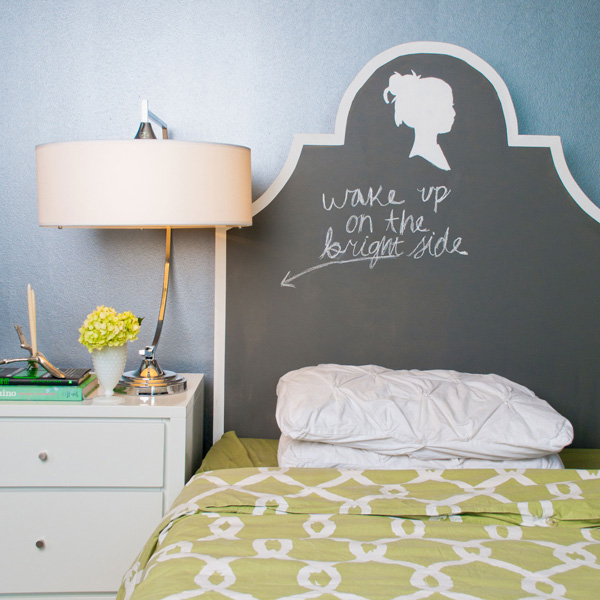 Exemplary DIY Headboard design that gains popularity each day. It can be realized with chalkboard paint and the support material, here a wood cut-out .
25. Salvaged Wood Headboard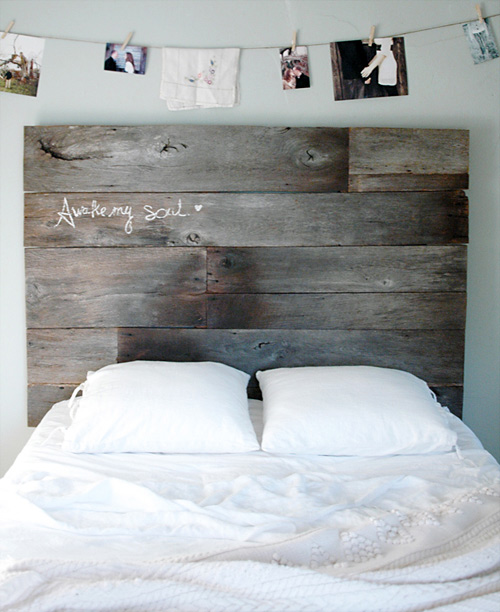 The need of a headboard can give birth to extraordinary DIY projects with little to no costs. Realized from salvaged wood and materialized in a matter of minutes the headboard above surprised through the extraordinary amount of coziness and warmth.
26. Painted Headboards Can Go A Long Way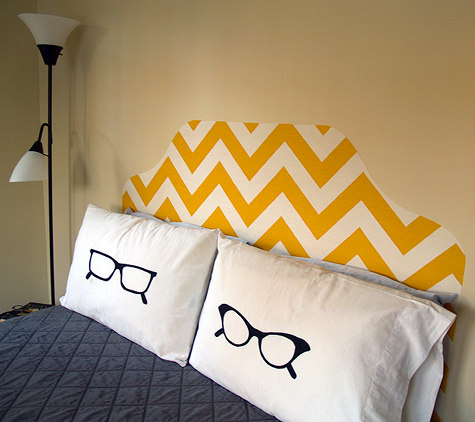 A faux headboard can emphasize the visual part of the bedroom without hassle. It can be realized in minutes and transform the house bedroom into a home bedroom. A piece of fabric shaped like a vintage headboard is everything that you need. Use a textile that you like, apply liquid starch and iron the board straight to the wall. The result is very impressive and yet temporary.
27. Do It Yourself Tufted Headboards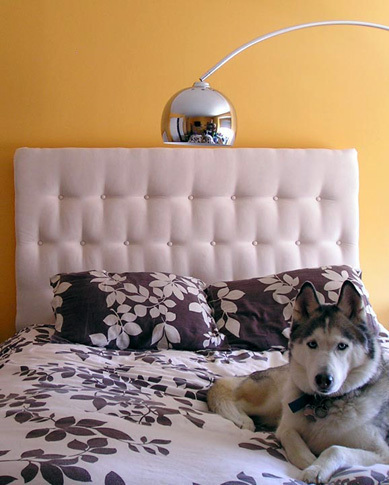 A project that took no less than 6 hours to complete and under 100 dollars stands above. Beautiful tufted headboard that one could easily confuse with a designer item. The craft requires some work and supplies like foam, plywood, bolts and fabric of choice but the result is evidently breathtaking.
28. Repurpose Your Fireplace Mantel Into A Headboard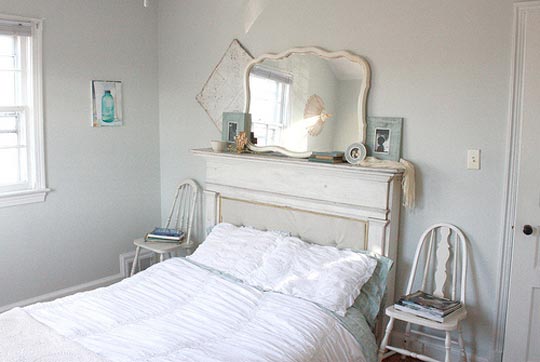 Creativity is key. Above a mantelpiece has been used to shape a new headboard, two chairs double as side-tables beautifully while a mirror bounces light through out the room sustaining the airy atmosphere. Superb shabby chic interior design to surge inspiration from.
29. Ikea Furnishings Transformed Into A Headboard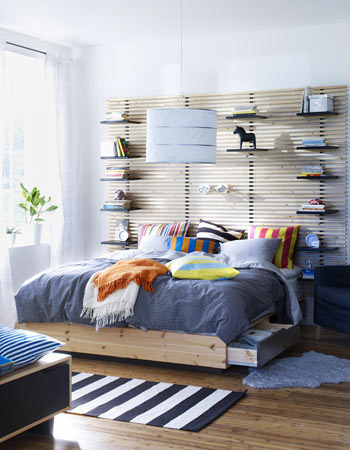 The Mandal from Ikea surprises in a DIY manner again, used here as a functional headboard the piece showcases great extraordinary potential. The new headboard will have your décor piece and books close whilst looking spectacular.
30. Framed Chalkboard Headboard In A Scandinavian Ambiance
Simple and extraordinary in looks. A big chalkboard edged by a wooden frame used as a headboard. The cool thing about it is that you can change your decor with various messages and illustrations whenever you like, transforming your bedroom into a fun space with ease.
31. Bold Patterns In Headboards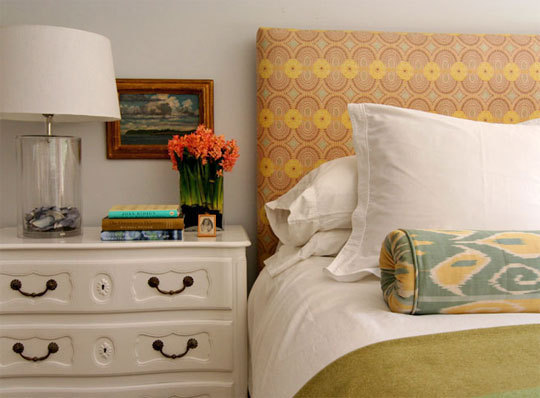 Patterns can make or break your bedroom. Do not overdo it. Here patterns enhance the look of the bedroom greatly, spicing things up. Notice its subtle, complementary surroundings.
32. Reuse A Door To Make A New Headboard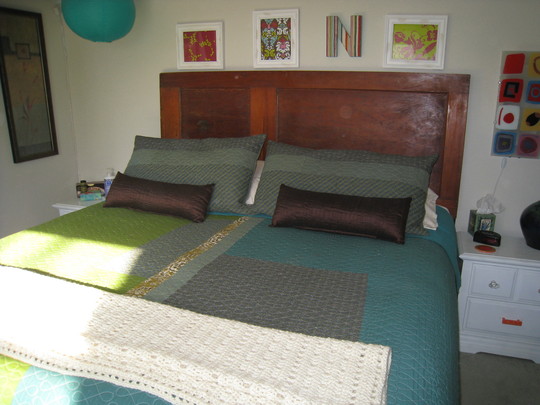 Doors can take multiple shapes and size and their resilience will be a proven in time. Adapt the wooden textures to your setting and obtain the desired result.
33. Serenity Emphasized By A Mirror Headboard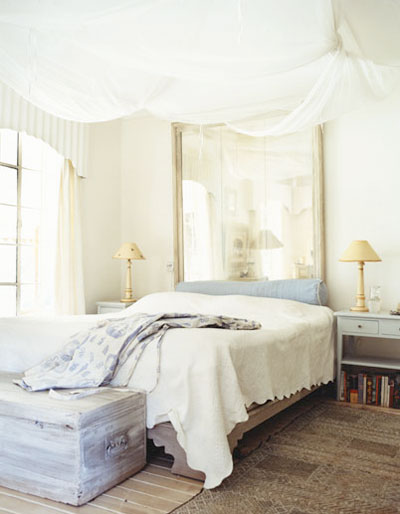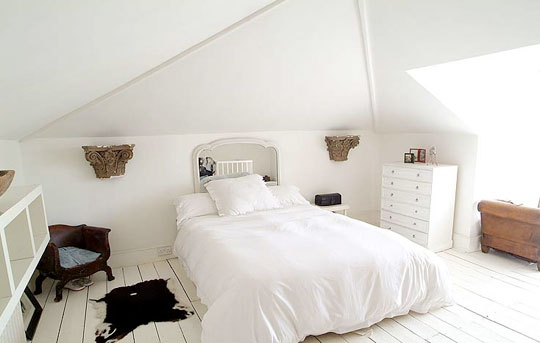 A headboard mirror is definitely not something new but it certainly comes with clear advantages, it bounces light through the room and enlarges the space in the process, it can expose or hide key-points of the room and offer the illusion of depth.
34. Colorful Otomi Headboard
Grand designs can be the result of inexpensive crafts and the secret recipe is to infuse your own personality and vision .Something new born from experience and memory, something that will create a strong feeling of appurtenance, one that we all pursue. The headboard that follow encapsulates a special textile entitled the otomi frabric. The otomi Indians of central Mexico have hand made the fabric and it portrays animal figures that dance around.
Here we are at the end of an exemplary collection of DIY headboard ideas and projects, what do you think? What project do you like the most? We would love to hear from you in the comment section below.