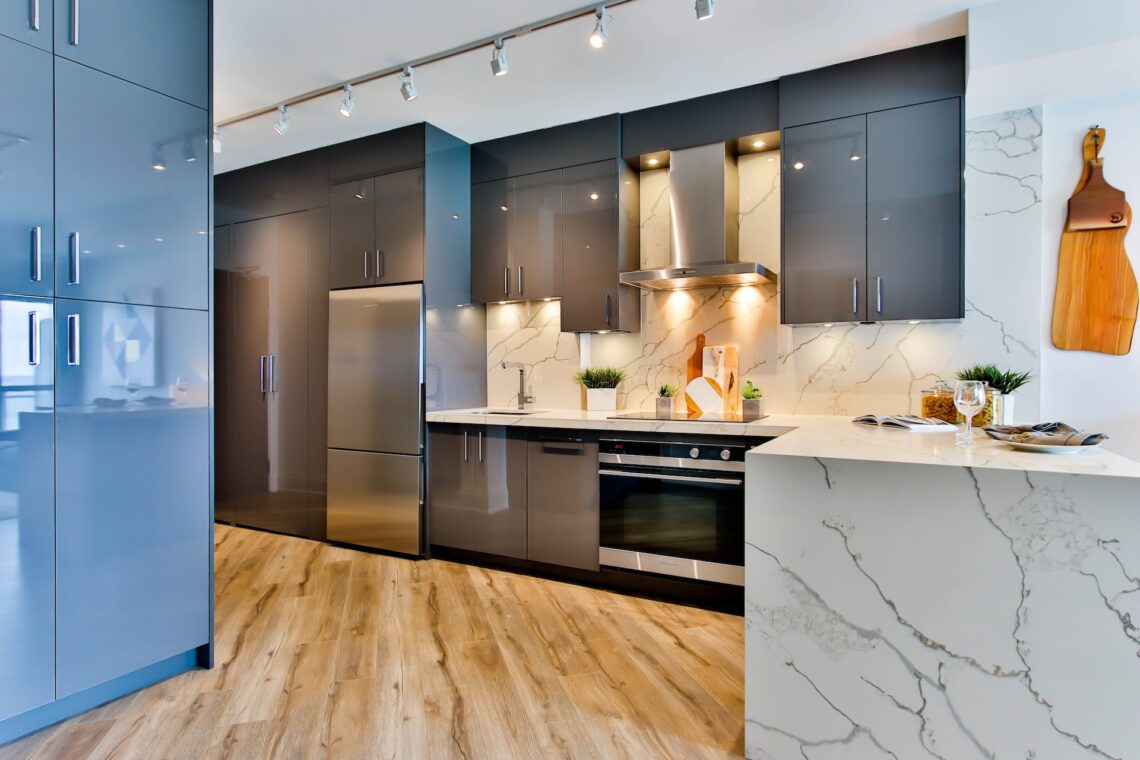 The Latest Trends To Transform Your Kitchen 
42% of people renovating their homes in 2023 say they're focusing on their kitchen, because they're sick of their old ones, Real Simple reveals. On average, a kitchen remodel will set you back around $26,174, or roughly $150 per square foot. That said, even smaller, budget-friendly upgrades can make a huge impact and completely refresh your space. By embracing some of the latest kitchen trends, you can enjoy a stylish new look without breaking the bank. Transform your kitchen now.
Embrace open shelving
Looking for a cheap and easy way to transform your kitchen? Get rid of your cupboards. Open shelving is a stylish alternative to cupboards that let you showcase your favorite kitchenwares, along with any antiques and family heirlooms. Open shelving also offers the benefit of keeping everything visible and easy to find – try placing things you use everyday on the lowest, most accessible shelves for greatest convenience. You will, however, need to remember to dust your pieces regularly since they'll be exposed to the elements – the beauty it adds to your kitchen is worth this extra effort. Moreover, you can also effortlessly create extra storage space by running an under-mounted rod along the length of your open shelving. You now have an extra place to hang your pots and pans.
Switch out your countertops
Simply replacing your countertops can transform the look and feel of your kitchen. Quartz kitchen countertops, in particular, are set to be a huge trend in 2023. Not only is quartz beautiful, but it's also durable and heat- and stain-resistant – in fact, quartz countertops can look as good as new for decades as long as they're properly maintained. When it comes to color, you have a number of gorgeous different options to choose from. Blue quartz, for example, is a bold and impactful shade, while white quartz can lend an elegant and modern feel. Quartz countertops can be installed as a DIY project, although you may want someone on hand to help as it's a fairly heavy material.
Refresh your ceiling
The ceiling often goes disregarded in kitchen design, but, by thinking of it as a fifth wall, you'll realize the ceiling can bring a host of creative ideas to life. For example, simply painting your ceiling can add color and style – opting for a shade from the same color family as the color already used on your walls can create a coordinated, harmonious look. An attractive, gentle contrast can also be achieved by opting for a lighter shade on the ceiling. Alternatively, you can also make a design statement with your choice of kitchen lighting. Instead of opting for a minimalist spotlight (an easy choice for the kitchen), install an opulent glass chandelier. Hanging a chandelier above your kitchen island or dining table can help the space feel beautiful as well as practical.
The latest kitchen trends can transform your kitchen without breaking the bank. By embracing open shelving, switching out your countertops, and refreshing your ceiling, you can easily revamp the heart of your home.
Photo by Sidekix Media on Unsplash