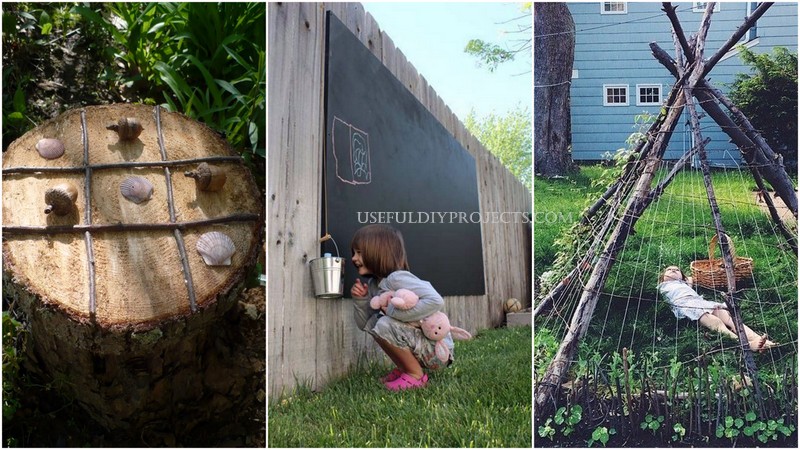 10+ Fun Backyard Transformation Ideas on a Budget for Kids Playground
Time spent outdoors in fresh air is marvelous on its own but when it becomes a great bonding opportunities for a family it becomes something else entirely. If you are to add in the fact that the memories of a child will be born in the act, everything goes north. It rapidly becomes very important for you to be there, for the activity to be safe, educative, memorable and last, but not least, immense fun.
We have gathered a short suite of very cool ideas to consider for this, simple ways to transform your backyard into a cool and fun kids playground.
The options are limitless and they can include a climbing wall, a tree house, a sandpit or even a mud kitchen, it is up to you to complete this breathtaking list and shape the universe of your child, to bring to reality his dreams and fuel his creativity, all in an educative act. AnD don't forget about safety, protection, outdoor gear for yourself and your little one.
Cast a glance at the ideas below and surge inspiration, we would love to hear your thoughts in the comment section below.
#1 Cool mud kitchens for your kids – backyard transformation
Having some space outside could be the perfect spot for useful diy projects such as these mud kitchens for kids. Take a look at these cool projects. Using natural materials or old stuff from your kitchen that you don't use anymore and adding them to your kids mud kitchen for the best DIY backyard transformation seems like a great idea!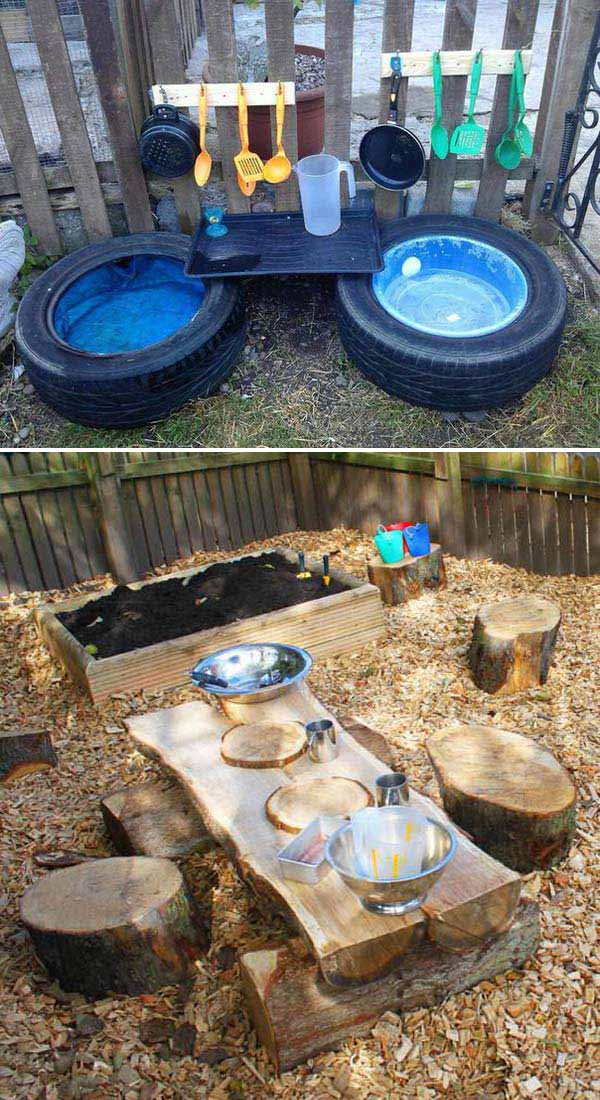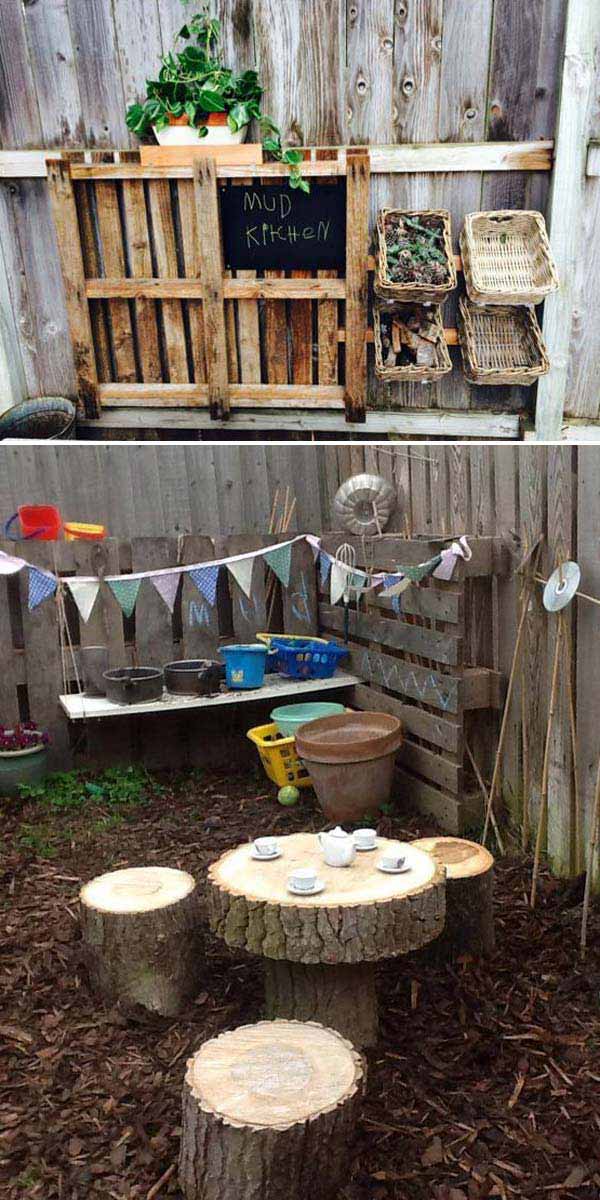 #2 Planting with children is an insanely educative and rewarding act
The most extraordinary fun for all kids, one that will forge an unforgettable memory for sure. This satisfying moments of planting different types of greens with your kids, combining the fun part with education in one of the most simple way.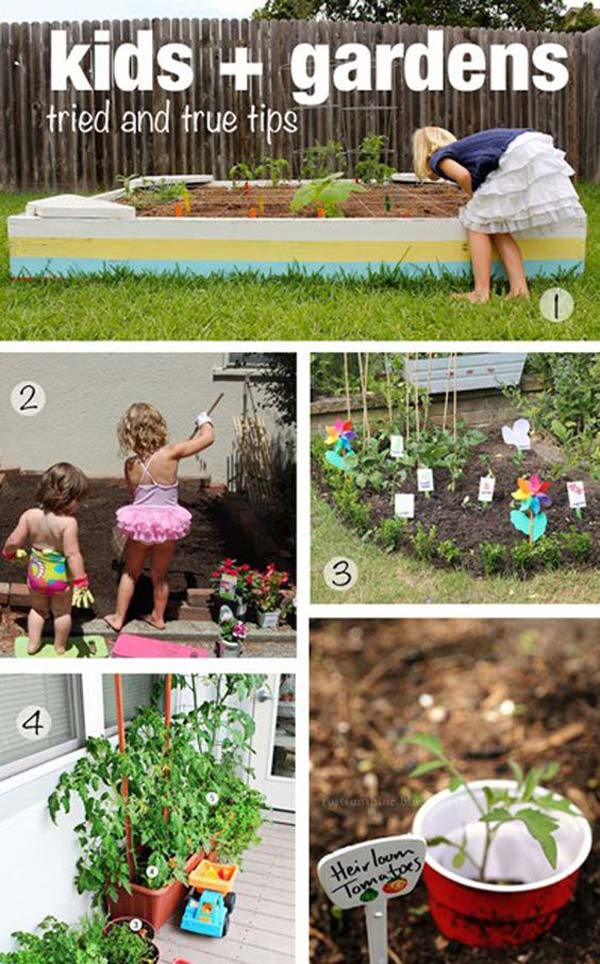 #3 Sandpit or sand box can keep your kids entertained for hours
The beach is too far from your home and your kids are impatient to feel the sand? Try this amazing diy project with sand for your backyard transformation. It can become a nice playground for your kids. If your space is small, you can use 4 wooden boards and fill the box with sand. You may also create a bigger area with sand if your backyard is larger.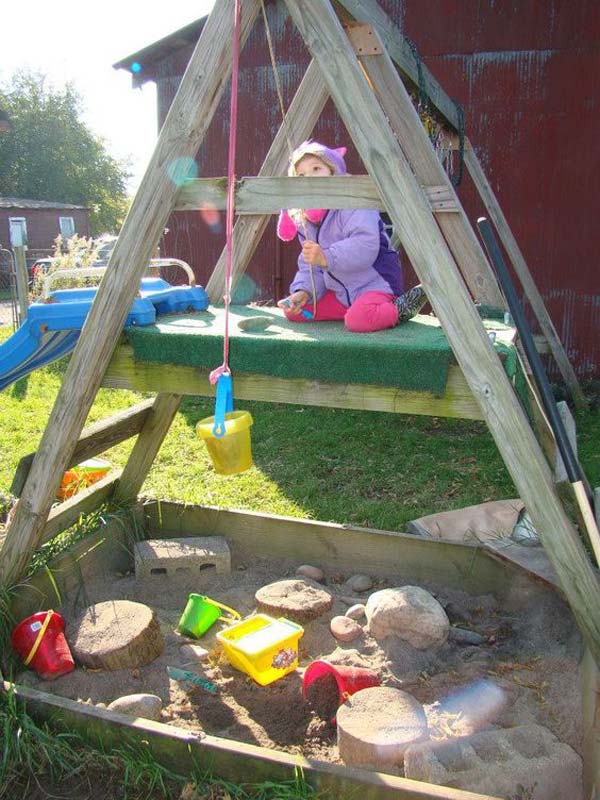 Kids simply love sand and they like to use hands to make sand castles.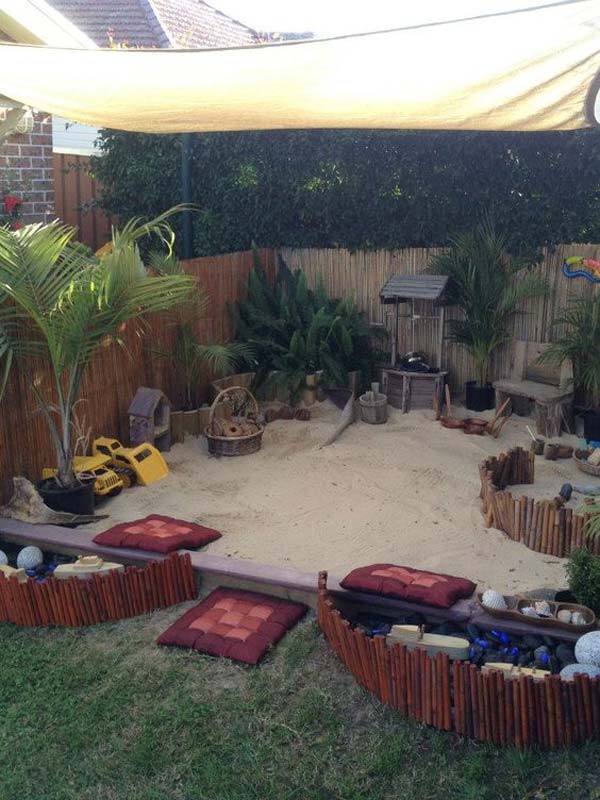 #4 Sunken trampoline can be super fun and space efficient alike
A little more complex DIY project for your backyard transformation that will add a lot of personality and fun for your kids and their friends. Add a pool to that sunken trampoline and things change a great deal. If you want to know more details please click on source. Alternatively a trampoline Toowoomba can be set up next to the pool for a similar effect.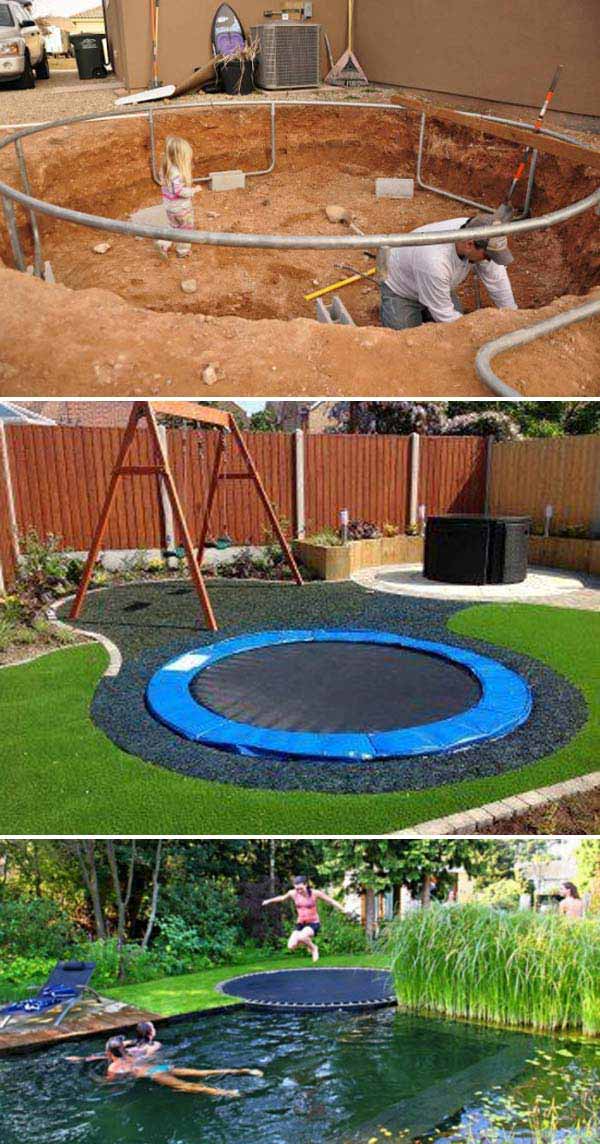 #5 Construct a chalkboard onto the fence and fuel their creativity
For those kids that enjoy to draw, write and express their creativity through lines and colors, this chalkboard will be the most cool idea for your backyard. All your kids or their friends could draw outside and take some fresh air.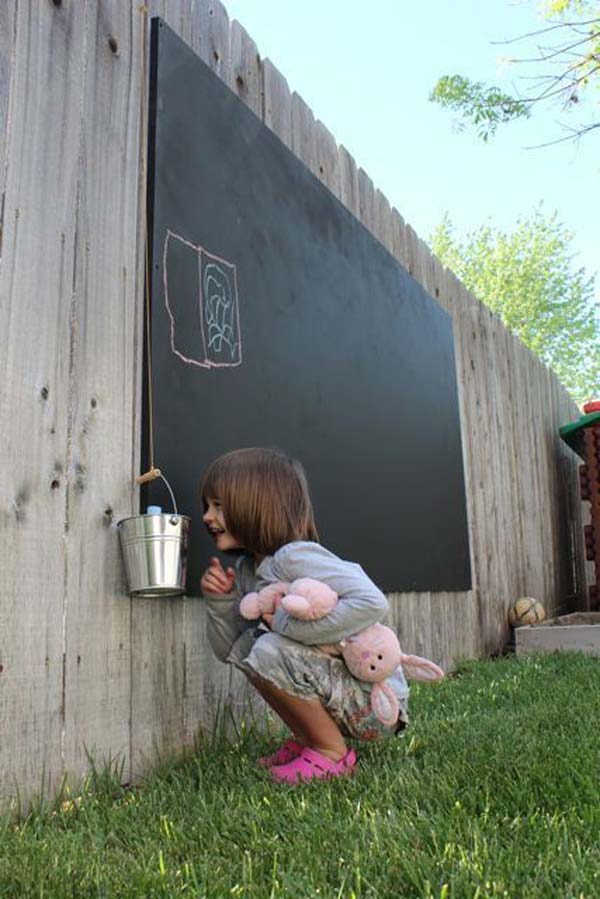 #6 Build a stump house made from wooden pallets for a backyard transformation
Hey, recycling old pallets can be a very fun for your backyard transformation and your kids would enjoy their playground.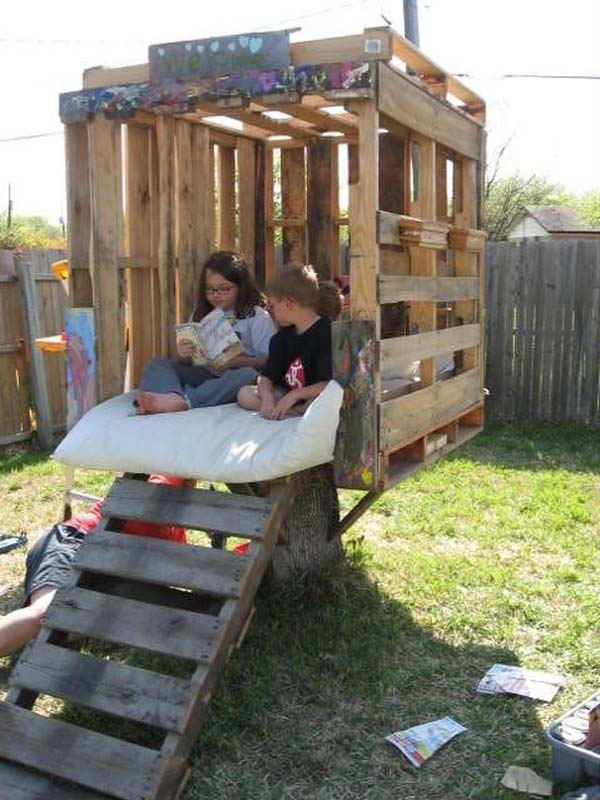 #7 Create a race track in your backyard and have fun
Boys and girls, it does not matter, all of them love to go outside and play with toys and your backyard could be the best place.
Try this nice backyard transformation idea where your kids can play with race cars on a track that you have made. Take a look and share with us what are your thoughts.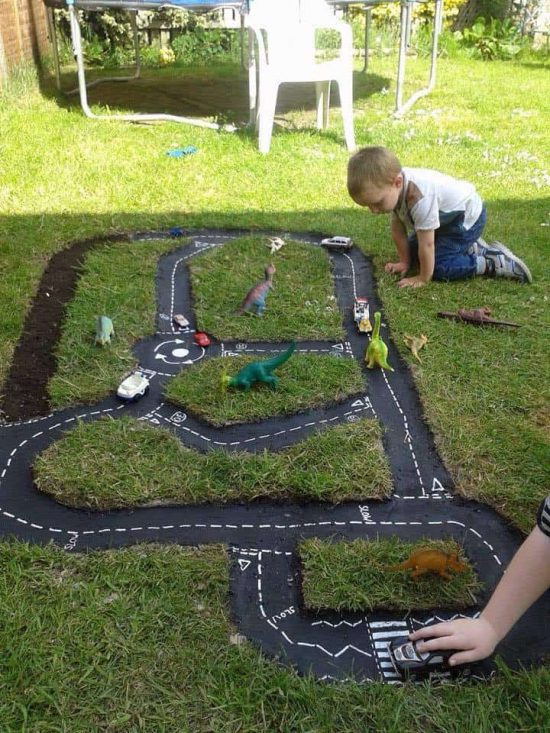 #8 A green Indian tepee could be a fun addition to your backyard transformation
Planting and camping, two different ways to have fun. Combined could generate an extraordinary diy project for you kids.
It will add a lot of improvement to your backyard. Grow greens in a shape of an Indian tepee will be the next summer idea for your kids playground.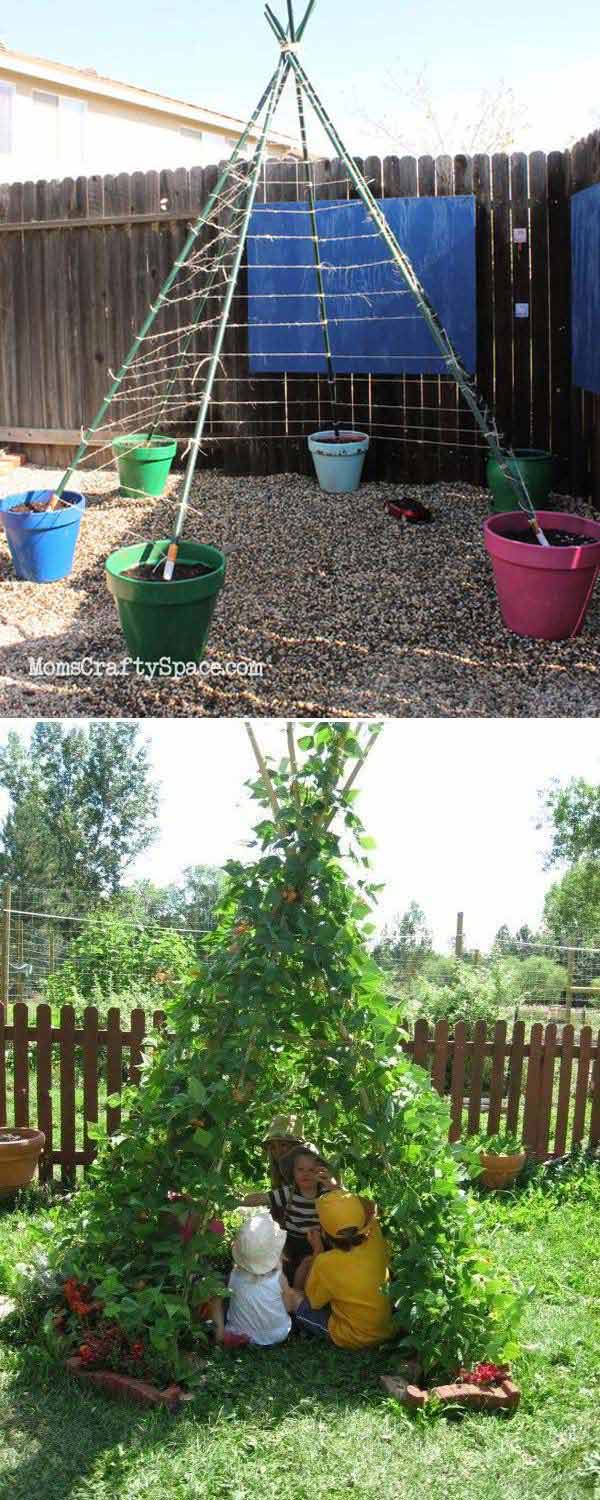 #9 Build climbing structures that can include knotted rope and climbing nets
In these forts memories are forge, simply ensure that they`re completely safe. The most active kids playground where your child could improve their outdoor skills and be more playful.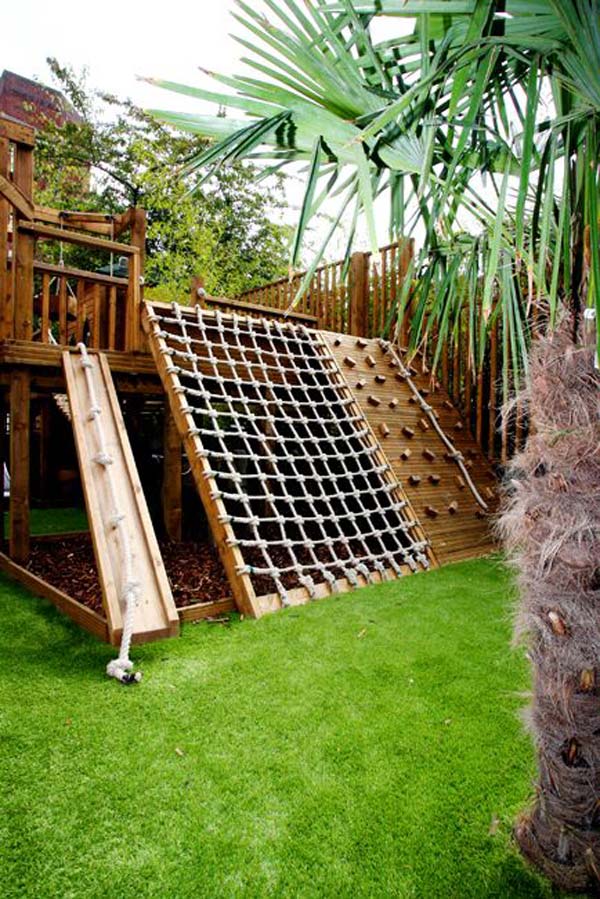 #10 Realize a music wall out of various kitchen utensils
This can be insanely fun, it can have little to no costs and it can become really loud, use it wisely. One of the best recycling idea for you and your kids. Music from scrap things could be the next summer hit.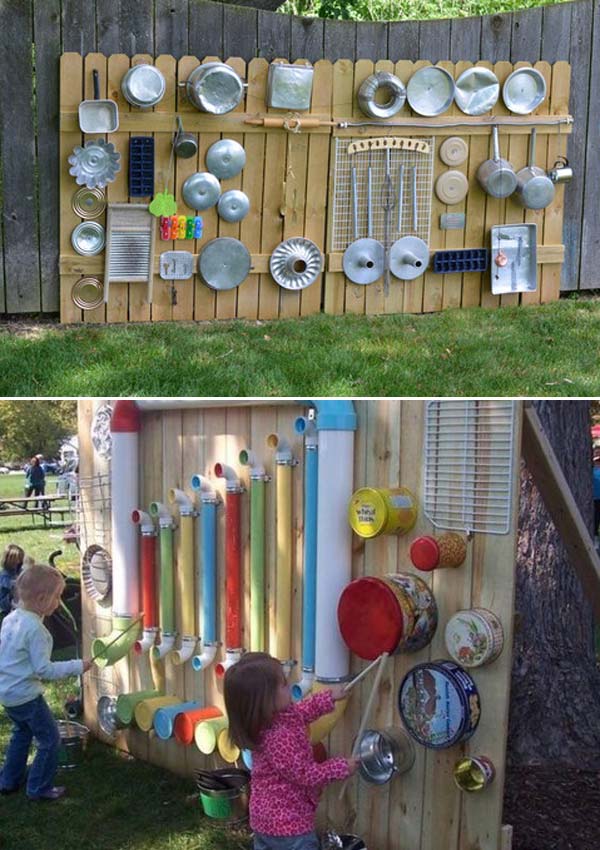 #11 Backyard transformation – little bungalow for kids
Check out this cool summer project that you can be inspired from and try in your own backyard. Could be a little expensive but if you have scrap wood, old curtains or other pieces of furniture that you can use to create a lower budget project it can be double.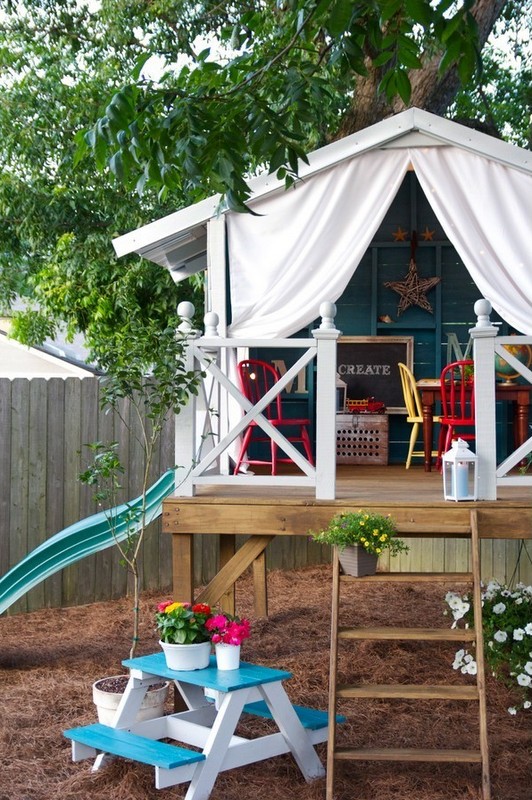 #12 Play hopscotch in your backyard transformation idea
Useful idea for the little ones and a project that is on budget. The construction of a hopscotch is usually made on concrete or asphalt. You can also use tree bark for landscaping and concrete squares that are painted on. So there it is, your final project for your summer vamp.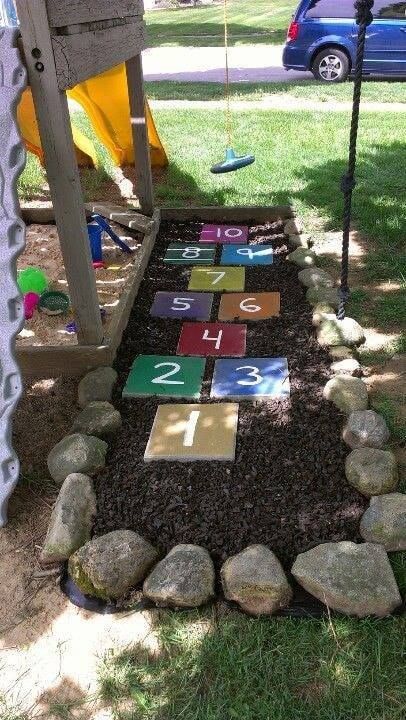 #13 Log tik tok game for your kids
An old tree cut could be the perfect spot for a tik tok game. By using the old log in the ground and adding some sticks you will recreate the tik tok game with what you can find in the natural environment.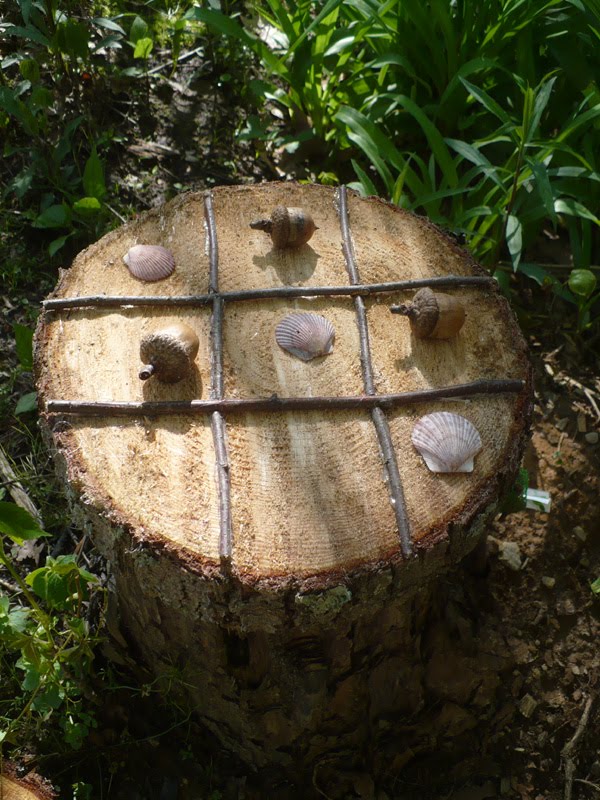 #14 Fun PVC sparkle idea for the next hot summer
Look at this step by step guide and tell us what you think. It the best project on a budget, one that everyone can do and enjoy in the hottest day of summer. Your kids will enjoy it but also their friends, plus you will not waste much water.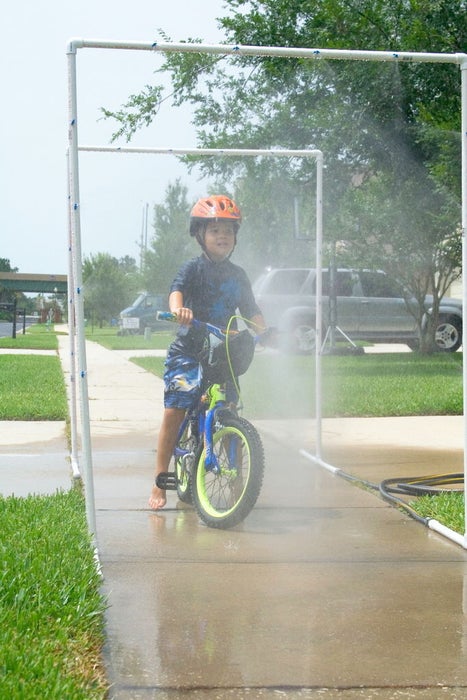 #15 DIY pad splash for your backyard transformation
Summer is coming and all the kids will enjoy their vacation so you have to be prepared. Try this DIY pad splash to enjoy the hottest days of summer.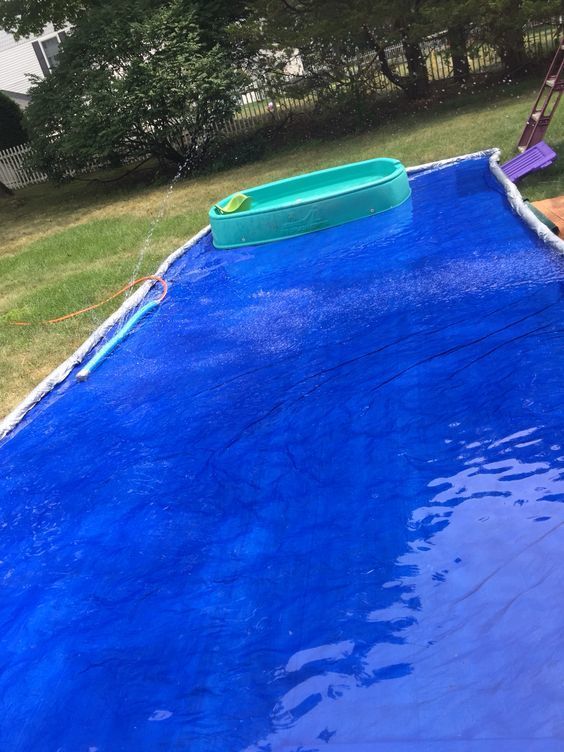 How do you spend your outdoors time with your kid? We would love to hear your valuable feedback on this important activity in the comment section below. This time spent with family, friends is utterly important and one must surely ensure that their creativity and imagination gets wings, that every child in the world receives as much attention as humanly possible.