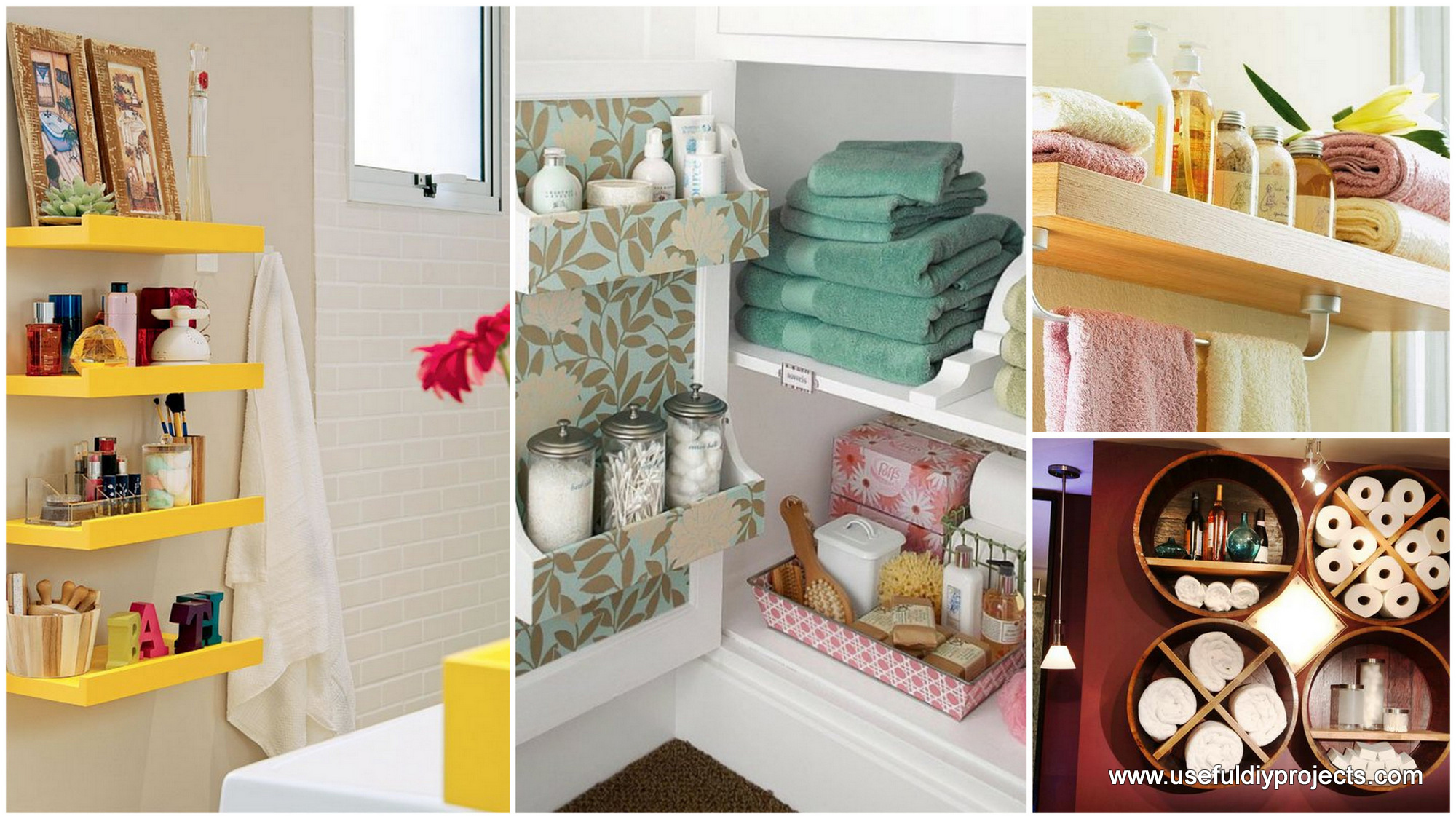 Creative Yet Practical DIY Bathroom Storage Ideas
Storage has always been an issue. And when it comes to bathroom storage, the options are so limited you usually end up with baskets over baskets and cabinets which never seem to be enough. We have gathered a collection of DIY creative yet practical DIY bathroom storage ideas to draw inspiration from and organize your life properly. The ideas presented below vary from open cabinets to using old wooden ladders to create a towel/ bathroom accessories storage unit which will beautify and give a rustic air to your bathroom design scheme.
Cast a glance at the extraordinary ideas showcased below and chose the craft to materialize. We would love to hear your opinion in the comment section below.
1. OPEN STORAGE UNIT DRESSED IN OLD NEWSPAPER
2. OLD LADDER USED AS VINTAGE VERTICAL STORAGE
3. ADDING STORAGE TO YOUR DOORS SEEMS LIKE A VIABLE OPTION
4. USE MULTIPLE SHELVES ON YOUR WALLS
5. SLICED BARRELS USED AS BATHROOM ORGANIZERS
6. ADD SHELVES OVER YOUR TOILET TO MAXIMIZE THE SPACE
7. YOU CAN STORE BEAUTY PRODUCTS IN PLAIN SIGH
8.OLD DRESSER REPAINTED IN BRIGHT TONES
9. HIDDEN STORAGE SOLUTION
10. USE EVERY SINGLE CORNER
11. THE SPACE UNDER THE SINK CAN BE USED AS STORAGE
12. OLD MASON JARS ASSIGNED TO EACH MEMBER OF THE FAMILY'S TOOTHBRUSH
13. SMALL BATHROOMS NEED SMART STORAGE SOLUTIONS
14. BRIGHTEN UP YOUR BATHROOM WITH YELLOW TONES
15. SOMETIMES SYMMETRY IS THE KEY
16. FLOWER POTS USED AS STORAGE
17. CHOOSE ONE DOMINANT MATERIAL SN DESIGN YOUR HOLE STORAGE OUT OF IT
18. WICKER BASKETS ARE THE BEST OPTION IN MOST CASES
19. ADDING STORAGE SPACE TO YOUR TOILET
20. WOOD AND GLASS IS A WONDERFUL COMBINATION FOR STORAGE AND DISPLAY
21. WICKER BASKETS HUNG ON THE WALL
22. STORE YOUR TOWELS WITHIN REACH
23. WONDERFUL WHITE AND TURQUOISE COLOR SCHEME FOR BATHROOM STORAGE SOLUTIONS
24. STORE ALL YOUR SHOWER PRODUCTS IN ONE PLACE
25. WALL NICHE USED AS STORAGE
26. CABINET SPACE USED AT ITS FULL POTENTIAL
27. KEEP IN MIND THAT IF YOU CHOOSE AN OPEN STORAGE SOLUTION YOU HAVE TO KEEP THINGS IN CHECK ALL THE TIME
What do you think about these wonderful elegant DIY bathroom storage solutions? Which one would you adopt for your bathroom? Feel free to share your thoughts and opinions in the comment section below.