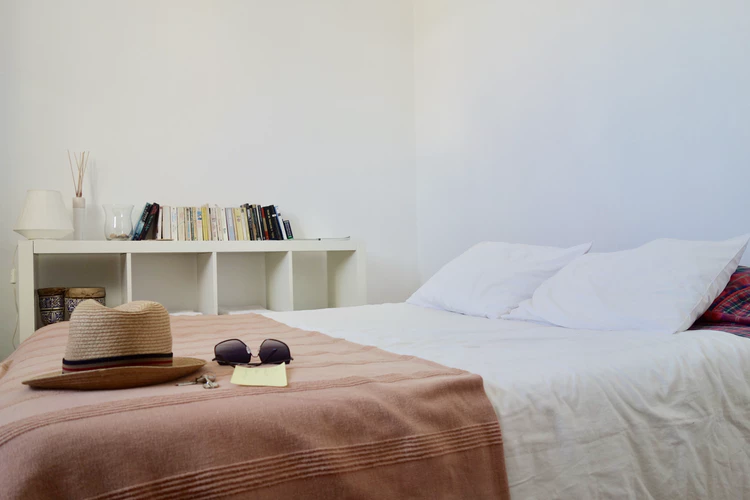 5 Bedroom Design and Decoration Tips
"5 Bedroom Design Tips" One of the most significant benefits of adulthood is the fact you have the space of your entire home for yourself. You are no longer restricted to just your bedroom. Thus, you can dedicate this room to relaxation and rest, and leave the other parts of life out of it.
Tastes differ. And thanks to the growing accessibility of customization, you can turn your bedroom into a place that's one of a kind. Things like paint color, wallpaper, carpets, curtains, and lights can now be personalized to fit your distinct tastes. If you have the budget and talent for it, customizing furniture is also a striking way to personalize your space and make it unique. 
But there's also a more affordable alternative. Try changing and customizing the upholstery for your existing furniture to give them a fresh new look. With the right online supplier, you can choose from thousands of upholstery fabrics to find the one that suits your personal style or room aesthetic. And the best part is, you can do all the customization online. Once you're good to go, you can get your chosen upholstery shipped directly to you!
Five people will choose five different design patterns. Either way, some basics differentiate an average bedroom design from an outstanding one. It's all about the details. You will need to pay attention and finesse your way to a sanctuary of luxury.
To make it more straightforward, here are five main areas to focus on. Stick to these basic rules and any idea you have will make a fantastic execution.
Keep It Simple
Simplicity is the setting stone of any tranquil bedroom, no matter your preferences. You can go for lavish furniture and huge windows, but don't stuff the room with anything you don't need.
Also, remembering to leave space between pieces of furniture opens up the area, making it easier to navigate.
An excellent way to apply this rule is by remembering the focus of your room – the bed itself. If you're buying new furniture, this piece is the first one for you to choose. Go for aesthetics, as well as high quality.
You could get the bed frame and mattress separately to help find the best fit. You can check mattress recommendations by SleepJunkie, a website that promotes healthy sleep.
Now you can pick other pieces of furniture, such as a desk and a closet.
When it comes to smaller items and accessories, be very specific, and keep it simple. For furniture, the general rule is – if you won't use it, it's clutter. The details are okay in moderation but don't go overboard.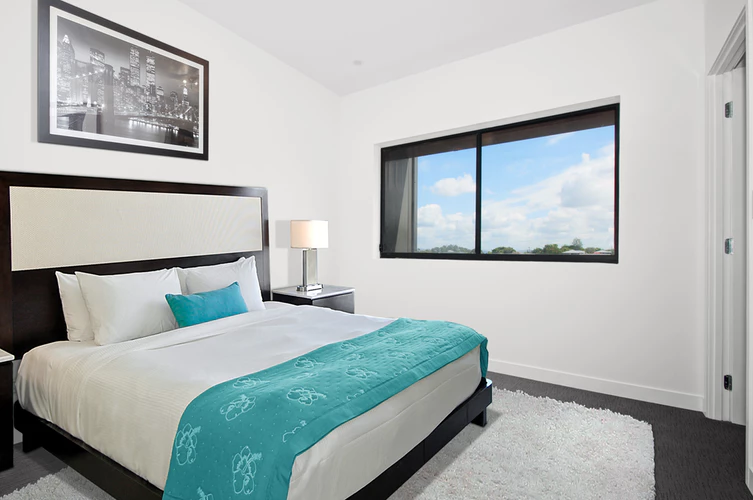 Get Plenty of Storage
As most of us don't enjoy the comfort of a walk-in closet, you will likely need to place a dresser in your bedroom. Go for a lot of storage space, as it allows you to keep everything you need within arm's reach. You don't want open spaces loaded with chargers and night creams.
Go for a large closet and one bedside cabinet, if you can fit it. This little piece of furniture is one of the best guards against cluttered bedrooms.
You could also get a trunk, or an overhead shelf if there are too many items to fit in your drawers. A shelf also allows you to display your personal book collection. Also, for those items you don't use often, boxes that fit under your bed are a great, budget-friendly solution.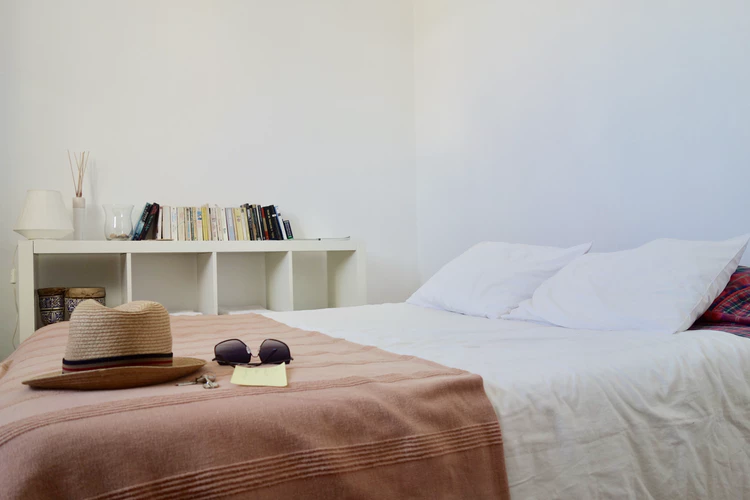 Choose a Subtle Color Scheme
Perhaps the rest of your apartment features yellow walls. You may be in love with hot pink sofas. That's okay, but the bedroom should be a place for relaxation, and colors that soften are neutral and gentle.
For improved sleep, go for pastel green, lavender, and blue hues in a monochromatic scheme. Those are famous for helping people unwind and putting them at ease.
If you are going for a more elegant design, deep golds, soft browns, and beiges will give a hint of luxury to your bedroom.
If you're dying to decorate the room in your favorite color, though, try going for a pastel version. You don't want something too in-your-face, as it can disrupt your sleep.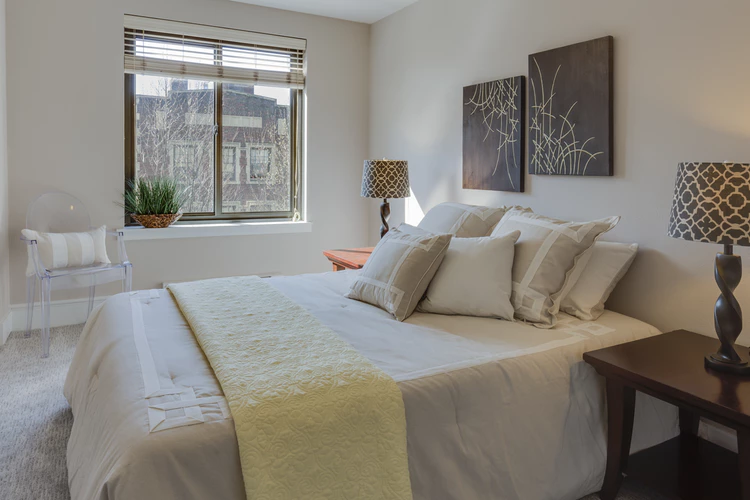 Remember the Windows
Getting furniture and choosing linens matters, but there still may be a feeling something is missing. Your windows need a bit of dressing as well for two primary reasons.
First of all, if you went for a gentle theme, a bare window will seem out of place. Instead, look for a curtain to soften and round up the appearance of the entire room.
Second, most of us don't want the sun hitting our faces at 6 am every day. Curtains come in handy for this. However, if you went for a soft curtain that filters light, you will need another layer of opaque material for efficiency.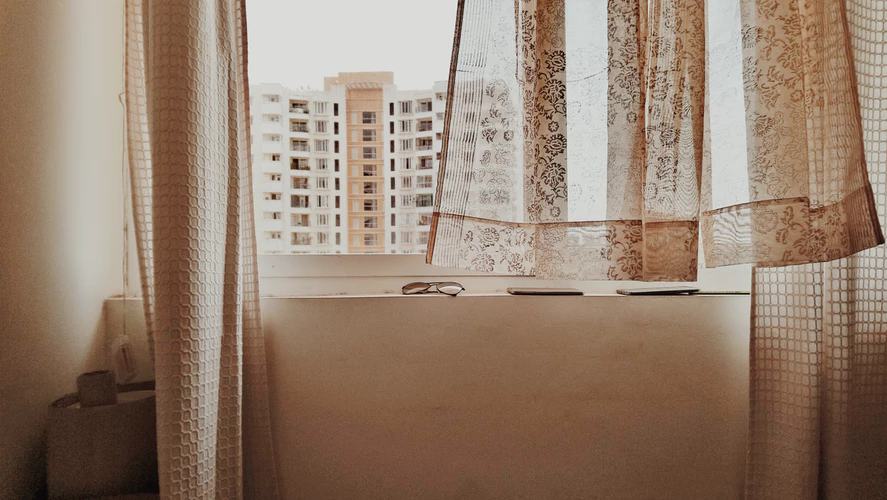 Play With Lighting
There is no other room in the house where we pay so much attention to the ceiling. For that reason, you don't want an endless white surface staring back at you. One way to fix this is by going for a different color, but there's another solution which deals with two issues at once.
In the bedroom, a variety of lighting options accentuates the best it has to offer. It also has a tremendous impact on the mood of the place – so don't disregard the dimming option!
Get a lamp or few for places where you need a focused light, but keep the rest of them spread around the room. Install unique lamps on the ceiling, or go for corner lamps that shower the walls in light. It will add another layer to the overall design.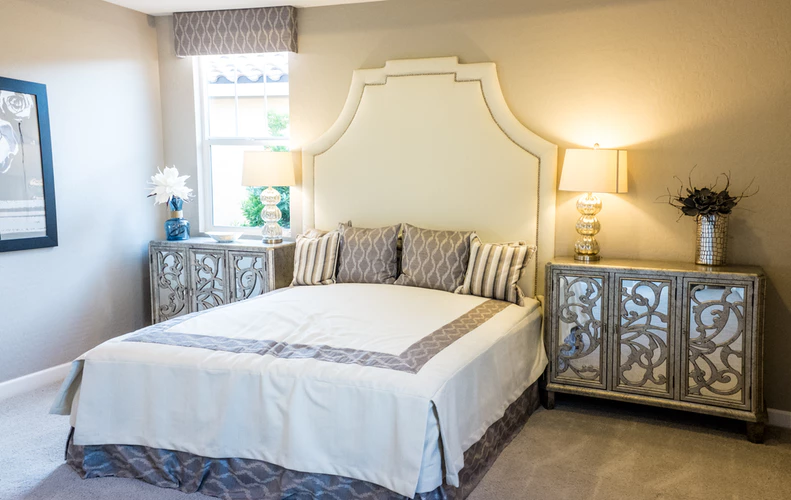 Final Thoughts
All in all, the point is to make your bedroom a space that leaves behind all the buzz of daily life and puts you into a more relaxed mindset. Don't forget to keep it free from unnecessary items, too – especially technology, which may disrupt even the soundest sleepers. Choose your décor carefully, and opt for pieces that speak to you, whether it's a unique item from your personal collection or an artwork that you love. These add charm to your bedroom without disrupting the relaxing atmosphere.
By following these tips, you are not only achieving a hotel-like design but a higher quality of sleep, as you're making the environment ideal for rest. Can it get any better than that?