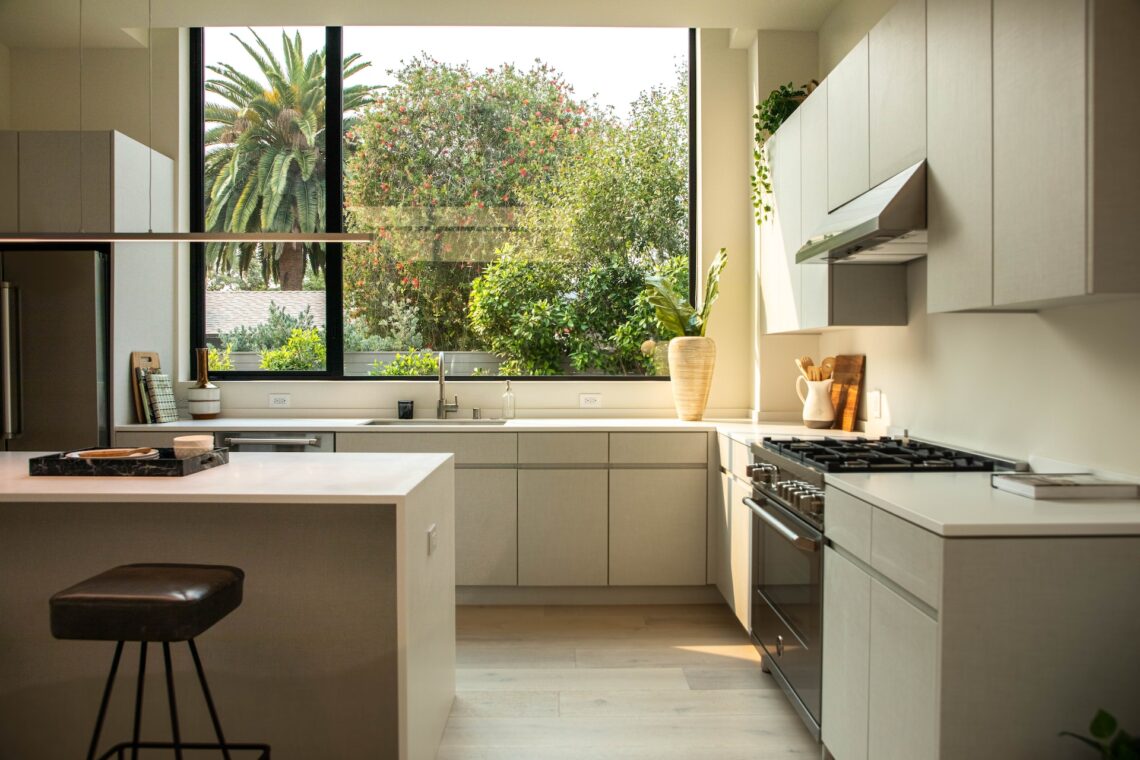 6 Simple Ways to Upgrade Your Kitchen
Are you looking to upgrade your kitchen? If so, then you've come to the right place. Upgrading your kitchen can be a daunting task, but with the right tools and information, it doesn't have to be overwhelming. In this article, we will discuss some of the best ways to improve both the look and functionality of your kitchen. From replacing cabinetry and countertops to adding new appliances and accessories, there are plenty of options available for updating any style or budget. Read on for tips on how to create a beautiful and functional space that you'll love spending time in!
Upgrade The Lighting
Lighting plays a key role in the look and feel of your kitchen. Start with task lighting – lights that are focused to make tasks easier, like hanging pot racks over an island or illuminating a sink area. Then add ambient light such as recessed cans, under cabinet lighting, or pendant lights. Finally, finish off the look with accent lights like sconces, wall washers, or up-lighting. All of these lighting types combined will create a unique and layered look in your kitchen. When selecting the style and type of lighting for your kitchen, consider energy-efficient LED or CFL bulbs. When comparing LED lights for your kitchen ceiling, it is good to know that track lighting is a great option for lighting that's both stylish and efficient. Track lighting is also a great way to add directional light to specific areas, like under cabinets or over islands. When shopping for lights, keep in mind the size of your kitchen space, as well as its overall design.
Install New Cabinets
Upgrading your kitchen can be a great way to breathe new life into the heart of your home. One of the best ways to give your kitchen an upgrade is by installing new cabinets. Replacing old, outdated cabinetry with modern designs can instantly transform the look and feel of your kitchen. When purchasing new cabinets, consider what type of material they are made of. Cabinets can be constructed from a variety of materials including wood, laminate, steel, and plastic. Each material has its own unique characteristics so it's important to consider which one will best fit your needs in terms of style, durability, and cost.
When installing new cabinets, it is important to measure accurately and to make sure that the cabinets fit snugly. Additionally, you may need to install new hinges or knobs if your current hardware is not compatible with the cabinets. If you are unsure how to do this yourself, it is best to hire a professional who has experience in cabinet installation.
Upgrade The Appliances
Appliances play a vital role in any kitchen so investing in new ones can be hugely beneficial. Start by assessing how old the existing appliances are and whether they're energy efficient. If the appliance is more than 8-10 years old, you should consider replacing it as newer models have much better energy efficiency ratings, meaning that they use less power and can save you money on energy bills in the long term.
When selecting new appliances, look for ones that feature sophisticated temperature controls, efficient design, digital displays, and smart technology. If you're considering installing a gas model then make sure to use an experienced professional who can guarantee a safe installation process. You should also look for appliances that come with a warranty, so you're protected in the event of something going wrong.
New Tiles
Adding new tiles to your kitchen is a great way to upgrade its look and feel. There are several different styles of tile to choose from, so take some time to consider which look you'd like in your kitchen. You can go with the classic ceramic tile or opt for something more modern, like glass or metal tiles. Regardless of the style you choose, it's important to make sure the tiles are properly installed by a professional who can provide you with the necessary expertise. Once your new tiles are in place, you'll have a great-looking and durable kitchen that will last for years.
New Countertops
If you're looking to upgrade your kitchen, consider replacing your current countertop with a new one. Countertops come in various materials and finishes, so you're sure to find something that will fit your kitchen design. For example, granite countertops offer a classic look with great durability. Alternatively, wood countertops have a more rustic charm and are easy to customize with different stains and sealants. Quartz is another great option as it is non-porous and very durable, making it ideal for busy kitchens. No matter the material you choose, make sure to hire a qualified professional who can properly measure and install the countertop. A well-installed countertop should fit perfectly in place and provide you with years of enjoyment.
New Windows
Are your windows in need of an upgrade? Replacing old, drafty windows with new energy-efficient models can make a big difference in the look and feel of your kitchen. Newer windows are designed to keep out drafts and reduce noise pollution, making it easier for you to enjoy your kitchen without feeling uncomfortable. Additionally, they often come with special features such as tinted glass and blinds, which are great for controlling light levels. It's important to make sure that your new windows are properly installed by an experienced professional who can guarantee a safe and secure fit.
By following these tips, you'll be able to upgrade your kitchen in no time. Whether it's replacing the cabinets, adding new tiles, or installing energy-efficient windows, these changes can make a big difference in the look and feel of your kitchen. Make sure to work with experienced professionals to ensure the best results. With the right expertise and materials, you can turn your kitchen into a beautiful, modern space that will be enjoyed for years to come. Also, keep in mind that investing in quality materials and appliances now will pay off by giving you a kitchen that's not only beautiful but also efficient and durable. This way, you'll be able to get the most out of your kitchen upgrade. So why not start upgrading your kitchen today?