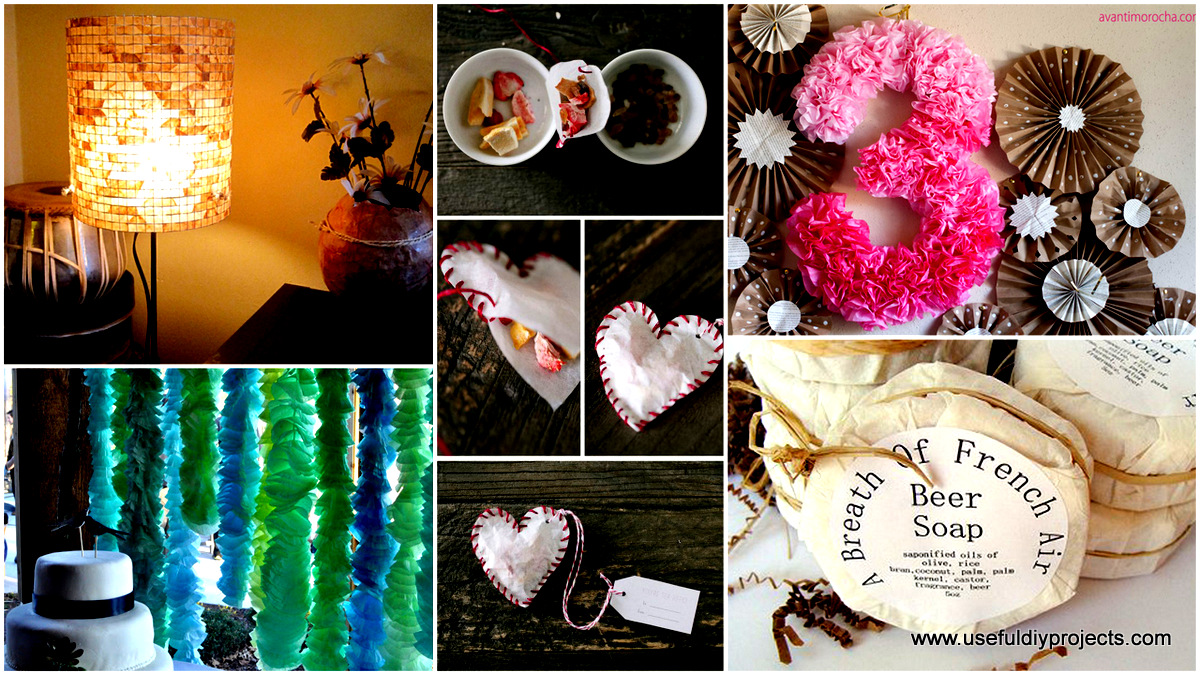 36 Surprising Ways to Use Coffee Filters in DIY Projects
You wouldn't believe anyone who would tell you that you can obtain incredible works of art out of something as ordinary as a coffee filter. But the truth is, there are numerous surprising awesome ways to use coffee filters in DIY projects we have found appealing enough to gather in a smart gallery.
Brown coffee filters mixed with with stained ones look wonderful in vintage industrial design creations and if you want more than the regular white ones, try dying them in pastel tones for a fresh new look. We invite you to browse through the gallery showcased below and to leave your valuable feedback in the comment section of this article.
1. Delicate Elegant Coffee Filters Hanging Décor
via Martha Stewart
2. Heart Coffee Filter DIY Tea Bags With Special Tags
via A Subtle Revelry
3. Air Freshening Sachets Filled With Herbs And Dried Flowers
via PopSugar
4. Why Not Use A Coffee Filter To Handle A Hot Dog Easier
via Sew Many Ways
5. Coffee Filters Used In Kids' Projects
6. Create Oil Absorbent Facial Tissues Out Of White New Coffee Filters
via Wonder How To
7. Brown Vintage Looking Decorative Wreath
via Salvaged Whimsy
8. Add An Absorbent To Your Flower Pots
via PopSugar
9. Create Coffee Filter Garland To Embellish Your décor
via Pam Garrison
10. Snack Holders
via One Good Thing By Jillee
11. DIY Microwave Bowl Cover
via Wonder How to
12. Delicate Pink Coffee Filters Roses
via Pretty Petals
13. Set Your Fries On Coffee Filters To Absorb The Excess Fat
via Wonder How to
14. Coffee Filters Are A Viable Window and Computer Screen Cleaner
via Answers
15. Add Some String Lights To A Coffee Filter Wall Art Piece
via Crafty Nest
16. Create Small Colorful Pocket Notebooks
via Brit + Co
17. The Helpful Potty Training Aid
18. DIY Multipurpose Bowl
via PopSugar
19. Coffee Filter Dryer Sheets
via Two Chums
20. Creating Earrings Might Be A Possibility
via Sara Owens
21. Colorful Fun Mobile For Your Little One
via The Copper Acorn
22. Spring Flower Crown Decoration
via Bead and Cord
23. Strain Almost Any Liquid With Coffee Filters
via The Creative Hectic Homemakers
24. Create Homemade Soap And Wrap It In Stained Filters
25. Place Coffee Filters Between Pans
26. Prepare Your Makeup 
via Macaroni Kid
27. Clever Way Of Separating Your Tortillas
28. Window Crafts
via Inner Child Fun
29. Coffee Filter Lampshade creation
30. Fun Birthday Party With Decorative Paper Umbrellas
via Avanti Morocha
31. Scrap booking
32. Pack Up Things In Boxes And Prevent Them From Braking
via Brit + Co
33. Create A Backdrop For Your Garden Party
via Life As A Pepin
34. Using Filters To Bake Cupcakes
via Wonder How To
35. Show Some Skill And Craft Some Snowflakes
via Mom.me
36. Start Your Garden With Coffee Filters Seed Pots
via Instructables
What do you think about this crafty idea of using coffee filter as DIY project material? We would love to hear your opinion in the comment section below.