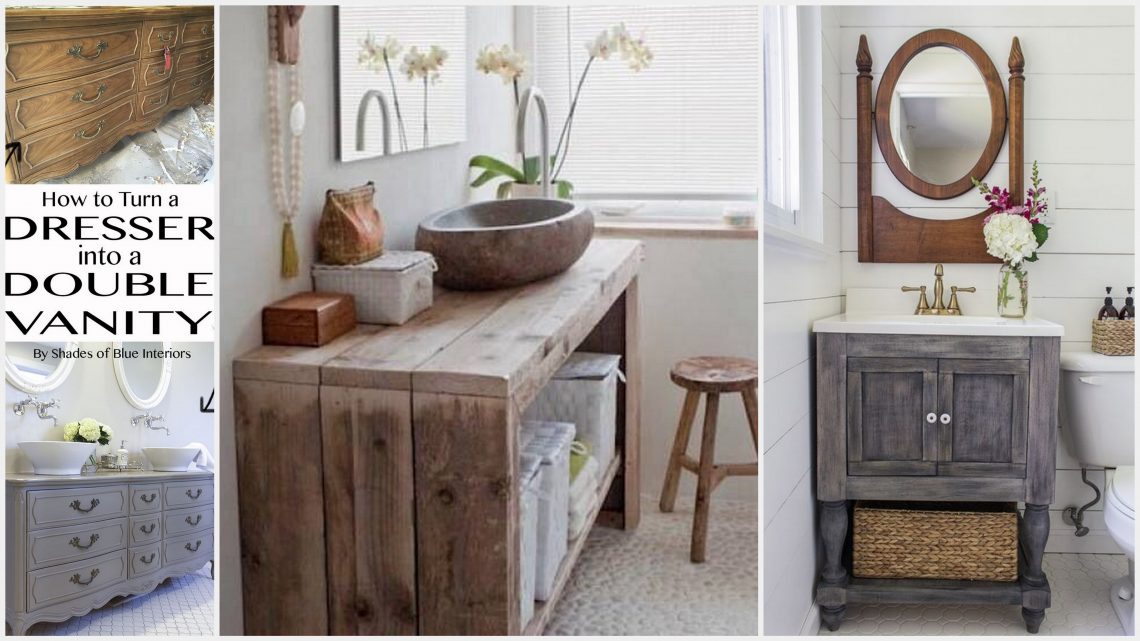 15 DIY Bathroom Vanity Ideas On A Budget
For your bathroom vanity inspirations, you can definitely choose from the 15 DIY Bathroom Vanity ideas we have selected below. Bathroom vanities are most likely to become the focal point of a bathroom. Making your own vanity has now become a much better choice for a couple of reasons: one is that you can save money by recycling dressers and drawers. Another is that you can choose the exact style and layout you want as well as the dimensions. The latter should be considered well when you have a smaller bathroom. Also, you can get extra money to cover some of these expenses with an easy resource. Find out how much you could get when getting title loans.
1. DIY Vanity Base for $100
It's not easy to build your own vanity base for your bathroom. It will take time and it will take patience. You likely need to have a background in making things or else you need to ask friends or family to help you. Nonetheless, it is entirely possible to do the ask. For example, this vanity base was a DIY project made from a plan created by the owner's friend.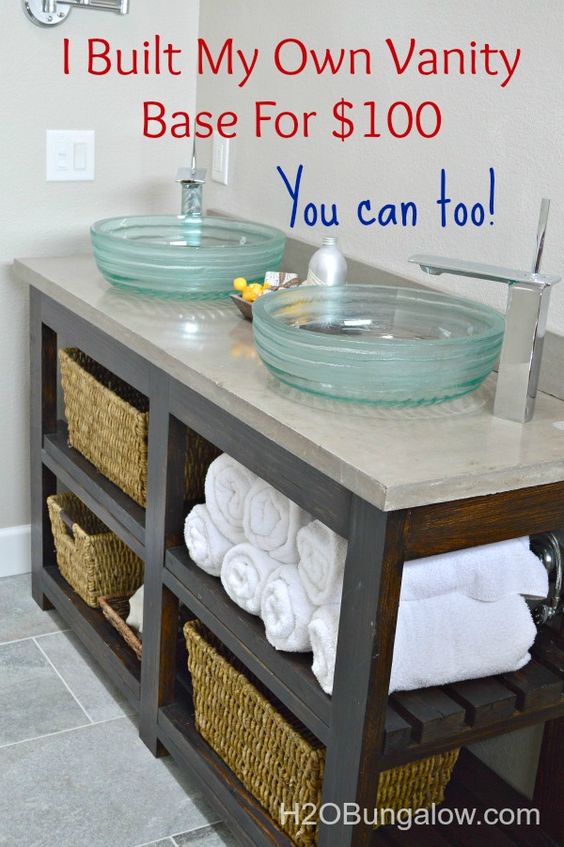 2. Farmhouse Vanity Tutorial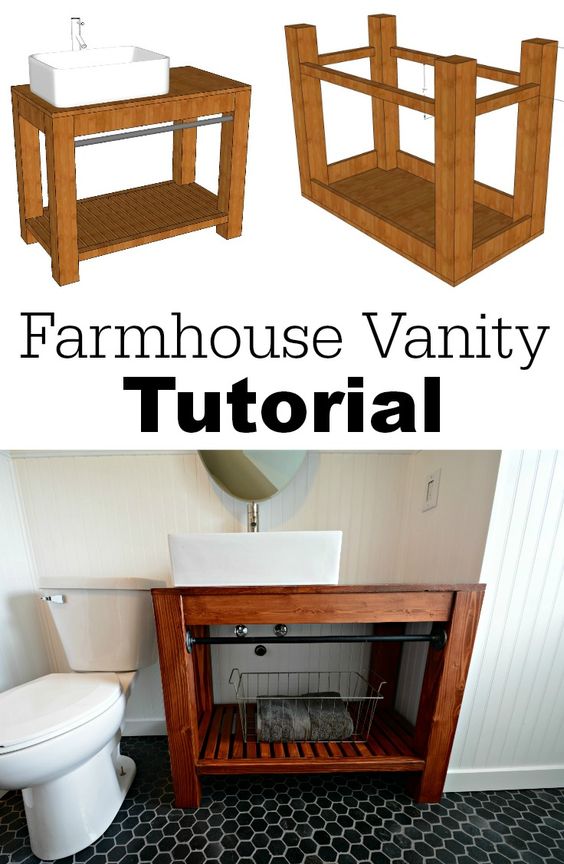 3. Bathroom Vanity Plans
Here's a gray bathroom vanity that you can also do on your own. This has a free plan that comes along on the site and you can follow it easily. There are also the requirements with the dimensions of the wood you need. This one is a great bath vanity as it has drawers and mini closets that will help you store anything you will need when prepping in the bathroom.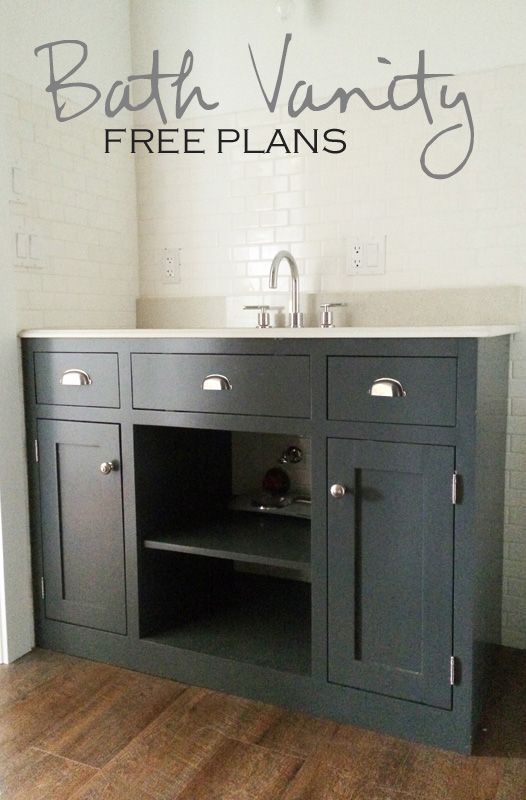 4. How to Turn an Old Dresser Into a Double Bathroom Vanity

5. Rustic Bathroom Vanity
Make your bathroom vanity a little more peaceful and relaxing. This rustic bathroom vanity is a great idea is simple and yet it looks definitely great. Indoor plants are also a big yes, no matter what theme you are going for as it could help freshen up the ambiance.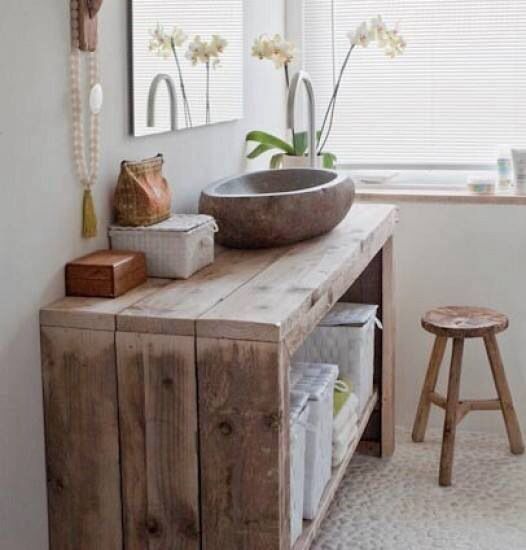 6. Bright Lights and Big Mirrors
Make your bathroom vanity stunning and functional by incorporating big mirrors and bright bathroom vanity lights. By doing so, you can clean your face and apply make-up or moisturizer properly, avoiding the negative impacts of the shadows in any task you're doing in front of your vanity. Furthermore, these interior design elements make your bathroom more luxurious, comfortable, and functional.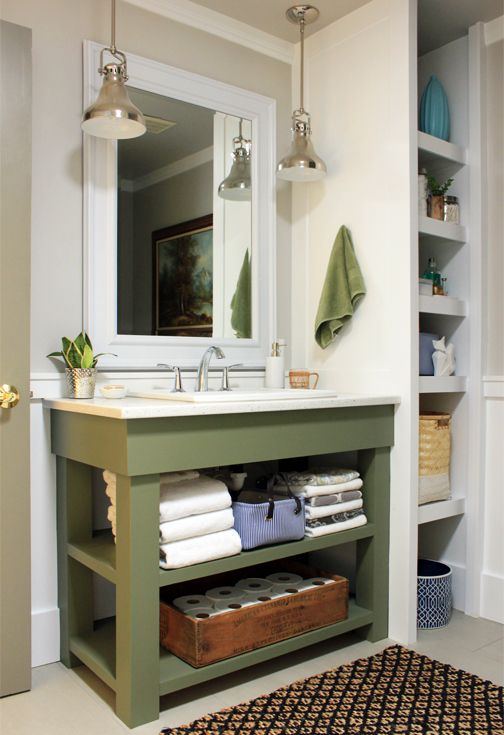 7. Drawer Into a Bathroom Vanity
The key is to take make a hole on the top part of the dresser to insert the water basin. You may also need to take off the upper drawer and make space for the plumbing that's needed. For the best possible plumbing installation, it's always best to contact a specialist plumber to plumb your drain pipes and appropriately cover the vanity's drain pipes.
Since it's a single dresser, the space may not be as big. But the bottom two dressers could still hold enough space for everything you need by organizing your things.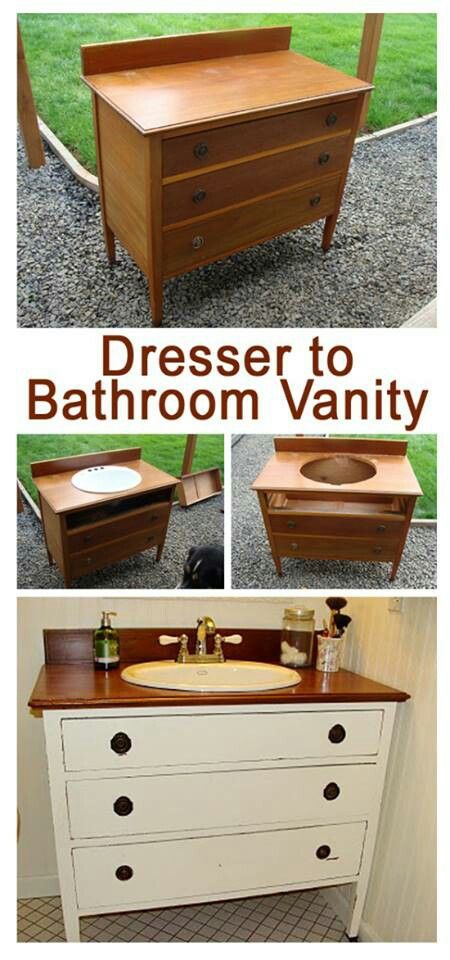 8. DIY Wood Vanity Bathroom
This DIY wood vanity bathroom is fresh, raw, and rustic. It's simple yet dashing with a lot of meanings, including nature preservation, culture-mindedness, and ancient artistry. This bathroom vanity will surely catch the attention of your family members and house guests, making it a great conversation starter.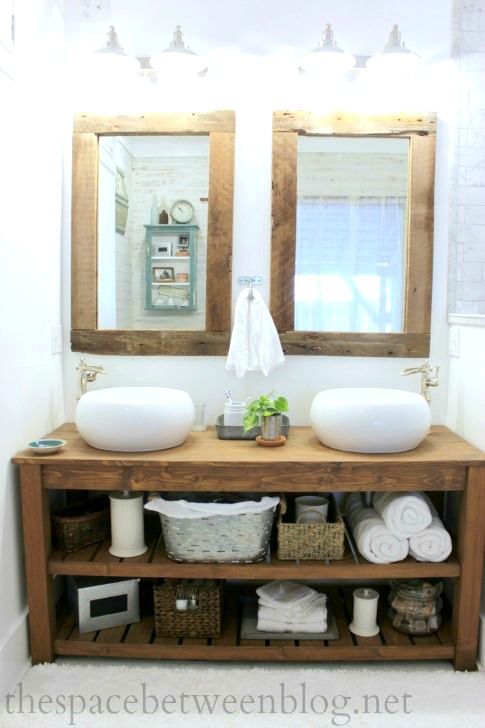 9. Simple Rustic DIY Bathroom Vanity
Simplicity is also the key, most especially when you don't have that big of a bathroom. This simple rustic bathroom vanity is the perfect choice. It's big enough to place whatever you need in one place. But it has little details that will not overwhelm your small bathroom.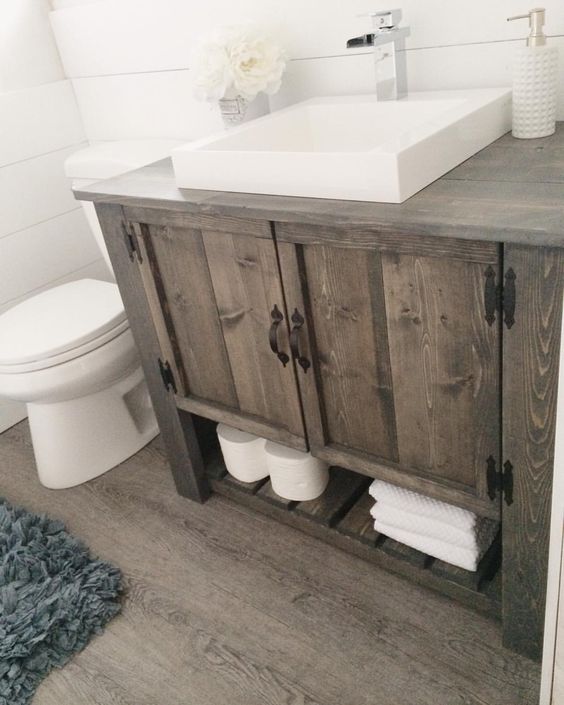 10. How to Build Your Own Bath Vanity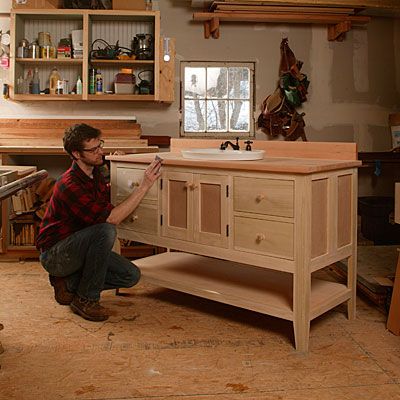 11. Small Bath Vanity
Here's another amazing idea for a bathroom vanity for a smaller bathroom. It's actually much smaller in comparison to other vanities. Nonetheless, it still has the essentials like a mirror, a basin and storage area for everything you require for your bathroom.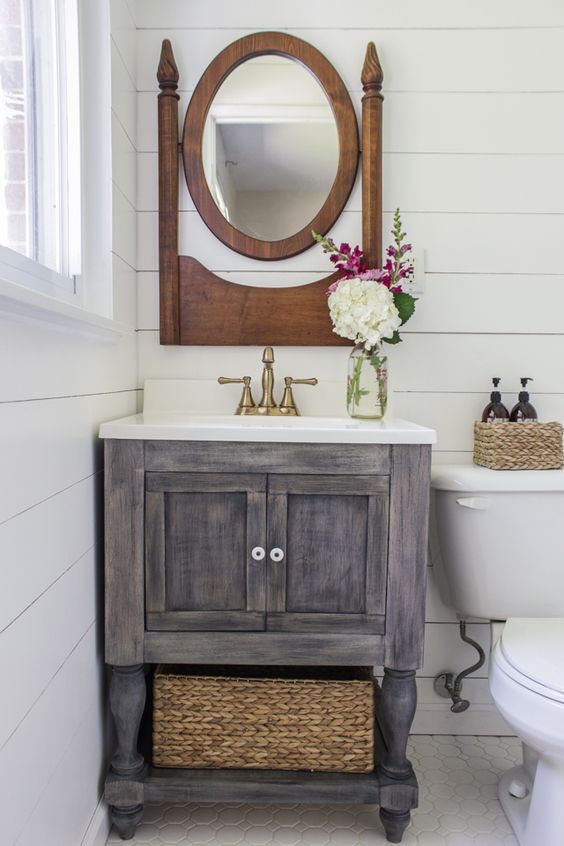 12. Rustic Industrial Bath Vanity
How about welcoming the industrial look and ambiance in your bathroom? If you want to be stylishly bold and brave, go for it. This unique bathroom vanity idea is suitable for a modern bathroom style because of its industrial metal finishes. It's an excellent reflection of durability, strength, and innovation.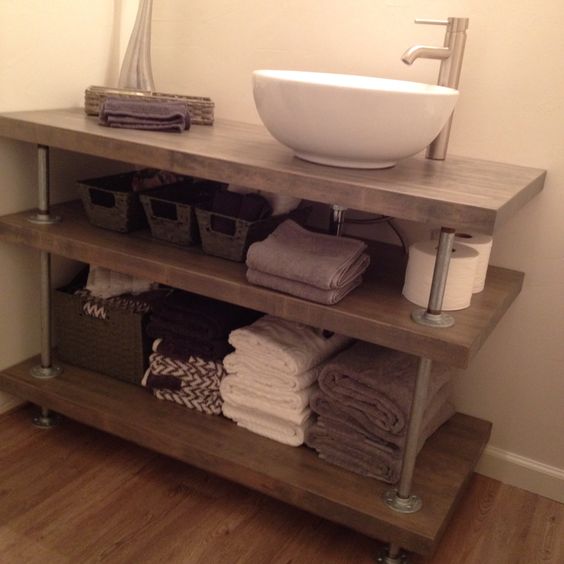 13. A Free Plan For a DIY Bath Vanity
Here's a plan that you can follow if you're thinking of building your own bath vanity. It has everything you might need. But there are also additional information on the source as to how it can be done. This bath vanity is perfect when you're trying to go for a rustic industrial design or even for a modern theme.

14. Chic Bath Vanity
This chic bathroom vanity is simple, perfect for a constrained space. Feel free to add colors, storage features, and other design elements to make it more captivating and functional.

15. DIY Bathroom Vanity Ideas
Here are a few more bathroom vanity ideas that you can do on your own. There is certainly one in there that suits your ability to make a vanity out of scratch or perhaps your budget or what theme you want.

Giving your bathroom a new taste and color will create a feeling of comfort. Mirrors and cabinets make your bathroom organized. Remodeling your bathroom can be more exhausting for others. Find professionals to help you transform your bathroom into a new one. If you are around NY, Talk to Saddle River – Remodeling Bathroom Rockland NY. They can give you a free quote and good advice for your bathroom. Visit their site to find out more about it.