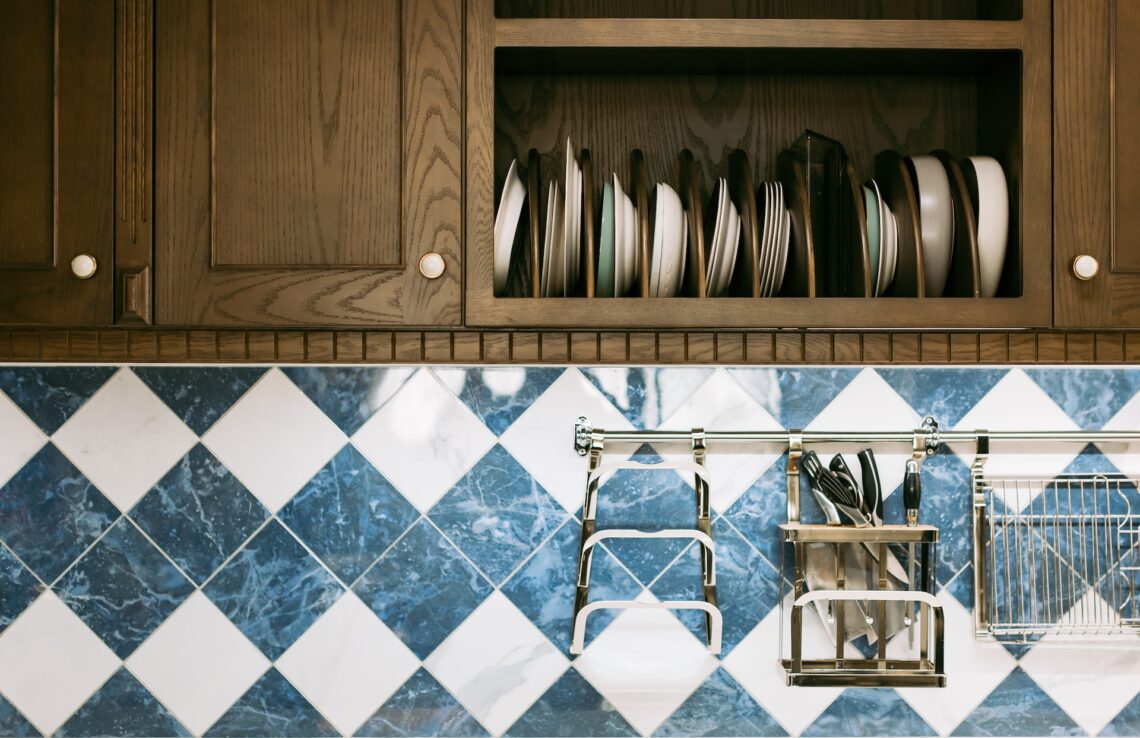 11 Kitchen Splashback Tile Designs To Unleash The Wow Factor
Whether you are a seasoned home chef or a microwave maestro, your kitchen deserves a touch of style and functionality. And what better way to achieve that than with trending kitchen splashback tile designs that can unleash the wow factor in your space? Let's dive into the heart of your home – your kitchen, and focus on a feature that can truly transform its look and feel. Let's see some of the trending splashback tile designs to inspire you.
Trending Tile Designs For Kitchen Splashback
Let's see some trending kitchen splashback tiles to give your kitchen a makeover.
Subway Tiles
Subway tiles are like the little black dress of kitchen décor – timeless and always in style. Consider white subway tiles for a fresh, timeless appearance. Alternatively, choose colored subway tiles to add a pop of personality to your kitchen.
Geometric Patterns
Geometric patterns are the latest fashion trends for your kitchen – they scream modernity and flair. Opt for geometric mosaic tiles with intricate patterns, such as hexagons or herringbone. These can be placed as an entire splashback or used as accents to create a stunning focal point.
Terracotta Tiles
Terracotta tiles give a warm, hearty feel to your kitchen. Choose terracotta tiles in various shapes and sizes for a diverse and rustic look. Their rich, earthy colors can add character and warmth to your kitchen space.
Moroccan Zellige Tiles
Moroccan zellige tiles give an exotic look to your kitchen and transport you to an exotic destination without a passport. Incorporate zellige tiles in shades of blue, green, or white for a traditional Moroccan feel.
Glass Tiles
Glass tiles act like the glittering jewelry of your kitchen. They add a touch of reflective glamour and illuminate your kitchen space. Install glass tiles in a solid color or create a stunning mosaic. Glass tiles are reflective, making your kitchen look more spacious as well.
Patterned Cement Tiles
Patterned cement tiles are like the bohemian tapestry of your kitchen. You can mix and match various patterned cement tiles to create a visually stunning splashback.
Metallic Tiles
Metallic tiles are like the industrial fixtures in your favorite café. They carry an urban, edgy feel to your kitchen and can be both contemporary and timeless. Incorporate metallic tiles in shades like silver, copper, or gunmetal. They perfectly complement modern, industrial-style kitchens.
Hand-Painted Tiles
Hand-painted tiles make your kitchen an art gallery. Being manually coated allows you to select a personalized style that goes with your personality to get the look you want. Find hand-painted tiles with designs that resonate with your style and preferences. Hand-painted tiles are one of the best choices to give your kitchen space a unique look.
Marble Tiles
Marble tiles are the luxurious silk of your kitchen. They are elegant, sophisticated, and timeless in their style. Use marble tiles for a sleek, high-end look. You can opt for classic white marble or explore colorful varieties to add a touch of luxury to your kitchen.
Dark And Moody Tiles
If you love thrillers and love standing out from the crowd, dark and moody tiles are your thing. They create a dramatic impact and add a sense of mystery and allure to your cooking space. You can choose dark-colored tiles in deep shades like charcoal, navy, or black.
Natural Stone Tiles
Natural stone tiles give your kitchen a close-to-nature feel and make you feel like you are walking in a serene wilderness. They offer organic charm, authenticity, and a connection to nature. Select natural stone tiles like granite, slate, or travertine for an earthy, textured look.
Ending Notes
So, there you have it — a buffet of trending kitchen splashback tile designs that can unleash the wow factor in your cooking haven. Whether you are aiming for classic elegance, urban chic, or exotic allure, these tile options offer a world of possibilities to express your unique style in the heart of your home.