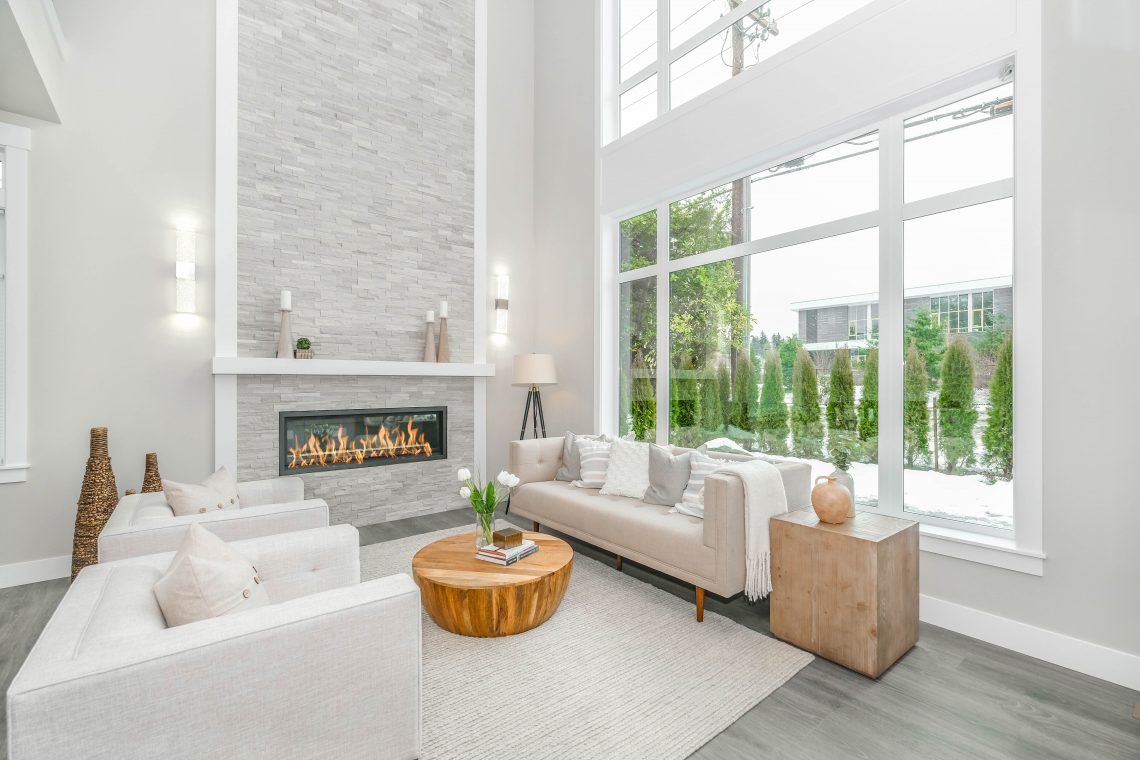 Tips For DIY Enthusiasts on Choosing & Installing the Right Fireplace
Is there anything cozier and more romantic than a crackling fire in the fireplace on a cold night? However, the fireplace's function in the home goes beyond creating a purely aesthetic ambiance and focuses more on providing space heating. Even though autumn is coming quite soon, it's not too late for you to start making plans and constructing the fireplace so that you and your loved ones may take advantage of the cozy ambiance of the fire this winter. To that end, here is a list of tips on how to choose and install the right fireplace!
Choose the style first
It is vital to decide on the right fireplace's position in the room, style, type, and material before it is installed. The living room, dining room, and frequently the bedroom is where we typically install the fireplace. If you are fortunate enough to have a library or wellness center in your house, installing a fireplace would enhance the area and create a welcoming and peaceful ambiance.
Look at the overall design and architectural style of your home. Ensure that the fireplace complements the existing aesthetics and blend seamlessly with the surrounding décor. For example, a traditional fireplace with ornate details would suit a classic or Victorian-style home, while a sleek, modern fireplace would complement a contemporary or minimalist design. To view the new options on trend today, click here. 
Where to put it
Assess the layout of your home and the existing infrastructure, such as chimneys, flues, and gas lines. If you have an existing chimney, placing the fireplace in that location may be more practical, as it will save on installation costs and use the current ventilation system. If you don't have a chimney, you may need to consider exploring alternative options like ventless gas fireplaces or electric fireplaces that don't require a chimney or flue.
No matter which area you choose to put it in, the right fireplace should be positioned such that it is the focal point of the room, with other features being upgraded around it. Don't forget that fireplace doors are important for safety and decorative purposes as well.
There are a wide variety of fireplaces available on the market, and the one you choose will depend on the size of the room for which it is meant, your lifestyle, the type of fireplace that can be opened and closed, and the interior design style. Also, it's crucial to choose a fireplace with a firebox that matches the fuel type you want (wood, gas, electricity, or bioethanol).
Electric fireplaces
If you can't be bothered with taking the wood in the house and putting it in the fireplace every now and then, the ideal option for you is a fireplace with a gas, electric, or ethanol firebox. The more so if you lead a fast-paced lifestyle and lack the time to deal with buying wood, lighting flames, and maintaining the fireplace is too much unnecessary effort for you. As the folks at Modern Blaze explain, built-in installations are ideal for renovation projects, whereas wall-hanging and free-standing installations do not require any remodeling. From the various options available, you can find the best fireplace solution for your home. Simply pressing a button from the comfort of an armchair can spark the flame in a fireplace like this. On top of that, such fireplaces are the perfect option for contemporary décor.
Electric fireplaces are generally considered to be safe. They don't emit harmful fumes, smoke, or sparks, making them suitable for apartments or spaces where traditional fireplaces may not be permitted. Some often come with safety features like cool-touch surfaces, automatic shut-off timers, and overheat protection to ensure safe operation.
Fixed or freestanding ones
Many kinds of fireplaces can be fixed or freestanding. Your needs and your home will influence the type you choose. A standalone model is an option if you want to save money on the installation of electric fireplaces. You can quickly and easily install it next to the wall to have a perfect heating solution for your house. Since freestanding fireplaces merely need to be plugged in and are ready to use, they are also perfect for people who are tenants or who are unable to make changes to their houses. If you move, all you have to do is take the fireplace with you!
LED fireplaces
LED-wall fireplaces are a newer generation of electric fireplaces. They are simple to install and operate without a hitch. Simply plugging in these fireplaces will turn them on. The placement of the fireplace on the wall is the most challenging component. The majority of wall-mounted electric fireplaces are relatively portable and light. Even if you can build the fireplace alone, it will go more smoothly if you have assistance.
Higher altitudes are typically where LED wall fireplaces are installed. On the other hand, wall fireplaces are very safe since you can make sure that kids and pets can't get to the radiator in this way because there are no constraints when it comes to installation. Finally, modern LED wall fireplaces enhance the ambiance with a unique touch.
Wood burning fireplace
Choose a wood-burning fireplace if you enjoy romance and the sound and scent of fire. All decorating styles can benefit from a wood-burning fireplace, but a classic or rustic-styled home will benefit the most.
Outdoor air supply
In particular, if the wood fireplace is situated in a smaller room or in a building with modest energy requirements, the delivery of outside air to the fireplace is crucial and should be excellently insulated. Also, you may help the fireplace burn more efficiently by providing outside air because doing so will stop oxygen from being consumed.
You may recall that when your grandparents lit the stove, they would open the windows. Today, however, you don't need to do so because there is a sophisticated alternative that will immediately provide the right fireplace with enough oxygen for burning.
Final Thoughts
Choosing and installing the right fireplace can be an exciting project for DIY enthusiasts. By following the tips provided, you can make informed decisions that suit your home's preferences, needs, and unique characteristics. Research different fireplace types, consider your space and purpose, and set a budget to narrow your options. Seek professional advice when necessary to ensure proper installation and safety.
Many people use fireplaces as the centerpiece of their decorations. Electric fireplaces perfectly suit this need, so one of these may be the right choice for you! Good luck!