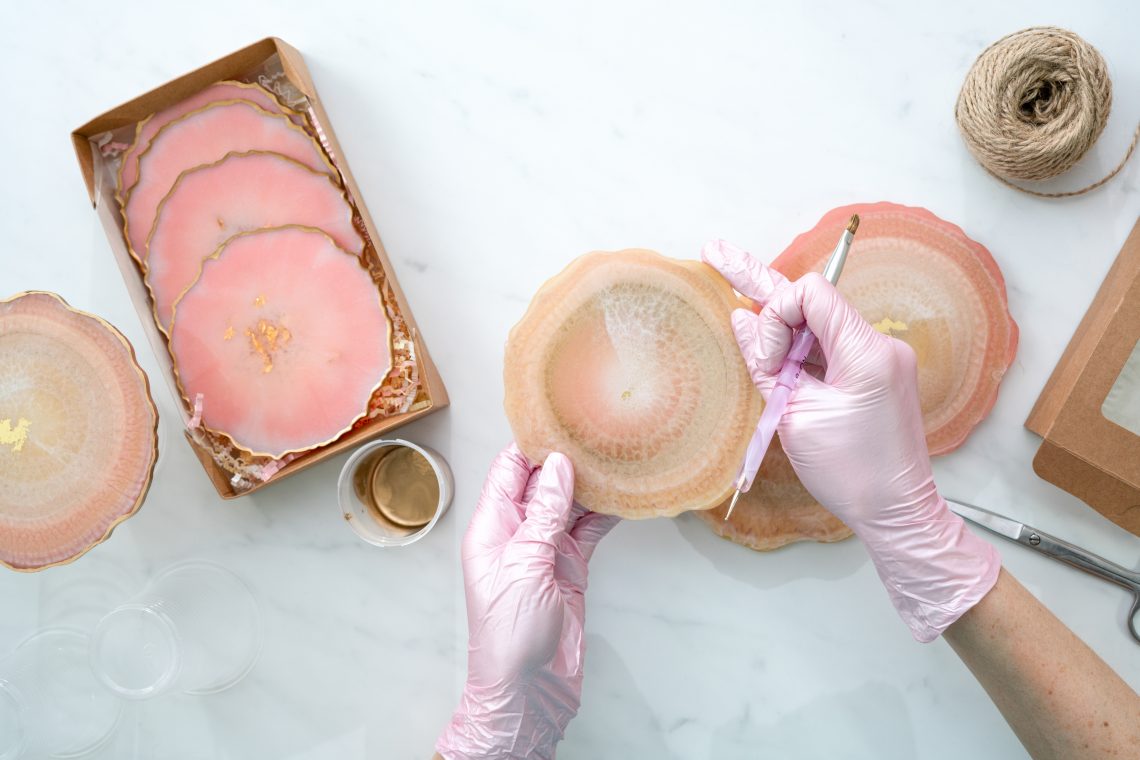 Resin Crafts 9 Cool Projects You Can Make For Your Home
Resin art is becoming popular and it's something you can do at home. However, if you're planning to make a do-it-yourself resin craft, it's essential to know the basics and safety guidelines. Resin is a highly viscous substance that can be hazardous when mishandled. Thus, the importance of each step, especially how to properly cool down resin, is crucial in creating a successful project. Check out what this guide says to know more about this essential step. Now, if you're ready to create resin art projects for your home, here are a few suggestions on resin crafts you can make:
Resin Drawer Pulls
Wouldn't it be nice to have your kitchen drawers have unique resin drawer pulls? You can have a theme for it to blend with your design aesthetic seamlessly. Moreover, you can elevate your drawer pulls by embedding your favorite flowers, leaves tainted with a color of your choice, or multicolored marble design. 
Resin Lamps
Resin lamps can make any room in your home look magical and interesting. You can create one out of a silicone mold and embed the light-emitting diode (LED) lights inside so that when you turn the lamp on, it can easily illuminate your room.
There are various shapes and designs to choose from. For example, a hexagonal cylinder nightlight, an ocean-themed pyramid lamp, or glittered cube lamplight. Lastly, put it on a wooden platform for a better presentation.
Fruit Platters
An elegant fruit platter as a centerpiece on your dining table is a great craft project to do. This is also better if you have small kids at home because resin-made materials are durable and don't break easily, unlike glass or plastic fruit platters.
River Table
River tables are beginning to trend. The majestic table with a center that looks like a natural river can become a lovely focal point in a home. Most river tables are made from repurposed wood, so this will be a perfect opportunity for you to reuse the old woods in your shed.
Resin Coasters
When you have guests, you always worry about liquid stains on your precious wooden or granite countertops or tables. Instead of stressing over that little detail and ruining the night with your guests, why not just make coasters out of resin?
Resin coasters are one of the easiest projects you can do. Moreover, you can design it any way you want, as long as it matches the aesthetic of your home. Your guests will surely adore this little detail.
Napkin Ring
Speaking of little details, whenever you host dinners at home, you'd like to make those fancy napkin folding techniques but, in some cases, you don't have the time and energy for it. Luckily, an easy trick for this is by using resin napkin rings. You just gather the napkin in the center, insert the resin ring, and lay it on top of the dinner plate, and voila! Problem solved.
Flower Vase
A resin vase will be a great project if you like to add a touch of nature indoors. This is a versatile project as you can place it in any part of your house and with flowers and greenery arrangement to decorate the space. Moreover, if you're allergic to certain plants or flowers, you can replace them with artificial ones.  
Resin Jewelry Bowl
If you're a person who loves jewelry, you've probably experienced misplacing a piece or two. Thus, a resin jewelry bowl is an excellent idea for your home. With this, you'll know where to place your little trinkets and avoid losing them. It's also a lovely accent to your vanity table.
Resin Serving Tray
Wooden serving trays are common in many homes. If you own one and you're thinking of a way to elevate it, you can pour resin on top to make a lovely serving tray. You can choose whatever theme suits your fancy, layer it on the tray, pour resin to seal it, let it dry, and you have something to wow your guests.
Other ideas include an ocean-themed tray with sand, shells, and blue resin mimicking the ocean. While some are designed with dried flowers embedded on the surface. It generally depends on what your preference is. You can even make it adapt to your kitchen and dining design aesthetic.
Conclusion
Resin art is a beautiful project to make for your home. The versatility of resin is unmatched, and your imagination is the only one holding you back from doing stunning projects. You may consider trying the different projects discussed in this article.
More importantly, study the components and proper handling of resin as it is crucial to your success if you wish to get serious with resin art. Sure, you can find hundreds of videos online, but knowing the technical side of making resin art will be valuable to your journey in this particular crafting technique.