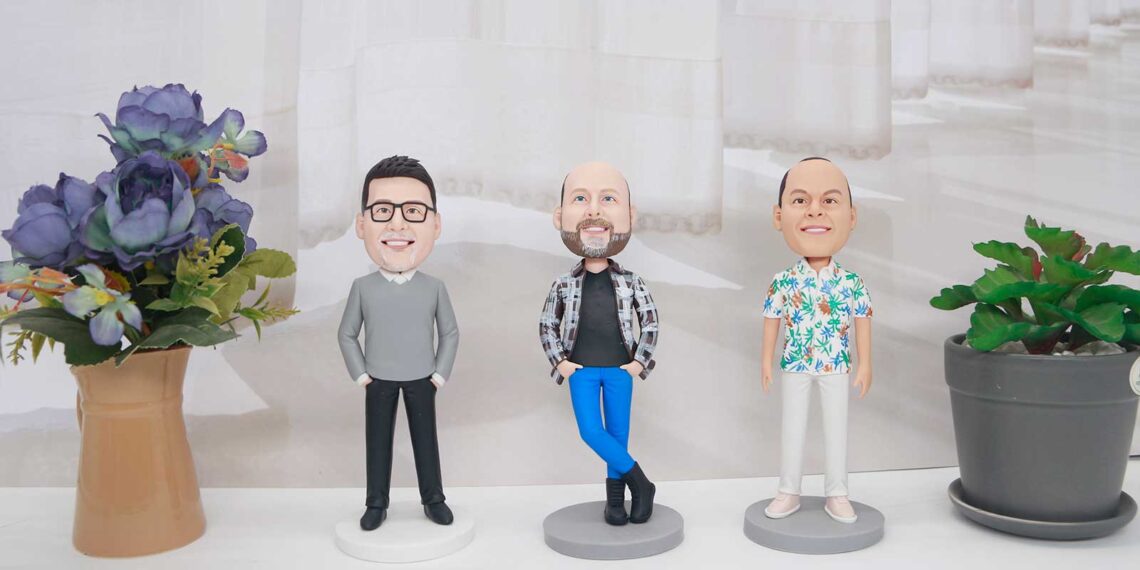 How to Make Your Own Custom Bobblehead: A Step-by-Step Guide
Bobbleheads are a fun and personalized collectible that has been capturing hearts for years with their large heads that can be shaken. With the development of customized products, these bobble heads have gradually become exquisite gifts, decorations, and even marketing tools. While there are many pre-made bobbleheads on the market, creating your own custom bobblehead can be a fun and rewarding project. 
Why customize a bobblehead?

Before we start trying to make bobbleheads, we need to know why more and more people want to get their own dolls, which is also the motivation for our creation.
Unique gifts: Personalized bobbleheads are unique gifts for birthdays, weddings, anniversaries, or any special occasion. These personal bobblehead figures reflect the thought and effort you put into the gift.
Channels for creative expression: Designing custom-made bobblehead figures allows you to express your creativity and personality. You can choose a theme, pose, or even an outfit to represent yourself or your gift recipient.
Promotional tools: Bubbleheads are a great promotional item for businesses or organizations. You can create bobbleheads that resemble company mascots or key figures and help build brand recognition.
List of materials and tools
Before you start making a bobblehead, prepare the following necessary materials and tools in advance:
Polymer clay material: You can choose air-dried clay or polymer clay according to your preference. Polymer clay is ideal for those who want to keep a bobblehead as a long-term souvenir.
Carving tools: Get a set of carving tools, including carving knives, spatula, and molding tools in various sizes. These will help you create beautiful details for your bobblehead.
Wire skeleton: You need a wire skeleton to provide structure and support for the head and body.
Spring: If you want to make a doll with a head that can be shaken, then you need to get a thicker spring that connects the doll's body to the head.
Oven: Because the material of polymer clay for making dolls is soft, the head and body need to be dried in the oven to make it hard after the production is completed.
A step-by-step guide to creating custom bobbleheads
With the above-mentioned tools and materials in place, we can try to create a bobblehead doll.
1. Design bobblehead poses and costumes
First, we need to draw the pose and costume of the bobblehead we want to make, or we can create it directly by referring to the photos of the characters.
2. Create the doll's body skeleton
Before we start making the doll's body, we need to confirm the doll's posture, whether it is standing or sitting on a chair. Then take a piece of wire and shape it into a simple frame for the doll's body pose.
3. Make the doll's body
On the basis of the completed body skeleton, we need to add the clothes and accessories of the characters. Men's clothes are usually suits, women wear skirts, we have to be patient enough to take the time to capture all the details.
4. Carve the doll's face
To start carving the face, we first pinch the shape of the person's face according to the photo, such as whether it is a square face or a round face, and then start carving the eyes, nose, and mouth on the face.  If you want to carve out a high degree of similarity, you need to have certain art painting skills, clarify the proportions of the character's facial features, and then slowly add details.  Finally, we use the engraving tool to create the character's facial features, such as whether the character is smiling, funny, or serious.
5: Add hair
After the face is made, you need to refer to the photo to add hair to the doll. When making the hair, we should pay attention to the color and style of the hair as much as possible to match the photo.
6. Let polymer clay dry:
After the doll's head and body are made, they need to be baked in the oven at about 180 degrees Celsius for 30 minutes without changing them again, so that the doll becomes hard and can be stored for a long time.
7. Assemble the bobblehead:
To get your bobblehead to "shake its head", we need to attach the doll's body to the head with springs, and then attach the body to the base, so we have a finished doll.
After completing all of the above steps, your customized bobblehead is ready to be proudly displayed or given as a gift to someone special. Making your own bobblehead is a creative and enjoyable project that allows you to express your personality and create one-of-a-kind souvenirs. Whether you make it as a gift or as your own collectible, the process is both fun and fulfilling.