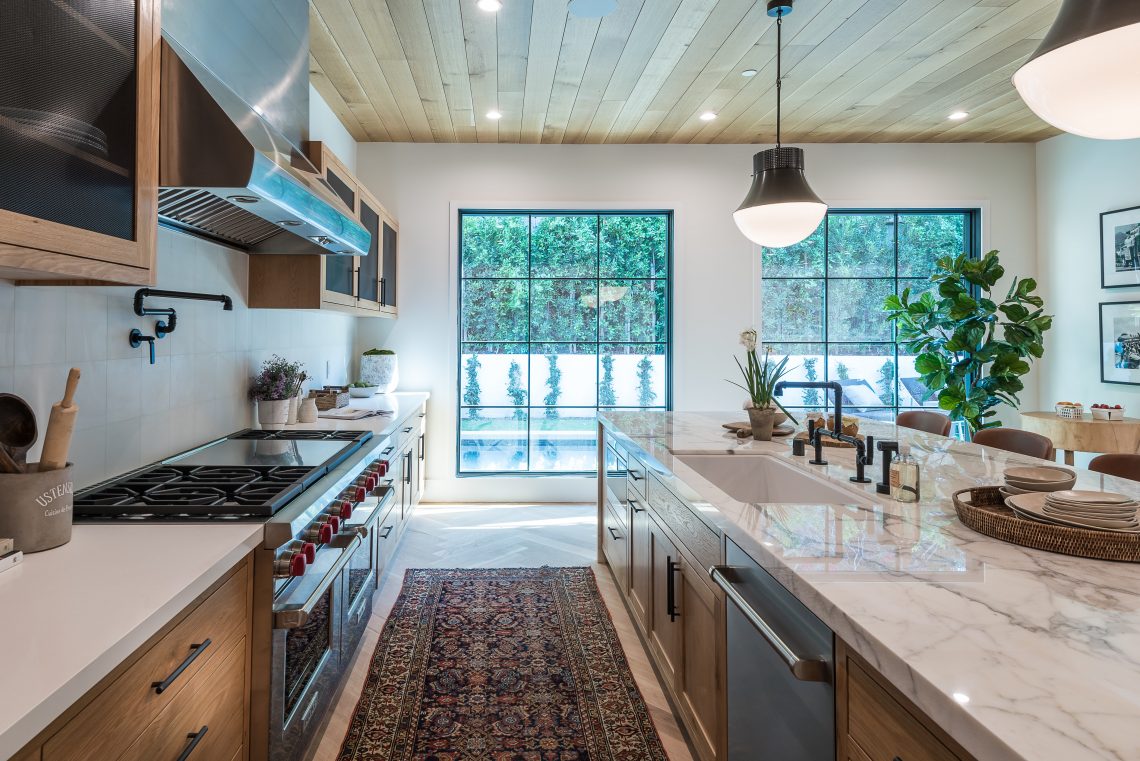 Ranch-Inspired Farmhouse Kitchen Design Ideas For Your Home
Among the universally appealing kitchen styles that are making another big return in many homes is one that is old-fashioned and inspired by a Southern twist. There is something immensely comforting and warm about farmhouse kitchen design which has become more diverse over the past years. According to recent data, farmhouse and ranch-style designs are up by 14 percent in the last 5 years as more homeowners are incorporating this theme into their home. If you're thinking about giving your home a rustic touch, you can start with the kitchen as it's where farmhouse style can easily fit in. These tips can help you to transform your cooking space into a ranch-inspired farmhouse kitchen right away.
Rustic Wood Makes A Difference
Many people are so in love with the idea of living out in the country that they actually decide to pack up and move to a state like Texas. In recent months, thousands swarmed into the state from cities like Los Angeles and New York. According to real estate experts at Texas Land, moving to a countryside has numerous benefits, like clean air, and practically no traffic jams, which are just a few reasons why the state is so popular with city folks looking for a calmer and happier life. However, if moving is not an option for you just yet, but you still want to create a relaxing, country-like atmosphere in your home, why not start with your kitchen. Any country kitchen should have lots of natural wood. If you have an older kitchen with painted wooden cabinets, you can remove the paint using sandpaper and paint remover to expose the original wood surface. After this, it's easy to stain the wood to with a variety of wood stains to give it an aged finish. Even if there are imperfections and dings in the wood, this will make wooden surfaces look more authentic and rustic looking.
Give your farmhouse kitchen an earthy touch by placing exposed beams placed across open and empty ceiling sections. Most home improvement stores now sell realistic wood beams that are made from molded Styrofoam and are pre-painted. These can be easily attached to any ceiling using a universal adhesive, making your kitchen appear as if there are support beams built into the walls and ceiling.
Open shelving is a must
Attach wood shelves to kitchen walls to hold plates and cups, as well as Texas inspired knick-knacks and trinkets. Pottery and cups look best when displayed on open shelves, but potted plants and copper or bronze items can also look beautiful when placed alongside everyday kitchen items.
Be sure to give any open shelving a good anchor before placing items onto these shelves. To keep items from slipping off, you can put fixative putty to secure cups or items that may slip around in case of the occasional earthquake. This technique also helps to keep little figurines or picture frames from falling off by accident.
The top of hanging kitchen cabinets is also a perfect place to add more items to help complete a farmhouse look. Make sure to carefully select items that revolve around a ranch-style theme or Americana look. As long as your kitchen props look old or antique, this will add more visual interest.
Decorate With Vintage or Antique Pieces
When it comes to decoration, you can't go wrong with shopping around at flea markets or yard sales. Try to find hanging lamps that are made from copper or bronze. There is also a very good selection of reproduction lamps at home improvement centers that will add the perfect accent to any farmhouse kitchen. Then accessorize your vintage pieces with rustic-style table toppers. In the kitchen, you can add some farmhouse-inspired coasters, placemats, and potholders to complete the ranch vibe.
As for other items to display, try putting up antique advertising signs or decorative old-looking glass bottles. You may also consider displaying vintage cookie tins or lunchboxes to add a touch of nostalgia to your kitchen. If you don't have the budget for real vintage pieces, check out online shops that sell great reproduction décor items that aren't going to be as expensive as a real antique.
Give your kitchen a rustic makeover to add some warmth and coziness to your cooking space. It's a simple and easy way to give your kitchen a new look without breaking the bank.
Photo by Watermark Designs on Unsplash