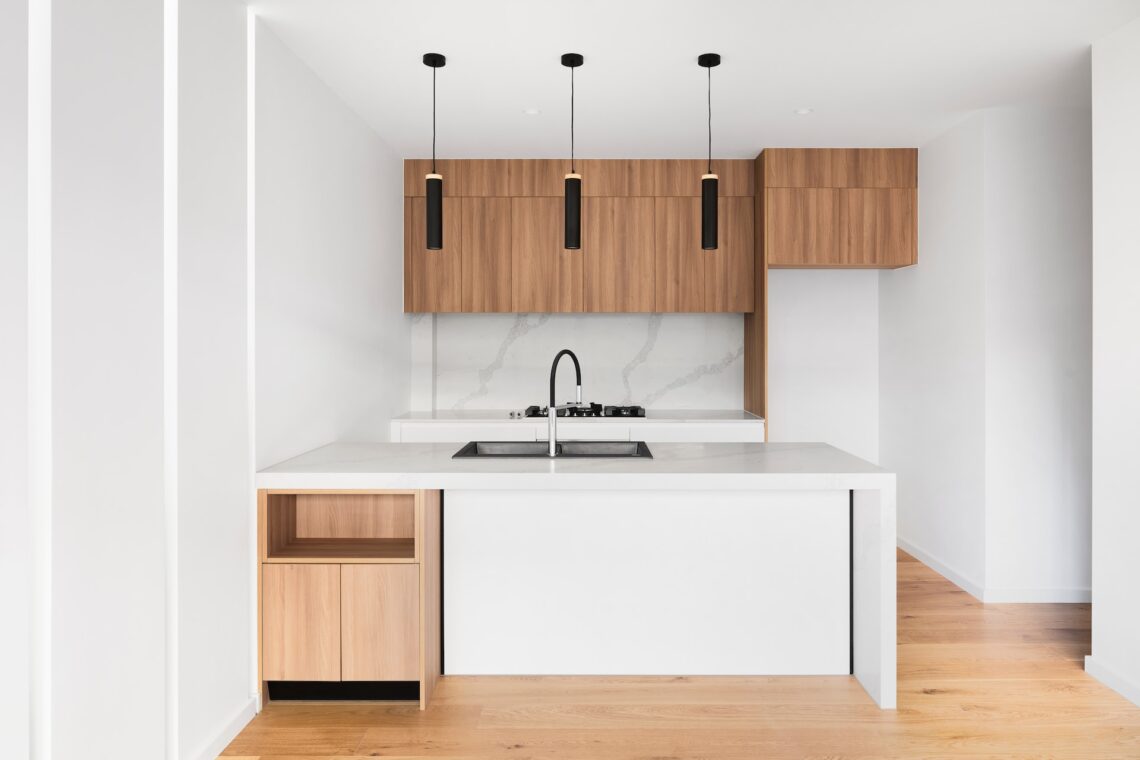 MDF, HDF, or Plywood Kitchen Cabinets, Who Cares?
With regard to kitchen redesigns, picking the right material for your cabinets is nothing to joke about. You have a couple of choices to consider: MDF, HDF, and plywood. The material you pick can have a major effect regarding sturdiness, feel, and usefulness. In this article, we'll look at all the different materials used to make RTA kitchen cabinets, and discuss what makes them extraordinary. We'll also discuss the answers to some of the most frequently asked questions with the aim to help you decide the best material for your kitchen cabinets.
MDF
MDF is a type of wood made by blending wood fibers with resin and wax. They are compressed to bond at very high temperatures. Assuming you're contemplating getting MDF kitchen cabinets, here are a few things you ought to remember:
Durability – MDF is dense and strong, so you can rely on it to keep going for quite a while without distorting or breaking. Because of its high durability, your cabinets will retain their form without warping, and continue looking good for a very long time.
Smooth Finish – Something cool about MDF is that it's thick, which gives it a very smooth surface. It's easy to paint or apply a veneer.
Customization – It is really easy to shape and mold. The flexibility to customize your cabinets just the way you want them. So you can come up with intricate designs for your cabinets.
Moisture Resistance – It's not as water resistant as some of the other materials. Consider using moisture resistant paint to protect it from damage resulting from exposure to moisture.
HDF
HDF is very similar to MDF but it is more dense and stronger. To create HDF boards, wood fibers are bonded together using pitch or synthetic resins at very high pressure. Here's what you need to know about HDF:
Durability – HDF is stronger and more durable than MDF. It's designed to be tougher, so it can withstand more abuse but is not easily damaged.
Water resistance – While HDF is moisture resistant, it is not waterproof. Consider using water resistant paint to protect it from water damage.
Finishing – HDF is cool since it gives you a decent surface to work with regards to adding overlay, veneer, or paint wraps up. This gives you a lot of options when planning for your cabinets as you can let your imagination run as far and wide as you want knowing you can build practically any design with HDF.
Cost – HDF in general is more expensive compared to MDF, but it has a few advantages over it. The additional expense is well worth it considering it is more resistant to moisture damage and is more durable than MDF.
RTA
RTA cabinets come as stacks of precut wooden boards with brackets, screws and nails for you to assemble them. They are shipped in flat boxes with everything you need to put them together from home – except tools of course. They are an excellent choice when considering to remodel your kitchen on a budget as you pay less for shipping and don't pay the manufacturer to assemble them for you. You can put them together yourself or hire a local contractor to do it for you. Either way, it should cost you less than an assembled set of kitchen cabinets.
Assembly and Installation – RTA kitchen cabinets come unassembled. You need to assemble them yourself or hire someone to do it for you. You can decide to do it without anyone's help as a fun task or recruit an expert on the off chance that you like. Just make sure you install them properly so that you don't have any accidents. It can be a fun activity for the whole family to take part in and bond while building your dream kitchen together.
Customization – RTA cabinets allow you to customize your kitchen better than pre-assembled units. Usually, you can request for custom modifications and, at a fee, you can pretty much get whatever you want, no matter the size of your kitchen. They give you the opportunity to make a kitchen that is uniquely yours.
Cost-Effective – RTA cabinets are usually more budget-friendly than pre-assembled options. This is because you get to save money on assembly and shipping costs. They come in smaller packaging and consume less space in the delivery truck.
Plywood
Plywood is made by gluing together layers of solid wood under intense pressure with resins. The grains of the wood on each succeeding layer are turned to face opposite directions so as to increase the strength of the plywood and prevent warping. Here's are a few important things you need to know about plywood:
Stability – Plywood is known for being strong and steady. It doesn't twist or break as easily as MDF and HDF.
Moisture Resistant – Plywood is incredibly resistant to moisture. It handles exposure to water well.
Cost – Plywood is less expensive than MDF but more expensive than HDF. It offers a great balance between cost and value.
Which is Best For Your Kitchen?
If you are budget conscious but need a fairly strong set of cabinets, MDF RTA kitchen cabinets are the perfect choice for you. If you have more leverage on your budget and also need to protect your kitchen cabinets from water damage, plywood is an excellent choice. If you need stronger wood which offers more options for customizing your kitchen, HDF RTA cabinets are a great choice for you.
Photo by R ARCHITECTURE on Unsplash