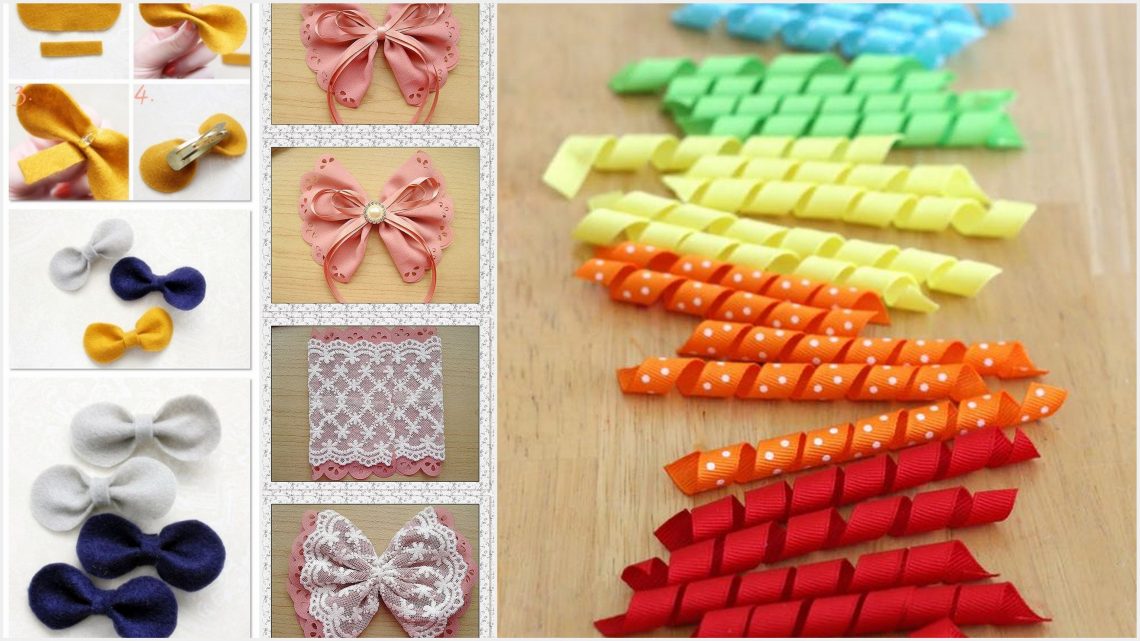 37 Ways On How To Make Hair Bows For Your Little Girls Or Even For You
How to make hair bows seems like a challenging DIY project to take on. Hair bows make great hair accessories. Usually younger kids only tend to wear these bows. But growing girls and even teenagers to mature women could have fun in making and wearing their own DIY hair bows. It's actually quite simple to do as you basically need the same materials even when you're creating various styles. To help you with some of your projects, you can start with these 37 hair bows ranging from simple to quirky!
1. DIY Ribbon Bows for Hair Clips
Here's the best way on how you can create ribbon bows you can put on hair clips. It's a great hair accessory for your little girl or can even be a business.
2. How to Make Flower Loop Hair Bow
Take different colors and styles of ribbons for this flower loop hair bow. It has an intricate look resembling a blooming flower; thus the name.
3. No Sew Tulle Hair Bow Tutorial
Not great at sewing? No worries! This is a no sew hair bow tutorial which means you don't require a needle and thread.
4. DIY Black Pinwheel Bow
Pinwheel bows are among the most popular types of bows that you can do. And of course, you can choose other colors too!
5. Make a Pinwheel Hair Bow
Here's a bit of a similar way on how you can create pinwheel bows except you make use of a tool to keep your bow steady as you sew.
6. No Sew Cheer Bow Tutorial
Another no sew tutorial but this time, you get to learn how to create your ow cheer bow! It's a cute and simple bow that you can place for half updos and tie backs.
7. How to Make Halloween Firecracker Bows
This cute hair tie can be done easily at home. You just need pieces of thin ribbons and then tie them on a normal hair tie. Since this one's theme is Halloween, it used white, black and orange ribbons. Nonetheless, you can create other themes like Christmas or just go with pinks.
8. DIY Twisted Boutique Hair Bow
The twisted boutique hairstyle is a versatile bow that you can place on headbands, clips or perhpas simply use a bobby pin to plac eon your hair. It's also quite easy to do, too!
9. Dr. Seuss Inspired Loopy Bow
Loopy bows are single-looped thin ribbons all joined together by sewing. The end result is a fluffy and big ribbon that you can definitely use as a great hair accessory. It's inspired by Dr. Seuss so if your kid loves his stories, this is a great little gift for them.
10. Spike Hair Bow Tutorial
Here's a tutorial on how you cna create this beautiful spike hair bow that you can give to your daughter. It's very different from the cutesy ones so it's great even for teenagers.
11. Make Your Own Curly Ribbon Hair Bows
You will need your oven to achieve this curled ribbons that you can use as decoration for your hair bows. You might have seen this before on ribbons you can buy at boutiques. But now, you will only need wooden dowels and your oven!
12. Boutique Hair Bow Tutorial
You can now do your own boutique hair bows for personal use, gifts and even for business. The longer you have done and perfected your creations, the more chances it can be sold to people.
13. DIY Turkey Ribbon Sculpture
Learn how to create this cute little creation for your little one!
14. Ponytail Streamer Tutorial
This cute ponytail streamer ribbon is definitely what you want when you're looking for a fun hair accessory. A simple ponytail can turn to something quirky!
15. How to Make Big Stacked Loopy Hair Bow
Loopy bows are already beautifully complicated looking on their own. But if you want something more elegant and cute for your young kid, you may want to do this big stacked loopy bow for them.
16. DIY Candy Corn Bows
This Candy Corn bows are perfect creations if you want something unique and easy to do.
17. DIY Delicate Blue Flower Bow
Here's a step-by-step tutorial on how you can create this beautiful and delicate blue flower bow.
18. Simple Felt Bows Tutorial
You can even use felt material to create your own simple bows. You can use this for hair clips and for headbands. It's also very simple to do so you can definitely make a few for a short amount of time.
19. How to Make Fabric Bows
Got some fabrics left? You can recycle them and turn into cute hair bows instead of throwing them away.
20. Two Tone Hair Bow Tutorial
Learn how to do this beautiful and classic two-tone hair bow perfect even for grown-ups!
21. How to Make Baby Hair Bows
Here's a DIY project you can do when you're expecting a little princess. Sometimes even doing the little things she needs on your own can help you save money.
22. Handmade Lace and Eyelet Hair Bows
Get vintage! If you have some extra eyelet fabrics and laces, you can definitely turn them into beautiful bows. Here's a tutorial to help you start the project.
23. DIY Cute Hair Bows with Ribbons
Here's the most basic hair bow you can do. You will need needle and thread for sewing and a glue gun to attach it to a hair clip.
24. How Long?
Here is a little guide to help you how long it will usually take to create a hair bow of varying sizes. This will likely help you if you want to achieve a specific size of your hair bow.
25. DIY Double Loop Bow for Hair Clip
Another type of hair bow you can do for a hair clip. This one hides the clip so it's a perfect hair accessories for classic half updos.
26. Blue Loopy Bow Tutorial
Create the best loopy bow you can for headbands and hair accessories through this easy tutorial!
27. Make Your Own Inside Out Hair Bow
Learn the proper way of making an inside out hair bow through this tutorial.
28. How to Make Simple Bow with Two Fabrics
If you have a hair tie that you want to turn into something new, you can do this simple and yet beautiful hair bow done with two ribbons of different colors.
29. DIY Hair Bow Ties
Another simple hair bow that you can attach to a simple hair tie to make it much more attractive.
30. Softball Hair Bow Tutorial
Who though you can actually create something for a real softball? Here's a softball hair bow tutorial that will blow people's minds!
31. How to Make a Tails Down Hair Bow
Use a sparkly ribbon to recreate a simple tails down hair bow that you can use anytime for almost any hairstyle!
32. DIY Two Color Twisted Boutique Hair Bow
If you want your hair bow to be more attractive, you can use two ribbons of different colors. Just make sure both combines well. If you're using a patterned ribbon, make sure the second one is plain.
33. Frozen Inspired Hair Bow Tutorial
Your kids will definitely love this hair bow if they loved Disney's Frozen!
34. Basic Cheerleader Bow Tutorial
Make sure your cheerleader is ready to bring the house down with this fun and bold hair bow tie that you can create on your own!
35. How to Stack a Boutique bow
Here's a good guide for every DIY bow makers on how to stack their boutique bow projects.
36. Heart-Patterned Ribbon Bow Tutorial
Don't forget to use fun ribbons when you can find one!
37. How to Make a Bow Hair Band
Surprise your kids with new bow hair bands with these easy tutorials!