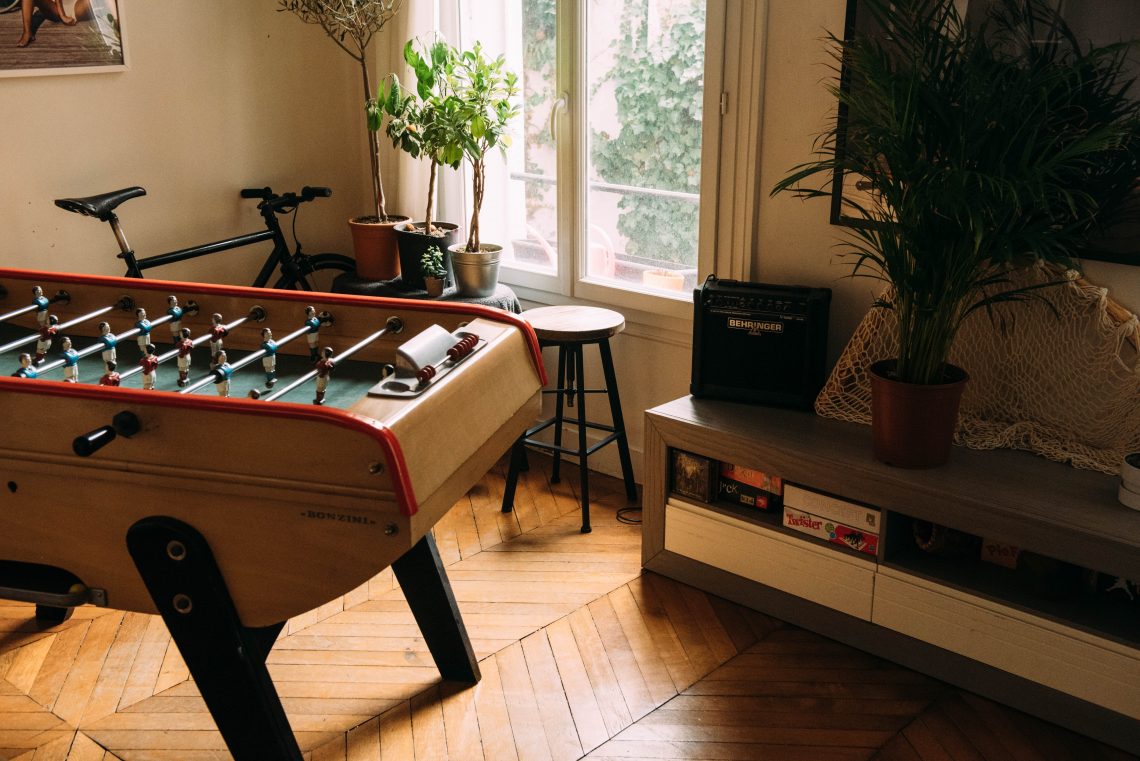 How To Design The Perfect Rec Room Or Man Cave

Have you finally found yourself with the means to have a separate room for entertaining? It's a lot of fun to design a recreational room for your household or man cave signs for you or your buddies. You'll want the traditional must-haves like a bar, entertainment center, and game area just like the ones you see in a lifestyle magazine. These can be expensive, but if you are willing to look at some alternatives and shop wisely you can make the most of your space, big or small, and still come in on budget. Here are some creative ways you can design your man cave with inexpensive home furniture.
Bars are expensive – here are some inexpensive alternatives
Everyone wants a bar in their man cave, but the fact of the matter is that a true bar is not an inexpensive venture. However, you do have some cheaper alternatives. You could custom-order a kitchen island to use as a bar, or, even cheaper, you could get a bar-height rectangular dining table and matching bar-height chairs to place in front of your bar area.
Then, install inexpensive metal shelving for all of your bar needs. The shelves will be hidden from view by the dining table and chairs, if arranged correctly. If you want to display alcohol bottles behind you with a mirror as is tradition, this effect can be easily replicated with some bookshelves with the back of each shelf lined with a mirror.
If you're looking for a way to add some class to your bar, one option is to display cigars. They can give it an upscale feel, and it's a great way to show your friends that you're serious about offering a luxurious experience despite being at home. Well-known types such as H. Upmann cigars are a great choice to display, as they're famous for their quality and smooth flavor. Of course, you'll need to make sure that the cigars are kept in a cool, dry place, away from direct sunlight. But if you can provide the right environment, displaying cigars in your bar can be a real asset.
Pack big entertainment in a small package
The smaller you can keep each area of your rec room, the more things you can do in the space. Getting an entertainment center and sofa shouldn't be the end of your plans for furnishing your entertainment area. You can use that space for far more than television with some careful planning.
Start with the television, media, and entertainment center
The centerpiece of your entertainment area is your media center with your big screen television, gaming consoles, and other media devices. Once you have that in place, you can choose furniture that will work with that centerpiece.
Choose a sectional
Sectionals aren't as expensive as you might think, and you can get some very distinguished leather sectionals on sale when you shop online year-round. Look for sectionals of different shapes and features. You can get U-shaped sectionals for more seating in a more intimate configuration, or you can get one with a sleeper in the main sofa for the occasional overnight guest.
Look at coffee tables, cocktail tables, and flat-top ottomans
Don't overlook the opportunity that a sectional creates for a different type of entertainment – card games and board games. Placing a surface in front of the sectional seating will provide a place for people to place their drinks and snacks during movie nights or gaming sessions, but it can also be a place to play board games and card games.
To further maximize the use of this space, you can get coffee tables and flat-top ottomans that have interior storage. This eliminates the need to come up with additional shelving or storage space for all of your favorite games, your poker chips, and more.
Gentlemanly dining
Bar style dining sets are in such high demand that they can be found at a reasonable price. Square or round bar-height tables and matching barstools are the perfect addition to your rec room or man cave. They complete the bar-style aesthetic, and are great for placing around dart boards, pool tables, foosball games, or air hockey sets.
Other furnishings you might want in your rec room
If you are going to be playing games at your sectional, you might also want to invest in some inexpensive stools or storage ottomans so that people do not have to sit on the floor if they don't want to. These can also offer you more versatile seating that can be moved anywhere in the house easily as needed.
Photo by Vital Sinkevich on Unsplash