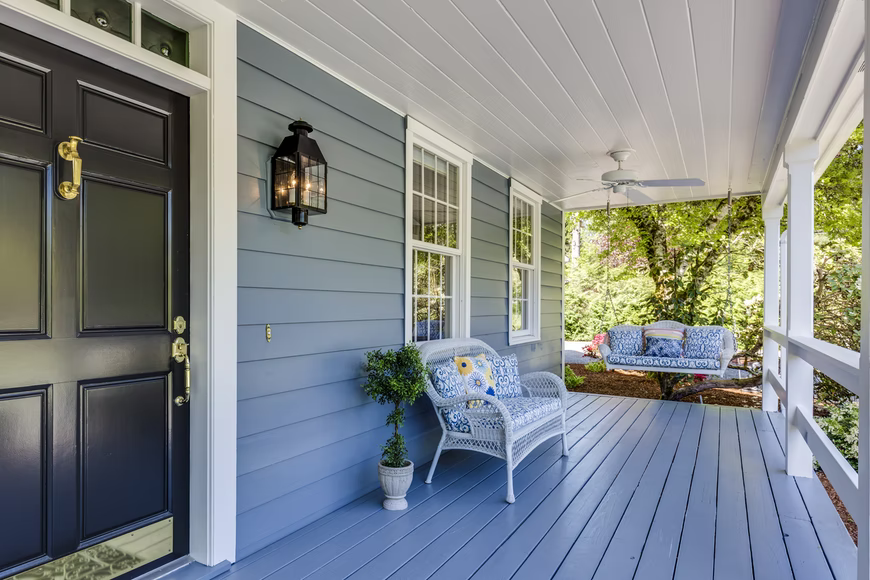 Five Simple Steps To Restore A Neglected Deck
Most of us who live in the suburbs have a deck outside our main door. We all have a lot of fond memories in our decks. Either as children, we have played on these decks, or now we're witnessing our children playing on these decks and making fond memories for themselves.
But like any good thing, if you don't take good care of your decks, they're bound to go bad. This has happened to many decks because people are too busy to take care of their decks or maybe because they are away for a long time and no one was around to take care of them.
No matter what was the case, if you want to restore your long-neglected decks now, then read till the end and find out how you can do so by following five simple steps?
Start By Striping Your Deck
To begin with, remove all of the paint and leave only a transparent finish to protect the original wood because who doesn't like wood grain, right? And seeing the wood peeking through where the paint has peeled off gives you hope that this could become beautiful with a little work. If you're wondering how to strip wooden decks, follow the instructions to do so easily!
Start by removing the paint. Begin by cleaning the deck with a scrub brush and deck cleaner. If that isn't enough, you can rent a pressure washer.
A pressure washer is a machine that sprays water at high speeds. Water is pushed out at more than 3000 PSI by an electric or gas motor (pound-force per square inch). Pressure washers are available in a wide range of sizes. The smallest will remove dirt from your vehicle. The largest can etch cement. You can use a small pressure washer to avoid etching the wood on your deck.
Pressure washing the deck and removing the majority of the paint might take several hours. It might be a colossal mess as plasticky paint might get strewn about the place. Nevertheless, it will be less difficult than attempting to sand, scrub, or even chemically remove the old paint from the wood.
Examine The Boards of Your Deck
Unfortunately, once the paint has been removed, you may discover that your deck boards are in terrible shape. If this is the case, remove any termite-damaged boards right away. Some boards may be severely worn with large shrapnel and deep gouges. These boards cannot be finished with a clear coat alone.
I understand that seeing the state of your deck at this point may make you feel heartbroken and lose motivation to work on it. However, you must overcome your sadness and continue to work on it to restore it to its full glory.
You'll have two choices: replace all of the deck's floorboards with new wood or coat the current boards with something which will not only repair them but also will keep them strong enough to last a couple of extra years. That would mean a thick, opaque stain that would completely cover the wood. Because it is the less expensive option, you can coat the boards with a deck repair stain. However, before you coat the wood, you should make any necessary repairs.
Repairing Your Deck
The termite-damaged boards should be the first ones to go. The widths of your deck's boards may vary slightly. As a result, you might need to have a few boards custom ripped at the lumberyard to bring them to the right width.
Nails are less secure than screws for attaching the existing board to the frame. Then, pull out all of the nails (at least half of them should come out easily) and replace them with deck screws. Then, as the remaining nails begin to pop up, replace them.
The wood filler should be used to fill in the larger gouges. The entire deck floor should then be sanded. If you just have a palm sander, use sandpaper with an 80 grit rating. After that, smooth out the surface, and remove any loose splinters or jagged edges.
Stain The Deck By Your Hand
Firstly, you'll notice that I use the terms stain and paint interchangeably throughout this article because I've yet to discover a contrast between latex paint and latex-based opaque stains. Stain is a type of paint used on decks and outside wood.
After the surface has been repaired, it is time to begin painting the deck with a stain that will most likely save the wood. It goes on thick, fills small holes, and keeps splinters in place.
Use a paintbrush and a broomstick to apply the stain. Brush the stain onto the edges of the boards as well as around all of the bolts and crevices, while your partner or someone else can apply the stain with a stain pad, constantly refilling it from a paint tray. It will require a significant amount of effort. It could take up to two days to finish the first coat.
Color The Benches Too
Let's take a step back for a moment. You'll notice that the benches aren't the same color as the deck. Everything I've said so far has been about the deck's floor. The wood on the benches may be in better shape and only need to be stained with a basic deck stain.
You can choose a dark color to make the benches stand out from the deck's floor and appear more like furniture. The dark color also helps them blend in with the trees behind the deck. You can also choose light colors if you prefer them.
Final Thoughts
Decks are the first thing anyone sees when they come to our home, and that makes the first impression on them about us and our house. So to make a good impression, we should maintain our decks regularly, and if we somehow fail to do so, we should repair them as soon as possible. Also, take precautions to make your deck last longer.
An under-deck drainage system would work wonders in preventing water damage and molding, allowing your deck to stay in good condition for more years to come. Weatherproofing your deck panels, posts, and other components is also crucial, along with cleaning your deck regularly. I hope this article will provide you with clear guidance on doing so.