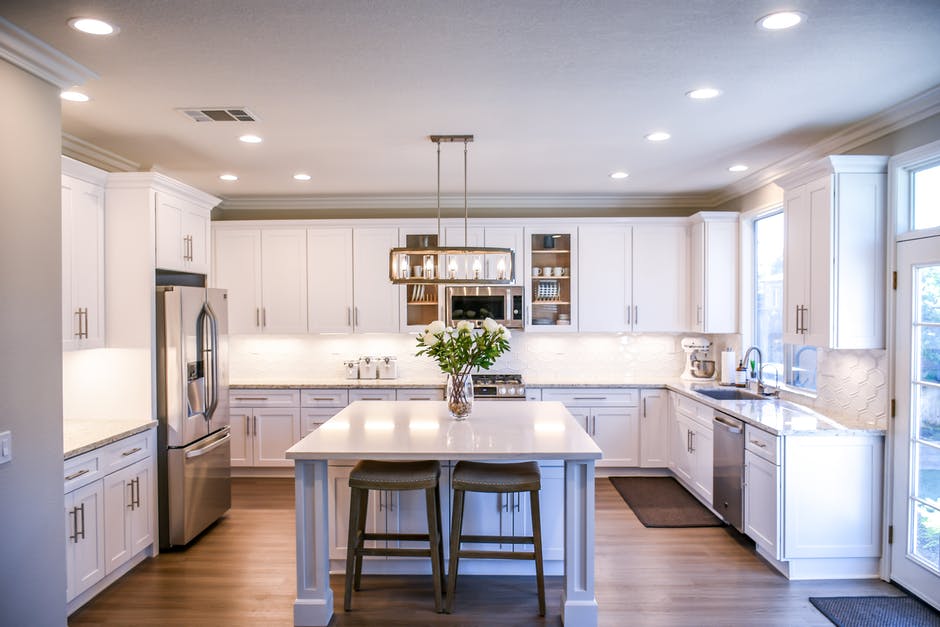 10 of the Best Easy DIY Kitchen Renovation Ideas to Take You into 2020
A kitchen upgrade adds value and appeal to any home. Try these awesome and easy DIY kitchen renovation ideas to resuscitate the heart of your home. Remodeling your kitchen is one of the best ways to improve the value of your home. Sometimes it's also nice to simply refresh the aesthetic if the room feels tired or dated. The kitchen is the heart of your home so it's only natural you want to make it warm and inviting! Many kitchen upgrade ideas are also easy to do yourself. You can have the satisfaction of a job well done — and a beautiful new kitchen.
Looking for easy DIY kitchen renovation des moines? Read on to learn more.
1. Try Monochrome Designs
Do you have white tiles or walls in your kitchen? Go for a spot of drama by repainting your cabinets black. Choose black countertops and stainless steel appliances for a monochrome look. This makes changing your color scheme an easy job when you're ready to assemble cabinets. If the look is too severe, add pops of color to break up the scheme. Think flowers in vases (either real or fake). Use colorful handles on drawers and cabinet doors.
2. Cabinet Overhaul
Wall cabinets offer extra storage where space is at a premium — but they can also make kitchens feel narrow or claustrophobic. Solve the problem by swapping out the solid doors on your cabinets. Choose doors with glass panels. It makes the kitchen look less cramped but also shows off your excellent dinnerware. If space isn't an issue, refresh cabinets with a paint job. Unusual colors like deep green add the wow factor to your kitchen.
3. Mix and Match Textures
Don't feel you need to stick to sleek stainless steel or pine. Try cypress for a uniquely textured wood surface. Mix and match your textures and materials for visual interest. Choose marble countertops with stainless steel appliances. Add textured tiles beside smooth work surfaces. Or use glass-fronted cabinets with granite countertops. Sprinkle canvas bags, straw baskets, and textured tiles throughout the renovation design. Try adding copper panels to oven hoods. The added rivets add visual interest to the smooth metal.
4. Hang Artwork
Artwork doesn't have to stay in the entry hall or the living room. You can bring it into the kitchen to carry the theme of the room. Framed black-and-white photographs would suit the monochromatic trend we noted above. Or try paintings to add a 'view' above a kitchen sink if you have no window. Vintage metal signs also look great, especially when paired with similar vintage accessories.
For smaller kitchens, bring a sense of light and space into the room with framed mirrors. Or frame handwritten recipes for a vintage, homemade aesthetic.
5. Choose Farmhouse Chic
The 'farmhouse' look never goes out of style. It's also an easy look to choose if you want an easy DIY project. Swap counters for butcher block counters. Bring in a butcher block island to give that farmhouse feel. These surfaces are easy to care for and help bring warmth into the room. Choose lampshades or metalwork that has a patina to give an air of 'age.' Swap solid cabinet doors for 'open' ones. Add chicken wire to the gaps to put your dishes on display. Hang curtains at the window and choose quirky ribbons as tie-backs. Textured tiles on the backspalsh also add to the look.
6. Swap out the Lighting
Changing your lighting is one of the fastest ways to refresh your kitchen. Look at whatever you have now — and do the opposite. Mix and match lighting for an eclectic look. Try pendant lights for practicality, with statement lighting like vintage lanterns. Have a smaller kitchen? Install lighting under upper wall cabinets to flood the countertops with light.
7. Update the Ceiling
The ceiling can often be an overlooked part of any room, but it's a great place to start for an updated kitchen. If you're really brave, use wallpaper to add texture or depth to the ceiling. Faux marble can help your kitchen look like a Greek temple. Install fake beams if you want an old English feel to a country cottage kitchen. If you've got a wooden ceiling, treat it to a paint job. 
8. Change Your Pots and Pans
24 percent of people plan to spend between $5,001 and $15,000 on kitchen renovations. What do you do if that's still too much? Choose this simple kitchen update: swap out your cookware for a matching set to lift the look of the whole room.
Stop hiding your pots and pans in cupboards and buy a new set of shiny copper cookware. Install hooks so you can hang them near your work surfaces. They reflect light well and become a focal piece in the room. But they're also practical for daily use, so they fit into your décor. Combine this kitchen update with the farmhouse chic option mentioned above for ultimate impact.
9. Bring in a Little Color
Stainless steel can look a little industrial. Thankfully, color is making a reappearance for 2020. For an easy kitchen update, swap your white or steel appliances for their colorful cousins. Use these as accents among wooden cabinets and neutral tiles. Or, reflect the color scheme with complementary shades for your curtains, backsplash, and accessories.
10. Focus on the Floor
Rugs are an easy way to add color and texture to the rest of the house, but they're not practical for use in the kitchen.  Enter the next best thing — the humble tile. Change out the floor design for something with impact using two approaches. Choose a patterned tile and use it in 'zones.' Perhaps lay it in front of appliances amid a sea of a single color. Or, lay the pattern across the entire floor to mimic the designs of an expensive carpet.
Which DIY Kitchen Renovation Trends Do You Like?
These 10 ideas will take your remodel into 2020 and beyond. They make use of trends but without following them too closely so you can express your own personality. Do your research before you start your DIY kitchen renovation. Make sure your new design will fit in with your home and your budget! And choose good quality materials to do your design justice.
Why not check out our other DIY articles for inspiration?