A Treasury of Coloring Pages for Kids
Are you looking for coloring pages for your little one? Shapes and colors of things are one of the primary and earliest visual impressions of a child. Being able to recognize colors first and being able to tell them apart is how a child develops an intimate understanding of their surroundings.
In the beginning, a tree is perhaps just a big green blob, then somewhere down the line, it turns into something that has a bit of brown as well. Before a child can see the intricate veins of a leaf, they will see a green spot, and eventually, as the mind matures and keener powers of observation kick in, the brain will recognize the fine lines and textures.
This is why coloring activities are an inseparable part of learning and an integral part of a child's development. When a child colors an image the simple act of gripping the crayon, just right, will strengthen and develop the tripod grip that is so essential for writing. As they try to make strokes that are bold enough to color and yet controlled enough to stay within the lines, their hand-eye coordination will be honed. Further just the act of sitting and concentrating on one activity will teach attention and focus.
For those looking for coloring pages for kids, Kids Academy is a treasure trove of free and printable resources. While there are many different types of coloring sheets available on Kids Academy here are three main types and a few ideas on how to use them for the best and most productive coloring experiences for your child.
Animals, Nature, and Favorite Characters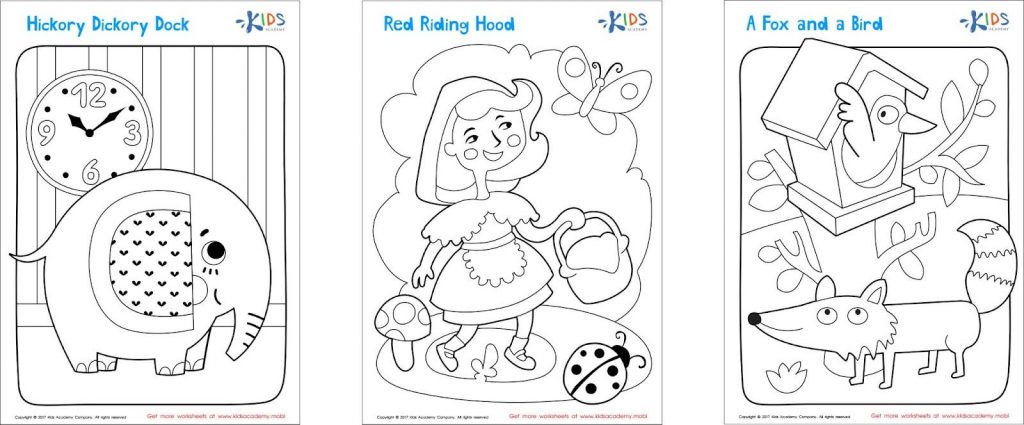 Familiarity is everything for a child. Their affinity for a particular story character or liking for an animal can be a great way for them to connect to coloring activity if they have never done so before.
Kids Academy has an adorable selection of the most widely loved characters from fairy tales and rhymes like the 'Red Riding Hood', 'Hickory Dickory Dock', and 'Twinkle, Twinkle Little Star'.
These types of coloring sheets are meant for slightly younger children, those who have not started reading yet, and that's why they are carefully designed to integrate the elements and motifs that are easily recognizable and relatable for kids of that age bracket.
Alphabets and Reading Fun
Meant for children who have begun recognizing the alphabet, phonetic sounds, and perhaps even sight words, these sheets are a great way to practice language skills. For kids who are just beginning to trace the shapes of letters, there is nothing better than having them color a big 'G' or an 'A' along with a few objects that phonetically symbolize them.
For a slightly older child who can spell, you can have them spell and color the letters in their name. You can get creative and use this activity for spelling out almost anything, depending on their level and skill.
Kids learning alphabets and sounds at some point also have to tackle sight words. Coloring a sight word for a child is a great way to have that work firmly imprinted on the mind in a fun and casual way.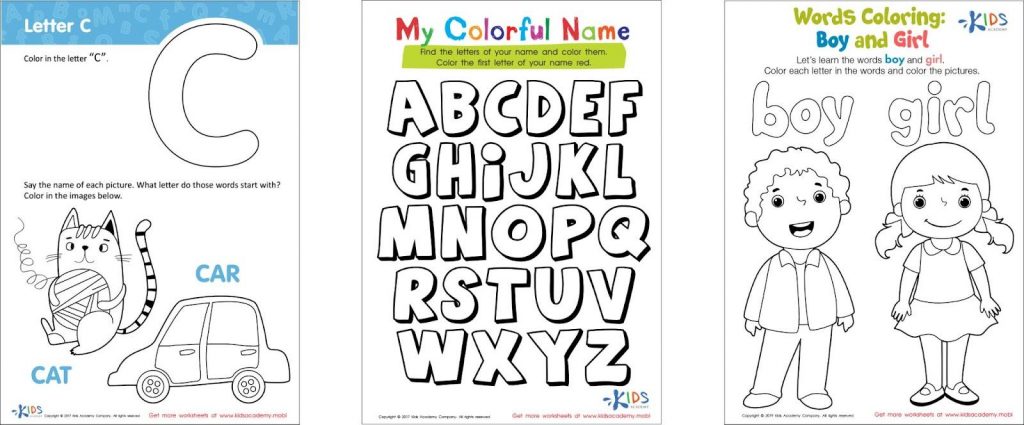 Coloring Pages for Kids – Feelings and Concepts
For kids who already show inclination towards understanding concepts, you can find coloring sheets that are centered around a theme. For example, if the child is learning about shapes, have them work on this fun robot sheet where they recognize shapes and are prompted to color them with specific colors. If the child is older, you can even introduce new words into their vocabulary like 'crater' and 'satellite' as they appear within the appropriate context in this Moon Landing coloring page.
Explaining the concept of feelings and emotions to your child? Why not integrate this Mad and Scared worksheet to teach the child the difference between the two? The possibilities to engage a child's imagination are endless with the huge variety of pintables available on Kids Academy.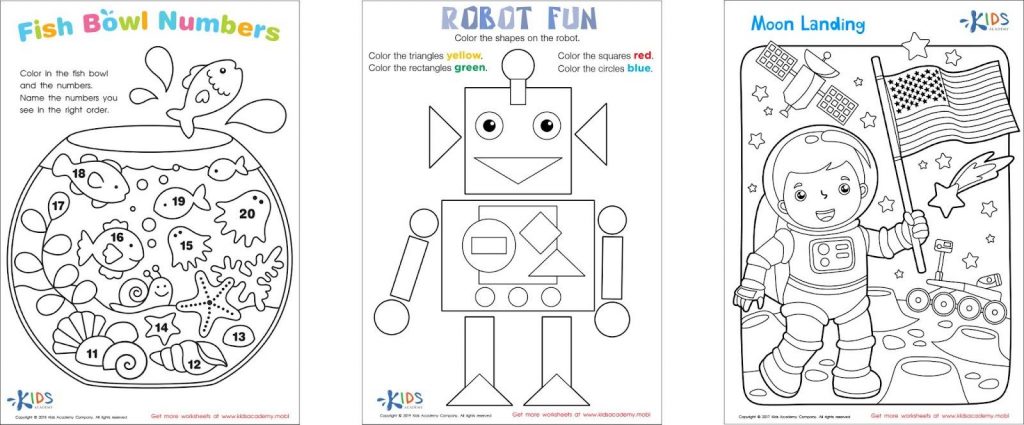 Kids Academy is an educational platform that is dedicated to providing fun and engaging learning resources for kids between the ages of 2-10 years. Along with being a treasure of coloring activities, the website also offers educational videos, free interactive worksheets that span the curriculum, games, lessons, and an insightful blog for an involved parent.
Learning never stops with Kids Academy's collection of educational apps for iOS and Android has been designed by subject matter experts to provide just the right knowledge with the right amount of play.