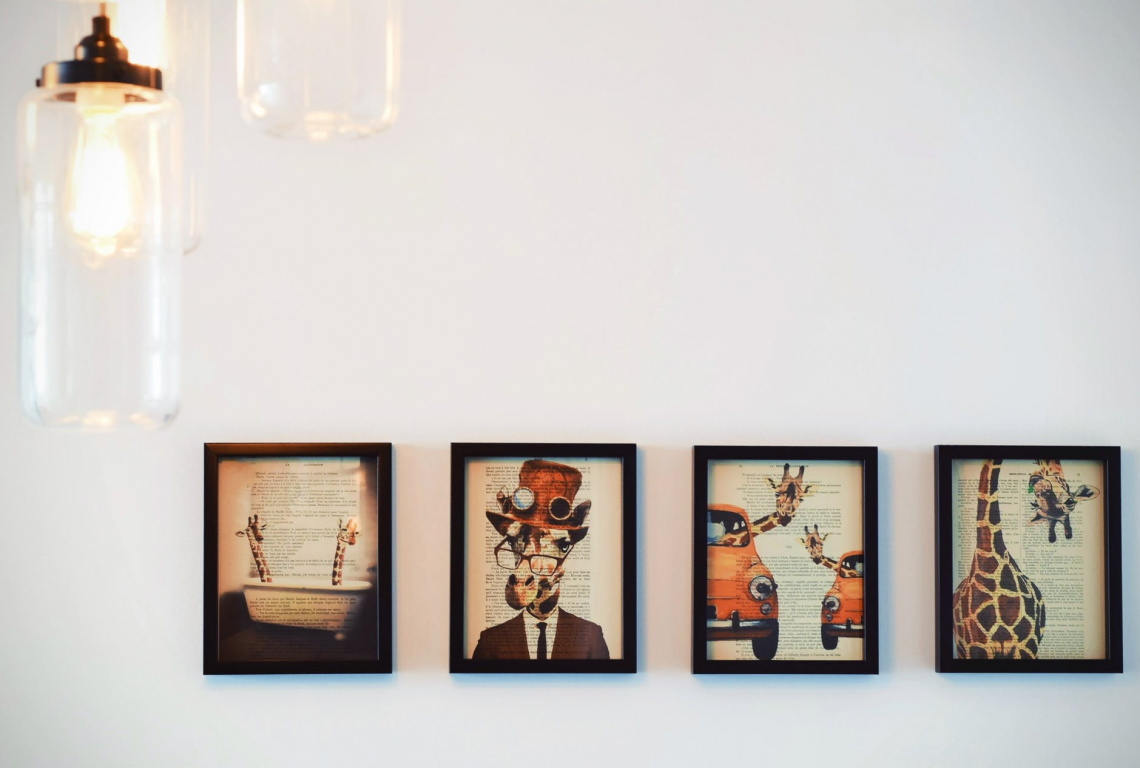 8 Wall Décor Ideas to Refresh Your Space
There are plenty of different ways to decorate your walls at home. By reading this quick guide, we hope that you find inspiration and try out something new! Here are eight wall décor ideas that you can use to refresh your space.
Blank walls can make rooms feel too empty and bare- even if you have other décor in place. Wall art and framed photos are perfect for placing around the home. They show off your personality, showcase your favorite memories, and are ideal for refreshing your space.
1. Create a Gallery Wall
A gallery wall is perfect for displaying all of your favorite décor. You can use your favorite pictures or pieces of art. Plus, you can include other hanging works. It helps to have several different sizes and orientations of frames on your gallery wall.
Many interior designers love this idea. It works well at making your rooms look much more significant than they are. Additionally, many people get a sense of wonder from walking into a home with an extensive gallery wall.
The best is that you can decorate it however you want! You can make it as elegant or simple as you wish. If you are an artist or have one in the family, you could use the wall to showcase all of their work!
2. Use an Accent Piece
Accent pieces should go where you can easily see them. If you have any large photos, paintings, or posters in the attic collecting dust- put them up! A substantial accent piece will draw attention and make a great conversation starter. It doesn't matter if you are interested in Jewish art or a more modern type of art, your personality can shine trough the pieces you choose to display on your walls.
You can use them to add some color to a blank wall or use a simple photo to add more interest to a minimalist room. Mirrors, when placed correctly, can make a room look bigger and brighter. They can also work very well as an accent piece with any room theme.
If you don't have any works large enough to use as an accent piece, you could create an accent wall. A bold color can stand apart in your space. You could even use different textures or materials to turn a boring wall into a unique accent piece.
3. Display Fabrics or Textiles
Wall-hanging fabrics and tapestries are lovely ways to refresh a space. They take less effort to install than a new coat of paint and can work with any budget. Depending on the material you choose, it can even make your home feel cozier.
Some interior designers will frame textiles, which is a good idea if you display an older material. For instance, if you are hanging antique fabrics, you will want them to stay protected.
Overall, hanging fabrics work perfectly with a variety of room themes. You can get creative with hanging materials and come up with several different ways to refresh your room!
4. Use More Plants
Hanging plants are wonderful to have around. They make a room feel clean and fresh. Plus, they are very comforting to most people. There are several different types of hanging plants that you can use.
Spider plants, golden pothos, and trailing jade are all beautiful plant options. They are a very vibrant green and look stunning in any setting.
Another idea would be to add various plant wreaths around your space. You can use faux plants for this, although natural wreaths would be even more beautiful. Some people enjoy making their wreaths, which gives you plenty more opportunities to be creative.
5. Purchase Fine Art
Fine art is a beautiful way to recreate your space completely. Fine art prints and paintings can work as stunning accent pieces. They add a ton of charm to a room and can engage your creative side even more.
Fine art comes in many forms, so you will undoubtedly be able to find something you love. There are oil paintings, watercolors, sculptures, and more. All of which can be easily hung up and displayed in any space.
Many people enjoy purchasing fine art as a hobby. There are so many different options out there- each unique! You will love searching for the perfect piece to showcase in your space.
6. Try Adhesive Murals
If you want to change up your walls but don't feel committed to any long-term adjustments, adhesive murals would be an excellent choice for you. They are easy to stick to your walls and come in plenty of styles. Plus, they are easy to remove to- they aren't permanent.
This option is best for anyone renting their home and doesn't want to damage the walls. Adhesive murals are safe to use and won't peel off paint when you remove them!
7. Add More Shelves
Adding some additional shelves is excellent if you have decor you want to set out but have to find a way to display it. Small shelves are not intrusive and look great when installed properly. As another option, inset shelves are also a good choice.
Inset shelves can make a wall appear less bare, especially if you fill it with your décor. They can add color to a room and help if your space is getting too cluttered. Plus, these shelves can work with just about any room theme. To improve the aesthetical appeal of your space and give it a modern look, you can consider opting for custom glass shelves. They are specifically designed to cater to individual needs. You can check out some easy to Go Companies and beautify your space with such shelves.
8. Use a Bulletin Board
Bulletin boards are fun. You can pin pictures, art, magazine pages, notes, and more to the board. They are also excellent for displaying small photographs that you love. Many people use them in their home offices, but you could set one up in your kitchen and fill it with recipe ideas and pictures of food! Overall, they make it simple to set out a lot of décor at once.
Experiment With Your Wall Décor Ideas
Finally, don't hesitate to experiment with your wall décor ideas. You can change it up here and there to completely refresh the way your space feels- even if you are only swapping out your décor. You can use fine art and plenty of other hanging items to change the vibe of your space.