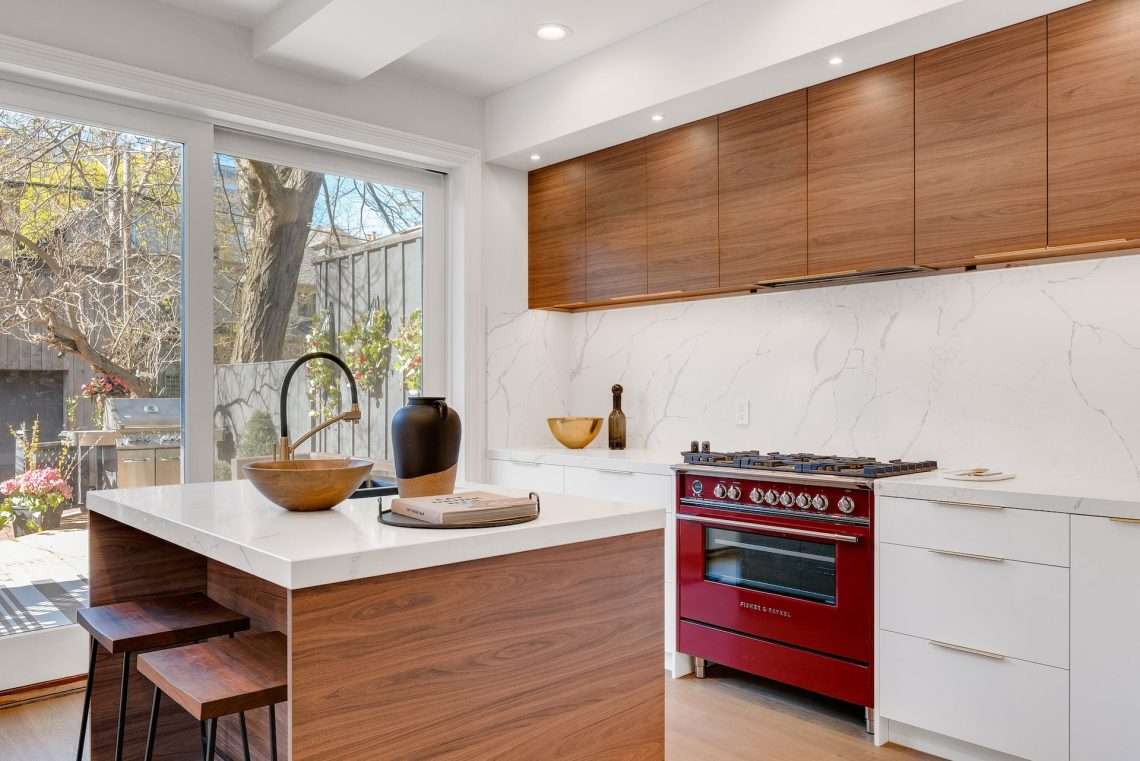 5 Ways Quartz Backsplash Prove To Be Game Changers
If you're looking for a beautiful and durable surface for your kitchen backsplash, that can keep up with the latest kitchen design trends as well, quartz is just what you're looking for! The great thing about quartz is that it can be used about anywhere. Whether it's for strong and long-lasting countertops, or trendy and durable backsplashes. Recently, Quartz has replaced stone tiles because the sheets and slab provide a more sleek look and include fewer seams, which has contributed to its popularity among home designers and made it the new rage in the kitchen!
Quartz can absolutely transform the way your kitchen looks, and provides added protection to the walls. After carefully weighing in the pros and cons of quartz backsplashes, we have concluded 5 ways a Quartz backsplash can prove to be a gamechanger for your kitchen:
1. Protection Against Moisture
Every homeowner knows what a headache kitchen moisture can be! Humidity on the walls can damage the material for cracks, or even damage the foundation of the cabinetry. Which is why Quartz can be a real life changer for your kitchen. The wall behind the sink and the cooking range are affected by humidity the most, and can get damaged really quickly. Quartz is a non-porous material which will not let moisture get to the walls and protect it from the humidity and damage!
2. Quartz Backsplash Easy Cleaning
The non-porous quality of quartz slabs is not only great against moisture protection, but also makes it really easy to clean. Cooking includes very frequent oil splashes and curry stains on the walls. This can be really difficult to clean and needs expensive cleaning supplies to get it off even when your walls are sealed. Using a Quartz backsplash will give you stain-resistance and will make it extremely easy to clean! You can simply wipe it off with a damp cloth and viola!
3. Increased Resale Value
Quartz backsplash might be a little expensive, but it's a totally worth investment. While trying to save money on a kitchen renovation many homeowners compromise on the quality of material being used. It not only affects the design and durability of the kitchen, but also that resale value of your home. Quartz is durable, trendy and strong which provides great quality to your kitchen backsplash. It will increase the resale value of your home. So while selecting the material for your backsplash, remember that you are making an investment that will benefit you in the future!
4. Quartz Backsplash Seamless Installation
One of the many reasons quartz backsplashes have made stone tiles outdated is its seamless installation. Tiles are filled with gout but can have visible seams and lines between the tiles which interferes with the look of the kitchen. Since quartz is made in slabs and sheets, it can easily cover the backsplash area without needing any seams and does not require sealing! So using a quartz backsplash makes the installation really easy and reduces the installation cost.
5. Trendy and Modern Design Quartz Backsplash
Whether you are going for a minimalistic look , a classy traditional look or anything in between, quartz has your back. From eye-catching dramatic veiny textures to clean lines and elegant patterns, you can use a quartz backsplash to highlight the design of your kitchen and increase it's value. It's available in various textures, patterns and colors which can mimic natural stone and give you a great price benefit. It can provide a smooth appearance for modern and contemporary kitchens with seamless blending with the countertops and provides design as well as protection!
Backsplashes are one of the focal points of the kitchen and can really affect the overall interior design. Using quartz as a backsplash gives a fair advantage in terms of protection, maintenance, and resale value. Not only that, but you have versatile quartz backsplash designs to choose from. So don't delay your kitchen renovation and make the best choice for your kitchen backsplash and add a beautiful design element and protection to your wall with quartz.
Photo by André François McKenzie on Unsplash