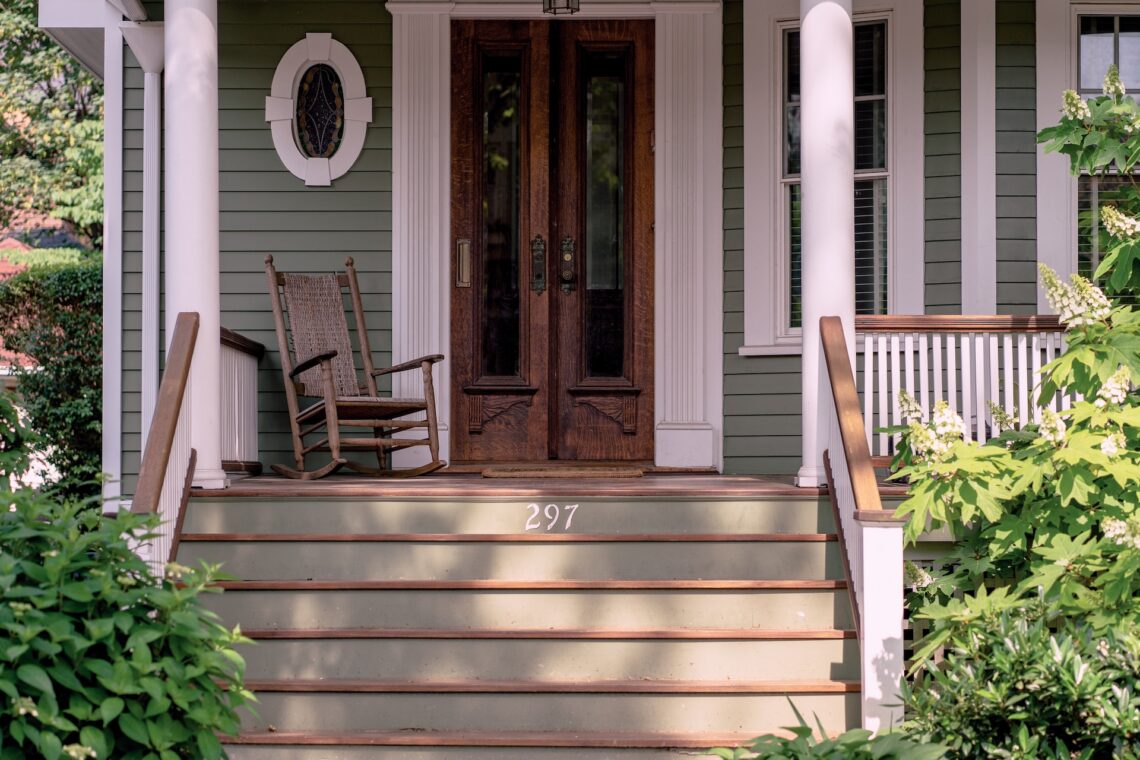 5 Superb Tips for Improving Your Porch
In this article, we will share our top tips that will help you transform your porch into a beautiful and magical space. Let's get started with improving your porch now.
There is something warm and romantic about a porch. Many of our favorite love stories situate the final snap of the main characters' strings on a porch. Think back to Matthew Macfadyen's iconic declaration of love for Keira Knightley's Elizabeth Bennet atop the porch of the shelter where she sought refuge from the rain. Or better yet, who can forget the steamy motel balcony (which is technically a porch) scene where Elena finally gives in to Damon's advances, and they share their first proper kiss? 
The porch is one of the most magical spaces in a house, and this seemingly insignificant space has so much potential. With the right upgrade projects, you can turn your porch into a space worthy of being the backdrop for the first kiss of any romance classic. Not to mention, a porch upgrade can change the entire look of your house and also drive up its value. 
Screened-In Porch
The porch is a middle ground between the indoors and outdoors. However, a lot of people feel uncomfortable investing in the space as it can be easily accessed by anyone. Some have privacy concerns, while others worry about the safety of their belongings. If you feel the same way, a screened-in porch may be just the thing for you. If you've seen the Miley Cyrus-Liam Hemsworth hit 'The Last Song,' a screened-in porch is the foyer area of Miley's dad's house.
A screened-in porch adds full-wall windows to your porch, which allows you to create an enclosed space and still enjoy the outside vibe. There are many screened porch ideas you can pick from for your home. For instance, you can add sheer curtains for enhanced privacy or paint the borders of the doors and windows to create a fun and colorful exterior. With a screened-in porch, you don't have to worry about bad weather messing up your porch furniture or décor. 
Improving Your Porch with A Rustic Chandelier
Sometimes, a statement piece can uplift and bring together a room. We recommend adding a rustic chandelier to enhance the space. Look for traditional, candle-style chandeliers that are relatively large in size. Our go-to for outdoor light fixtures is black or gold wrought iron due to its striking appearance and longevity.
Once you've picked out a chandelier, choose the perfect place to install it. You may think that the exact middle of the porch should be a safe option. However, remember that a porch is not shaped like a regular room. Therefore, you have to be more strategic with the placement of lights and other fixtures. Ideally, choose a main seating area with a table and place the chandelier right in the middle of it. This will immediately draw attention to the seating area as the highlight of your porch. 
A Herb Garden
Greenery always helps uplift a space, especially an outdoor one. The porch is the perfect place to set up your very own herb garden. There are many different ways you can build an herb garden. From traditional planters to modern vertical structures, there are plenty of options you can explore. With an herb garden on your porch, you will be bringing nature and beauty into the space while also creating a functional item that will help you save big bucks on your farmer's market trips.
Pick colorful pots and planters and paint labels with the name of each herb. If you haven't been blessed with a green thumb, start with easy herbs such as chives, cilantro, and sage. Once you're comfortable, move on to the more difficult ones like rosemary, basil, and coriander. A pro tip is to remain patient and not stress too much. The garden can sense your fear (not literally, but you know what we mean). Just relax and trust the process. We're sure you'll have your little garden thriving in no time. 
Multiple Seating Areas for Improving Your Porch
A porch should be multi-purpose. It should also be able to hold the entire family on lazy holiday evenings. Therefore, make sure to place multiple seating options on your porch. Start with the usual garden sofas to create a cozy breakfast corner. Next, add an outdoor dining table where you can sit with your friends and family and fight over a game of Sequence. We also love floor seating areas on the porch. All you need to create a floor seating area is a few floor cushions, fluffy pillows, and a thick rug.
With multiple seating areas, your porch will be the most popular space in your house, and you will find all your dinners and parties eventually moving to the porch. You will also be able to really enjoy the outdoor space yourself, whether it's to have a romantic meal with your partner or read a book while your kids play in the front yard.
A Garden Swing or Hammock
We were all obsessed with swings on the playground as children. However, as an adult, it's a little awkward to sneak a ride on a kids' swing. Fortunately, you can recreate the feeling of childhood by installing a garden swing on your porch. There is a reason old people love garden swings. With the years of experience they have on you, do you really want to question their wisdom?
There is no argument here when we say that the best thing you can add to a porch is a garden swing. It is the absolute epitome of comfort and indulgence when it comes to the porch area. It is the perfect addition that you will end up using every single day. Additionally, if you're more comfortable with your indulgent side, we recommend getting a hammock as well. As you swing side to side as a baby, it'll be the perfect way to bring your Tom and Jerry dreams to life.
Final Words
Improving your porch may seem like a big project, however, most of the abovementioned upgrades will take you no more than a weekend. These little additions and improvements will significantly change the appearance of your home and raise its market value in case you ever decide to sell. More importantly, you will have a porch straight out of a Hollywood movie for you and your family to enjoy.