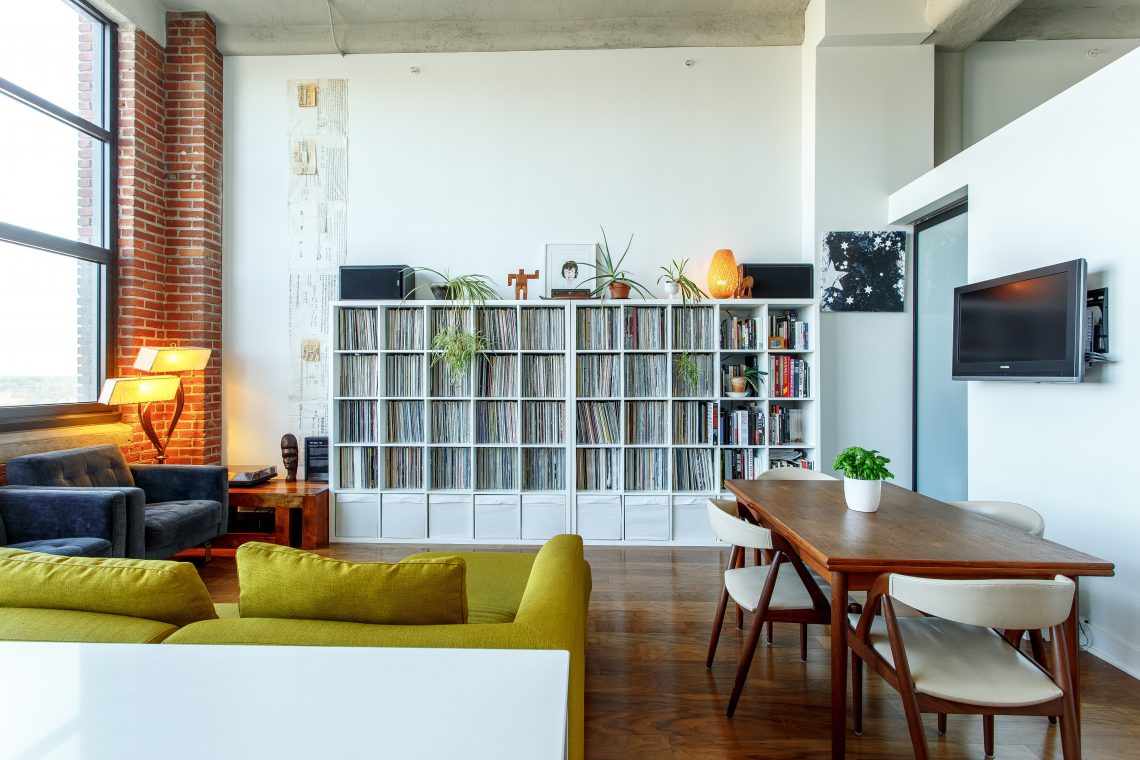 5 DIY Cleaning And Maintenance Tips For Teak Furniture
Teak wood is classified as hardwood, and is highly sought for its attractive color, durability, and resistance to harsh elements. Teak is quite easy to clean and maintain and, if properly cared for, it will last years.
Grown mainly in Southeast Asia, teak trees come in yellowish, golden honey, and brown hues. A staple in the shipbuilding industry, the furniture sector also demands for teak wood for indoor and outdoor furniture.
Here are some do-it-yourself cleaning and maintenance tips to keep your durable outdoor teak coffee table and other teak pieces of furniture looking like new.
D-I-Y Teak Cleaner For Regular Washes
Being highly resilient to harsh weather and temperatures, teak requires little maintenance, and with proper use, it can last for about 100 years. A little effort is required to keep it clean, and a homemade teak cleaner can easily do the job.
Mix the following household items to create your very own teak cleaner:
• 1 cup water
• 1 cup vinegar
• ¼ cup dishwashing liquid
• A tablespoon of bleach (optional)
Place the mixture in a spray bottle. For wider surfaces, you can place the mixture in a bucket.
Spray or apply on the teak wood, and let it stay for a few minutes before rinsing off
Wipe the furniture dry.
For a no-frills routine, your D-I-Y teak cleaner can also simply be a mixture of warm water and a dish soap.
Always begin to clean at the bottom part of the furniture, and only subtly scrub. Air dry the pieces of furniture or place them under the sun for a short period.
To make sure that your sizeable investment in teak furniture is optimized, you'd need to learn how to clean and maintain it as soon as you're done furniture shopping. Cleaning teak on a regular basis helps prevent grime and mildew formation.
D-I-Y Teak Cleaner For Tough Stains
While durable and resilient, teak wood isn't invincible, and, over time, its yellowish to brownish hue gives way to a slightly worn, grayish look. In some cases, it develops a patina, making it look like a stained wood furniture.When these things happen, your teak furniture should receive tender, loving care. A deeper cleaning courtesy of this mixture is in order:
• Detergent soap
• Chlorine bleach
• Trisodium phosphate
• Nylon scrubber or a soft-bristled brush
All you have to do is mix all these items together and apply on your teak furniture. Brush the problematic areas to remove deep-seated dirt and grime. As you move to the other sections, don't forget to reapply the cleaning agent to the treated areas to avoid drying.
Once done, hose down the surface and make sure that there's no residue left. Look for sections with stubborn dirt and scrub them again.
For stubborn dirt, especially black molds that can be hard to remove, replace chlorine bleach with ammonia. However, don't use these two chemicals together to ensure safety.
Preserve Teak's Vibrant Color
To help retain teak's natural color, you'd have to occasionally paint teak oil on it. Once a year is a good number, although you can apply it as soon or as late as you notice a slight fading on the wood.
Contrary to its name, teak oil is a synthetic chemical often made from varnish, polyurethane resins, or mineral oil, among other compounds. However, it's said to help encourage the secretion of natural oils from the teak wood itself, as well as protect the furniture from molds, mildew and ultraviolet rays, effectively prolonging teak's beauty.
D-I-Y Teak Oil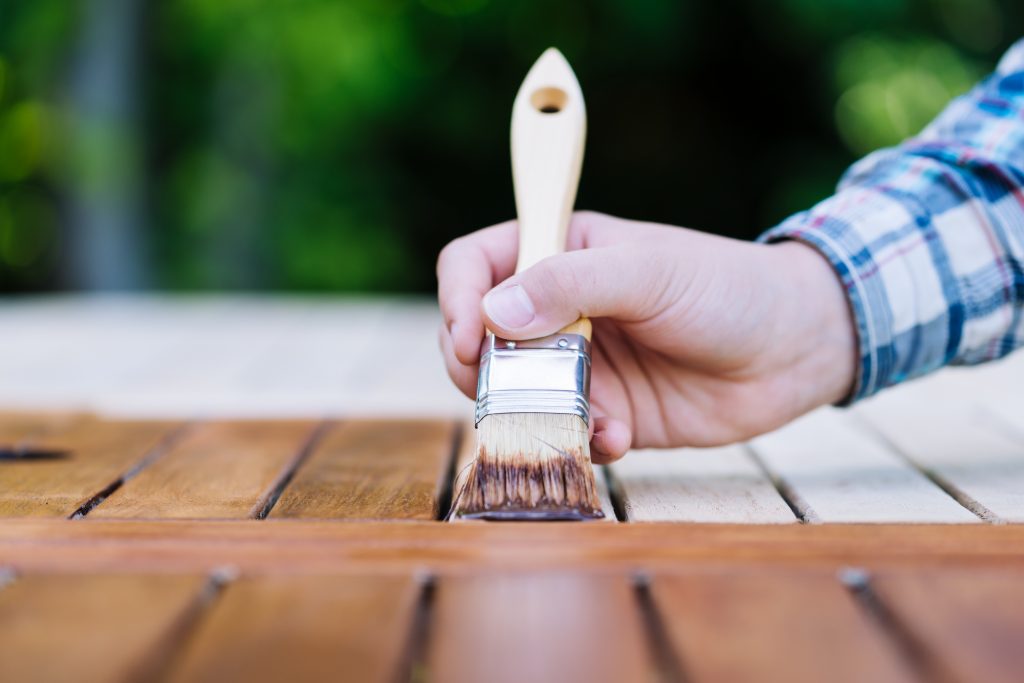 You can, however, mimic the effect of teak oil, by mixing a few of its main ingredients:
Linseed oil
Mineral oil
Paint thinner
Varnish (optional)
Sometimes, a better option is to sand the wood instead of slathering it with oil. This is true, especially for indoor teak furniture used in handling and serving food. Use a fine sandpaper, then wash and air dry the furniture. Add a sealant to help preserve their color.
Protecting Teak A With Sealer
A teak sealer can be used to better protect teak wood. It helps preserve teak's natural color by minimizing oxidation on the wood's surface. Unlike teak oil, it doesn't require frequent application, and could provide better protection from UV rays. In some cases, it may even inhibit the growth of mildew.
Before applying teak sealant, make sure that the surface is clean and dry to make the mixture adhere better. Some prefer to expose the furniture under the sun for several days to encourage the wood grain to open and prevent moisture formation.
Additional Maintenance Tips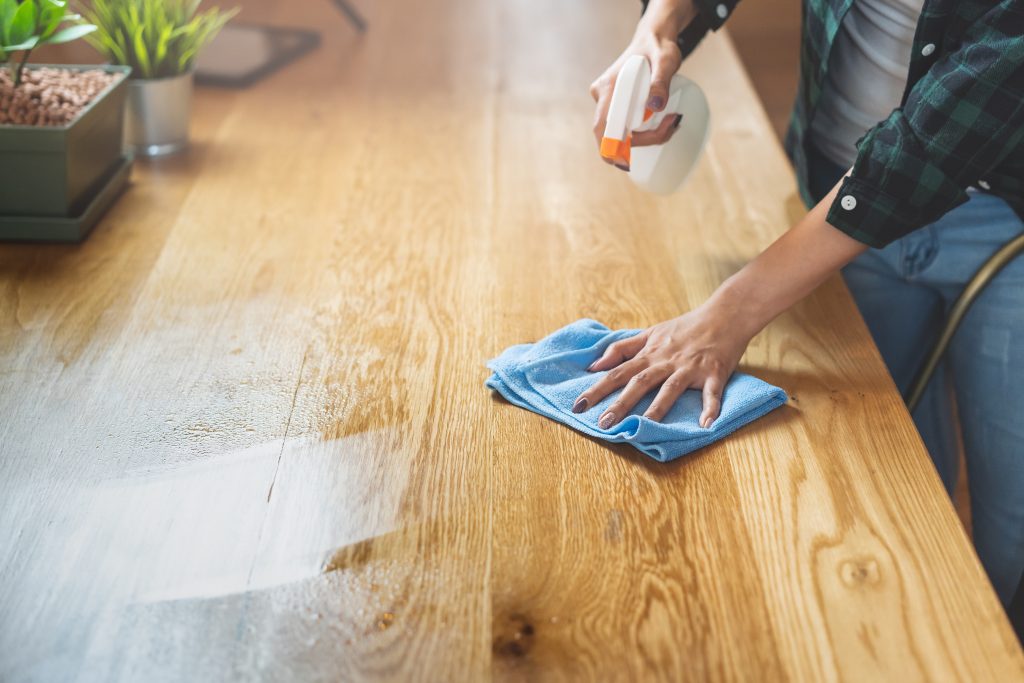 Apart from applying teak oil and sealant, protecting your furniture is easy with these steps:
• Cover your furniture, especially the ones located outdoors, when not in use. The sun and rain can be unforgiving to the appearance of teak furniture, causing them to lose their shine and natural color faster.
• Use table cloth on your teak dining table. Wipe any moisture as soon as possible as it can stain your furniture.
• Never use hard brushes or steel wool as these can damage wood finish.
• Don't use pressure washer to clean your teak wood as it can have the same damaging effect.
Conclusion
When it comes to preserving and rejuvenating your pricey teak furniture, you don't need to burn your pockets. With a few household items, you can make your teak wood looking like new once again with the tips discussed in this article.
Photo by Nathan Van Egmond on Unsplash