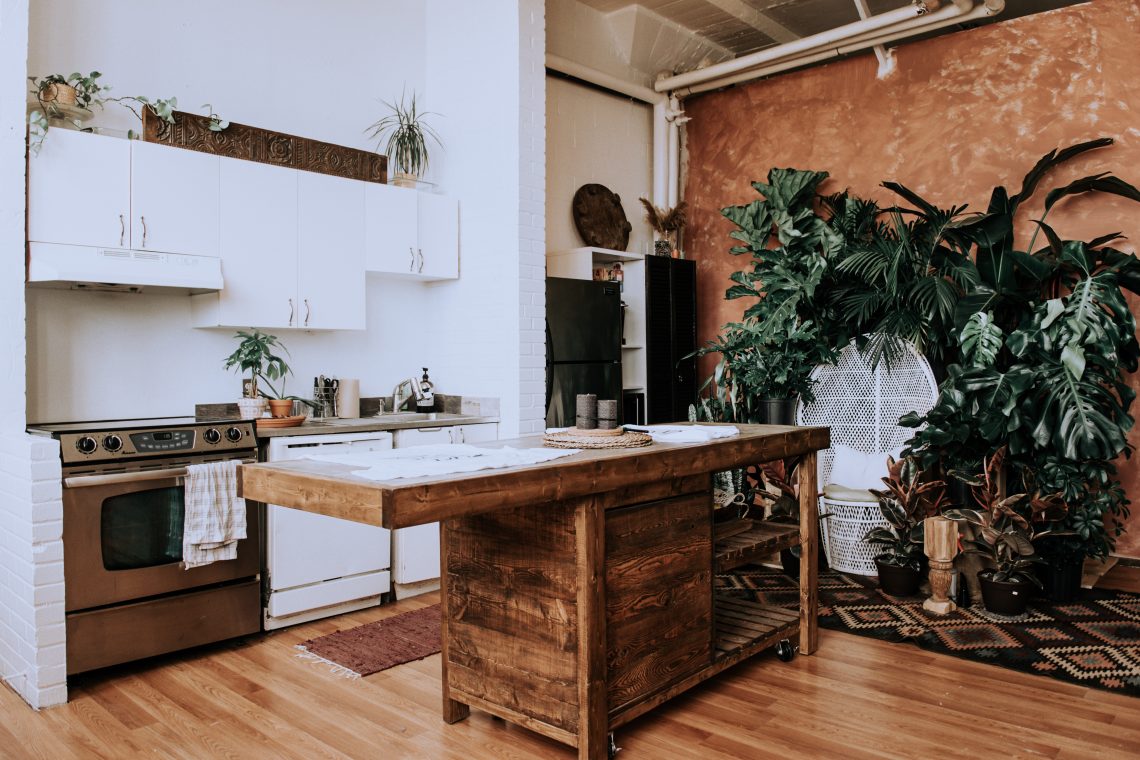 15 Kitchen Island Table Designs To Incorporate Into Your Home
When it comes to the kitchen area, there is never enough room whether we are talking about the actual cooking
When it comes to the kitchen area, there is never enough room whether we are talking about the actual cooking process, entertaining guests or for storage purposes alone. You can have some lovely hidden storage places surrounding a contemporary stainless steel sink (check out some fantastic options here). It is where the kitchen island enters the picture as a wonderful functional option for adding the most needed extra space as well as for offering a focus point for the kitchen design, allowing the rest of the built in furniture to gravitate around this formed core.
A kitchen island can host your cooking machine or a large sink and should as well incorporate storage spaces underneath. You can also use this extra surface to replace the classical dinning room table or as a bar zone for entertaining nights.
As for the actual design, the options are limitless, depending on taste and actual kitchen available space and layout. We have selected 15 Kitchen Island Table Designs To Incorporate Into Your Home you might find appealing, cast a glance.
1. A simple grey and white combination to host your sink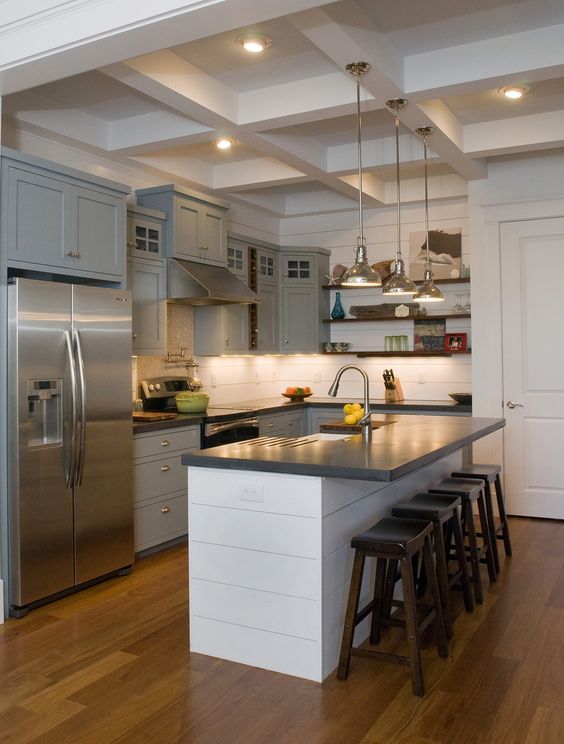 Even a simple small kitchen design can incorporate a narrow rectangular kitchen island.
2. Extendable kitchen island for extra space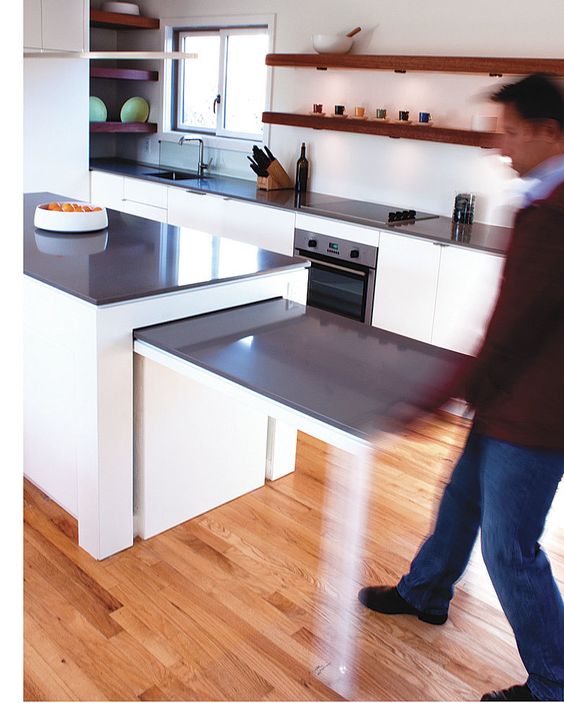 Incorporate an extension to your existing kitchen island for extra working space or dinning.
3. Keeping things in plain white marble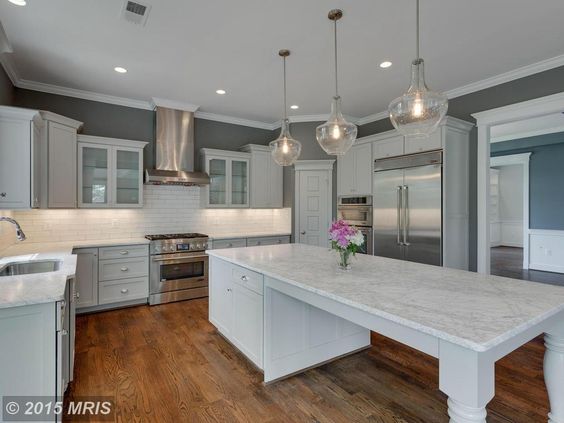 A plain rather long simple white marble kitchen island serves multiple purposes in your kitchen, add one if the space allows such an insertion.
4. Kitchen island/ extended dinning room mixture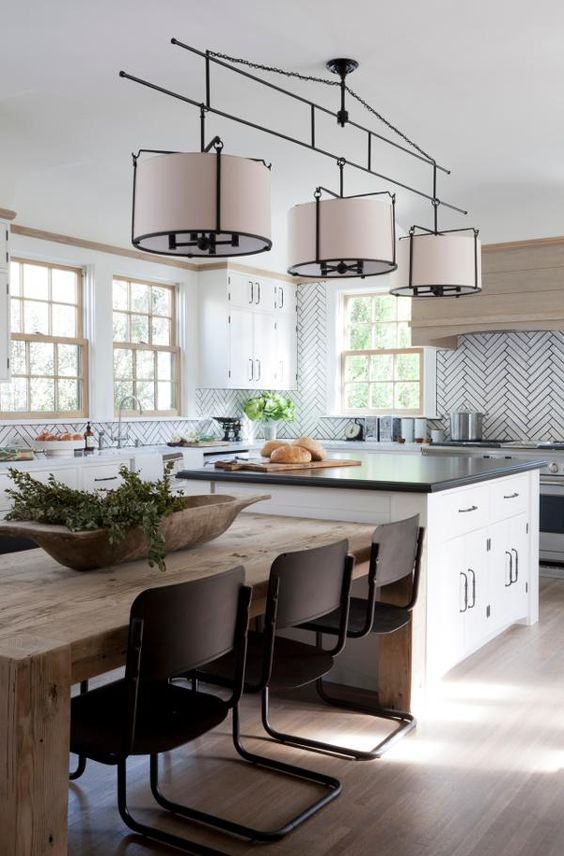 Wood never gets outdated in terms of interior design and there is always a wooden décor and furniture piece that would fit any home design.
5. Kitchen Island Table Designs – Built in sitting spaces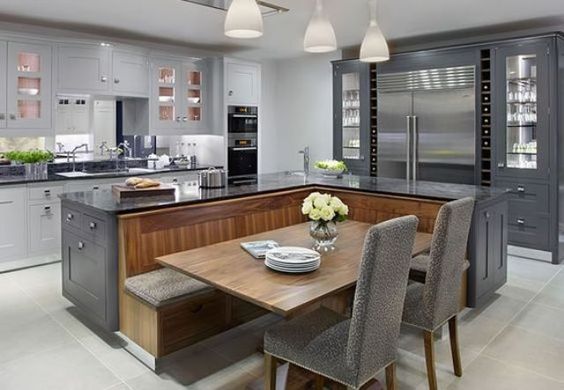 Combine a L shaped kitchen island with sitting spaces for a more compact design of your kitchen core.
6. Plain simple traditional kitchen island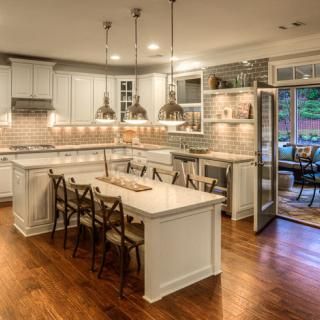 A French touch in simple white and rich wooden hues.
7. Reclaimed wood kitchen island table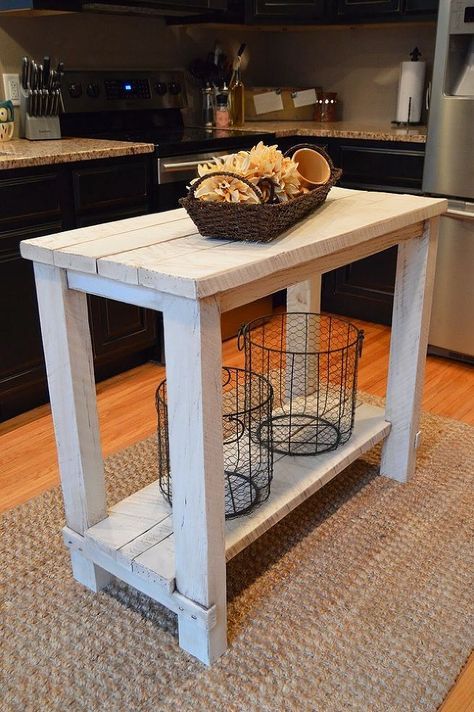 An old wooden table can be used as a small narrow kitchen island.
8. Using the kitchen island as clever extra storage space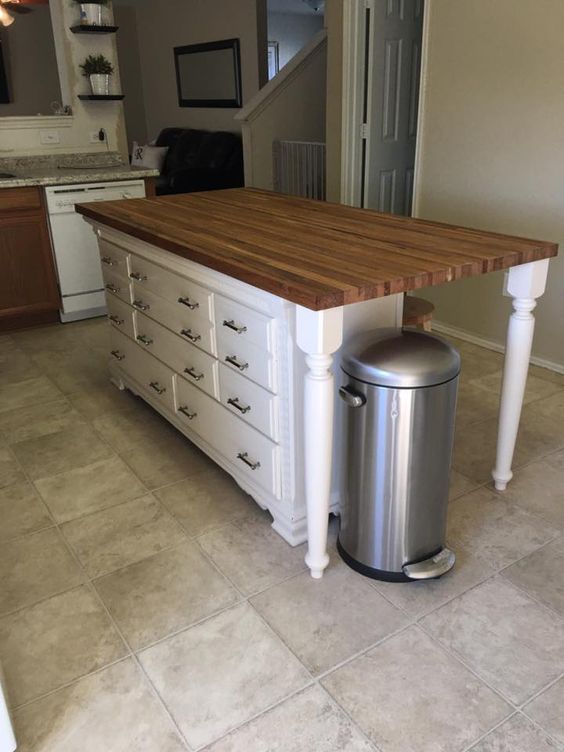 Never forget about adding extra storage space, you will be grateful later on.
9. Steampunk inspired kitchen island touches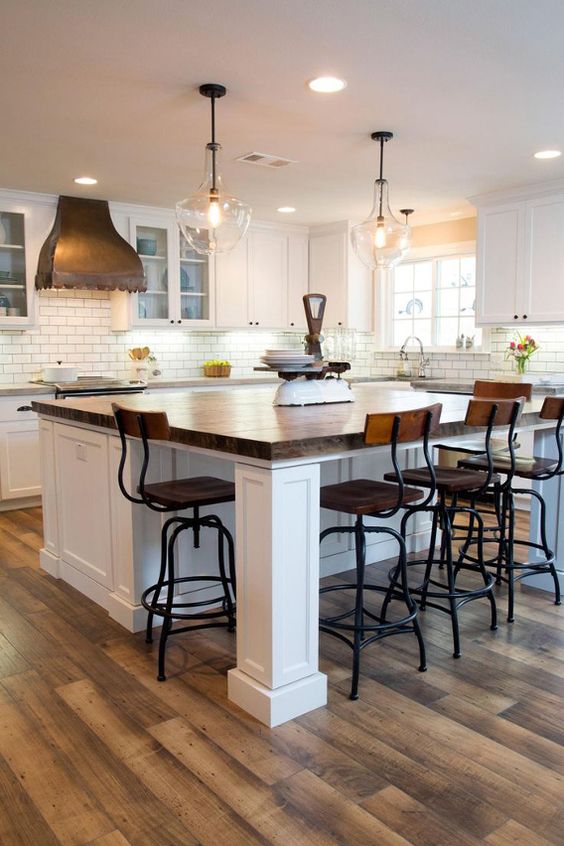 You can transform any design with the right material touches and insertions. A few steampunk inspired table stools can make a huge difference.
10.Pallet kitchen island insertion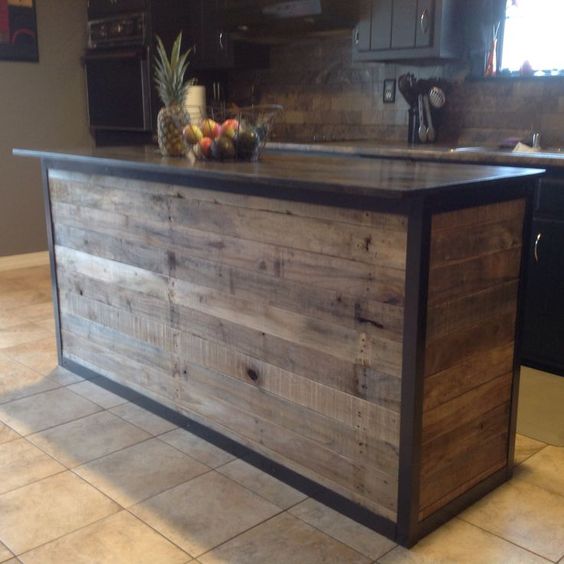 Wooden pallets come in yet again to offer an affordable material for your new kitchen island insertion.
11. Re-purposing a buffet as a kitchen island table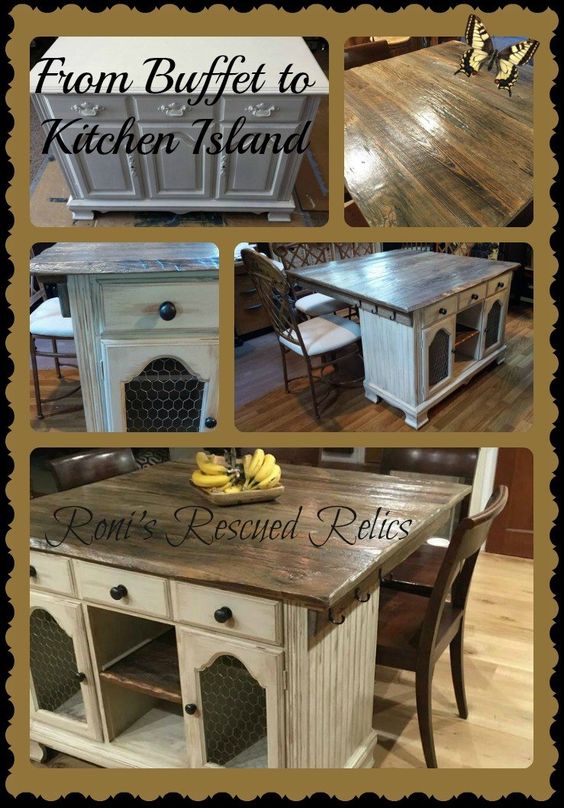 Never throw away old furniture, you'll never know how stunning some pieces can become with a little bit of work and a dose of inspiration.
12. Wooden bench/ bar/ kitchen island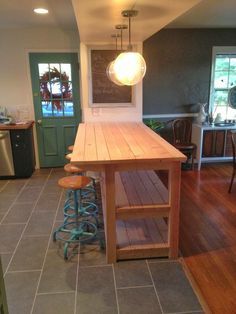 13. Recycling old dressers into an useful elegant kitchen island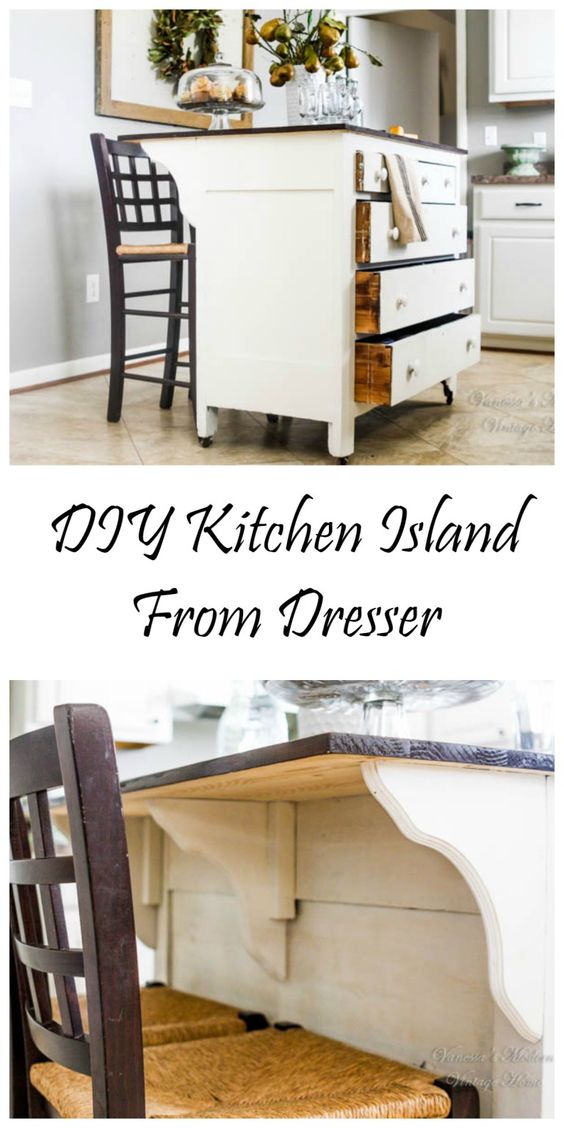 DIY projects and the re-purposing of old furniture are always creative ideas one can make use of when intending to revamp their interior decor. Any piece of decor can be transformed and given a new purpose into your home.
14. Inserting a touch of country style into a modern sleek kitchen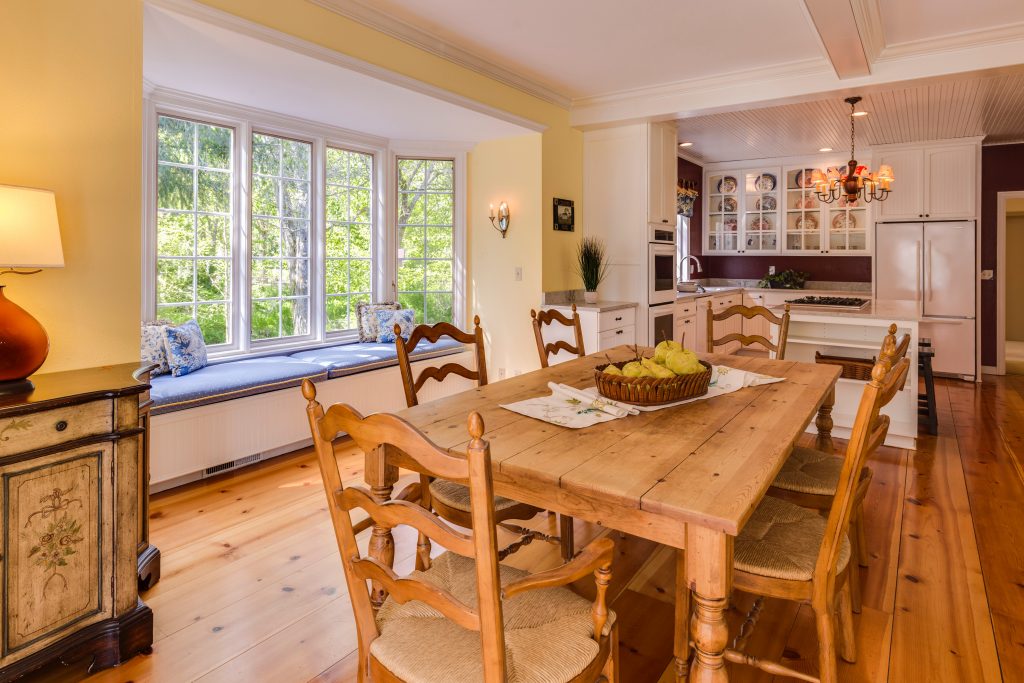 Photo by Francesca Tosolini on Unsplash
If a plain neutral kitchen design is what you are looking for, add a bit of contrast by opting for a different approach for the kitchen island/ dining table.
15. An entire kitchen in an island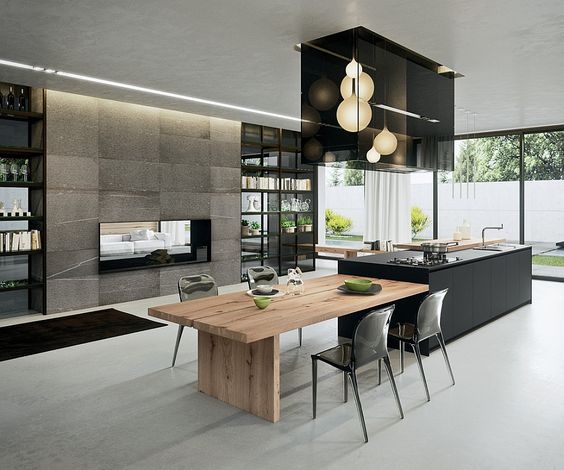 A modern interior design in a large open space zone can accept an island type of kitchen, minimal to its core and beautiful in its simplicity.
What is you take on Kitchen Island Table Designs? Do you consider them a necessity and if so, which style do you prefer? Feel free to share your input in the comment section below.