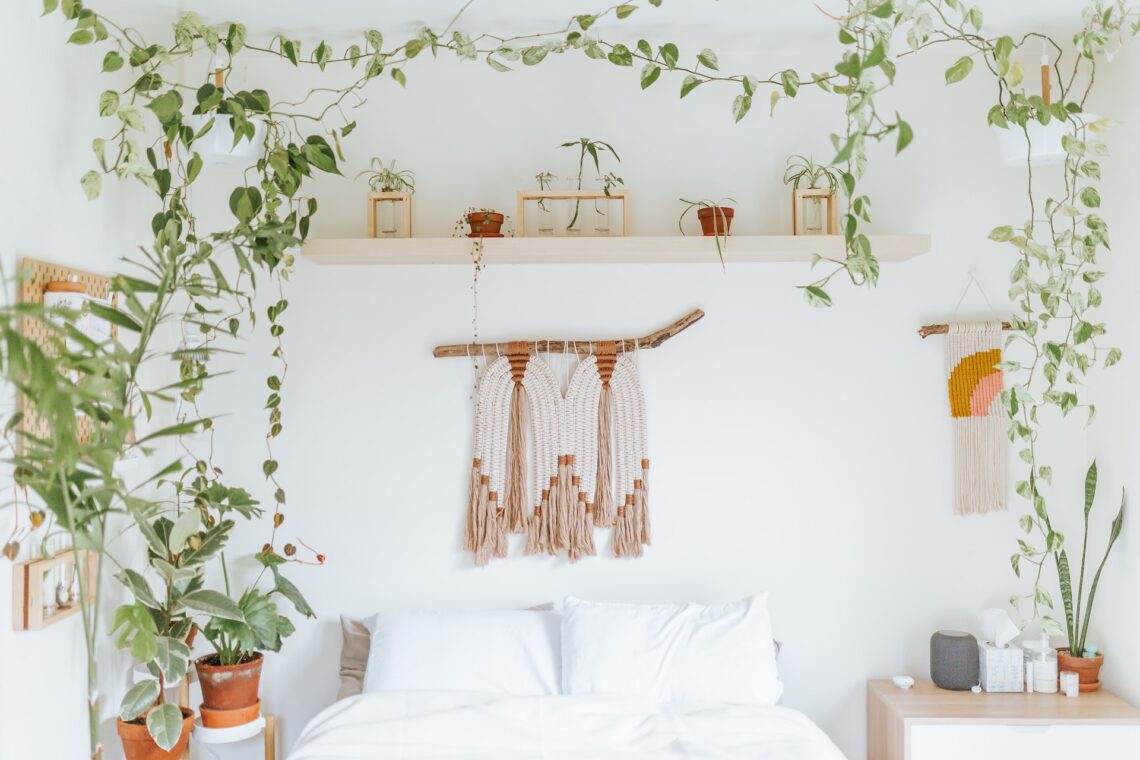 Why Picking The Right Bedroom Décor Is Important For A Good Night's Sleep
If you're like most people, you probably spend a lot of time in your bedroom. Whether you're sleeping, reading, or just relaxing, your bedroom should be a comfortable and inviting space. But did you know that the way you decorate your bedroom can actually impact how well you sleep? That's right! Picking the right bedroom décor can help you get a better night's sleep. So if you're looking to improve your sleep quality, this article will explain why décor is essential.
Aesthetics
A nice-looking room that has been personalized just for you will keep your mind at ease every time you enter it. There are various great area rug choices for your bedroom that add to the aesthetics and the overall feel. This may not seem like a big deal, but aesthetics can have a powerful effect on your overall experience with the room.
Studies show that people who like the aesthetics of their bedroom report better sleep quality and higher levels of satisfaction overall. So don't forget to make aesthetics a priority when picking out décor for your bedroom! A few decorative throw pillows, wall art, and some textured curtains can make all the difference.
Even something as simple as a cozy throw blanket on the end of your bed can help you feel more relaxed and, in turn, get a better night's rest. Take some time to think about what kind of aesthetics appeal to you and how that might translate into bedroom décor that makes you feel good.
Comfort
Being comfortable and cozy in your bedroom is essential for a good night's sleep. When it comes to this, the first thing that comes to mind is usually the bed. Make sure your mattress and pillows are comfortable enough, so you can get restful sleep every night. Soft blankets, sheets, and comforters also contribute significantly to comfort levels in a bedroom.
In addition to comfort-related items, having furniture that allows you to relax is just as important. A large armchair or recliner gives you a place to sit while getting ready for bed or when winding down after a long day. Footrests and ottomans are great additions too because they provide extra comfort on tired feet at the end of an exhausting day.
For example, a chaise lounge is a great comfort-focused piece of furniture for your bedroom. It provides the perfect place to relax, stretch out and take a nap during the day or evening. Finally, adding some pillows and throws in warm colors, textures, and patterns can make any bedroom feel more inviting and comfortable. Pillows add plush comfort while throws offer additional warmth when necessary. This combination creates an overall relaxing atmosphere that promotes comfort and invites you to have sweet dreams each night.
Lighting
Being able to dim lighting in the bedroom is key for getting a good night's sleep. Too bright of lighting can be overstimulating and make it difficult to fall asleep, while too little lighting might make a room feel stuffy and uninviting. Ideally, you should have the ability to adjust lighting levels for different activities such as reading or watching television, so you can create just the right atmosphere for winding down at night.
If possible, try and avoid lighting from electronics like TVs or phones that may disrupt your sleep cycle by emitting blue light which confuses our natural circadian rhythm. Instead, opt for lamps with warm lighting tones that won't interfere with your body's natural sleep cues.
In short, lighting plays an essential role in creating a conducive atmosphere for a good night's sleep. Investing in lighting fixtures that allow you to adjust lighting levels and set the light level just right will go a long way in improving your quality of sleep.
Calming Elements for Bedroom Décor
Adding various elements that keep you personally calm is important because it will help you relax before you go to sleep. Think of ways to make your bedroom calming and relaxing. For example, you can add things such as the following:
lavender
peppermint
eucalyptus
calming textures
calming colors
incense
aromatherapy candles
relaxing music
soothing artwork
These calming elements can help you wind down and relax before bedtime, making it much easier to fall asleep and get a good night's rest. Make sure the calming elements that you choose reflect your own style too. They don't need to be expensive or elaborate. A few calming elements can make all the difference.
Temperature
Good décor will also ensure that temperature control is possible. If your bedroom is too hot, it can be hard to get the restful sleep you need. According to the National Sleep Foundation, a temperature between 60 and 67 degrees Fahrenheit (or 15.5 and 19.4 Celsius) is ideal for sleeping. If you are able to adjust the temperature in your room, this temperature range should be easy to stay within.
In addition to temperature control, keeping air circulating in the room can also help keep things cool and comfortable for a good night's sleep. Consider opening up windows periodically during the day or installing an electric fan to ensure adequate airflow at night. With all of these factors taken into consideration, decorating your bedroom for better temperature regulation will lead to a more restful sleep.
For those who lack the ability to adjust the temperature, there are other ways to keep your room comfortable. Using breathable bedding materials and lightweight blankets can help to regulate temperature, as can wearing comfortable sleepwear for a peaceful night's sleep.
Noise Reduction
Soundproofing your bedroom will ensure you're not bothered by noise coming from the outside or inside the house. You can use noise-reducing curtains, window inserts, and other materials to muffle noise coming from outside. Inside the home, you can opt for noise-absorbing materials such as carpeting or rugs instead of hardwood floors.
You may also want to look into soundproof paint, which is designed to reduce noise transmission between rooms. It's important to be aware of any potential sources that could disrupt your sleep, whether it's a neighbor's TV or a loud refrigerator in the hallway. Addressing these issues with the proper sound insulation will make all the difference when it comes to getting quality rest.
Scent
Adding scent to your bedroom décor is a great way of creating an environment that encourages relaxation and sleep. This can affect the mind and soothe emotions, which makes it a great tool for inducing feelings of calmness before bed. You can use scent in many ways,  from scented candles or diffusers to scent-infused linens or furniture, allowing you to create an atmosphere tailored to you.
Good choices for bedrooms include lavender, ylang-ylang, chamomile, and sandalwood, all of which are known for their calming effects. Essential oils are another good option as they work directly on the limbic system (the part of the brain controlling emotion) when inhaled. Experimenting with scent can be fun and can help you create a layout that's just right for restful sleep. Try different scent combinations to find the one that works best for you.
By using scent to create a comfortable and peaceful atmosphere in your bedroom, you can ensure a good night's rest. With the right scent and décor, you'll be able to relax more easily and drift off into sweet slumber! 
Bedroom decorations have a huge impact on your mood, making them essential for sleep. You need to consider all of the reasons mentioned above and make sure to try and implement them into your own sleeping quarters. After just a few nights, you'll notice a great improvement in your sleep and the overall feel of the room!
Photo by Cole Keister on Unsplash