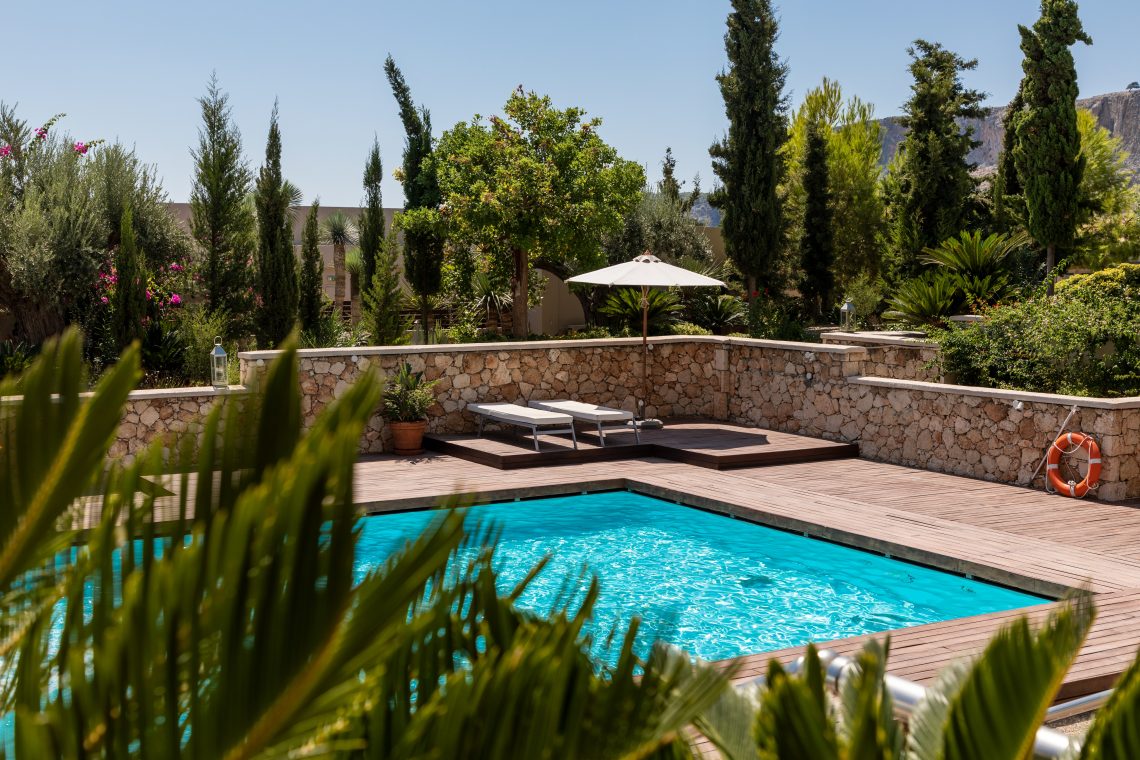 Spruce Up Your Swimming Pool – The Top DIY Pool Décor Ideas
Are you looking to spruce up your swimming pool area? If so, check out this guide to learn the top DIY pool décor ideas. Do you own a pool? You're in good company. That's because there are ten million residential pools in America. It's time you got social and threw a pool party! Just one problem, when it comes to your pool décor, everything's not been going so swimmingly. It could do with a facelift.
Too embarrassed to invite your friends and family over? Apart from updating your pool liner, here are the cool ideas you need to quickly get your pool area looking great again.
A Comfortable Hammock
Imagine if you could bring your favorite getaway destination back home with you. Well, with a little imagination you can do just that. Swimming's great but you also need time to relax. Create a beach-style vibe in your pool area by adding a hammock. They come in all sorts of bright colors and bohemian patterns.  Add a throw blanket or pillow to make it seem even more inviting. Hammock chairs can create a similar look. They're also easier to get in and out of.
You can continue the 'beach theme' by using decorative stones to mark defining lines between different areas of your pool area. Decorative pebbles can help to make a Zen space and the perfect place to relax.
Building a low stone wall around the pool is another great idea. It could blend in with other garden areas such as an elevated deck.
DIY Pool Décor Means a Shade Structure
Add a spot of shade to your pool area. You may already have a big umbrella but go a step further. Install a shade structure to create a stylish landscape feature. You could try giving simple wooden arbors a touch of rustic charm by adding a woven lattice shade cover. Add some leafy climbers to make a natural roof for your shade structure. 
Give your pool area a nautical theme by using a recycled sail as a cover for your shade structure. These ideas are not only going to look great but they'll also create a special area where you can sit, relax and read. Make things a little more stylish by using lattice, pergolas, and a little landscaping. This helps to define your pool area.
Install a Solar Heated Shower
It's always good hygiene practice to shower before entering the pool. It also helps to keep the water in your pool sparkling clean. If your water's always murky you could have pool pump problems. Pump doing ok?
It may be that you and your family need to shower off before you get in. This helps to get rid of cosmetics and excess sunscreen before you get in the pool.
The problem is that outdoor showers can be freezing cold. Enter the solar-heated shower. You can even hook these up to a garden hose. Installation can take just minutes. You can then easily unhook them when they're not in use. They're a great talking point and useful for showering off after a dip too. 
Potted Plants and Planters
You don't have to spend a ton of cash for fancy, big pots to use for plants in your pool area. Instead, decorate plain pots with paint, fabric, or jewels. Even if you're not a painting expert, you can give a plain pot a bit of personality with a simple, shiny, gold stripe around it. You could also add the right accent by painting one pot a bright and bold color. 
Try making planters from cinder blocks. These give you the freedom to build your planter as tall or wide as you like. Fill them with succulents or turn them into a herb garden. The blocks can even be painted to match the rest of your DIY pool décor. You might also want to isolate the pool from view. A small wall with tall green plants in front can offer extra privacy. Bamboo is a good choice because of its height or you could go for a large hedge too.
Get the DIY Pool Décor Lighting Right
The right lighting can really bring your pool area to life in the evenings. It also increases safety by making sure paths to the pool are visible once the sun's gone down.
You'll at least have to install some of the most basic types of lighting. These could include porch lights that illuminate access to the pool and also give some ambient lighting.
Get romantic with candles or metal lanterns. Add wall-mounted downlights, or dimmable electric lamps to create a relaxing mood. Solar-powered accent lights or low-voltage lights can bring a little drama to your new planters.
Comfort and Durability
When it comes to seating and tables, try wrought iron or cast iron. There are lots of new and exciting styles of synthetic patio furniture and fabrics available now too. These are not only waterproof but can be a match for the same style and comfort as anything you might have indoors. You'll even find weatherproof floor lamps and table lamps. You could also go for classic furnishing options such as wrought or cast aluminum, and traditional wood. 
Try taking the legs off of plain plastic pool chairs. Next, give them a coat of bright, summery colors. Place them beside your pool and use them to dangle your feet in the water on a hot day.
Somewhere for the Towels
There'll soon be no excuse for seeing piles of used towels strewn around your pool area anymore. Make your very own pool towel hanger. Use an old barn door or a wooden pallet for the job. When upright, add some metal hooks and handles so that you can keep towels and pool toys hanging there until you need them. You could also restore an old cabinet into somewhere to store your pool towels. Keep the cabinet next to your outdoor patio so that you can dry off before going back into the house.
A Vacation at Home
Enjoying your DIY pool decor will mean you have helped you turn your pool area into a place where you'll enjoy spending more time. That means that every time you step outdoors it's going to feel like you're starting your next vacation.
Continue reading more related articles in our 'garden and yard' section for more helpful tips and ideas.