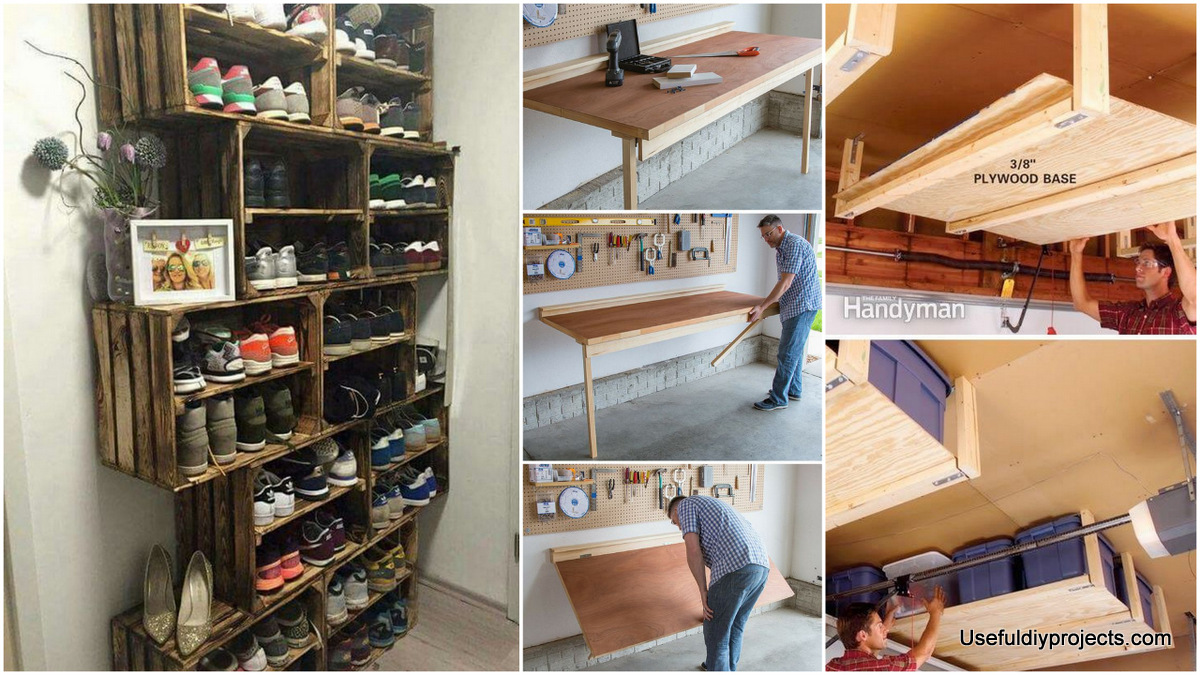 Organize Your Items With These 17 Garage Storage Ideas
Garage areas are often filled with clutter, different tools and basically that is not usually used, is sent into the garage. Even outdoor shoes and toys are also placed in the garage. Our tendency of over buying leads to overcrowding our homes and this usually leads to accidents,especially when your garage is small but is filled with everything from tennis balls to power tools.
Help keep your garage safe and organized with these amazing garage storage ideas.
1. Creative bike storage for your garage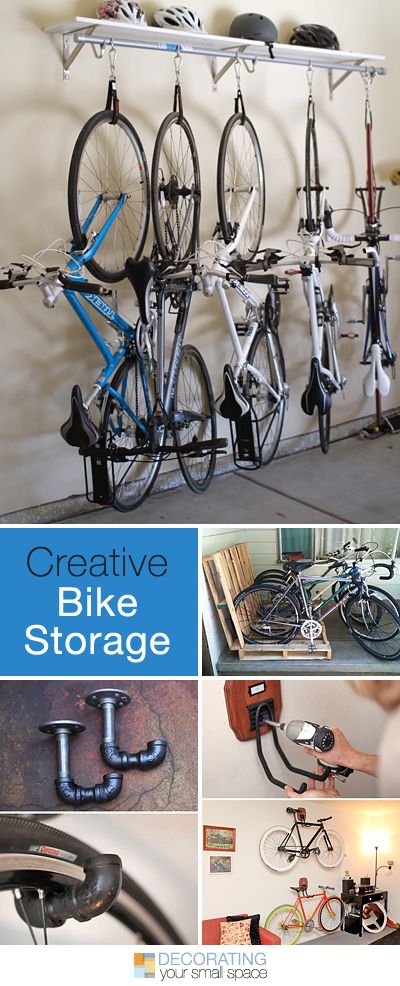 These easy-to-do bike storage ideas can be placed in your garage to save some extra space.
2. Wall-mounted workbench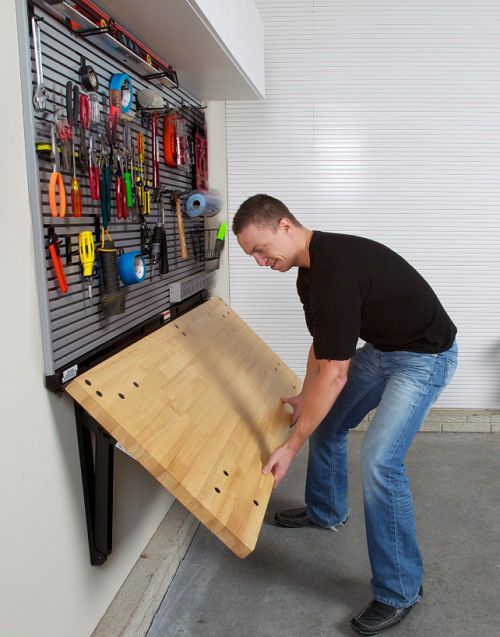 You don't have to worry about where to work and where to place your tools. This wall-mounted workbench enables you to hang your tools on a board that comes with the foldable workbench.
If you don't want a wall-mounted workbench, make sure you have a table that is foldable. Many multi-purpose work benches have collapsible legs and can fold up when not being used to free up extra space in your workshop. You can even get saw stands that fold up with the equipment attached that you can wheel to the side of your garage.
3. Mudroom storage area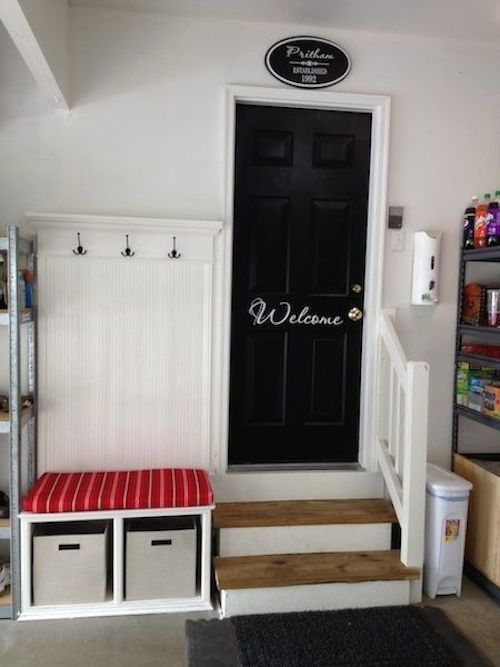 Here's how you can make a mudroom storage area in your garage to keep the clutter safely away.
4. Ceiling storage area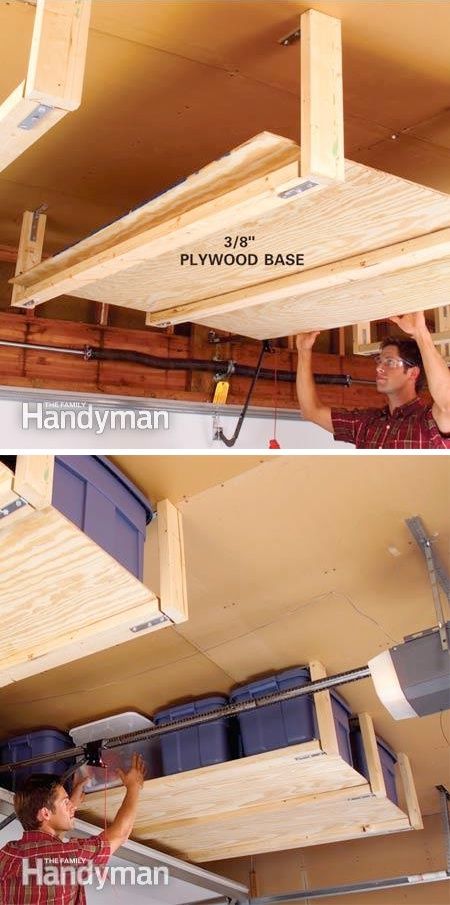 You can create this ceiling storage area where you can place lighter materials into individual storage , obtaining a more organized feel and avoiding clutter on the floor.
5. Cords storage area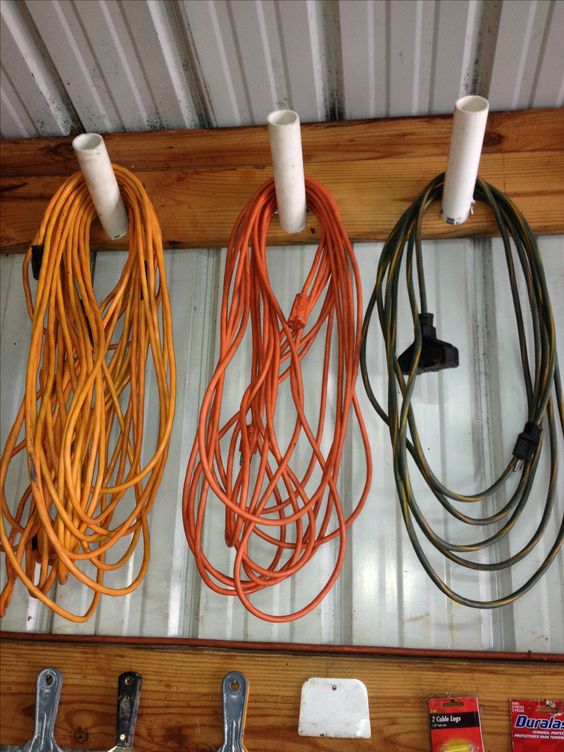 Hang unused cords, ropes, wires or any other long material you have individually to avoid getting it tangled to one another.
6. Cut out PVC pipes for rakes, shovels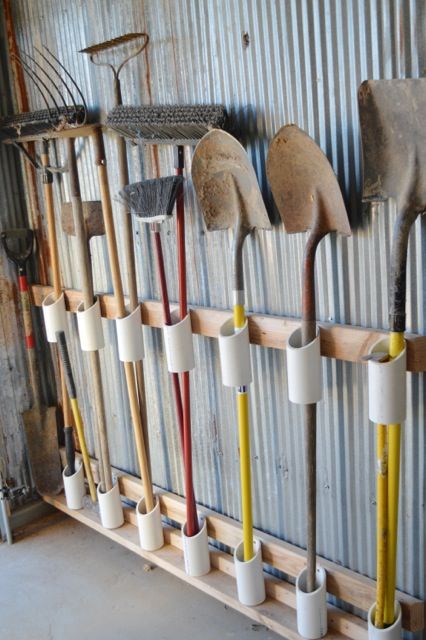 Cut some PVC pipes and then nail them on the ceiling. This gives you a good and safe space to keep shovels, rakes and anything long.
7. Shelves and bins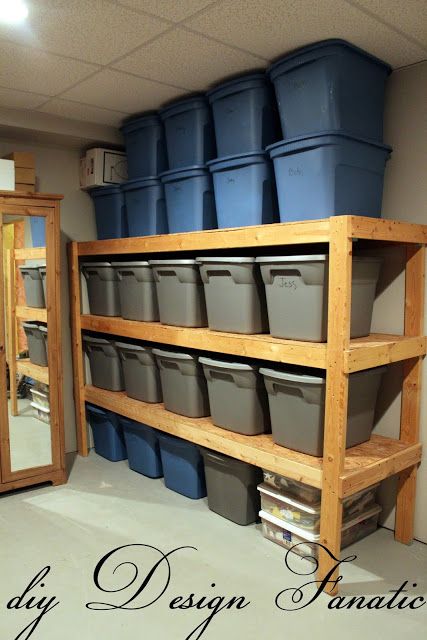 Create shelves and then place everything in individual bins. You may want to keep same stuff in the same bin so label it to avoid chaos. And then of course, keep the heaviest on the lowest part.
8. A specially designed shoe area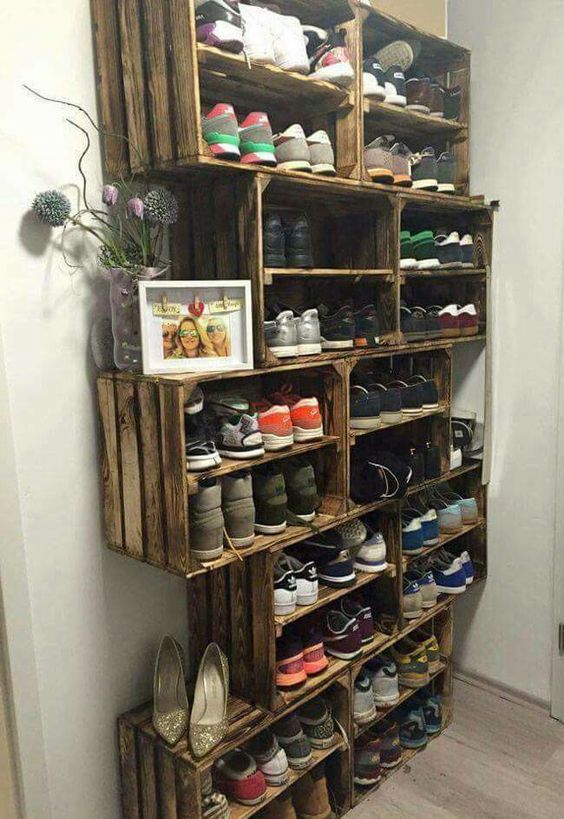 You can create storage shelves for your outdoor shoes and additional resources and place them on your garage area. This is great for outdoor shoes and somewhere outside your alternate exit.
9. Ceiling storage area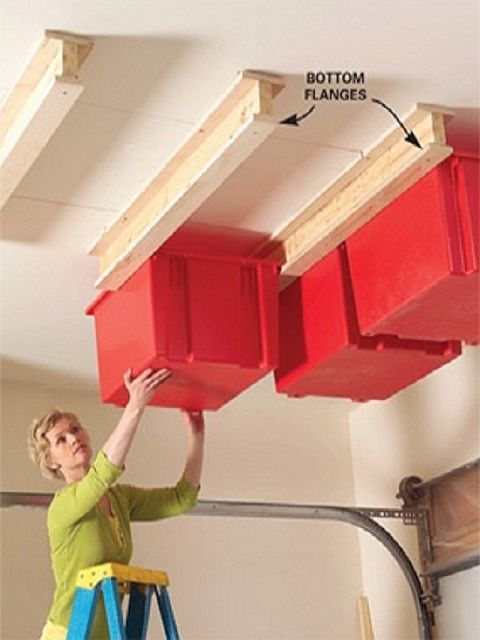 When doing this, you have to make sure that it is entirely safe and don't place heavy objects on these storage bins.
10. Shelves, pegboard and hanging your bike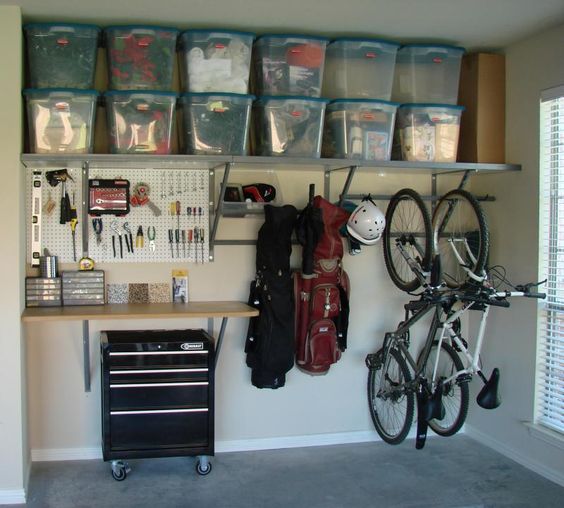 This may be the best idea if you're garage area is not that big. Keep everything in one place if possible through this arrangement.
11. Create a fold-able workbench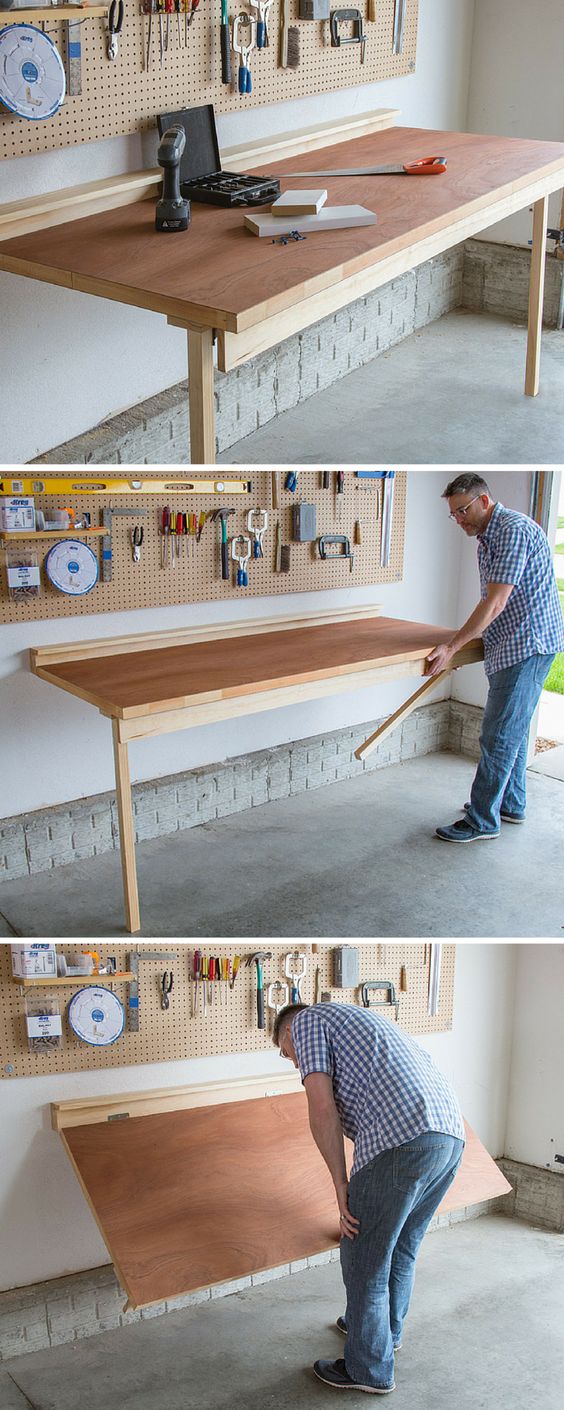 This wall-mounted foldable workbench is close to the pegboard so it is easier for you to get your tools. Plus, you can fold it back after working to save the space.
12. Ball storage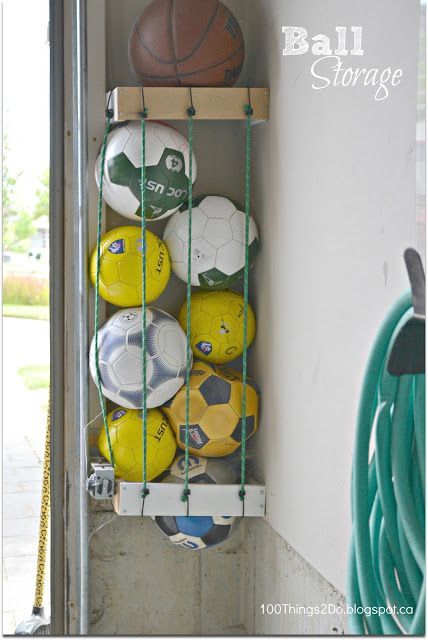 Save space and avoid having balls scattered around the place by creating this efficient ball storage idea.
13. Lawn mower storage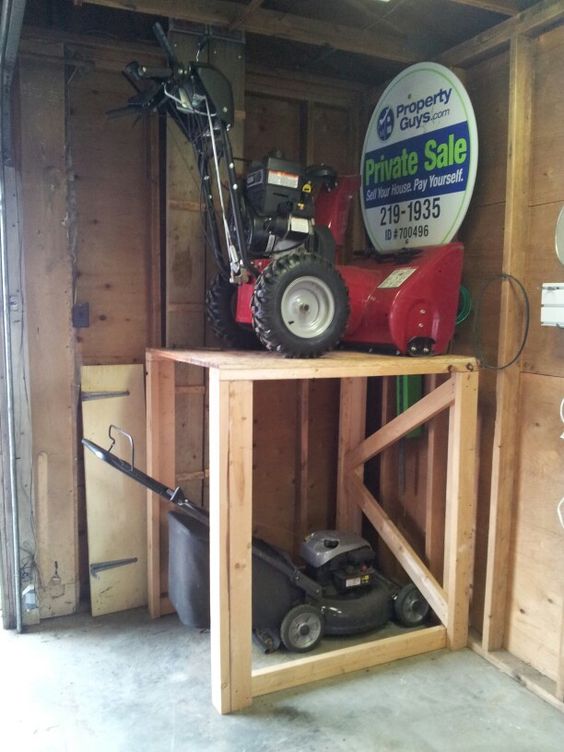 Here's how you can store your lawn mowers or snow blowers away for the season. Don't forget to keep your lawn mower manuals safe, you never know when you need to fix them.
14. Overhead garage storage area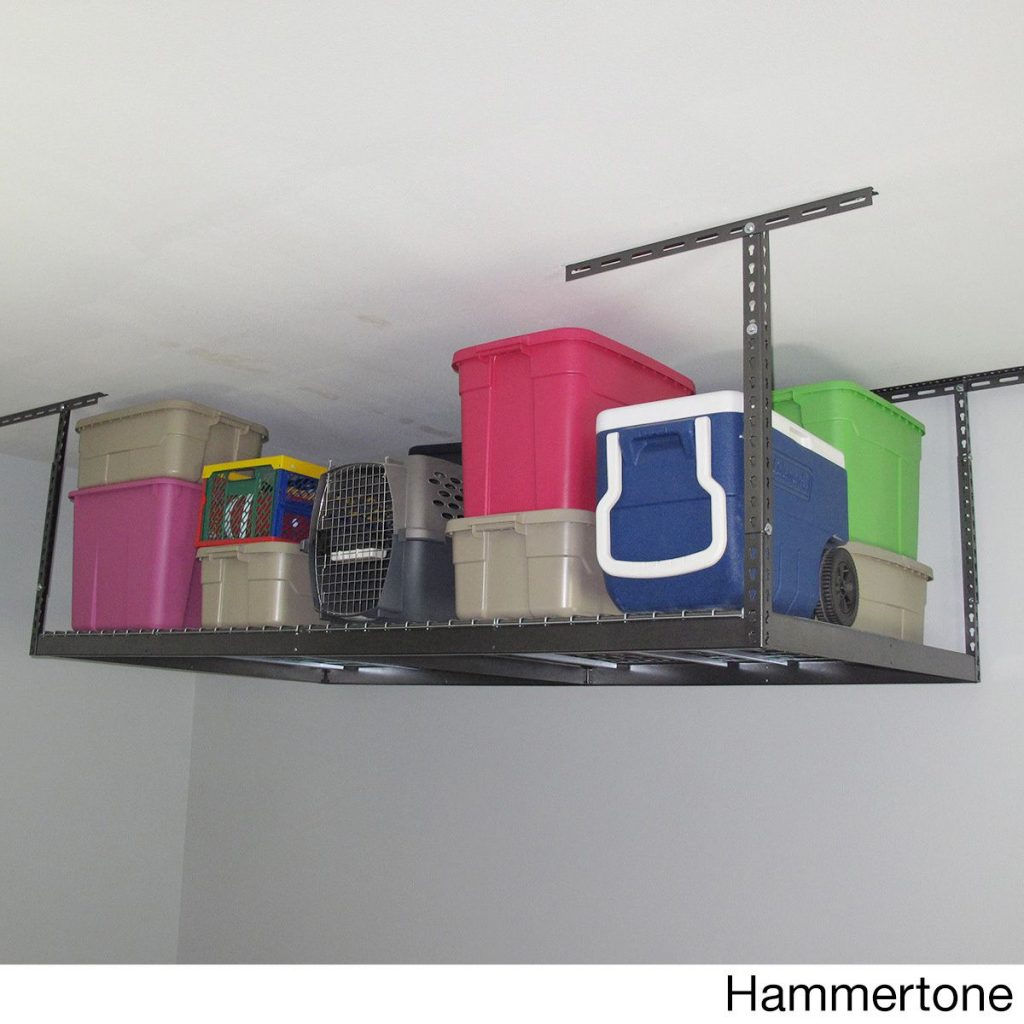 You can also buy steel overhead storage areas to help when there's not enough space in your garage.
15. PVC pipes for pencils, brushes and handheld tools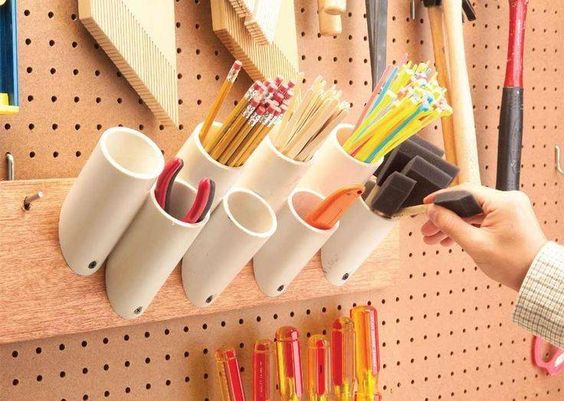 16. Power tools storage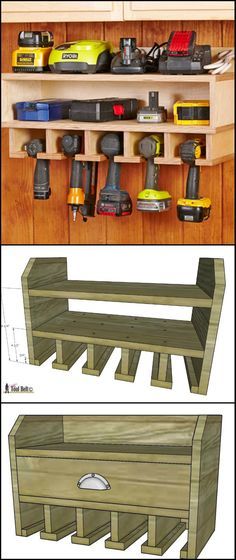 This is an easy way to store every cordless power tool you have, making it easier for access and keeping them out of the reach of children.
17. Space saving garage storage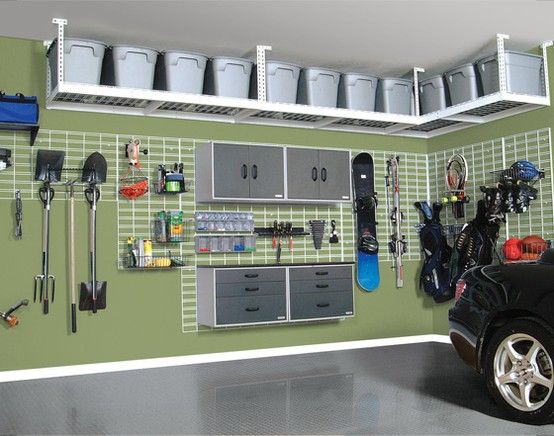 Here's an overall look of a small-spaced garage. With this space-saving idea, it now looks wider and more organized.
Do you own a well organized garage or is it a mess all the time? Feel free to share your garage storage ideas in the comment section below.