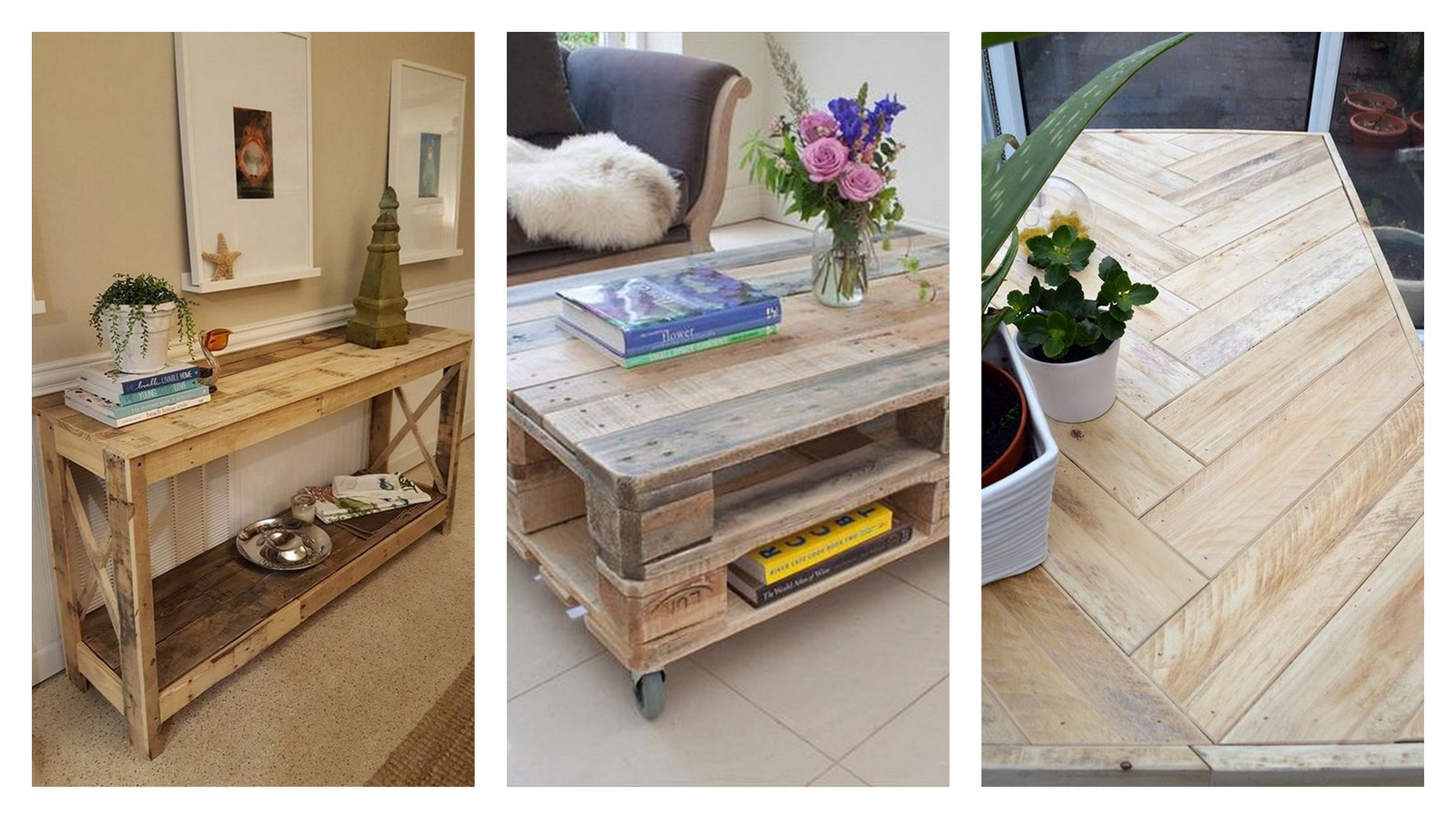 15 Pallet Table Head Turners for Your Home
At home, we want tables that are not only functional but also mix well with the whole interior design of our rooms. Tables are important furniture pieces that we all need to complete a room. But there are so many designs to choose from and some are way beyond the budget. What to do? Today we are recommending some simple yet functional and creative pallet table designs you could try on.
1 – Pallet Coffee Table With Greenery
All natural look is best with real plants, and this pallet coffee table is an exquisite example. This idea is also great for kitchen tables!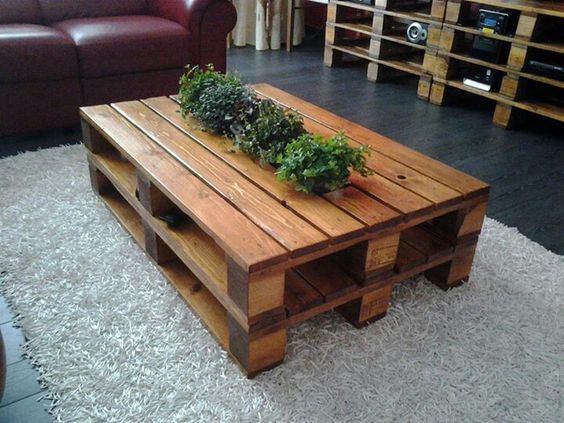 2 – Distressed Table Back Sofa Display
If you do not know what to do with an old pallet, you can always make a simple DIY project by transforming it into a cool table for your sofa with some storage space.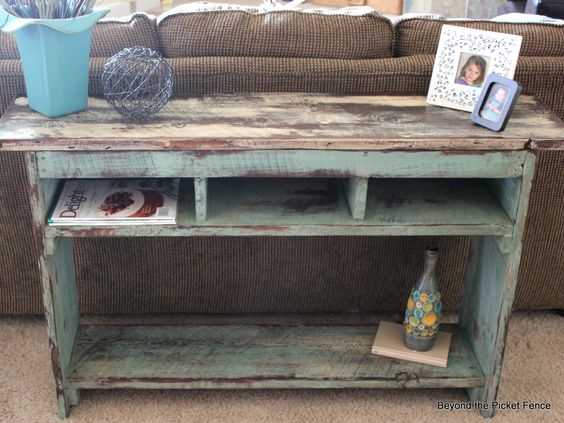 3 – Perfect Side Table on Porch
A relaxing afternoon, watching the sunset or having that midday siesta is best done with this lovely pallet side table. It keeps your drink or food within your reach and creates a homey feel to your porch.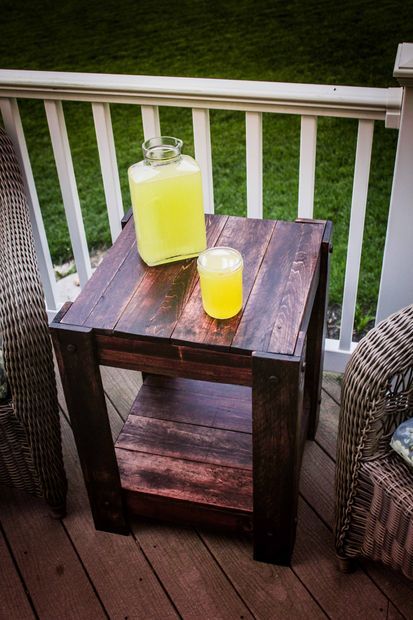 4 – Rustic Design for a Classic Home
Rustic furniture is a must for anyone who loves something classic. This reclaimed foyer pallet table can help welcome your guests with a warm, rustic feeling.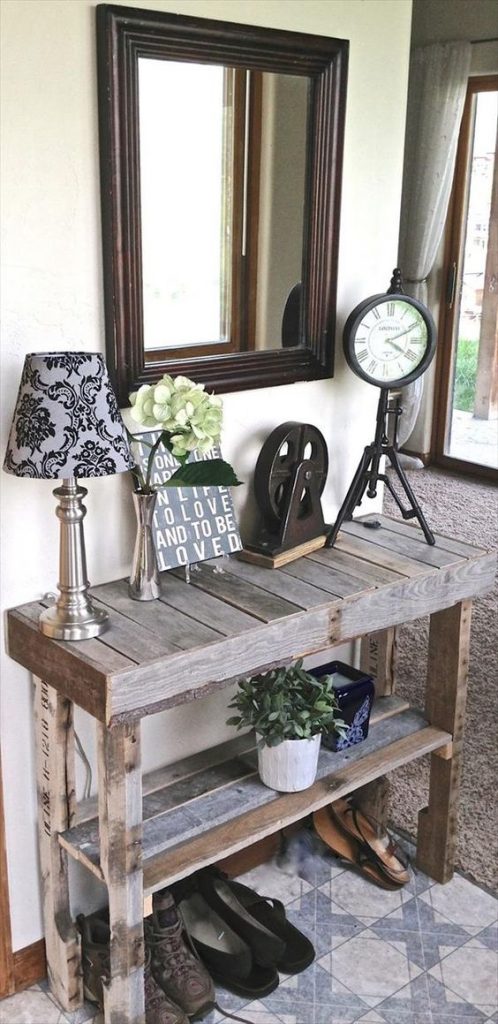 5 – Picnic Table for Backyard Camping or Barbecue Nights
You can fit this picnic table built from pallets in every backyard and enjoy your friends on barbecue nights or just relax.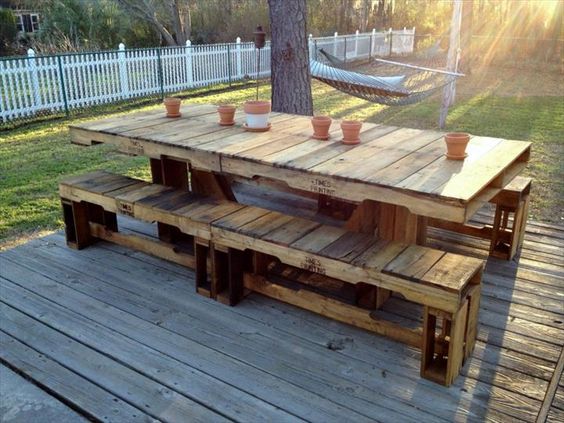 6 – Pin Legs With an Edge
This DIY pallet table with pin legs can mix in with any theme of a house. It's not only pretty, it's also an useful way to keep magazines in place.

7 – Foyer Table That Keeps Everything in Place
You can organize your foyer by putting a pallet table and keep your stuff in place with style.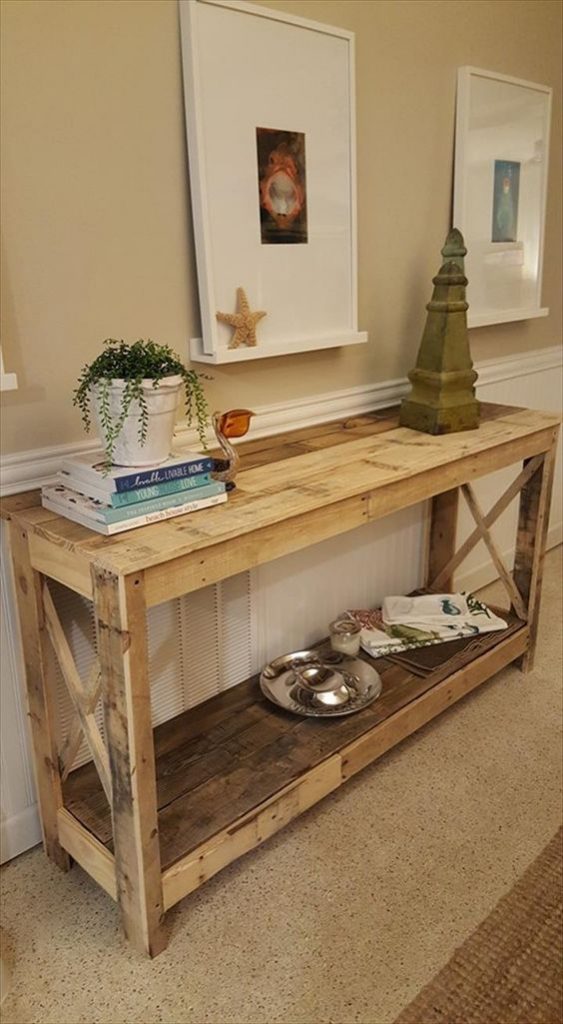 8 – Lovely no Gap Garden Table
We often see pallet tables with gaps. It is stunning as it is, but this design definitely is something that is worth trying. The teal colored pallets pop with the natural color of the wood fillings and create a stunning natural design.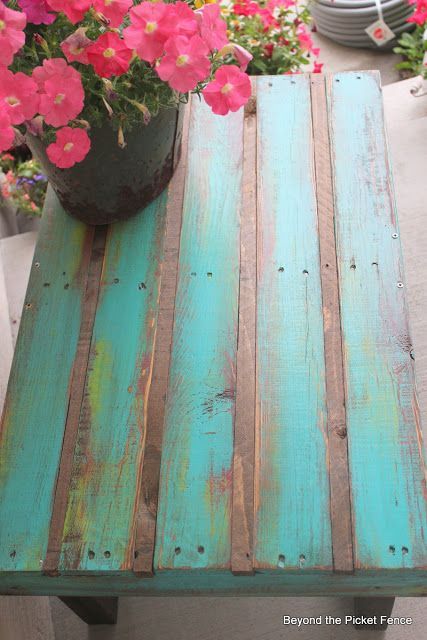 9 – Modern Side Table for Any Home
Al DIY project with pallets can be made also in a modern way, not only in a rustic or classic one so you can inspire yourself from this cool idea.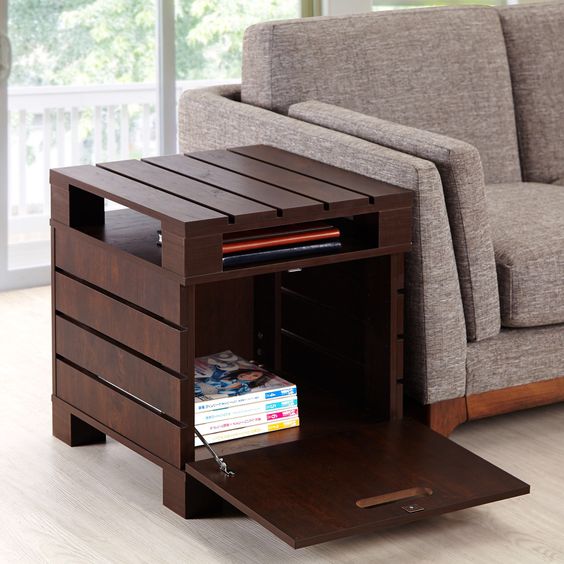 10 – Roll it on Your Favorite Spot
The convenience of having a table that you can take and place wherever you like is what makes this pallet table amazing.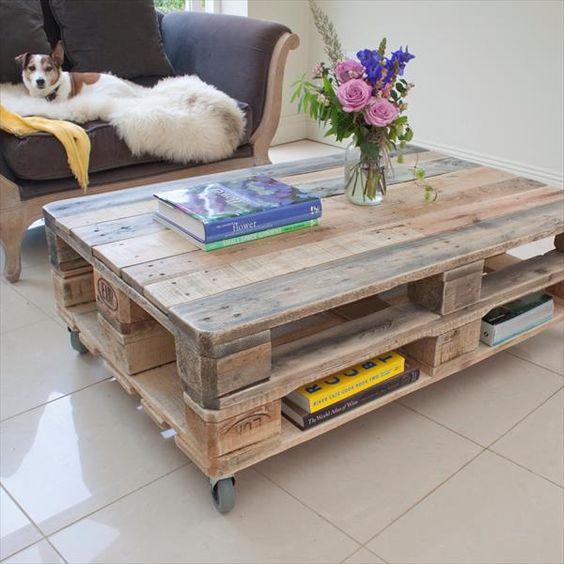 11 – Stunning Dinner Table for Classic Dining
If you are a lover of the classic furniture, this is the greatest idea to use pallets for your dinning table and add some style to the home.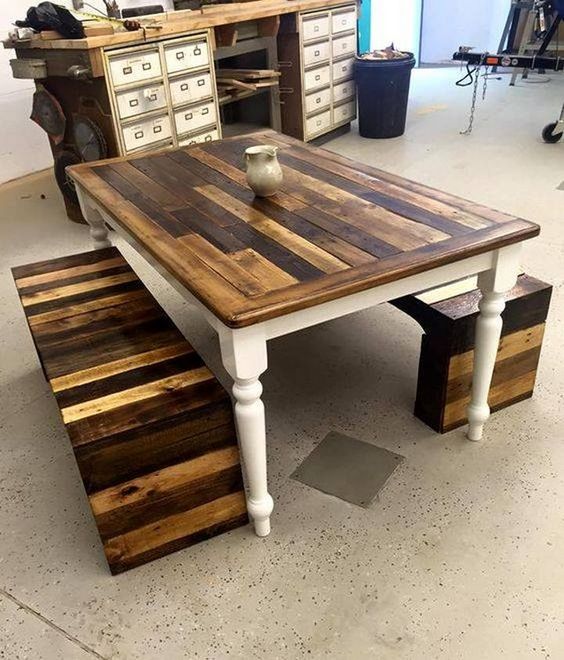 12 – Glass Effects Never Looked this Stunning
If you think the look of distressed pallet wood is good enough, then you will find this table idea amazing. The hues of the pallet are given a boost by the glass, offering this pallet table a more sophisticated look.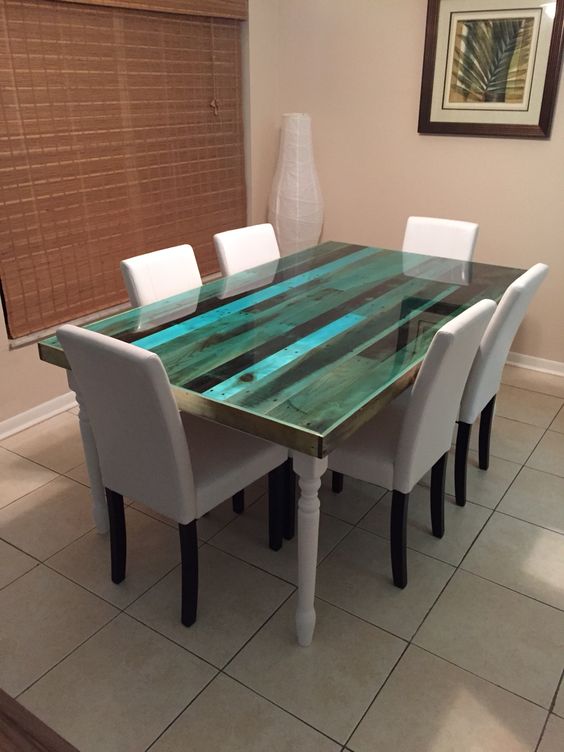 13 -Chevron Table for a More Sophisticated Look
A nice pattern with some texture for a simple DIY pallet table that can be used in any space of your house or your garden.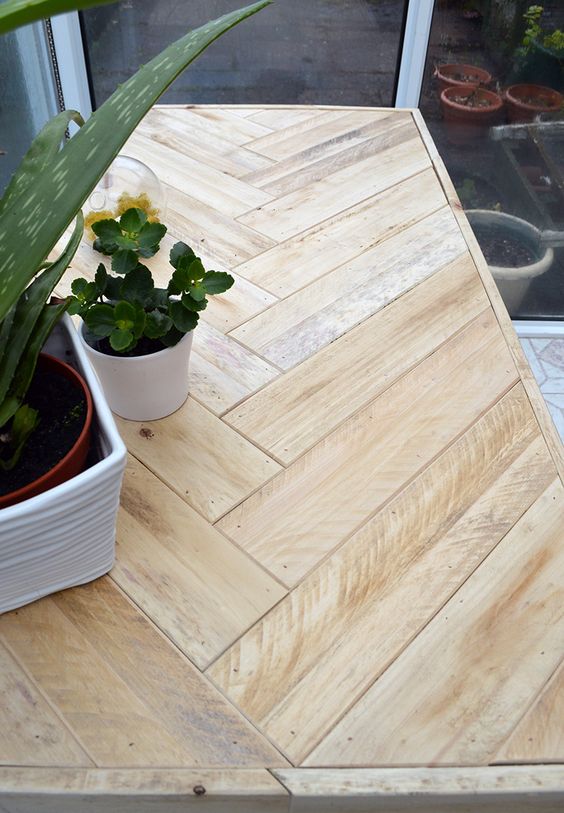 14 – Colorful Succulent Center
Do you have succulent plants and no idea where to put them, use a pallet and make some space for them in the center of table that can be used as a piece of furniture for your patio or garden.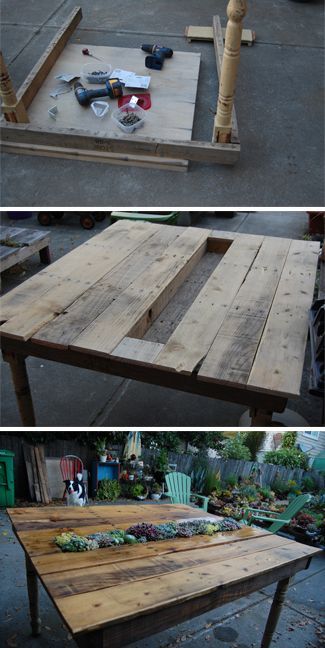 15 – Distressed Foyer Table to Match Your Accent Wall
Make accent walls more interesting by placing a rustic pallet foyer table. The foyer will reflect the beauty of your accent wall and even completes the whole look for your accent wall.