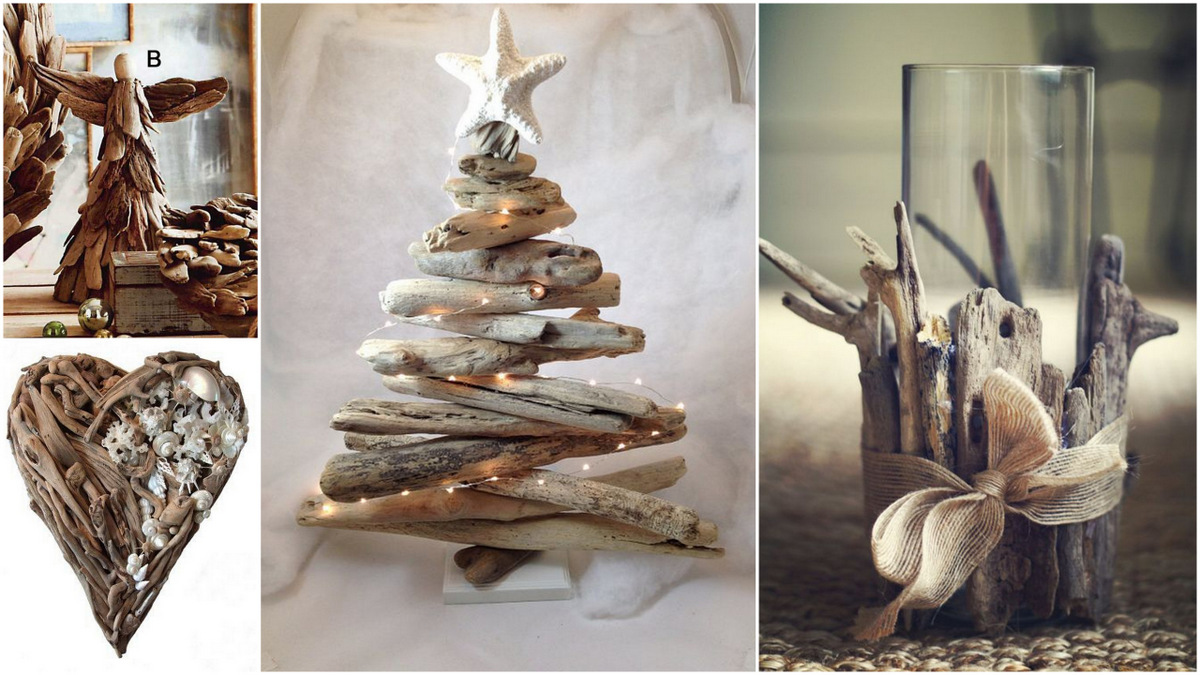 Fill Your Home With 45+ Delicate DIY Driftwood Crafts
Wood is one of the easiest materials to work with, it can be shaped in any desired form, morphing your most imaginative thoughts and transforming any ambiance though its warmth and complex texture. From hard wood floors to furniture and lighting fixtures, wood can cover any ground and provide easy solutions to complex designs. Driftwood, "a form of marine debris or tidewrack" offers the crafter a different set of tools to work with, each quality complementing the other and adding to the end result: its white hue, smooth ends and intricate, unique texture form a material adored by most of us for decorative projects and more.
Source: driftwooding
Working with driftwood can be transformed into an art, the process of finding the right pieces and the actual mixing and matching offering each time incredible different designs and solutions, each created item is unique, one of a kind, special. Whether you choose to frame a large mirror or to shape a succulent planter holder, the eccentric white driftwood is an option worth taking into account. Further on we have selected a collection of 45 delicate DIY driftwood crafts, some easy, other more complex, choose your favorites and give it a try.
1. Nestle your succulents in driftwood
2. Frame your favorite family photo
3. Use an intricate tree stump to form a coffee table
4. Transform an ordinary flower pot
5. Create impressive looking lighting fixtures
6. Go to the extreme and shape furniture
7. Mix air plants and driftwood
8. Create an unique statement mirror frame
9. Morph your home on a coat hanger
10. Driftwood and sails, what could be more natural
11. Light your working area with a special driftwood table lamp
12. Form an unique candle holder piece
13. A basket to hold your favorite succulents can become a fun weekend project
14. A DIY driftwood orb is a fun craft for your little one
15. Cover a glass plant holder in driftwood pieces
Source unknown
16. Create a sun mirror frame
17. Use an unique driftwood piece to nestle your succulent arrangement
18. Put your painting skills to good use and use driftwood as your base material
19. Crate a delicate candle holder
Source unknown
20. Use small driftwood pieces to form an angel statue
21. A peculiar piece of driftwood can become a flower pot holder
22. Turn the weekend into a crafting with the kids day
23. A tiny driftwood Christmas tree is all you need to feel jolly
Source unknown
24. Why not create a cute owl if you can
25. Mix driftwood and shells for a nautically themed decor piece
26. Morph a driftwood heart filled with shells
27. Hold your elegant tall candles with an unique driftwood support
28. You can even use driftwood to form bookends
29. Mix the strangest pieces you can gather in a chaotic looking lamp
30. Complete your interior design with a rustic looking lighting fixture
31. Express your love on Valentine's with a driftwood heart ornament
32. Transform large roots into a narrow table for your porch
33. Mix flowers and driftwood in a beautiful table centerpiece
34. Transform odd driftwood pieces into wall art
35. Make a garden waterfall
36. Frame your bathroom mirror with driftwood
37. Make a lovely flower vase
38. Use driftwood to shape a hanging flower pot
39. Create unique wall art pieces
40. Replace the classical Christmas tree this year
41. Dress up a candle holder
42. Add an extravagant driftwood glass dinning room table
43. Play with driftwood and succulents
44. Hang your favorite clothes in style
45. Drill a large driftwood piece to nestle tea candles
What do you think about the above selected DIY Driftwood Crafts? Feel free to share your own projects in the comment section below.