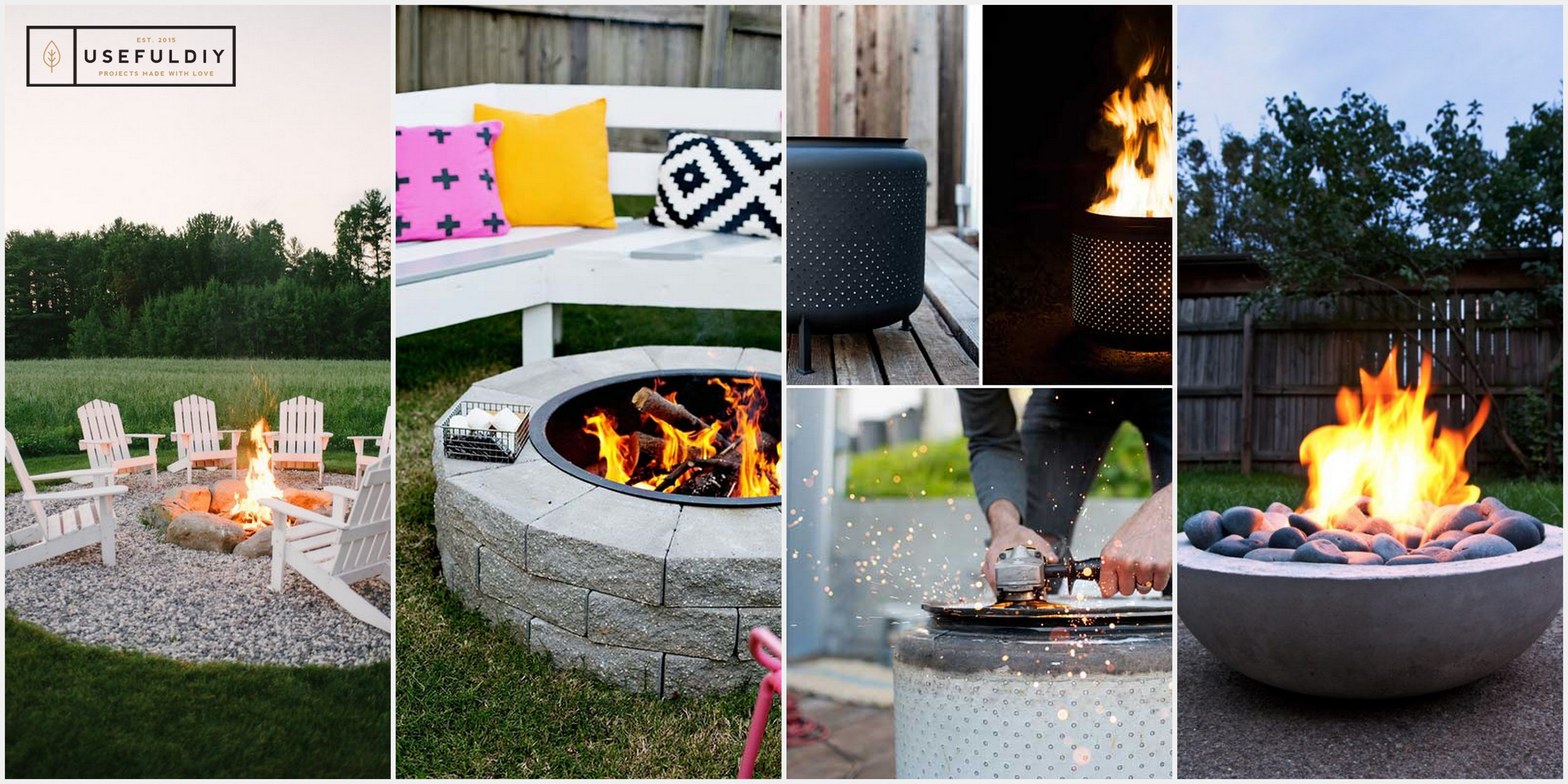 Top 50+ DIY Fire Pit Ideas to Warm Your Summer Nights
Summer days are just around the corner and the evenings and nights have grown more and more pleasant. You can feel it in the breeze, in the freshness of the air which has lost most of its crispness and is subtly but surely getting infused with a canopy of flowery scents and aromas. Nights spent outdoors surrounded by friends and loved ones are upon us and what better way to spend your time than by enjoying precious moments and laughs around a fire pit with a blanket on your feet and a glass of wine or hot cocoa in your hand.
Building your own diy fire pit appears thus as an emerging idea, a project to be taken upon in the last days of spring as an appealing and useful addition to your backyard. Whether you choose to use concrete, a metallic structure or to incorporate the fire pit into the landscape, ideas and inspiration can be found everywhere. As a result, we have chosen to collect some creative solutions meant to offer you support and guidance in this particular challenge.
Browse through the selected plans and projects and select your future diy fire pit now.
1. Create a concrete rectangular shape to nestle your fire pit
Use old wooden planks to form the desired shape and fill it with concrete. It is recommended to use rather rough looking wooden boards for an interesting texture imprinted on the concrete.
Tutorial: backyardsclick.blogspot.ro
2. For a ship building passionate, a metallic diy fire pit in the shape of a boat can become an achievement
This project does not go into many details, but a certain artistic tendency is required to obtain this degree of proficiency. Using metal to create this diy fire pit can transform it into a hazard when the fire is lit, so be careful where you place it and what you choose to place nearby.
Tutorial: goodshomedesign.com
3. The classical circular fire pit  to nestle in your yard
Start by digging a proper hole in the chosen spot in your backyard, then insert a metallic fire ring of the same size. Cover the ring with brick cladding that will retain and disperse the heat. This project has a low difficulty level and can be adjusted to your desired height, whether you choose to keep the diy fire pit at a ground level or to raise it a bit.
Tutorial: fix.com
4. Use cement blocks to replace brick cladding
Cement blocks are often used to replace the more traditional red brick when a more contemporary appeal is desired. Form a special corner with white wooden furniture and add colorful pillows as a fun, vibrant contrast. The s'mores are awaiting.
Tutorial: abeautifulmess.com
5. Insert the fire pit into a sitting area on your terrace
The fire pit zone can be incorporated into your home terrace, as an extension of it, making it feel a part of your leisure area. Imagine spending your summer nights outdoors around the fire pit.
Tutorial: designrulz.com
6. Choose the simplest of designs
If the fire pit is your first project, there is no need to start with a complicated model. The simplest of designs, the circular one, come sin handy and will suit your needs just fine.
Tutorial: keepingitsimplecrafts.com
7. Get creative with the shape of your cladding
If the circular design is your choice of fire pit diy project, opt for specially carved cement blocks if you desire to give give your creation a little twist.

Tutorial: thegardenglove.com
8. Incorporate stone boulders into the diy fire pit design
An elegant diy fire pit choice uses a massive stone boulder as your base for the fire pit. It preserves the natural appeal of the landscape, integrating harmoniously into the natural environment.
Tutorial: thefirefarm.com
9. Use river rocks and gravel to determine your fire pit area
Who said you need to use bricks or cement cladding to form a perfectly round fire pit shape? Use river rocks and a gravel zone to form your fire pit zone, surrounded by elegant white wooden furniture.
Tutorial: thecreativityexchange.com
10. Invest in cinder blocks designed specially for fire pits
Lava rock, mortar and cinder block caps which are fire resistant are all the required materials for this particular diy fire pit project, with quite a contemporary appeal, don't you agree?
Tutorial: survivopedia.com
11. A simple straightforward DIY fire pit project
The following tutorial keeps thing quite straightforward. Simply follow the steps and you'll make yourself a fire pit in the garden.
Source unknown
12. How to build a fire pit in 9 steps
Another simple info graphic that guides you through the fire pit building process step by step.
Source: pinterest.com
13. How to build a fire pit in just one hour
A simple diy fire pit project should not take you more than an hour to complete.
Tutorial: theshabbycreekcottage.com
14. Use the fire pit area as a focus point in your lawn
Choose an area in your yard destined to a fire pit zone and use gravel to separate it and to build a path leading to it.
Tutorial: instructables.com
15. Opt for an inexpensive fire pit design
Follow the simple instructions and build an inexpensive fire pit.
Tutorial: thriftylittlemom.com
16. A concrete bowl to nestle your fire
A concrete pre-cast bowl can nestle your fire and warm your nights outdoors.
Tutorial: manmadediy.com
17. Use pavement to determine a fire pit
Pave a circular zone in the yard, add a sitting area which doubles as wood storage for the fire pit.
Tutorial: instructables.com
18. Easy fire pit diy using rock slabs
Tutorial: bowerpowerblog.com
19. Mixing materials to create the right fire pit design
Incorporate a modern metallic fire pit into a rock circular built fire pit.
Tutorial: theinspiredroom.net
20. Use brick to create a flower bed/ sitting/ fire pit area
This project is quite intricate and will complete a part of your garden by incorporating multiple features in its design.
Source: Facebook
21. A DIY fire pit made out of a recycled washing machine drum 
Recycle recycle recycle is the answer for many diy projects and a diy fire pit is no exception, especially if you decide to use an old machine drum as a fire container. The uniform holes will shed a delicate romantic light suitable for special moments spent with your loved ones.
Tutorial: houseandfig.com
22. A mix of hand built and store bought components

Tutorial: theinspiredroom.net
23. A rectangular fire pit at ground level
Opt to place the fire pit at ground level for a better integration into the landscape.
Tutorial: theownerbuildernetwork.co
24. Place the fire pit deep into the soil
This project uses the same idea as the one above, but instead of gravel bricks create the center of the fire pit, absorbing and irradiating heat.
Source: pinterest.com
25. Metallic fire pit from hot rolled steel
Instead of investing in store bought fire pit materials, create your own pieces.
Tutorial: the-brick-house.com
26. Fire pit using an old tractor rim as a fire ring
Another creative idea revolving around recycling, here an old tractor rim forms the fire pit center.
Tutorial: tractorbynet.com
27. Put your mark on your fire pit project
Make sure this projects wears your mark as a happy reminder of your hard work and dedication.
Source: sharpecreations.blogspot.ca
28. Metal planter turned fire pit on a budget
This particular project can be used in smaller enclosures as well as open spaces.
Tutorial: theartofdoingstuff.com
29. Build a stone fire pit
Tutorial: diynetwork.com
30. Make the fire pit the focus point of your backyard sitting area
Tutorial: countryfarm-lifestyles.com
31. For the unconventional souls out there
Well, this idea is quite out of the ordinary, don't you agree? Could it work?
Tutorial: instructables.com
32. Start your fire pit project today
8 steps and you're done, according to the project below.
Source: pinterest.com
33. A fire pit with a romantic appeal
Suitable for autumn evenings and summer nights.
Source: magnoliamerryweather.tumblr.com
34. Learn how to cast your own concrete fire pit bowl
Tutorial: manmadediy.com
35. Another simple circular fire pit project
The abundance of circular fire pits confirms that this particular design is the most easy to complete.
Tutorial: homeroad.net
36. Use a fire pit kit to obtain your very own under an hour
If a kit suits your needs, go ahead and build your fire pit today.
Tutorial: reddoorhome.blogspot.com
37. Warm your terrace with mini fire pits made from concrete
Cast mini fire pits for the terrace table and warm your hands and souls on cold nights.
Source: b3hd.blogspot.com
38. The elegance of a fire pit inserted into your lawn
A seamless insertion into the landscape is so elegant and beautiful.
Source: thisoldhouse.com
39. The concrete bowl hits again
This turns out to be such a popular project among diy fire pits.
Source: ehow.com
40. The fire pit resembling a well
If childhood memories from the countryside linger, build a fire pit resembling a well.
Tutorial: bridgman.co.uk
41. A small fire pit that can be hidden in the canopy
Hide mini fire pits in your flower beds and light them up at night to form a path.
Tutorial: evansvilleliving.com
42. The stone and concrete fire pit-fit for smores
Tutorial: thecraftyninja.com
43. The wheelbarrow fire pit for creative individuals
Let your creativity run wild.
Source: misseffiesdiary.blogspot.com
44. Another DIY-er making the fire pit magic happen
Tutorial: bowerpowerblog.com
45. Such an elegant and simple choice
Simplicity is more than often the best choice.
Source: pinterest.com
46. When in doubt go with the most obvious choice
A large container will hold long lasting summer fire camps.
Tutorial: caroleknits.net
47. The concrete and brick mixture fire ring
Mix materials to form your fire pit container.
Source: pinterest.com
48. Opting for a metallic bare fire pit
A bare structure is an option for a more contemporary approach.
Tutorial: wcwelding.com
49. Inserting the fire pit design into your backyard design
Landscaping has gained quite a lot of territory in the last few years and the insertion of a fire pit can, in our opinion, be considered a landscapping choice.
Source: facebook.com
50. The fire pit constructed from a variety of blocks
If you are working on a low budget, recycling old materials can be a good option, especially if we are talking about a first diy project.
Source: rachelferrucci.com
51. The basic fire pit that takes under an hour from start to finish
Start with a simple basic design as your first diy project and work and develop your skills from here on.
Source: natalme.com
52. The right intersection of pavement textures
If texturing if your thing, mixing and matching in your own backyard seems like a good idea. Insert a fire pit into a conjunction zone to serve two different zones of the yard.
Source: congletonlandscape.com
53. A fire pit inserted into a sand pit
If sand is your thing and the little ones love a good sand pit, why not insert a fire pit into the picture and merge the adult and young one's areas!
Source: orlandosentinel.com
54. The fire pit constructed with concrete fire rings
Use specially designed fire pit materials to make your job a hole lot easier.
Tutorial: instructables.com
55. Creating a special corner dedicated to special nights by the fire pit
Surround yourself by the natural and enjoy special moments outdoors around your own hand made fire pit.
Source: flickr.com
56. The art of stacking up bricks to form a fire pit
Source: Pinterest.com
Have you decided what is your next DIY project? Is it a DIY fire pit? Choose your favorite design and leave your valuable feedback in the comment section below.