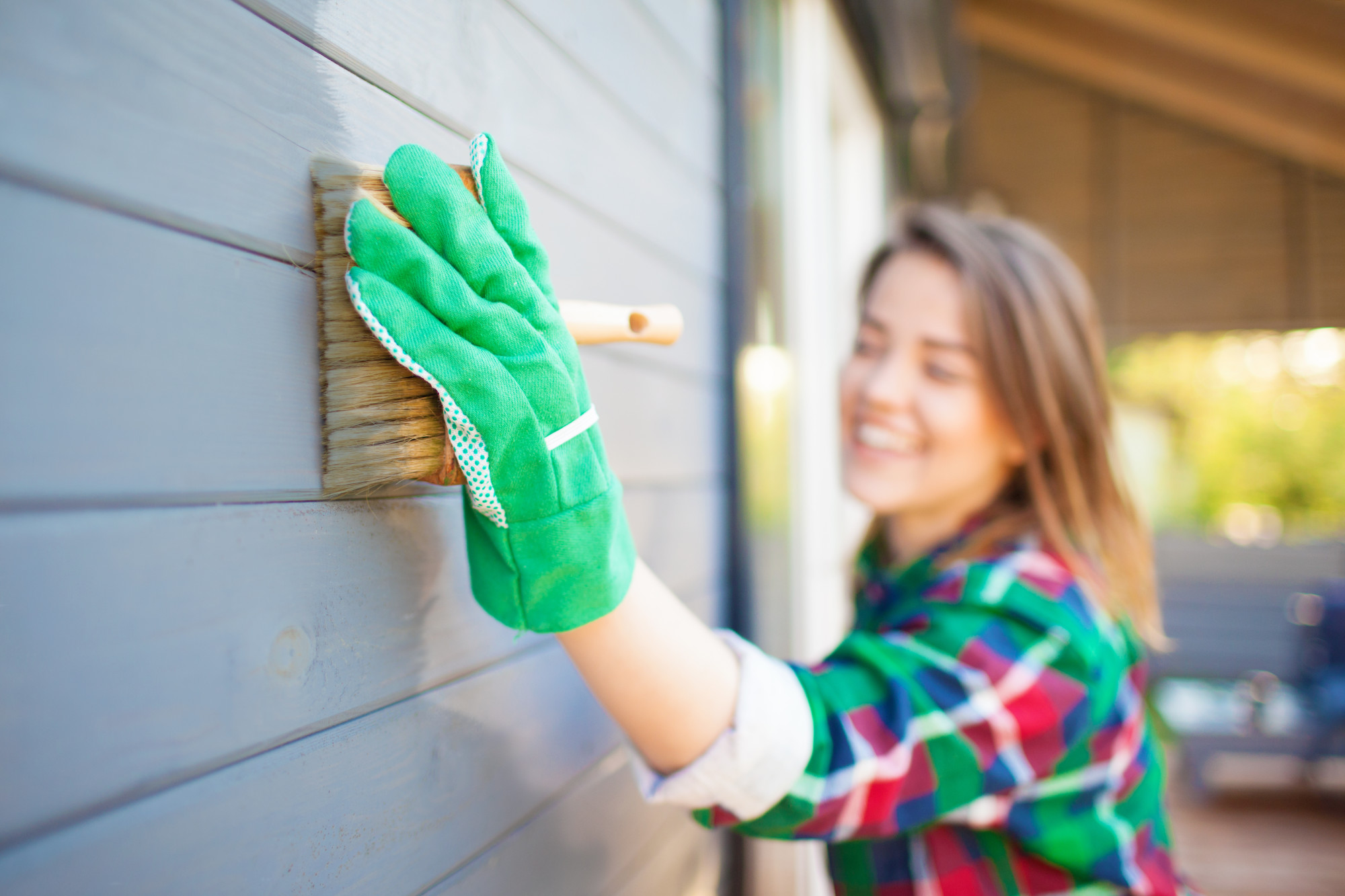 10 DIY Exterior Home Improvement Ideas
"10 DIY Exterior Home Improvement Ideas" – Improve the look of your home and stand out from your neighbors with these exterior home improvement ideas.
One of the most depressing sights is driving up to a home only to see a bunch of weeds out front. It gives the impression that the home hasn't been cared for a long time.
If you're ready to spruce up the exterior of your home, there are a lot of benefits to consider. It gives you a better feeling about your home and it can add to the value of the home.
People make a first impression of your home (and you) in about 30 seconds. Make that impression count.
Check out these exterior home improvement ideas to make your home shine.
1. A Fresh Coat of Paint
Giving your home a fresh coat of paint can work wonders for the exterior of your home. It's an opportunity to make your home stand out as well. If you live in a neighborhood full of boring beige homes, you can paint your home an elegant navy gray or blue. It's a bold color that will be sure to stand out from the others on your block.
2. Change the Front Door
A fun DIY project is to change your front door. You don't have to change it completely. Just painting the door can make a big statement. You want people to feel welcome and invite them in. The color of your front door can do that and add a bright accent.
You want to paint it a color that matches the rest of the home. For example, if you go with a navy blue exterior, a yellow door may not be the best choice. It's the same if you try to change out the door. You want a door that will complement the architecture of the home.
3. Make the Walkway Welcoming
There are a few ways to welcome people to your home besides having a cute welcome mat. You can make the walkway wider or add landscaping along the sides of the walkway. That gives you an opportunity to add warm colors by planting flowers. Marigolds are often a great choice because they're easy to maintain and add a lot of warm colors to your walkway.
For gatherings that take place in the evening, you can use paper bags and tea lights to create a beautiful welcome. Cut out creative patterns of the paper bags and light the tea lights. They'll give off just enough light and will be protected from the wind.
4. Add Colors Along The Sides
You want to make sure that you don't focus entirely on the front of the home. You need to look at the entire exterior of your home.
The sides of the home are easy to neglect, but that's what people will notice first when they approach your home.
You can clean up the landscaping by adding a layer of mulch and plant flowers and plants along the sides of your home.
5. Use Accent Colors
You may decide that it's too much to paint the exterior of your home. A simple solution is to add trim to your home. The trim can be accent colors that pop against the rest of the home. The goal is to provide a color contrast against the rest of the home. If you have a darker color home, then go with a lighter trim and vice versa.
6. Repair Your Roof
Have you looked at your roof recently? Does it look junky? There may be shingles that are loose or missing altogether. Lose and missing shingles create multiple problems for your home. The first is that they give the appearance that you don't maintain your home.
The second is that they can make your roof vulnerable to leaks and other issues. You want to replace them right away to prevent them from becoming a major structural issue down the road. If you are looking upon a reliable and sturdy solution to frequent issues of repairing or replacing broken shingles, then make metal roofing panels your first choice. Don't have any idea about it? You can visit here and see how it works as an ideal solution for you.
7. Make Your Driveway Impressive
The condition of your driveway can also add or detract from the home's curb appeal. A cracked and marked driveaway can detract from the rest of the home. You can take on a resealing project, where you're just repairing the cracks and applying seal over the entire driveway.
You can take on a more ambitious project by installing concrete pavers in your driveway. That's a major project that can be physically demanding. The end result is that you can end up with a beautiful driveway and with the help of Dallas Concrete Contractors, your driveway is guaranteed to be in very good hands.
8. Add a Revenue Generator
If you're like a lot of Americans, you're just getting by with little savings set aside for retirement. Maybe you dream of creating passive income so you can work less.
If you have a large yard, you can take advantage of that space and create a stream of revenue. More cities and states recognize that housing is becoming less affordable, so they're allowing people to add ADUs on their property.
These are accessible dwelling units, which are completely separate homes on your property. You can get a prefabricated home, rent it out and make money. Take a look at this helpful article to find out more.
9. Add Exterior Lighting
Does your home look dark at night, even with the lights on? You can add exterior lights to brighten up the exterior. There are small solar lights that you can install yourself. They don't require much work and they're inexpensive to buy.
10. Add an Entertaining Patio
For those that love to entertain, a major project like adding an entertaining space outdoors can have so many benefits. You have a place to cook and entertain in the summer, and you can make your home easier to sell. This can also add to your overall enjoyment of the home.
Exterior Home Improvement Ideas to Increase Your Home's Value
Your home is the biggest investment you'll make. You can't depend on a strong market to retain the value of the investment. You need to put in the work to make sure that the home value increases over time.
You can put these exterior home improvement ideas to use to give a strong first impression. That can make you feel proud of your home and get a higher sales price. Do you want more DIY tips? Visit this site often for more projects you can do on your own!